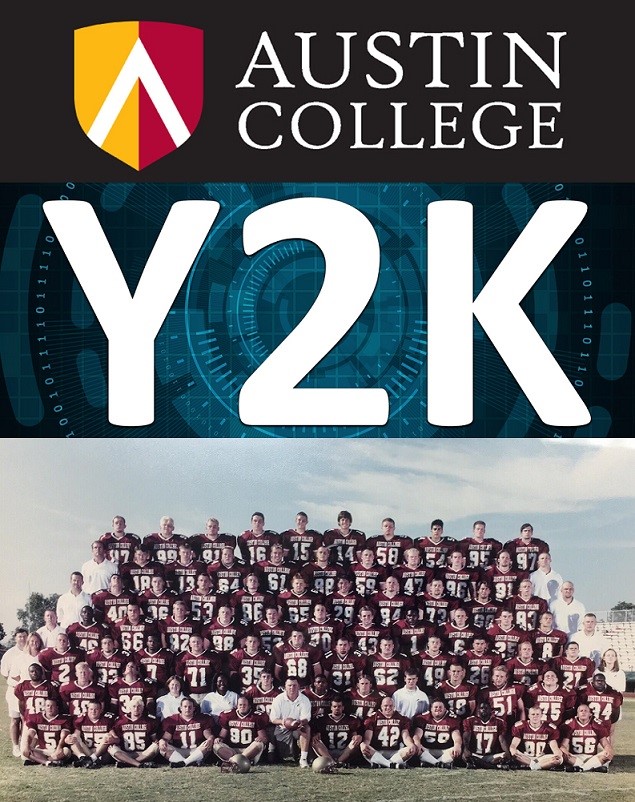 The year 2000 came in like a lamb out like a lion. Global fears of Y2K meltdown proved to be dramatically overblown in the first month, and the closest election in American history threatened the social fabric of the country in the last month. The country celebrated the longest economic expansion in its history in 2000, only recently surpassed by the current expansion which began in 2009. In many ways, the year 2000 was an idyllic period. It was a brief era after the struggles of the Cold War and before the emergence of new, 21st century problems.
2000? It was a pretty good year.
Also, Austin College had a pretty awesome football team in 2000.
The Kangaroos of Coach David Norman posted seven wins in 2000 and finished third in the powerful American Southwest Conference (ASC). 2000 ASC champion Hardin Simmons would make a run at a D3 national title that year, and 2000 ASC runner up Mary Hardin Baylor was just beginning a run of dominance which continues today. Austin College played both schools competitively while posting six wins in a row along the way.
Mississippi College had earned a D2 national championship back in 1989, and an ASC Conference championship in 1997. The freshmen on that 1997 team were seniors when Norman's Kangaroos traveled to Clinton, MS for an ASC matchup. Mississippi College held a 21-point lead in the 4th quarter and looked to have the game on ice. But the never-say-die 2000 Roos refused to quit, and engineered one of the most dramatic comebacks in Roo football history.
The 2000 team was led by the rushing of Aaron Kernek. One of the best athletes to ever wear the uniform, Kernek would finish his senior season of 2000 as the conference's leading rusher. He wasn't done. The Roo running back then signed with the Baltimore Ravens and the New York Giants practice squads during the 2001 season, one year after both teams had faced each other in the Super Bowl. While many Roos have flirted with the professional ranks over the past 50 years, only Kernek has actually made an NFL roster.
The HBO series "Hard Knocks" follows the training camp fortunes of an NFL team each season. In 2019, that team was the Oakland Raiders. The show has been around since 2001, when it first profiled members of the defending Super Bowl Champion Baltimore Ravens. In Episode 3 at the 33:55 mark, rookies Kenny Jackson (Nevada-Reno) and Aaron Kernek (Austin College) take a break from camp to travel to Philly, get a cheesesteak, and check out the Liberty Bell. See the comments.
In 2016, we revisited Austin College's 1981 national championship season. In 2017, we went back to 1988 and Coach Mel Tjeerdsma's TIAA conference title in Sherman. In 2018, we celebrated the 50th anniversary of the 1968 Roos and their one loss season at the hands of a famous Dallas Cowboy from America's team. In 2019, we'll head back to 2000…..the year when AC was a dangerous opponent in one of the top D3 conferences in the country. The 1988 and 1968 teams each won 7 games in a row, and the 2000 team nearly matched it.
I've been collaborating over the summer with Travis Stein, AC Quarterback in 2000. Travis has sent me a good amount of stories, clippings, and images from that season. More stuff is requested from his teammates; send me what you got 2000 Roos! Or, share this fall as we go through the season. I'm also working to FB friend as many 2000 Roos as possible. Below is a tentative list; please add those I am missing:
Members of the 2000 Austin College Kangaroos:
Many from the 2000 Roo football team will be in Sherman for Legends 2019, as teammate Marcus Schulz will be honored with the Kedric Couch Alumni Coach of the Year award. I'll be there too. Looking forward to meeting those guys and hearing stories of their great season.
The 2000 team means a lot to me personally. I spent the 1990s on the east coast, and felt like I'd been on the road for dang near all my life. I woke up one morning on a cold Boston day in 1999 and realized it was time to go home. I made my way home to Texas, met Dianne, started a family, and began the career I still enjoy today. I also caught an Austin College football game that year. A group of us headed to Seguin from Austin and watched Norman and the 2000 Roos defeat Texas Lutheran on a beautiful fall day.
George says it best. In the year Y2K, it was a great time to be somewhere down in Texas.
The 2000 AC football season will be told this fall. See y'all at Legends.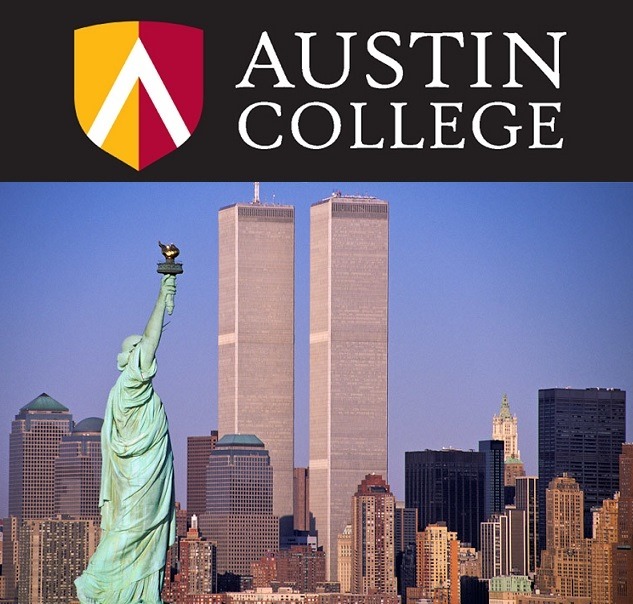 The defending Super Bowl champion Baltimore Ravens opened up the 2001 season at home against the Chicago Bears. The date was Sunday, September 9, 2001. There was very little on the minds of fans in Baltimore other than the celebration of the organization's first title. The Lombardi trophy was presented to owner Art Modell, and Baltimore beat Chicago 17-6. Every member of the Baltimore Ravens roster celebrated.
That roster included an Austin College Kangaroo.
Aaron Kernek was a member of the Baltimore Ravens practice squad when the 2001 season kicked off on September 9th. The Chicago Tribune printed the Ravens roster that Sunday; Kernek was listed at #46, alongside veterans such as TE Shannon Sharpe. Kernek was a member of the 2000 Austin College football team which won 7 games, competed for an ASC conference title, and pulled off the greatest comeback in AC history.
The next day was September 10th. I picked up my fiancé Dianne at the University of Texas Tower, and we headed home. Later that evening, I made my way to Wayne Whitmire's place, where we watched a little Monday Night Football. The New York Giants were in Denver, and the Broncos won a rather uneventful game. I headed back home again, unaware that normalcy would soon end.
The Giants were unaware as well. After the defeat, New York boarded an overnight flight and landed at Newark Airport just after dawn. As the team deplaned at Newark, United Airlines Flight 93 was preparing to board in the same airport. That flight was scheduled to arrive in San Francisco. Instead, it ended in a Pennsylvania field.
"The gate next to where we landed was the flight that went and crashed in Pennsylvania."
– Ernie Accorsi, NY Giants General Manager
"And here we are walking out of an airport, and you realized that we were passing the guys who did this."
– Michael Strahan, Giants DE
"It's haunting to realize that you saw people walking by you that would never take another breath."
– Tiki Barber, Giants RB
I dropped off Dianne at the UT Tower that morning, where she watched events unfold along with the rest of us. Dianne received an email that morning from her Director via University of Texas President Larry Faulkner; anyone in the Tower who felt uncomfortable should feel free to vacate, they said. We both spent that afternoon at home glued to scenes coming out of New York City.
New York City is the greatest city in the world. After 9/11, all Americans were New Yorkers. We felt their pain, and we were inspired by the resiliency of the community in the Big Apple. The city's residents banded around its sports teams for healing. One of those teams was the New York Giants. All NFL games were cancelled on Sunday 9/16 in the wake of the tragedy; their resumption one week later was a national opportunity for recovery.
The defending NFC champion New York Giants played their first post-9/11 game at Kansas City against the Chiefs. The date was Sunday, September 23, 2001. There was very little on the minds of fans in Kansas City other than the lives of those impacted by the attacks. Fans paid tribute to America, and New York beat Kansas City 13-3. Wearing NYPD & FDNY baseball caps in the postgame locker room, every member of the New York Giants roster celebrated.
That roster included an Austin College Kangaroo.
Aaron Kernek had been traded from Baltimore to the New York Giants practice squad the week after 9/11. On September 19th, the New Jersey Record reported in its "Giants Notebook" that New York had "waived receiver Pat Woodcock and practice team safety Kelly Herndon, replacing them with defensive end Gillis Wilson and running back Aaron Kernek."
The Record also reported more somber news within its Giants Notebook: the visit by head coach Jim Fassel to Ground Zero in Manhattan, and the thoughts of Giants RB Greg Comella:
"Jim Fassel's halting words and heavy pauses said as much about his visit to the World Trade Center devastation as his descriptions did Wednesday afternoon. The Giants coach spent much of Monday evening in lower Manhattan, overwhelmed by the response from rescue workers who wanted to talk with him about the Giants or pause to pose for pictures. 'Even with all the death and destruction, I look at those guys and they're doing their jobs,' Fassel said. 'I will never, ever, ever feel sorry for myself in a press conference after a loss again.'"
"'We'll go from feeling somber, to reflecting and thinking about the tragedy, to hopefully trying to focus on some of the good during the national anthem, on the recovery effort, and the American spirit,' Comella said."
Ethnic and religious extremists are the natural enemy of the global community. 9/11 is a day we'd like to forget, but we cannot nor should not. Instead, it's a reminder that those of us who reject this hostility should stand tall with open and inclusive arms. In America and around the world, we should all be on the same humanist roster.
You better believe that roster is gonna include a whole bunch of Austin College Kangaroos.
Aaron Kernek and the Austin College Kangaroos had quite a campaign back in the year 2000. Their season should be celebrated, and it will be. Roo Tales likes to look back at one AC football season every year; we'll do so for the 2000 squad this fall. I'm having fun collecting newspaper clippings, and am excited to start writing. I'm also hopeful that the members of the squad will provide lots of color commentary alongside the play-by-play. See you this fall 2000 Roos.
And, a reflective 18th anniversary to all.
Members of the 2000 Austin College Kangaroos: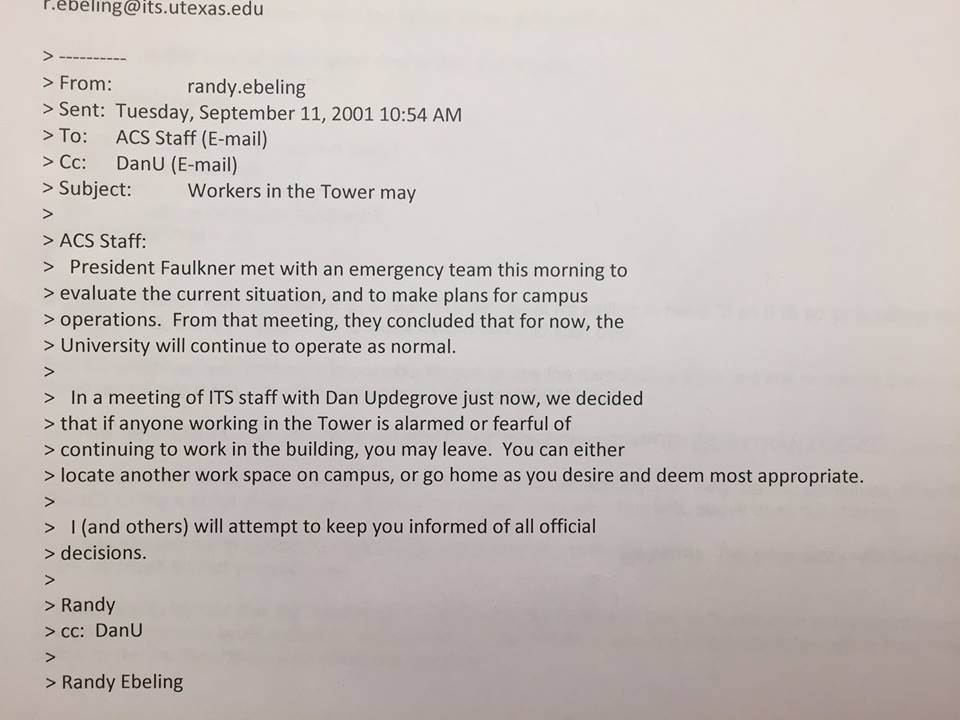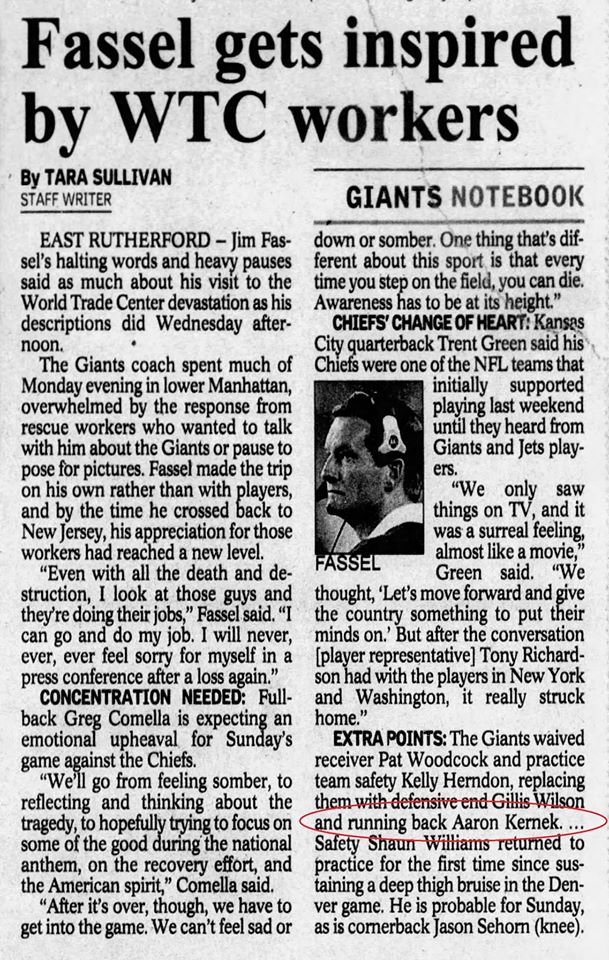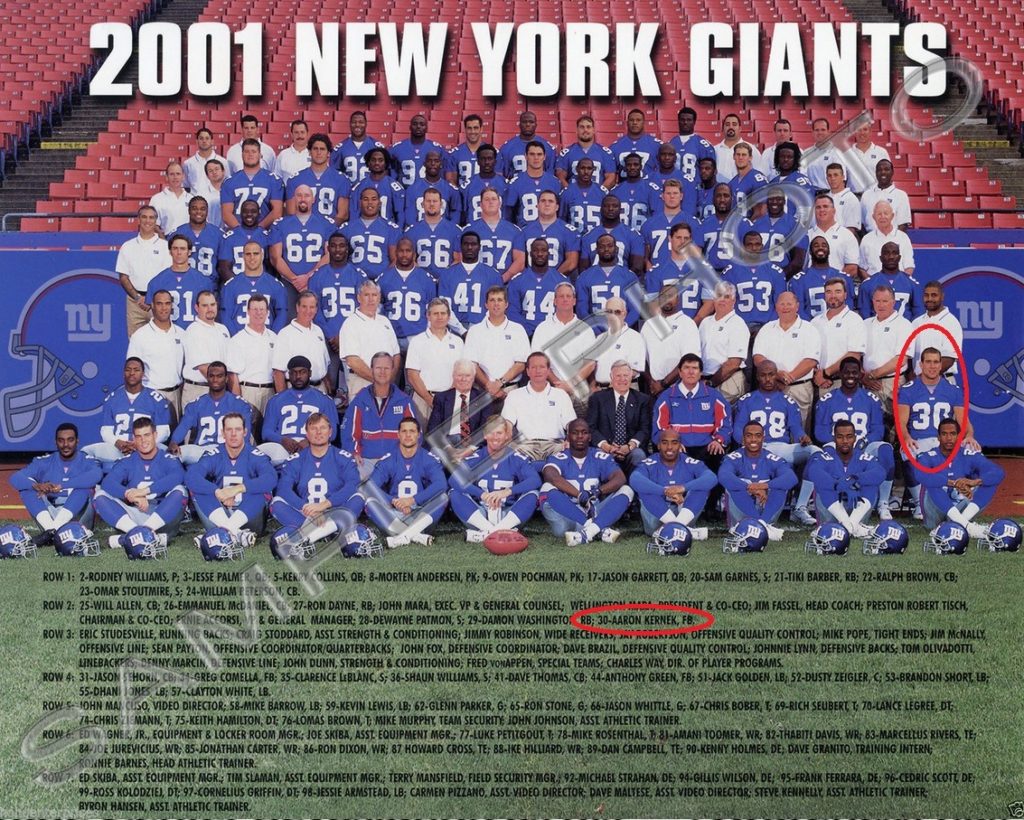 https://www.youtube.com/watch?v=QX3Dx8XoeAw&fbclid=IwAR3dyD0O87RHBKbuFw5jhtIThq0WTNVV2O_PPXZnn254IN8UEraQNcJ5u30
https://www.espn.com/espn/story/_/id/6937733/sports-sept-11-2001-espn-magazine?fbclid=IwAR2Vac_dbm555y6uHt1kiZJWBYYk0lJ1usNU6hHKTd2VIx8P-rf8f2xAiaU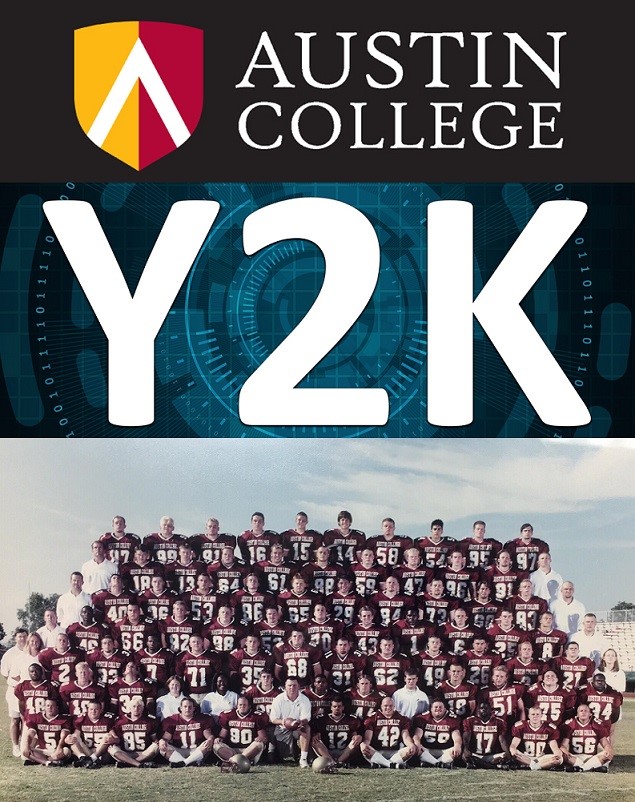 The 2019 AC football team recently concluded a dramatically improved season. The Roos more than doubled their win total, and defeated nationally ranked Centre College at home. Senior QB Colt Collins broke Bo Miller's 60-year old records for career passing and all-purpose yards. Aaron Kernek's career rushing record at AC is safe for now, however. Kernek was a member of the 2000 AC football team.
The five wins earned by AC were nearly more. In two losing contests, the Roos were tied in the fourth quarter. With a few lucky bounces of the football, the 2019 squad could very well have notched a total of seven wins this year. 7 wins? That's the number earned by the 2000 AC football team.
It's becoming something of a tradition. Every December, we tell the story of a Roo football season from the past. We kicked off this venture in 2016 with the best team of them all: the 1981 AC national championship squad. We followed in 2017 by reliving the season of the 1988 TIAA conference champions. Last year the nationally ranked 1968 squad was celebrated on their 50th anniversary.
This December, we'll go back to the year 2000. The fightin' AC Roos of David Norman finished 3rd in the powerful American Southwest Conference (ASC), fought every opponent for four quarters, and secured one of the greatest comebacks in school history. Mississippi College earned a D2 National Championship in 1989, and a D3 ASC championship in 1997. The Choctaws held a 21-point second half lead in Mississippi in 2000, but watched as the Roos slowly clawed all the way back. An AC field goal as time expired sealed a comeback win for the ages. Next time I'm driving by Clinton, MS, I plan on taking a pit stop at Robinson-Hale stadium to salute.
Congratulations to the 2019 squad on an exciting season. It was a thrill to call a game once again with Kirk Hughes. Kirk and I have been watching a lot of AC football over the past few years. We both know that while the Roos may win some and lose some along the way, there's never any lack of discipline or quit with this bunch. Looking forward to 2020.
I'm busy writing Kirk Hughes style play-by-play for the 2000 season story, and am looking forward to the month of December. I'll need color commentary help though from members of the 2000 team. Only those Roos on the squad know the "rest of the story." Not too late to send me articles & photos if you've got them, and please help me track down other 2000 Roos not listed below. Thank you in advance.
Members/family of the 2000 Austin College Kangaroos:
The story of the 2000 season kicks off in December on the following schedule:
Sunday 12/1: Millsaps
Thursday 12/5: Hardin-Simmons / Mary Hardin-Baylor
Sunday 12/8: McMurry
Thursday 12/12: East Texas Baptist (AC National Championship Day)
Sunday 12/15: Texas Lutheran
Thursday 12/19: Louisiana College
Sunday 12/22: Mississippi College
Thursday 12/26: Howard Payne / Sul Ross
Sunday 12/29: NFL
See you then.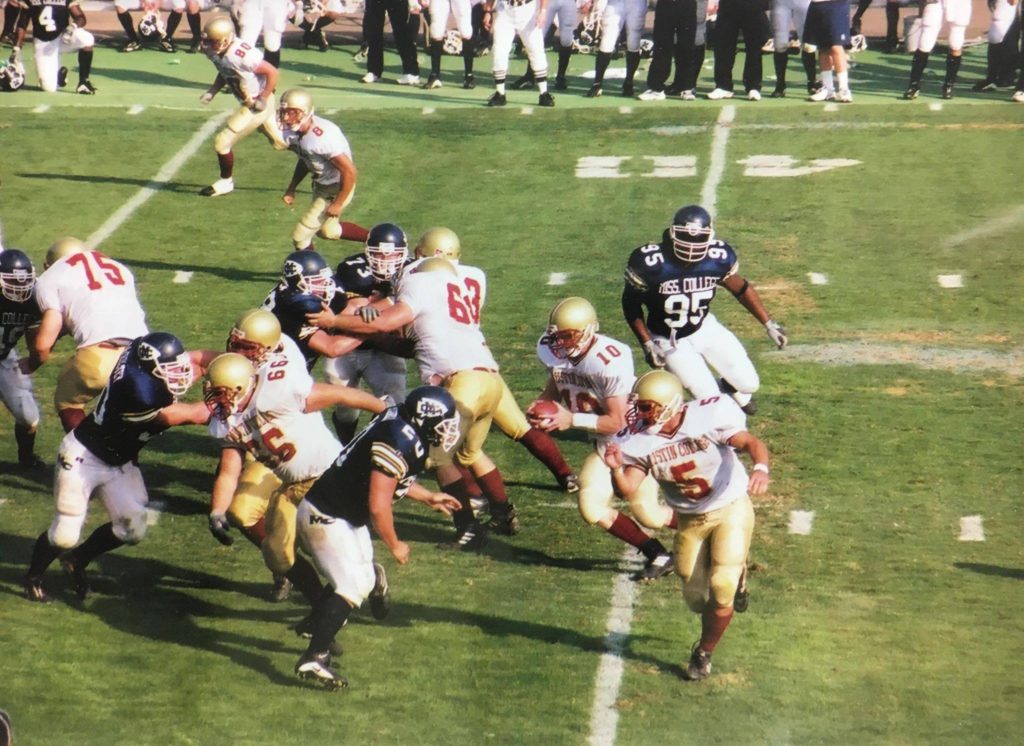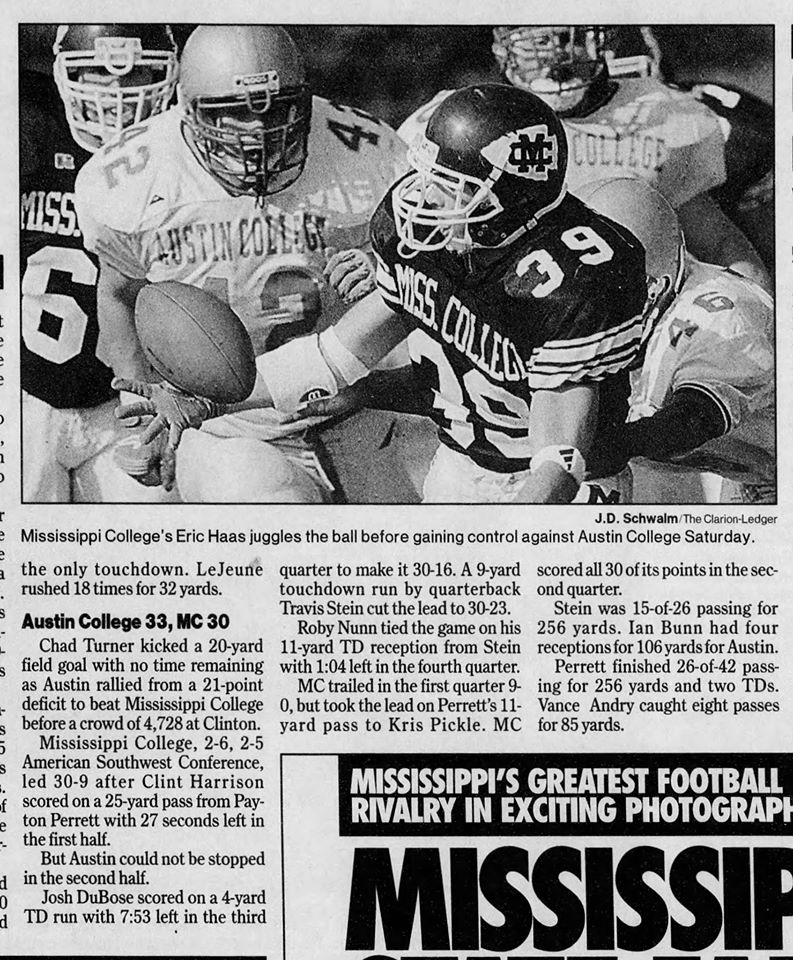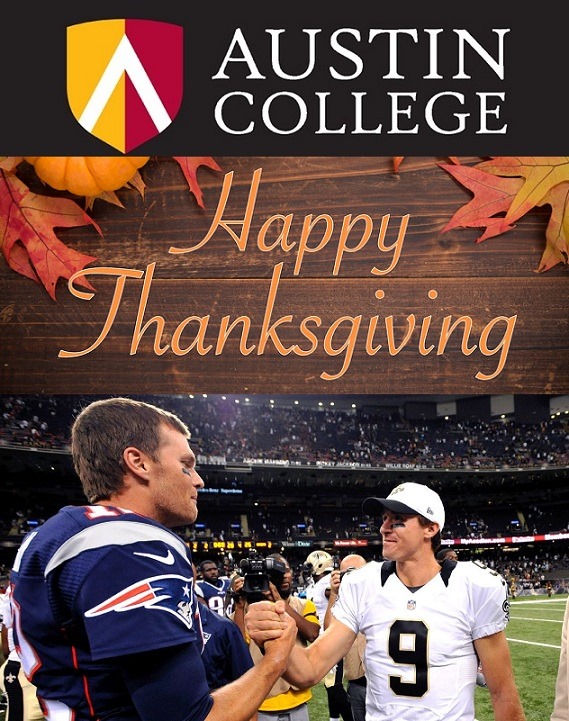 It's Thanksgiving weekend, which means football. Drew Brees and the New Orleans Saints play tonight. Tom Brady and the New England Patriots play this Sunday. Happy Thanksgiving everybody.
Sunday is also December 1st, the day we kick off the story of the 2000 Austin College Kangaroo football team. The last chapter will be posted on Sunday, December 29th. That story will be told throughout the month of December on the following schedule:
Sunday 12/1: Millsaps
Thursday 12/5: Hardin-Simmons / Mary Hardin-Baylor
Sunday 12/8: McMurry
Thursday 12/12: East Texas Baptist (AC National Championship Day)
Sunday 12/15: Texas Lutheran
Thursday 12/19: Louisiana College
Sunday 12/22: Mississippi College
Thursday 12/26: Howard Payne / Sul Ross
Sunday 12/29: NFL
Drew Brees and Tom Brady are arguably the two best quarterbacks to ever play the game of football. On the other hand, the 2000 Austin College Kangaroos were just a small, D3 football team in north Texas. Now why on earth would I put those two together?
You ever see the movie "Fools Rush In?" There's that one scene where the preacher looks at Matthew Perry's character and says "You look lost. There are signs everywhere to help you find your way." There are ALWAYS Roo ties. You just have to see the signs.
Drew Brees and Tom Brady are perhaps the best to ever play the game. They are both still active, and sit at #1 & #2 in career passing yards. Brees is #1, having thrown for just over 76,000 yards. Brady is at #2, with nearly 74,000 yards. No other active player is anywhere close to these numbers. Their yardage records are locked in for a generation. But there's more.
Peyton Manning's career touchdown passing record of 539 may just fall this year. Tom Brady is at #2 with 532 TDs; Brees is right behind him at 531. At their current paces, Brady and Brees are both projected to catch Manning's record on Sunday, December 29th, the final weekend of the 2019 season. Why, that's awfully convenient. Sunday, December 29th is the final chapter of the story about the 2000 Austin College Kangaroos. We'll get to watch Brees & Brady chase the record as we tell this Roo story.
So again, you're thinking. The Toms & Drews. The 2000 Roos. What's the point? I don't get it.
You look lost. There are signs everywhere to help you find your way.
Before he was a future Hall of Fame quarterback for New Orleans, Drew Brees was a high school QB in Texas. He was a starter for the 1995 Austin Westlake Chaparrals, a school at that time looking for its first state title. Brees and the Chaps jumped out to a 4-0 record in 1995, but had a pivotal district battle in week #5. At historic House Park in Austin, Westlake met the 4-0 Austin High Maroons for first place in the district race. The Maroons had a solid QB of their own:
2000 Austin College quarterback Travis Stein.
Brees & Westlake defeated Stein & AHS that evening, and were on their way towards a district championship and playoff appearance. One year later, Brees and the Chaps completed a perfect season and brought home the first (and still only) state title for Austin Westlake high school. A great photo of Stein & Brees was taken at House Park immediately after the 1995 game. See the comments. Both Travis & Drew had a lot more hair back then.
Oh, but we ain't done.
A young Tom Brady took over for injured veteran Drew Bledsoe in 2001, and led New England to its first Super Bowl championship. Brady's performance in Super Bowl 36 was legendary. With the score tied, New England had the ball on their own 17 with no timeouts and just 1:30 left. Instead of playing for OT, Brady led the Pats down the field for title winning field goal on the last play of the game. The birth of the Brady legend was born.
Brady's next game was the first pre-season contest of the 2002 season. The Patriots were in New York to kick off their title defense against the Giants. The Boston Globe previewed the Patriots season, and published a roster of both teams for the nationally televised broadcast. On the Patriots? #12 Tom Brady, author of the dramatic Super Bowl victory. On the Giants?
2000 Austin College running back Aaron Kernek.
Austin College's all-time leading rusher Aaron Kernek was able to secure spots on NFL rosters during the 2001 and 2002 seasons. As a Baltimore Raven in 2001, Kernek got plenty of touches in a number of preseason games; Stein was in attendance for one of them. The Giants were so impressed that New York acquired Kernek from Baltimore for the 2002 season. For those of us who are familiar with the modesty of AC football, his presence on an NFL roster alongside Tom Brady is nothing short of phenomenal. Brady was 7-for-11 and 104 yards in a loss to Kernek's Giants. See the comments for the roster.
Brees and Brady were at it again last week. Brees led the Saints on a last minute drive to secure a three point win on the game's final play. That sounds an awful lot like Stein's performance against Mississippi College in 2000; you'll want to check out that chapter on 12/22. Brady threw for 190 yards and a touchdown in a win over Dallas; Cowboys fans were not happy with the play calling. Go back and look at that 2002 Brady/Kernek roster in the comments again. Kernek's teammate in 2002? QB Jason Garrett.
Who do I want to see in the Super Bowl this year? Well before I didn't really have a dog in this hunt. But now? I kinda wanna see New England & New Orleans go toe to toe. I can't think of any better way to pay tribute to the 2000 Austin College Kangaroos in January, after we've told their story in December. We'll update the 2019 NFL Career Passing Touchdowns race on every 2000 Roos chapter as we make our way towards the end of the regular season on December 29th:
NFL Career Passing TDs as of November 28th:
Peyton Manning: 539
Kernek's buddy Tom Brady: 532
Stein's buddy Drew Brees: 531
Brees & Stein. Brady & Kernek. 2000 Roos and American football. Austin College & the world. After hearing these words, you look confused. You look lost. But there are signs everywhere to help you find your way. You just need to see the signs.
The story of the 2000 Roos kicks off this Sunday, December 1st. See you then, and Happy Thanksgiving everybody.
Members/family of the 2000 Austin College Kangaroos: