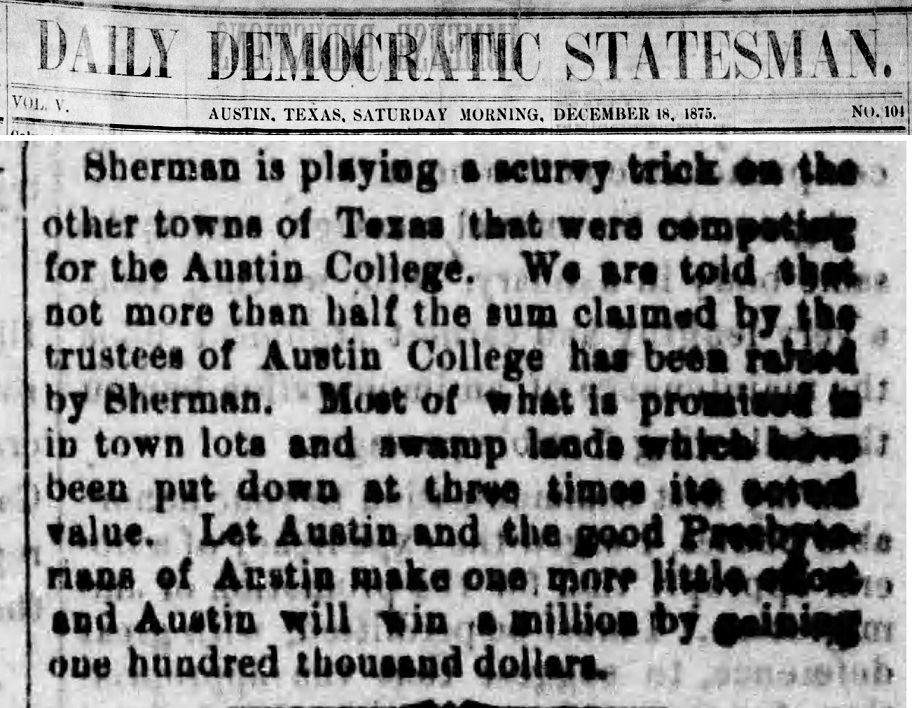 Hey Austin, TX Roos!
Y'all probably know all about Jack Wylie's AC ROOts Happy Hour group in the D/FW area. Well, Monica Walters Crowley, Charlotte Marx Harper, and others have followed in his footsteps and have started an AC ROOts group down here in Austin. You gotta attend, you just gotta! Why's that? Cause phoning it in means a missed opportunity.
Austin College was searching for a new home in 1875, and one city in particular was the obvious choice. The citizens of Austin, TX gathered to convince President Luckett to relocate west. Not only was Austin the capital of the state, the city had no college to call its own. The University of Texas was still nearly a decade away. Conveniently, the city and the college were already named for the same man, the father of education in Texas.
However, by the end of the year it became clear that the effort had not been enough. Austin College was slipping away. From the December 18, 1875 Austin Statesman:
"Sherman is playing a scurvy trick on the other towns of Texas that were competing for the Austin College. Most of what is promised is in town lots and swamp lands which have been put down at three times its earned value. Let Austin and the good Presbyterians of Austin make one more little effort and Austin will win a million by raising one hundred thousand dollars."
Sadly, Austin failed to secure AC. Like the effect of the Great Storm of 1900 on Galveston, the town has still never quite recovered from the blow.
But here's your chance to right the ship Austin, TX. Grab a beer with fellow Roos after work and make Jack Wylie proud of his legacy. Let AC know that in spite of their mistake in 1875, it's all water under the bridge now. And prove that the oldest small college in the Lone Star state is not primarily a "metroplex" college, it's a college for all Texans.
Yeah, Jack may be a north Texas fella. But his future is south. He's got a Longhorn kid in school at Austin, and he sure does love the Hill Country and the Guadalupe river. He played Austin baseball for years with my UT colleague Kevin Craig. Heck, I've even gotten him out on the tennis court here in Austin (he's good!). Just a matter of time before Jack shows up for good at an Austin AC ROOts Happy Hour.
Things kick off on January 23rd at the Black Star Co-Op on North Lamar. Thanks to Charlotte Marx Harper for organizing the location for the first one.