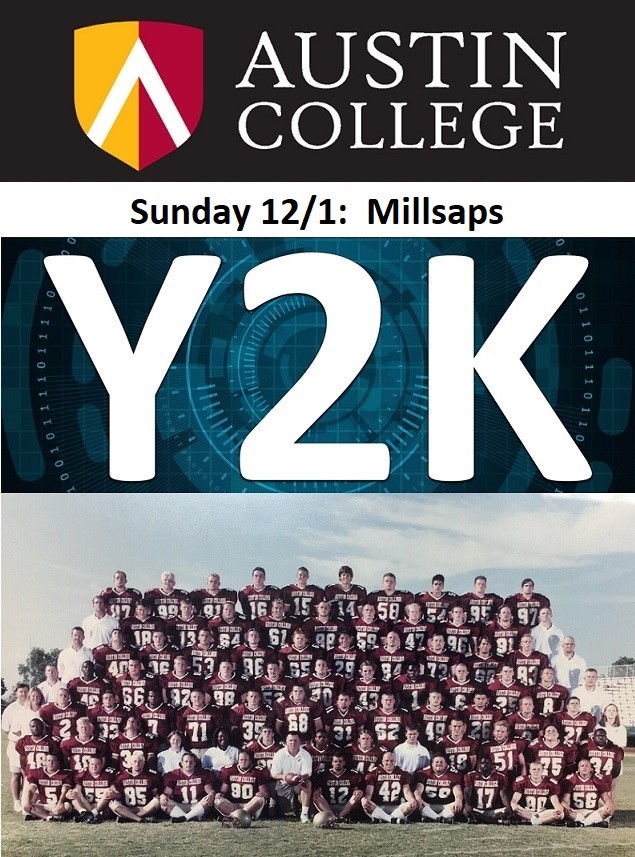 Colin Dunnigan is a former Roo football veteran from my years in Sherman. Today, Colin is the Director of college counseling at Andrew's Episcopal in Jackson, MS. His family learned that they would be moving to Mississippi five years ago. To prepare, they watched a number of films about the Magnolia state. One of those films was a 30-for-30 documentary entitled "Ghosts of Ole Miss." From Colin:
"[Ghosts of Ole Miss] chronicles the 1962 football season, a time when the Rebels were playing exceptionally well while James Meredith fought his way to join the campus community, a horrific time of American history that sadly seems a way-too-recent event. I had heard and read about Meredith and the horrors he and others faced as the university gave way to integration, but I did not know the stories of heroism that emerged from that night until watching the show."
James Meredith was a U.S. veteran of 10 years when he decided to enroll at the University of Mississippi in 1962. Meredith later marched solo from Memphis to Jackson in 1966 to encourage voter registration. He never made it; Meredith was shot by white supremacists along his peaceful march. Thankfully, he recovered from his wounds. But he never made it to his final destination: Jackson, Mississippi.
Millsaps College in Jackson was founded in 1890 by a former Confederate soldier. The Millsaps Mascot "Majors" comes from the rank of that soldier. Millsaps and Austin College have a long athletic history, dating back to the 1950s. That relationship was renewed again 19 years ago, when Austin College hosted the Majors in Sherman to open the 2000 season.
AC built a 21-0 lead in the third quarter, and held on for the 31-23 win. Running back Aaron Kernek gave Roo fans a preview of the season to come, rushing for 146 yards on 28 carries and scoring two touchdowns. QB Keiston Alexander, playing for an injured Travis Stein, was 15-of-23 with two touchdowns throws. One of those TDs was hauled in by receiver Cory Hailey.
"The positive was every time we had something bad happen, we kept our composure," said Roo head coach David Norman. "We got it started, and you can't ask for a better game," said Kernek. "I can't even put it into words what this is like," remarked linebacker Reed Heim about the post-game celebrations. Heim, Marvin Nash, Chris Panneck, and the red shirt defense shut down Millsaps in the first half, and squashed a late Majors rally to secure the win. The 2000 Austin College Kangaroos were 1-0, and on their way.
Austin College football also squared off against Millsaps in October of 1962, and the Roos were immediately caught up in the events surrounding Meredith's attempts to integrate the University of Mississippi in Oxford. Governor Ross Barnett had declared his opposition with racist, inflammatory rhetoric. The Kennedy administration, and much of America, strongly disagreed. On Sunday, September 30th, Attorney General Robert Kennedy ordered that Meredith be enrolled. On Monday, October 1st, the riots in Oxford began.
The riots by white Mississippi were still occurring days later on Friday, October 5th; due to security concerns, Ole Miss decided to move its Saturday football game with the University of Houston from Oxford to Jackson. Only one problem. The Ole Miss game was supposed to be televised, and NCAA rules prohibited a broadcast if another collegiate game were occurring at the same time within a 75-mile radius. There was one. Austin College vs. Millsaps.
The University of Mississippi asked Austin College and Millsaps to change their kickoff from the afternoon to the evening. AC Coach Floyd Gass objected. He explained that the Kangaroos had planned to fly into Jackson that morning, and were scheduled to return to Sherman in the evening following the game. After learning this news, Ole Miss picked up the tab for the Roos and offered to pay for all overnight food, lodging, travel, and expenses in Jackson. Coach Gass accepted. Ole Miss defeated Houston 40-7 in a televised broadcast on Saturday afternoon. Later that evening, AC defeated Millsaps 27-23 in Jackson. The Roos flew back to Texas the next morning, courtesy of James Meredith's University of Mississippi.
The huge racial problems that plagued Mississippi in 1962 were dramatically less in Sherman back in 2000. Two years ago, I wrote about an upcoming AC / Berry football game, and the fact that Berry College is the filming site of the movie "Remember the Titans." The movie, starring Denzel Washington, tells the story of an integrated squad that overcomes a past of racial injustice to win a title. Marvin Nash, a member of the 2000 AC Roos squad, wrote the following in a comment about one of the film's most memorable scenes:
"This movie was released in late 2000. We had a team building opportunity and watched it as a Kangaroo Football team. There wasn't a huge racial divide but we obviously came from different backgrounds. After watching this movie together, a new bond was formed. I played OLB and Chris Panneck played DE. We'd hit the Left Side Strong Side chant often after a big defensive play. It's no surprise that our 2000 squad was one of the winningest teams in the last 25 years."
Colin Dunnigan and his family did more than read about James Meredith. They've actually met the man. From Colin:
"On Labor Day weekend of 2017 we were invited by our school's provost to join [Meredith], his wife, and some others for dinner at his house. I took my place directly in front of him and we talked at length. Meredith's thoughts were sometimes fleeting and meandering, bouncing from topic to topic and full of questions about points I brought up or opinions he held. It was fascinating, and while I had a constant urge to ask him about what he experienced in 1962, being shot, and so many other events in his life, I resisted. However, a quiet voice kept whispering, 'You're sitting here with James Meredith. JAMES MEREDITH! ASK HIM ABOUT OLE MISS!!'"
The ghosts that plague Mississippi and America remain, but collegiate athletics continues to play an important role to keep them at bay. Today, you'll find a memorial to Meredith on the Oxford campus honoring his role in furthering American democracy. Of all the colleges in Mississippi, only one choose to voluntarily de-segregate. Millsaps College in Jackson.
Next up for the 2000 Roos after the Millsaps win? A home contest against Hardin-Simmons, defending ASC conference champions and owners of a 20-game regular season winning streak. The early tests for the 2000 squad would come fast and furious.
James Meredith is today a frequent fixture at a deli in a local Jackson Kroger that Colin frequents. Just last month, Colin wrote online about running into Meredith once again. From Colin, one final time:
"The best part of going to my local Kroger is seeing James Meredith and chatting with him, even if just for a few minutes. This afternoon I stopped by the deli area to see if he was there, and sure enough, he was reading and writing as usual. We didn't talk for long, but I never walk away without realizing that this eighty-six-year-old man is an incredible icon of our nation."
Members/family of the 2000 Austin College Kangaroos:
Sunday 12/1: Millsaps
Thursday 12/5: Hardin-Simmons / Mary Hardin-Baylor
Sunday 12/8: McMurry
Thursday 12/12: East Texas Baptist
(AC National Championship Day)
Sunday 12/15: Texas Lutheran
Thursday 12/19: Louisiana College
Sunday 12/22: Mississippi College
Thursday 12/26: Howard Payne / Sul Ross
Sunday 12/29: NFL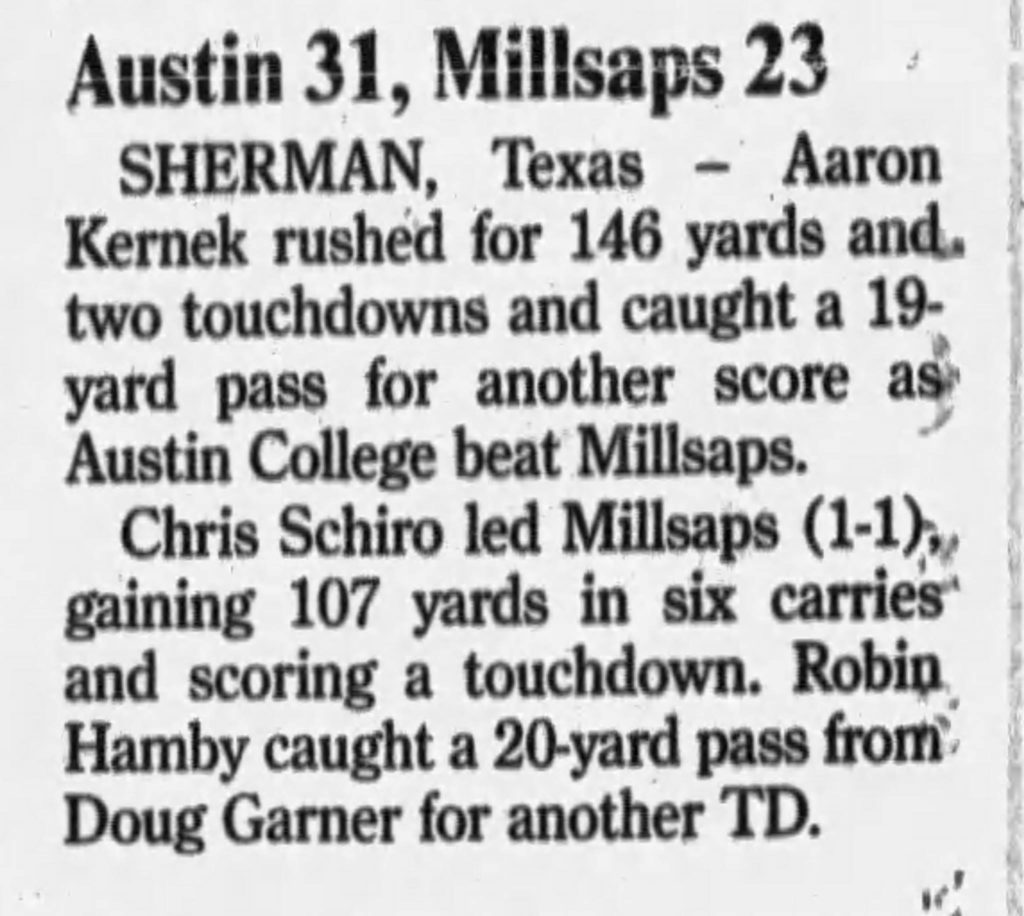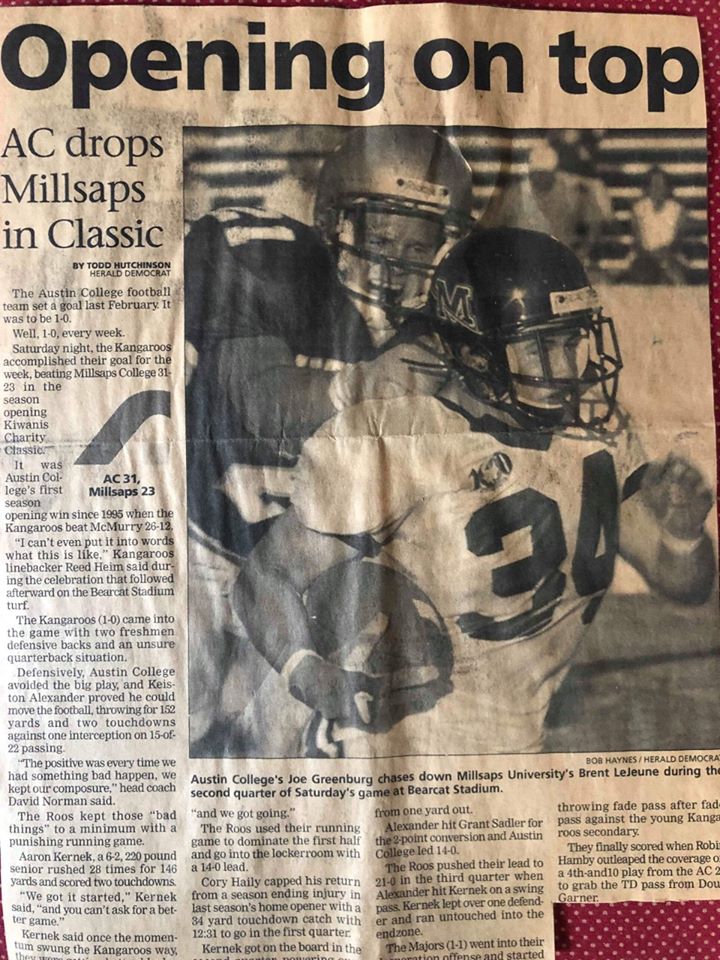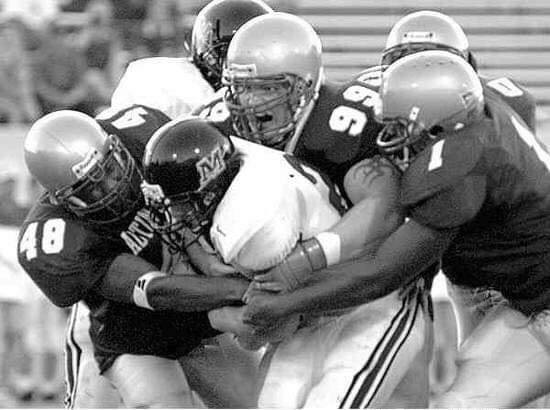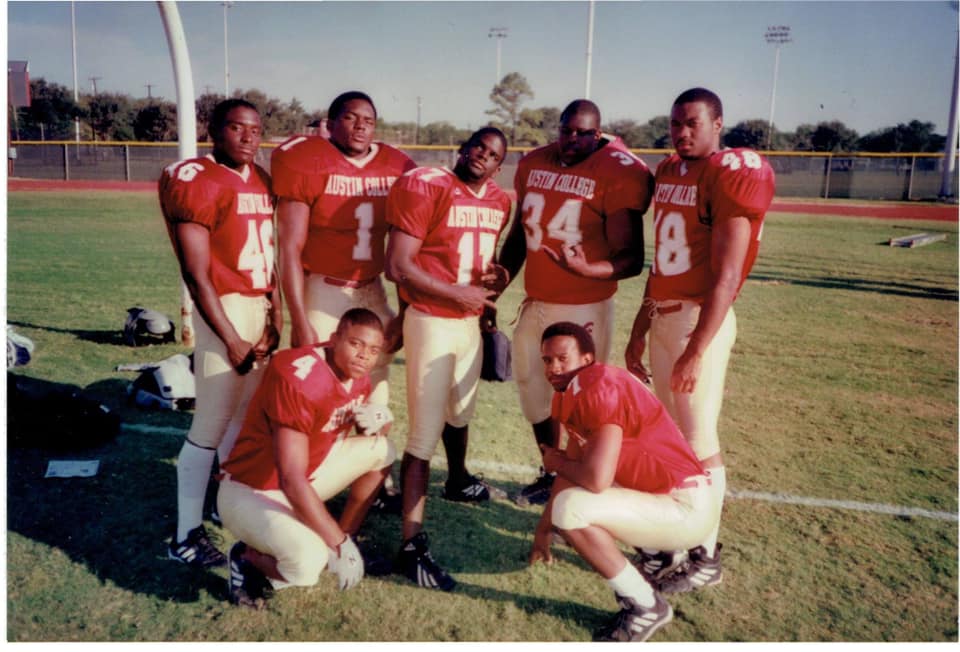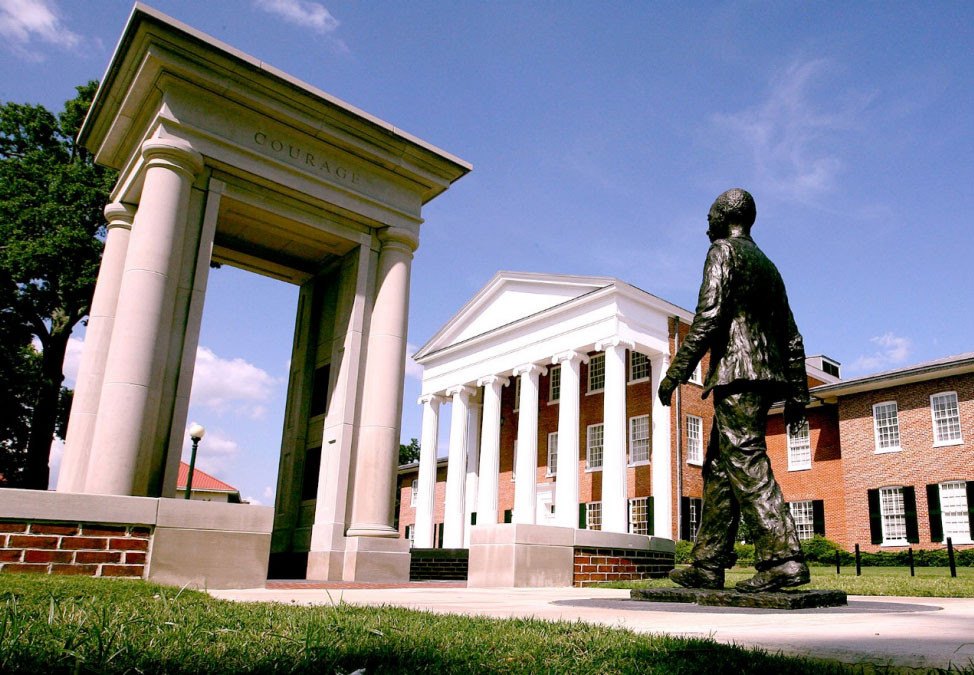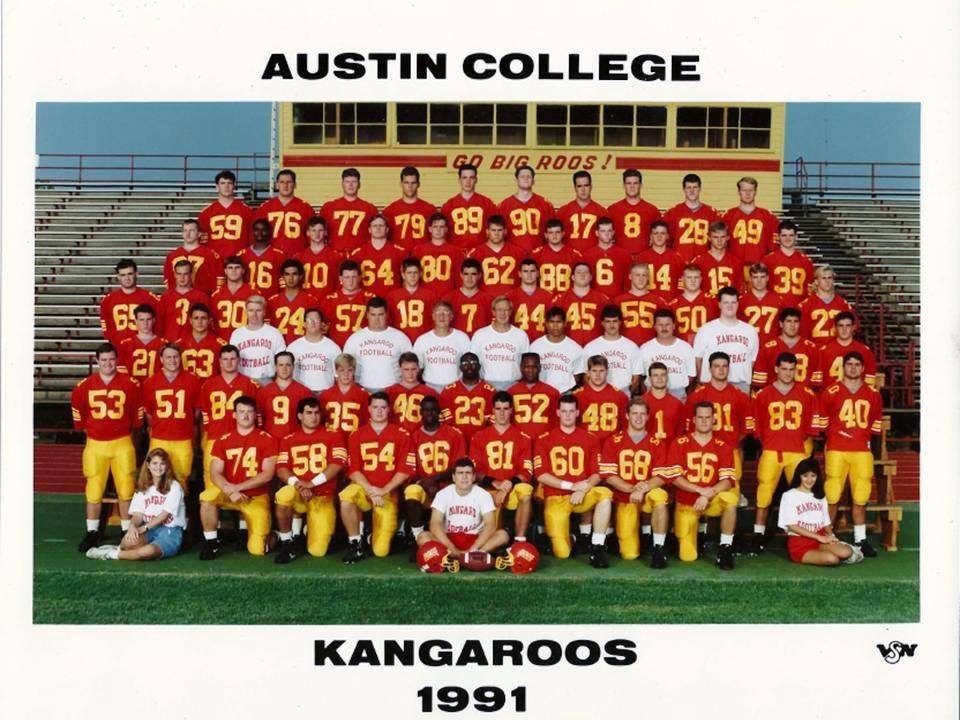 http://www.espn.com/30for30/film/_/page/ghosts-of-ole-miss?fbclid=IwAR3fna1qnptHcwFqrKfzpbAv5f9n_3xt0IZO2GiakJj3zwr5vsJJUwlllGw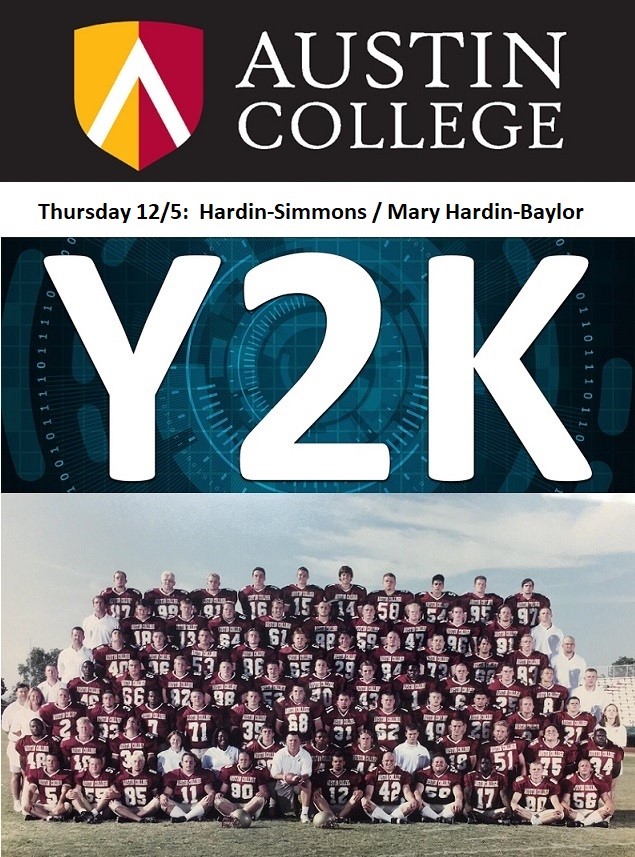 Hardin-Simmons University (HSU) and the University of Mary Hardin-Baylor (UMHB) are both Baptist institutions. The also share a common name. The Hardin family of John & Mary were beneficiaries of the early 20th century Texas oil boom, and became huge benefactors of both schools. HSU traces its birth to 1891. UMHB is even older, and predates Austin College by four years. UMHB originated at Independence, TX in 1845 as the female department of Baylor University.
Athletic competition between AC & the Hardin-Simmons Cowboys goes back 100 years, and started with a bang. Austin College, TIAA champions in 1920, were expected to compete for a conference title in 1922. With wins over SMU and TCU, the Roos were well on their way heading into a conference matchup with HSU. Just days before the contest, an HSU player accused AC of using an ineligible player. A.E. Chandler, TIAA president, ruled against HSU and declared that the Kangaroo player was in fact eligible. The accused Roo scored 8 points in a 14-0 AC defeat of HSU. Austin College cruised to the 1922 conference championship.
Then suddenly, A.E. Chandler reversed course. After further review, the Roo player was ineligible after all. AC would have to forfeit all wins in which the player had participated. AC Coach Charlie Robertson was furious, and smelled a rat. In addition to TIAA President, A.E. Chandler was also the President of Hardin-Simmons. Vacating the Austin College victories would give the TIAA title to Chandler's HSU Cowboys. At the end of the season, Robertson and AC declared themselves conference champions anyway. When asked to submit his 1922 All-TIAA team alongside other coaches, Robertson protested by mailing in his entire Kangaroo lineup.
The future 2000 ASC champions from Abilene came to Sherman during week #2 and left with a hard fought 27-14 victory over the Roos. Aaron Kernek had 163 yards on the ground, as Josh Reynolds, Justin Watson, David Gafford, Matt Walker, and Mike Eklund cleared holes for the future All-American all afternoon. QB Keiston Alexander added 182 yards in the air. A TD catch by Cory Hailey and 61-yard run by Kernek gave AC the lead after one quarter. A strong early defensive effort by Ben Northington, John Palmer, Justynn Royal, Duncan McCallum and the defensive line kept the Roos close, but it would not be enough. Early in the 4th quarter, HSU was still clinging to its one score lead at Jerry Apple stadium when the Cowboys put the game away. Hardin-Simmons would later defeat UMHB for the 2000 ASC crown, advancing all the way to the NCAA D3 semifinals.
Competition between the Roos and the Crusaders of UMHB is more recent. After becoming co-ed in the 1970s, UMHB became a conference opponent in the American Southwest Conference (ASC) in the 1990s. AC took the first two meetings on the gridiron in 1998 & 1999, but 2000 would be a turning point. Over the past two decades, the Belton school has become a Division 3 juggernaut. UMHB has won 15 ASC conference titles since 2002, and secured an NCAA D3 title in 2018. In 2019, the Crusaders are once again in the hunt for a national title; UMHB takes on Wisconsin-Whitewater this weekend in the NCAA D3 Quarterfinals. Mark Carey, whose brother Chad played for the Roos in the late 1990s, is an assistant coach for the Cru.
Week #3 in Belton was similar to the HSU game a week earlier. AC and UMHB battled for a half; the third quarter began with the Crusaders up only 3-0. The AC linebacker corps of Reed Heim, Marvin Nash, Charles Gurley, and Kevin Cook kept the Mary Hardin-Baylor out of the end zone, while the Roo secondary of Marcus Schulz, Jason White, Landon Powell, & Clint Burns kept the Crusader passing game in check. Two second half defensive scores for touchdowns, however, allowed Mary Hardin-Baylor to build a lead they'd never relinquish. The Crusaders would cruise to a 27-0 win. AC had given the top two teams in the conference all they could handle, but had come up short.
Despite the two losses, the 2000 Roos had shown that they could go toe-to-toe with the best in the American Southwest Conference. The rest of the conference remained, and the Kangaroos were about to embark on a winning streak. The running of Kernek would shift into high gear, and the return of QB Travis Stein would prove to be a catalyst in a remarkable comeback during the streak. Next up for the 2000 Roos? A date at home with the War Hawks of McMurry.
After five decades of Border Conference competition with coaches such as Sammy Baugh, the Hardin-Simmons Cowboys decided to drop the game in 1963. In 1990, the school reversed course and brought it back. The first HSU football game in 27 years was spoiled when visiting Austin College knocked off the Cowboys in a 38-19 win in Abilene. Dale Trompler threw for 217 yards, Jason Johnson scored one of his 34 career touchdowns, Kelly Mulhollan added another, and Walker Fenci came up with an incredible four interceptions. Like the 2000 Roos, the 1990 Kangaroo team finished the season with just three loses and also deserves a "Roo season in review."
Good luck Coach Carey, and bring another title for UMHB back home to Belton.
Members/family of the 2000 Austin College Kangaroos:
Sunday 12/1: Millsaps
Thursday 12/5: Hardin-Simmons / Mary Hardin-Baylor
Sunday 12/8: McMurry
Thursday 12/12: East Texas Baptist
(AC National Championship Day)
Sunday 12/15: Texas Lutheran
Thursday 12/19: Louisiana College
Sunday 12/22: Mississippi College
Thursday 12/26: Howard Payne / Sul Ross
Sunday 12/29: NFL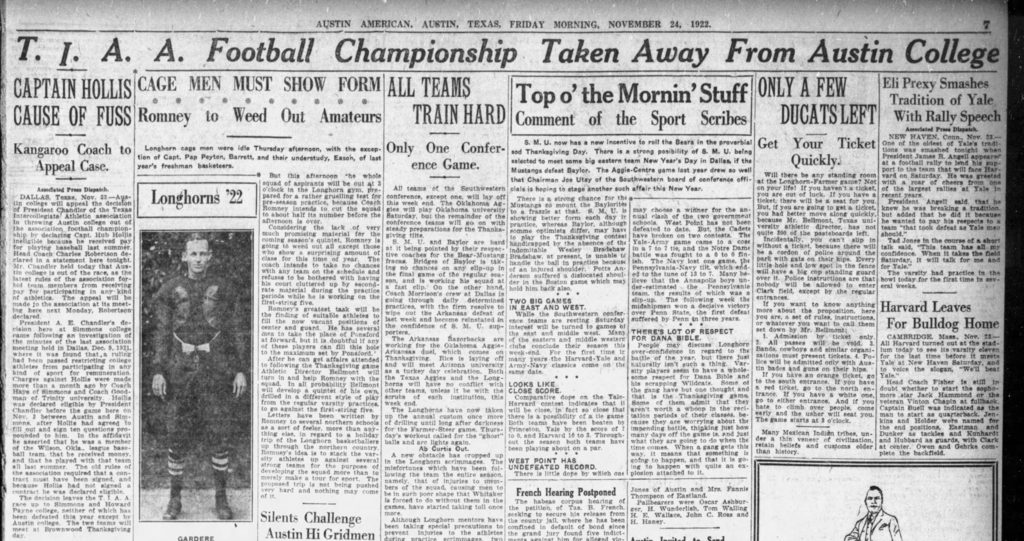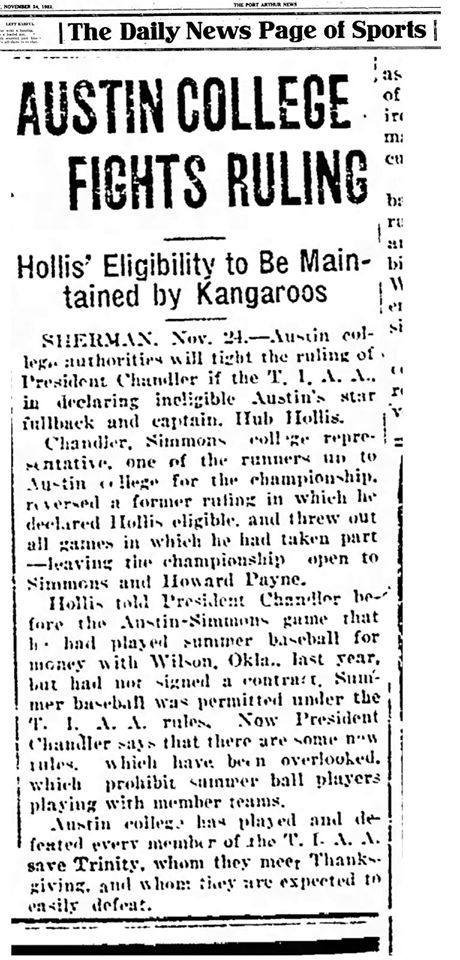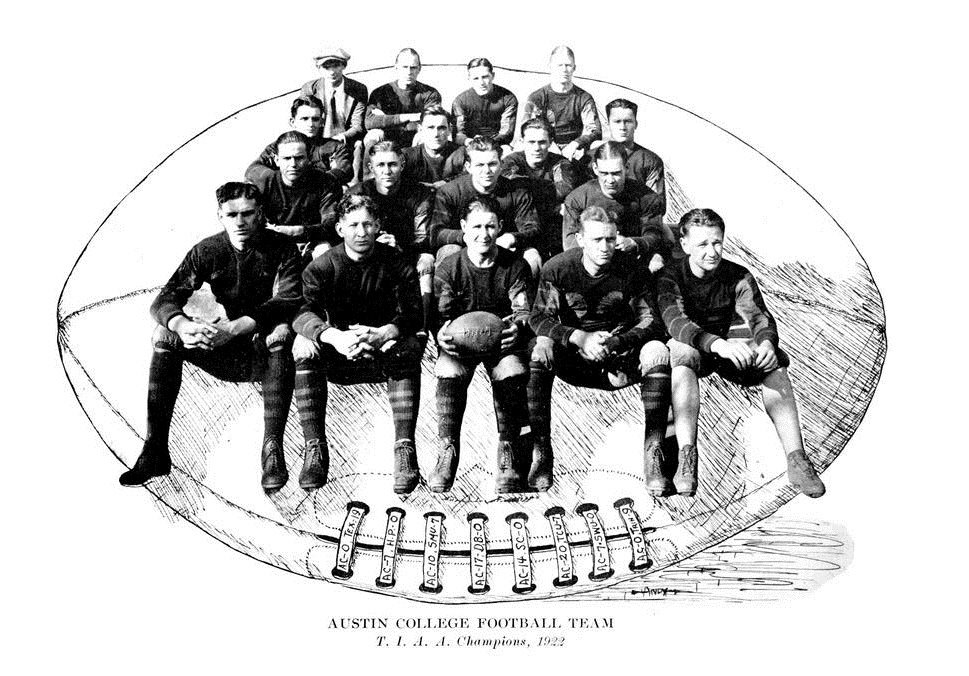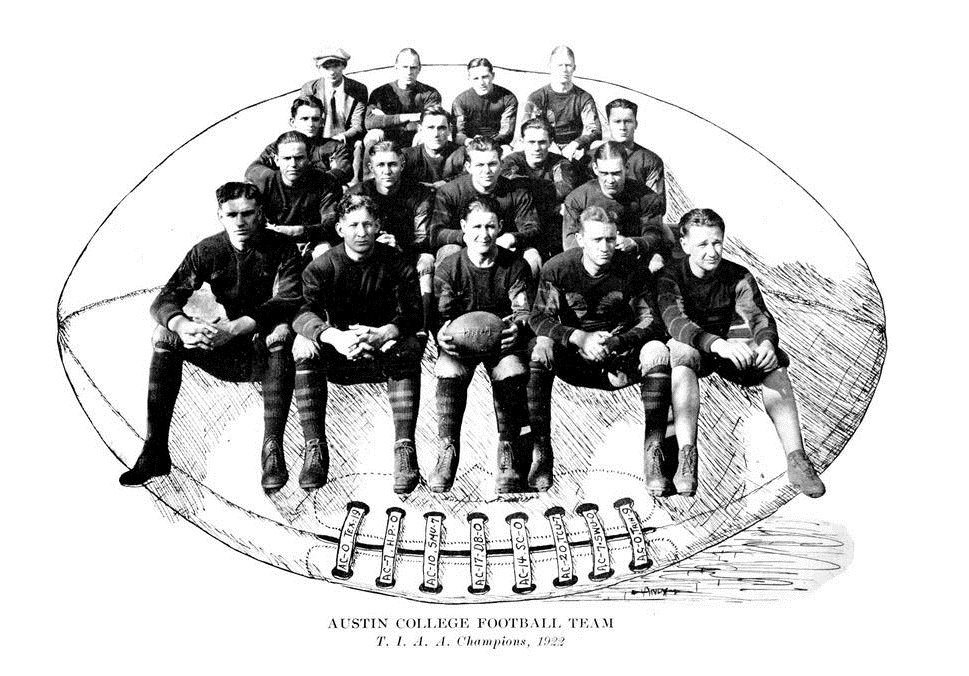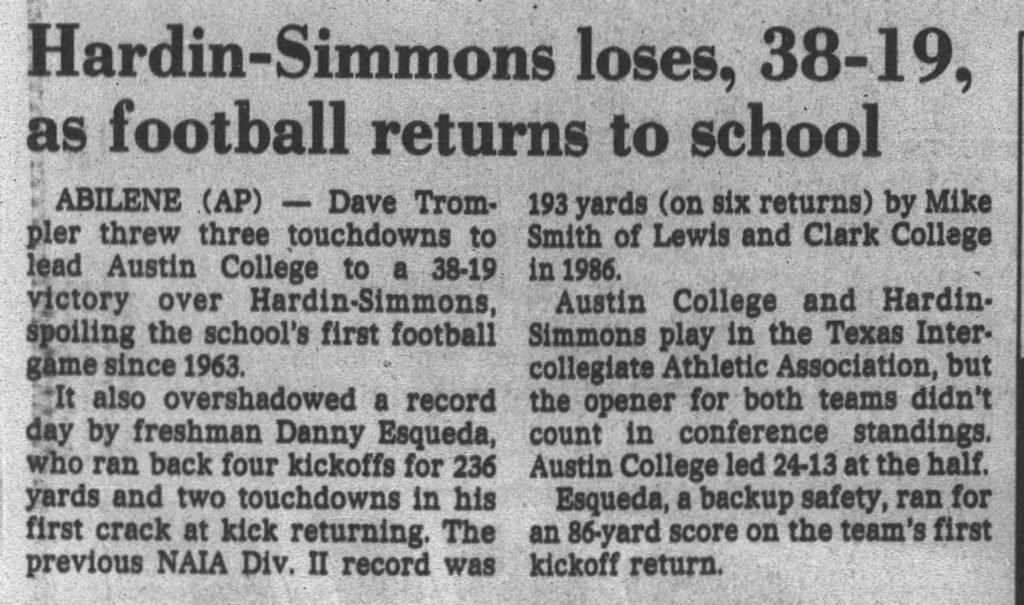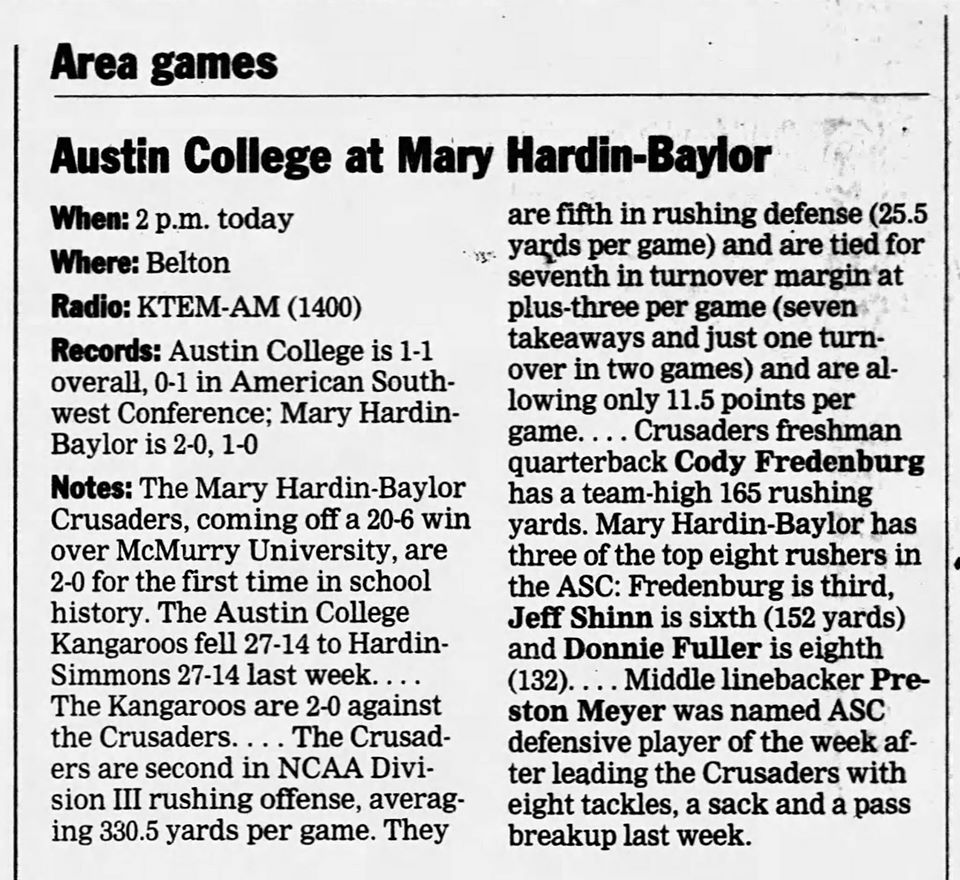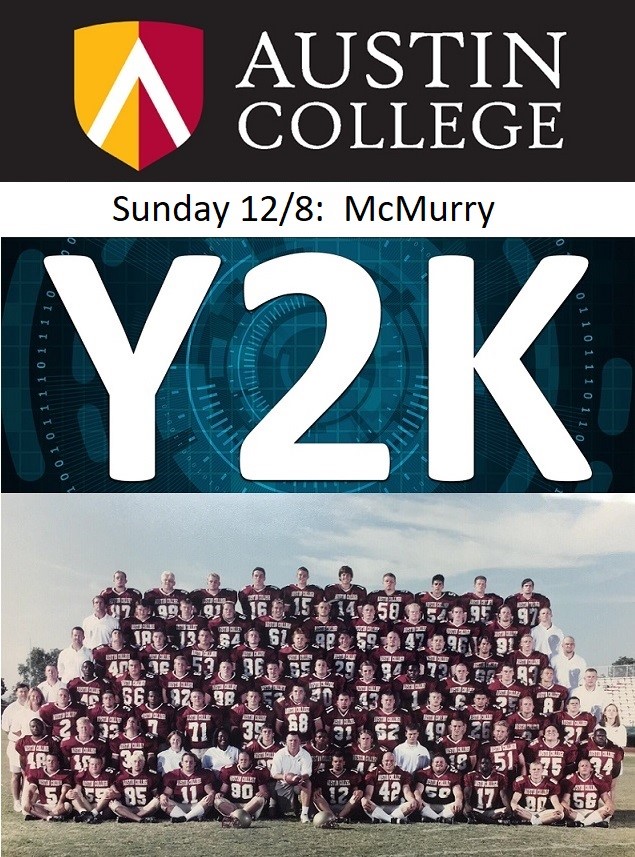 Sunday 12/8: McMurry
McMurry came to Sherman on week #4, but simply had no answers to counter Austin College's Aaron Kernek. With offensive linemen Josh Reynolds, Justin Watson, David Gafford, Matt Walker, and Mike Eklund leading the way, the Roo RB posted a career high 225 yards on the ground. His three touchdowns accounted for all AC trips to the end zone, and Austin College held on for a 24-21 win. The El Paso Times reported on the AC-McMurry game alongside TCU's win over Navy. Horned Frog RB LaDainian Tomlinson was posting Aaron Kernek-like numbers in Fort Worth and found himself in the Heisman hunt. Tomlinson would finish the 2000 season as the nation's top rusher with 2,158 yards, and would end up 4th in the Heisman voting behind Texan Drew Brees.
As the season progressed, Kernek and Tomlinson were matching each other game after game. And that's when Ric Renner and Fox Sports Southwest showed up to do a special on the Roo running back. From QB Travis Stein:
"The story goes that when Fox Sports SW did the special on Kernek in mid-October as the leading yards-per-game rusher in all of NCAA at the time, LaDainian Tomlinson was watching it with one of Marcus Schulz's buddies and was extremely angry. Renner announced "move over LT, there's a bigger star in North Texas." Most of the team remembers this special [fondly] because of Coach Norman's big time appearance where he was accidentally given the name of 'Davis Norman' by Ric Renner."
McMurry has a long history of trips to Sherman. In 1953, the Abilene school traveled east for a game back when AC was an NAIA rival. First year head coach Harry Buffington and the Roos were led by RB Gene Babb, one of the best players in AC history. McMurry had a star of their own, however: linebacker Grant Teaff. Teaff and the McMurry defense shut down Babb and cruised to a 47-21 win. Grant Teaff teammate J.W. "Spud" Aldridge, McMurry class of 1956, was also there.
Grant Teaff would become one of the most recognizable coaches in Southwest Conference history, leading the Baylor Bears to two Southwest Conference titles and 8 bowl games over 20 years. His first conference title in 1974, won after the "Miracle on the Brazos" victory over the Texas Longhorns, may be his most famous. Teaff retired from coaching in 1992, and was inducted into the College Football Hall of Fame in 2001. One of his last acts as Baylor coach was the hiring of Larry Fedora as an assistant. Fedora was a freshman member of the 1981 AC National Championship team.
J.W. "Spud" Aldridge took over McMurry football coaching duties in 1976, and led McMurry to a TIAA title and NAIA D2 playoff appearance in 1980. As defending conference champions, he took his team to Sherman in 1981 for a regular season finale against Austin College. AC needed a win to clinch the conference title and a playoff berth; they got it. After the game, Coach Aldridge took the unusually step of addressing the entire 1981 AC team. Every TIAA champion since 1977 had been knocking on the national championship door, Aldridge said. But the 1981 AC team? They had all the pieces to go all the way. Coach Aldridge asked the 1981 squad to win a national title for the TIAA conference. On December 12th, 1981, they did.
The 2000 Roos were rolling. Next up was a tough East Texas Baptist (ETBU) squad in Marshall. Like the national championship game in 1981, the 2000 AC-ETBU game would end up tied in regulation. But the 2000 game had overtime, and OT……like the fourth quarter…..would belong to the Roos.
Members/family of the 2000 Austin College Kangaroos:
Sunday 12/1: Millsaps
Thursday 12/5: Hardin-Simmons / Mary Hardin-Baylor
Sunday 12/8: McMurry
Thursday 12/12: East Texas Baptist
(AC National Championship Day)
Sunday 12/15: Texas Lutheran
Thursday 12/19: Louisiana College
Sunday 12/22: Mississippi College
Thursday 12/26: Howard Payne / Sul Ross
Sunday 12/29: NFL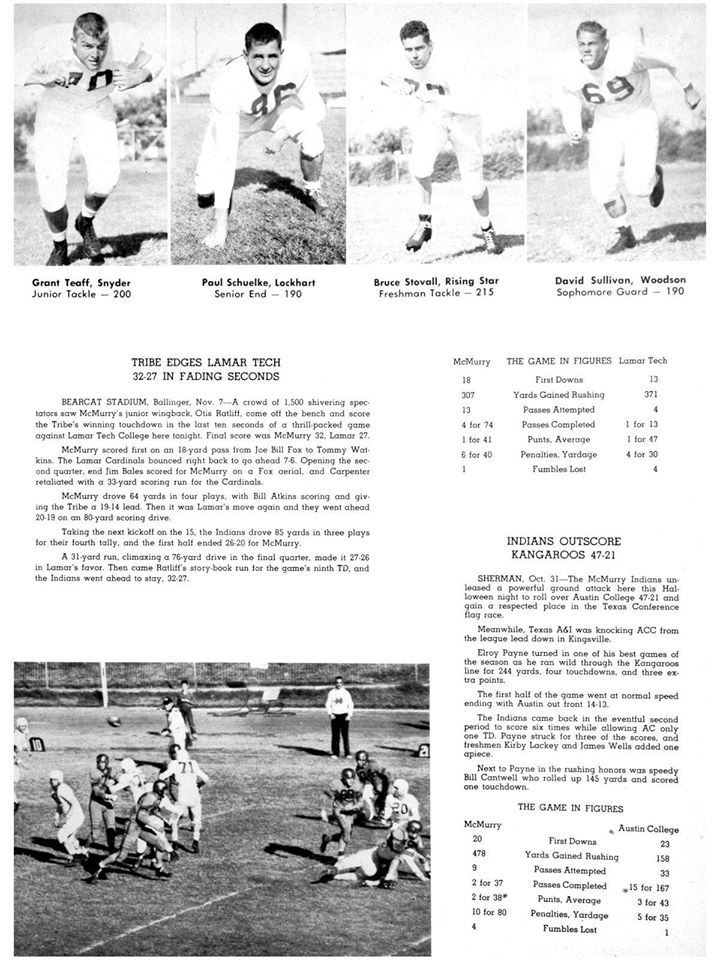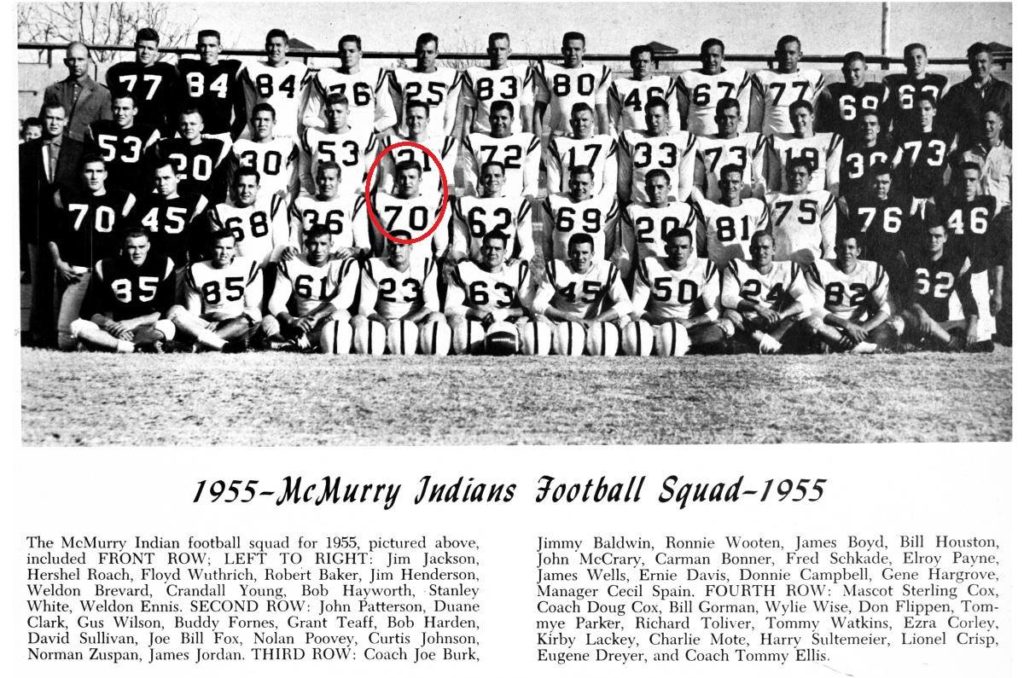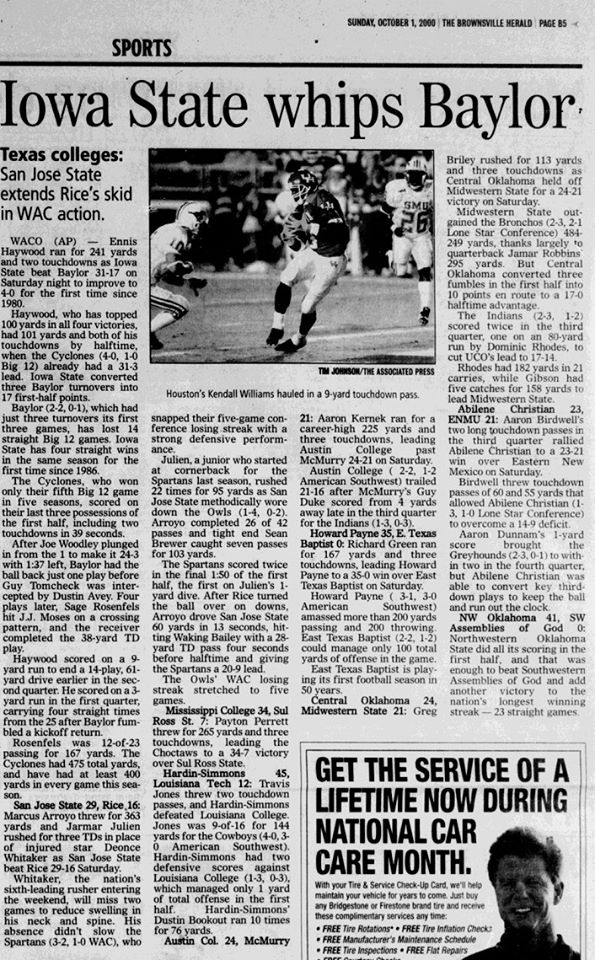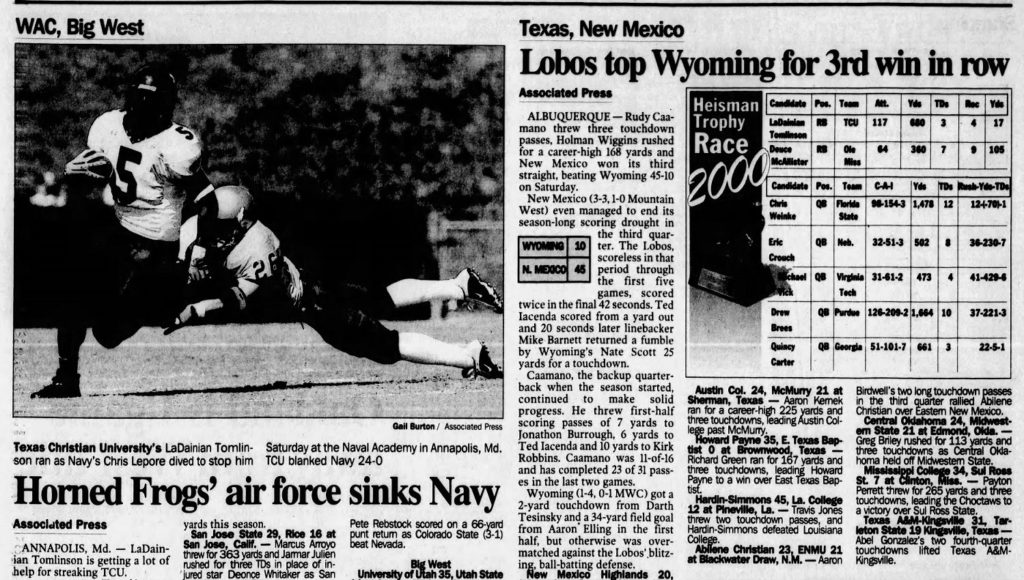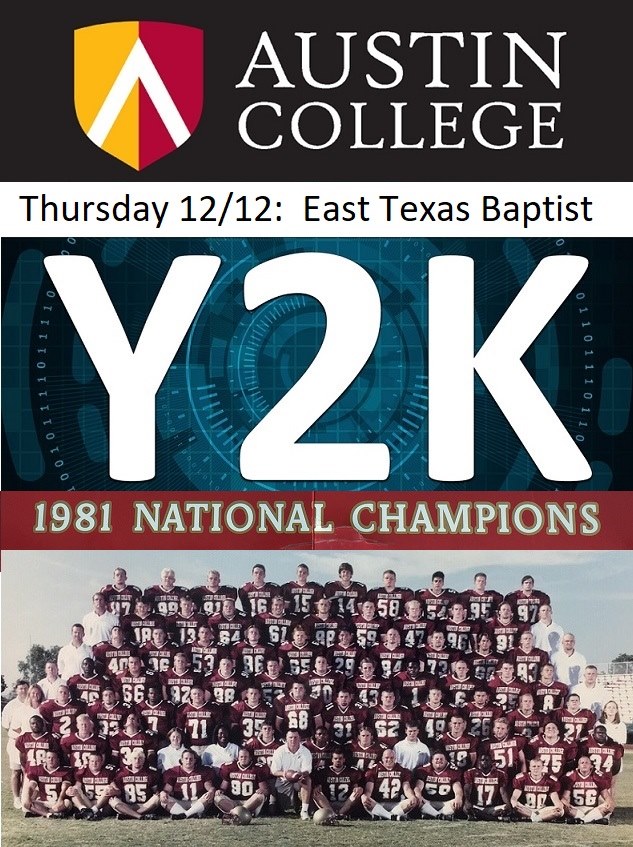 On this day in 1981, a small college in North Texas won a national championship in football.
Actually, a co-championship. The December 12th Austin College game against Concordia (MN) ended in a tie.
Ties get a bad rap in America. As Coach Ted Lasso famously said, "if you tried to end a game in a tie in the United States, heck that might be listed in Revelations as the cause for the Apocalypse." But maybe that's too rash. Maybe we should give the good ol' American tie a moment to state its case.
The tie in the 1981 NAIA title game certainly had the approval of one legendary Roo coach. "I don't see anything wrong with it," Kangaroo Coach Larry Kramer said of the tie. "They've got a heck of a football team, and so do we." Coach Kramer would later win Austin College's Joe Spencer Award for Lifetime Achievement in Coaching. So would a player on the 1981 championship squad: AC Athletic Director David Norman.
One of the most famous games in college football history is a tie. The undefeated and #1 ranked Notre Dame Fighting Irish met the undefeated and #2 ranked Michigan State Spartans near the end of the 1966 season. Deadlocked at 10-10 late, Irish Coach Ara Parseghian emulated Coach Larry Kramer and decided to secure a tie. It worked out well for Notre Dame; Parseghian's squad earned the 1966 national title.
Before his coaching days, Ara Parseghian was a player. In 1949, Parseghian helped the Cleveland Browns secure a championship. The future Irish Coach was a running back, who had nothing but praise for his offensive line. Amazingly, was of those linemen was Austin College's Joe Spencer, who would be headed to Sherman to coach Roo football in 1953. In the official 1949 Cleveland Browns photo, Spencer and Parseghian are standing next to each other. That 1949 championship earned by Spencer and Parseghian? Yup. It included a tie.
You may be surprised to see a Roo coach standing alongside a legendary Notre Dame skipper. But it's not the first time. In the summer of 1925, AC Coach Pete Cawthon chatted with Notre Dame's Knute Rockne in Austin, TX. The Irish had won a national championship In 1924, and were opening the 1925 season in South Bend against Southwest Conference champion Baylor. Not a single SWC team had beaten the 1924 Bears. But Austin College had. Rockne asked Cawthon how he did it. The amazing 1924 season for the Roos, in which Cawthon declared AC the "unofficial champions of the Southwest Conference," also included a tie. Against rival Trinity.
In 2000, Joe Spencer Award winner David Norman took his Roos to Marshall for an ASC contest against East Texas Baptist. The Tigers were inaugurating their new Ornelas Stadium; Austin College would be the first opponent to play there. The game began foggy and wet. From AC Quarterback Travis Stein:
"We still to this day talk about the eerie feeling during pregame. Heavy, heavy fog. Couldn't see top of bleachers. Could barely see ETBU stretching. We're going through our usual stretching and Phil Collins Air Tonight starts to play. Remember, this is before fancy highlights with music and social media saying what a motivational song this is. By the time it kicked we were ready to run through each other."
The redshirt defense bent but did not break. Defensive linemen Ben Northington, John Palmer, Justynn Royal, and Duncan McCallum were assisted by the linebacker corps of Reed Heim, Marvin Nash, Charles Gurley, and Kevin Cook kept AC in the game until the very end.
East Texas Baptist built three leads throughout the game, but each one was answered by Aaron Kernek. The Roo running back simply could not be stopped, posting an incredible 260 yards on 37 carries and scoring two touchdowns to keep AC close.
Down 28-21 late, a 22-yard TD pass from Keiston Alexander to Jeff Riordan with 1:15 left evened the contest. Regulation play between the Tigers and Roos ended just as it did in the December 12th, 1981 championship game. In a tie.
But the 2000 season had overtime, and OT on this day belonged to the Roos. After getting a stop, Kernek needed just two runs to end it. The second, a 21-yard scamper into the end zone, sent AC into wild celebration in the Marshall, TX fog. The first game ever at Ornelas stadium belonged to the Roos. Norman and AC began to plan for their next contest: a matchup against Texas Lutheran in Seguin.
My writing is all about ties. Ties between Roos, ties among generations, coaching tree ties, and Austin College ties with the state of Texas and the nation. While a tie between two teams might indeed be like something out of the apocalypse for coaches like Ted Lasso, I still have a small soft spot for the ties. Especially that tie on December 12th, 1981.
It's December 12th! Let's roll the video everybody. In the comments.
Members/family of the 1981 NAIA National Champion Austin College Kangaroos:
Members/family of the 2000 Austin College Kangaroos:
Sunday 12/1: Millsaps
Thursday 12/5: Hardin-Simmons / Mary Hardin-Baylor
Sunday 12/8: McMurry
Thursday 12/12: East Texas Baptist
(AC National Championship Day)
Sunday 12/15: Texas Lutheran
Thursday 12/19: Louisiana College
Sunday 12/22: Mississippi College
Thursday 12/26: Howard Payne / Sul Ross
Sunday 12/29: NFL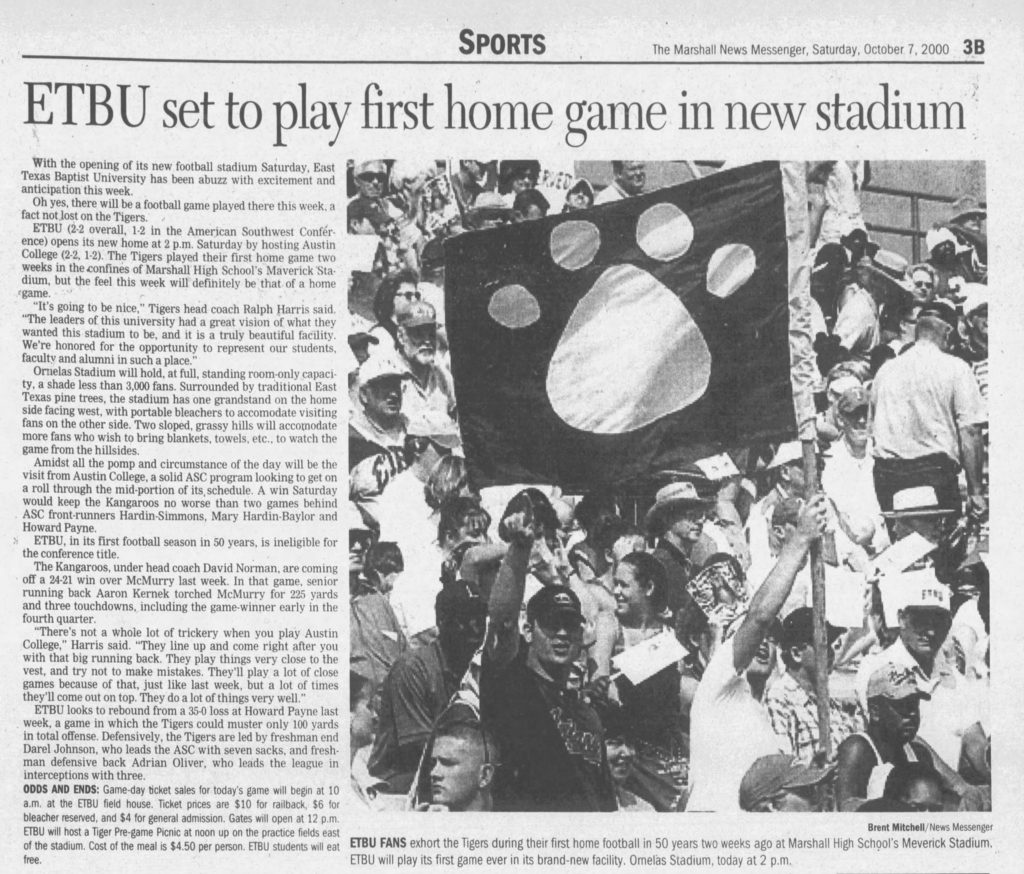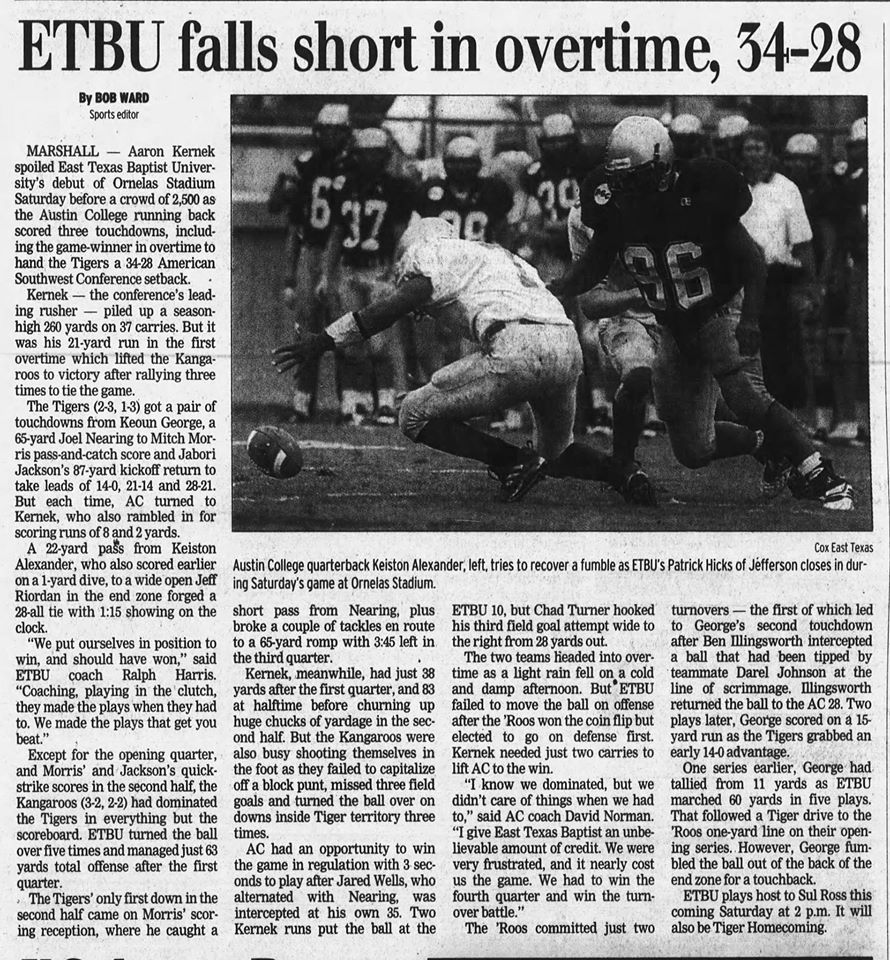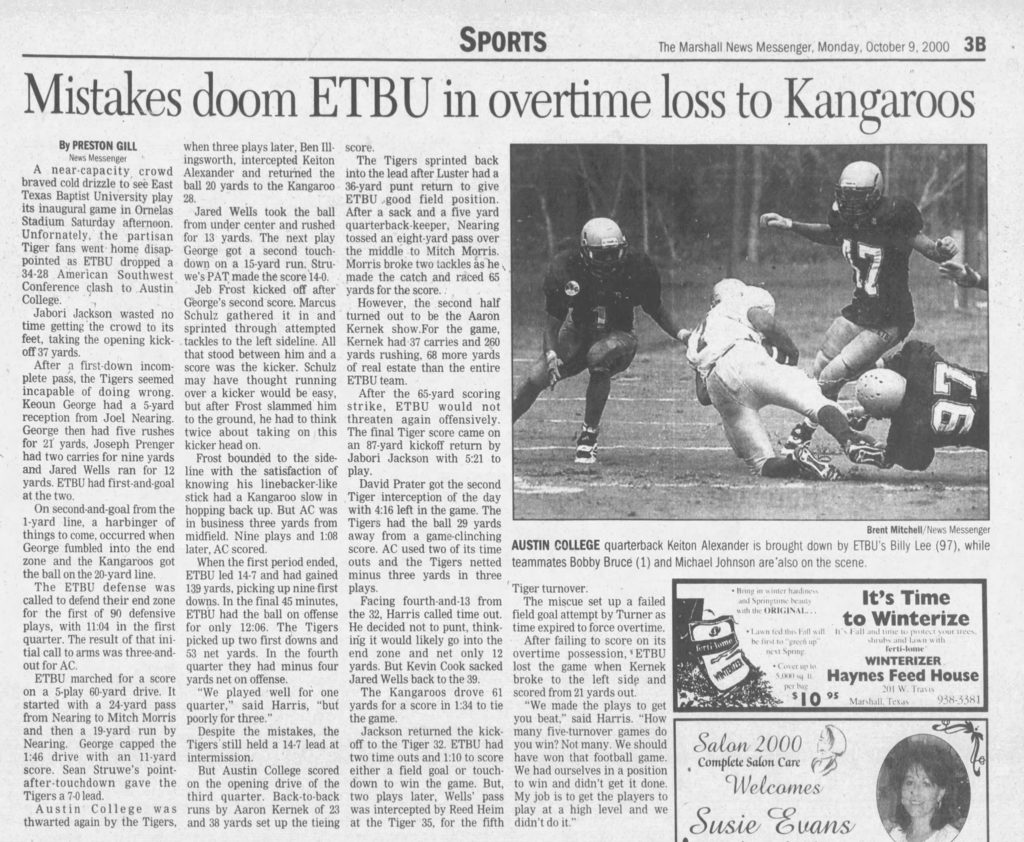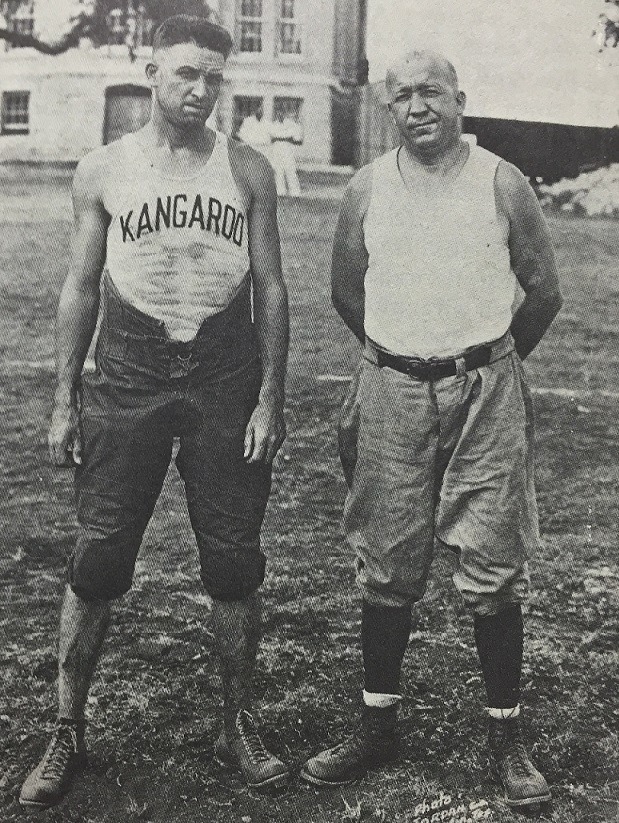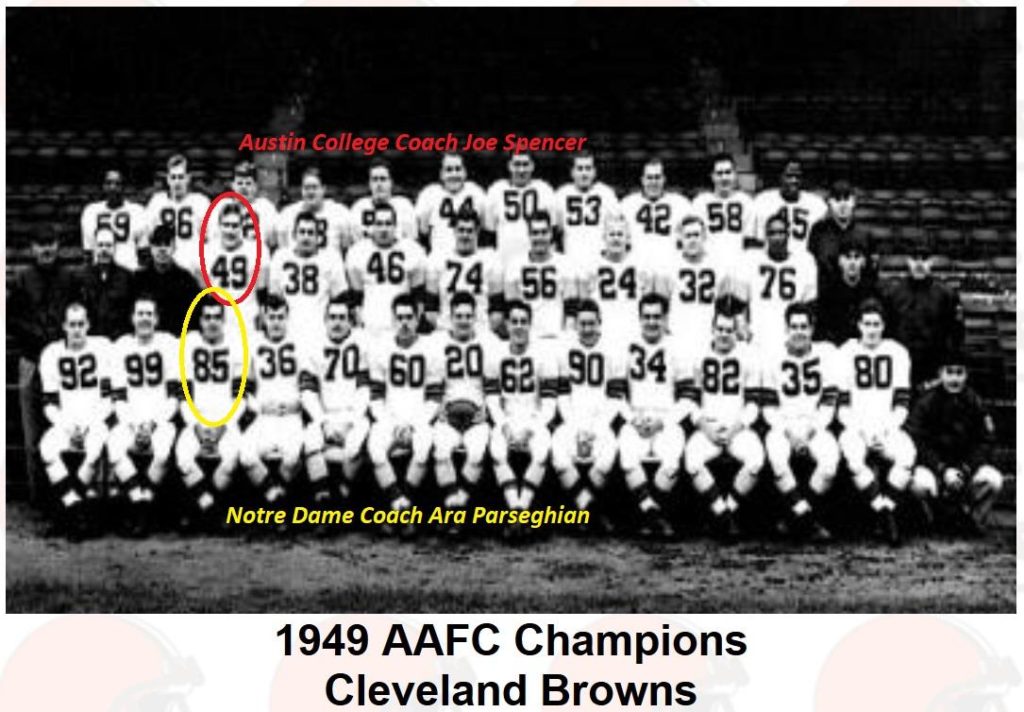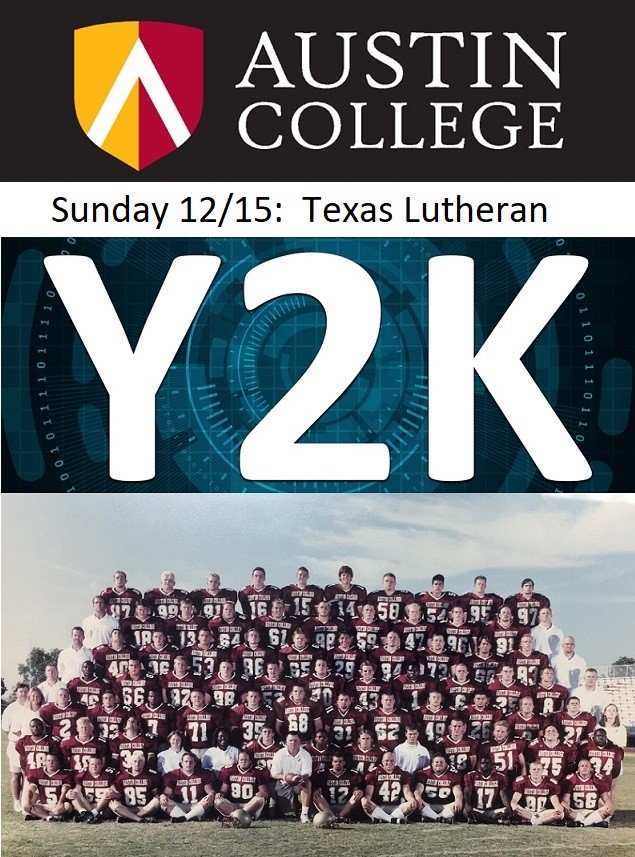 Sunday 12/15: Texas Lutheran
"Oh, sure Marc," you're thinking. I know you can tell a story about an Austin College football team who played long after your days in Sherman. But it's just research on a computer. You don't know what that year was really like. You didn't experience that Roo season firsthand.
Wrong.
I. Was. There.
2000 was a big year for me. I had spent the 1990s in New York and Boston. Graduate school on the east coast was a rewarding experience, and living in New England was a time I treasure. But, the lure of home eventually proved too much. The Massachusetts winters seemed to grow longer, and the siren song of Texas grew louder. 2000 was the year I would turn 30 and a new millennium would begin. I celebrated New Year's Eve 1999 up north while packing for a return to the Lone Star state. Turns out, you can go home again.
In January of 2000, I came back to settle somewhere down in Texas. In March of 2000, I began a career with the University of Texas that continues today. In April of 2000, I turned 30 while enjoying a very special Tim McGraw song from his most recent album. In June of 2000, I had my first date with Dianne. In October of 2000, I was hired by AC Kangaroo John Cotton at UT System. On New Year's Eve 2000, I celebrated what for me was a very blessed year #30.
Oh yeah. And in the year 2000? I caught some Austin College football.
Word got around among my Roo buddies in Austin. The 2000 team was good, and AC had a special running back. Even better? They were playing against Texas Lutheran in Seguin. Hey, that's not too far from Austin. Road trip! A small group of us made our way to Matador stadium to take it all in. John Talley was there; he had a brief conversation with his old coach David Norman just before the second half kickoff. Only at a D3 school could you witness something intimate like that.
And Kernek. We had heard about him, but seeing is believing right? What was the fuss all about? Was he really that good?
Yes.
As the old saying goes, Kernek looked like a man among boys. When AC needed a powerful seven yards, he delivered. When the Roos required speed around the corner, he was there. Watching Kernek was, quite frankly, like watching Otis Amy. He was someone who could have thrived at the Division 2 level. He probably would have seen playing time at the Division 1 level. Maybe, just maybe, he would even catch the eye of NFL scouts.
Our little AC group didn't know it at the time, but we were witnessing history in Seguin. On October 14, 2000, Aaron Kernek became the all-time leading rusher in Austin College history. It's a record that still stands. Kernek rambled for 227 yards on 31 carries that day. Was it only 227? It seemed like more. He scored three touchdowns, and carried AC to a 35-14 win against Texas Lutheran. Kernek's effort in Seguin broke the old career rushing record set by Mike Maloney in 1967. By the end of the game, he had amassed 2,732 total yards.
Former Texas Aggie Dante Hall said it best: "offensive linemen control the game and true sports fans know that." Kernek, like all great backs, was quick to give his offensive linemen the credit they deserved. The Sherman Democrat wrote about the AC offensive line soon after Kernek got the record in Seguin. The piece was titled: "AC linemen take quiet pride in work."
"When they (the offensive line) are working well, the running backs or the quarterback get the limelight. Their pride comes from doing a hard job well. 'It's just a joy,' said offensive guard Josh Reynolds, one of two returning starters from last year. 'When he's (Kernek) running hard….it's fun to know you're blocking for a guy like that.'" In addition to Reynolds, Kernek's OL included Justin Watson, David Gafford, Matt Walker, and Mike Eklund, among others.
Coach David Norman knew what he had on the offensive side. "'Sometimes, they'd line up with eight or nine in the box and we'd run it anyway,' a smiling Norman said in his office. 'And we'd still get four or five yards.'" The fact that a pro career was a possibility for Kernek loomed large. From lineman Justin Watson: "The harder we block, the better chance to get him into the NFL, and it's a big plus for us to get him there."
The Red Shirt defense was also solid, holding the Bulldogs to under 200 yards of total offense and just two trips to the end zone. AC extended their record to 4-2, and their winning streak to 3 games. They weren't nearly done. Next up for the 2000 Roos? A Homecoming date with Louisiana College. The Wildcats would head to Sherman hoping for a victory. They wouldn't get it.
2000 was a special year for me. My family, career, and return home to Texas began in the year 2000. I'm proud to say that this year also included a trip to watch an exceptional football team: the 2000 Austin College Kangaroos. It's an honor to tell their story while I'm still enjoying "my next thirty years." Take it away Tim McGraw.
Members/family of the 2000 Austin College Kangaroos:
Sunday 12/1: Millsaps
Thursday 12/5: Hardin-Simmons / Mary Hardin-Baylor
Sunday 12/8: McMurry
Thursday 12/12: East Texas Baptist
(AC National Championship Day)
Sunday 12/15: Texas Lutheran
Thursday 12/19: Louisiana College
Sunday 12/22: Mississippi College
Thursday 12/26: Howard Payne / Sul Ross
Sunday 12/29: NFL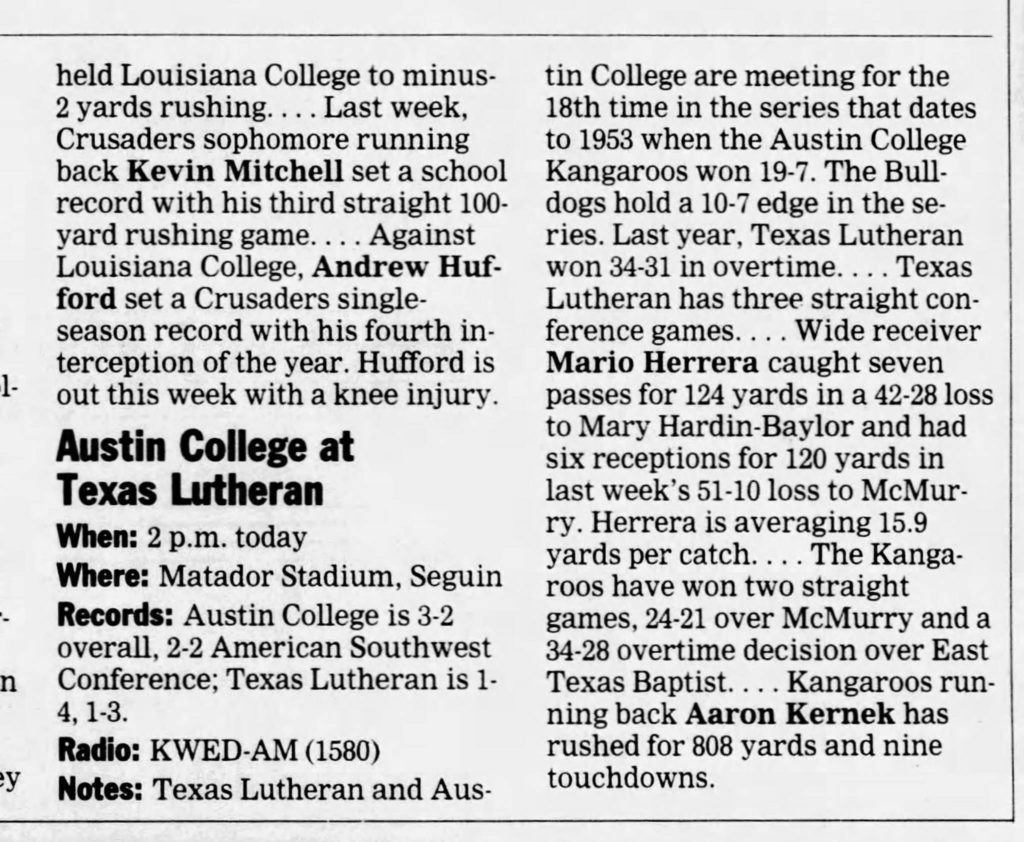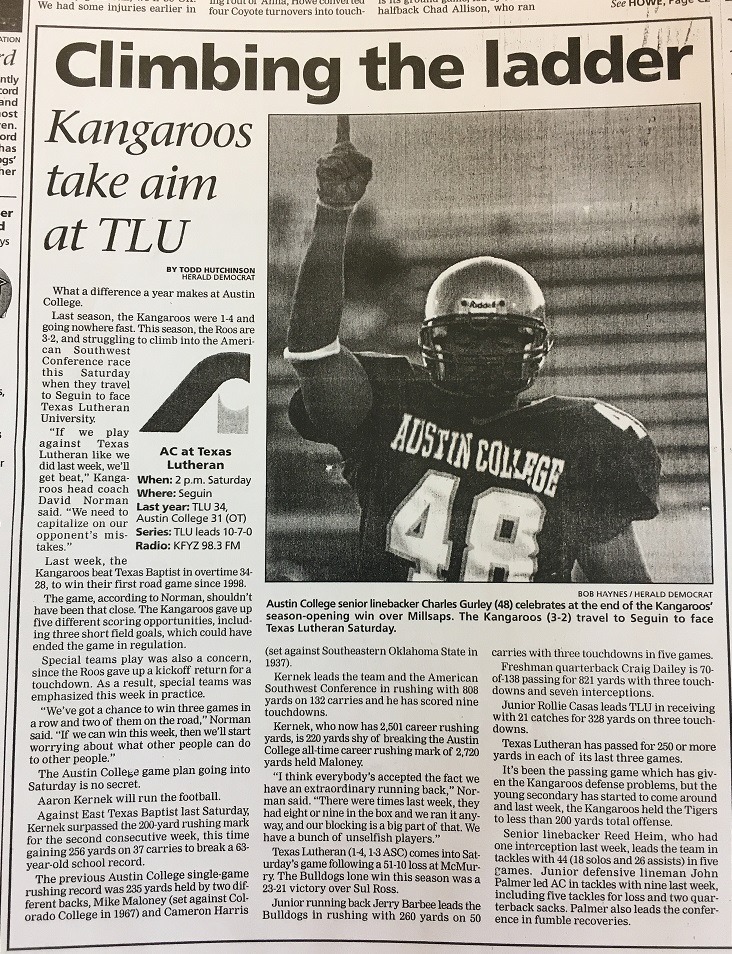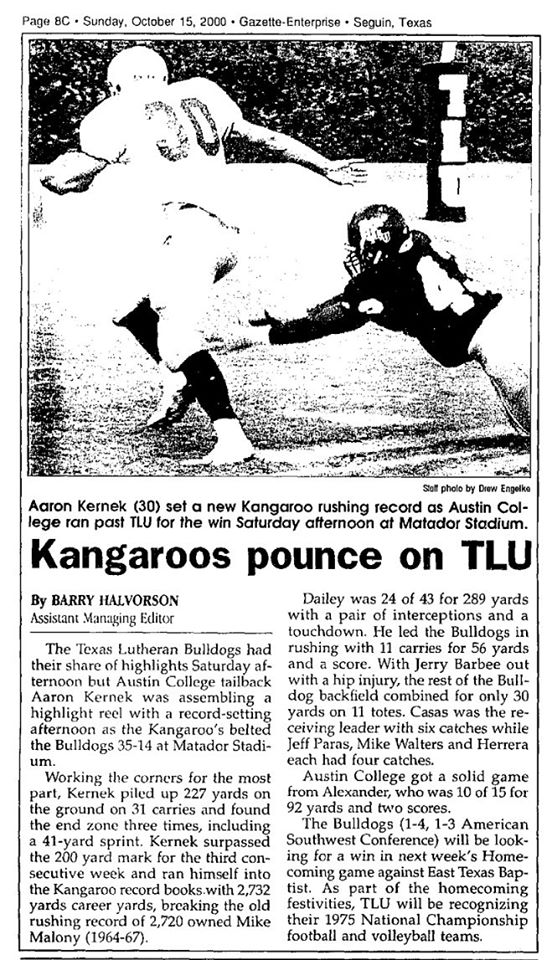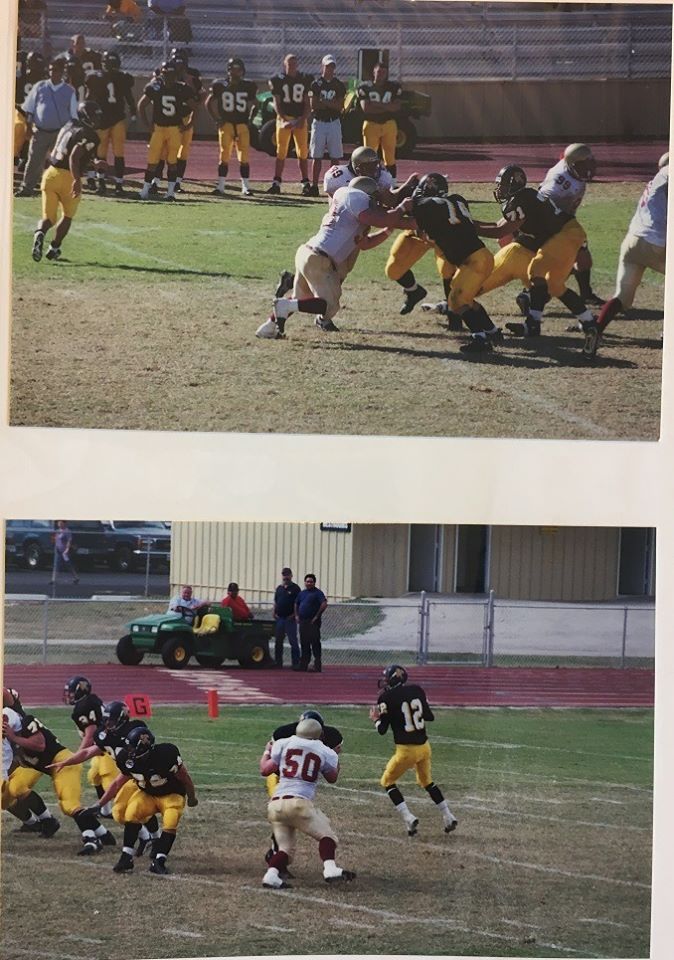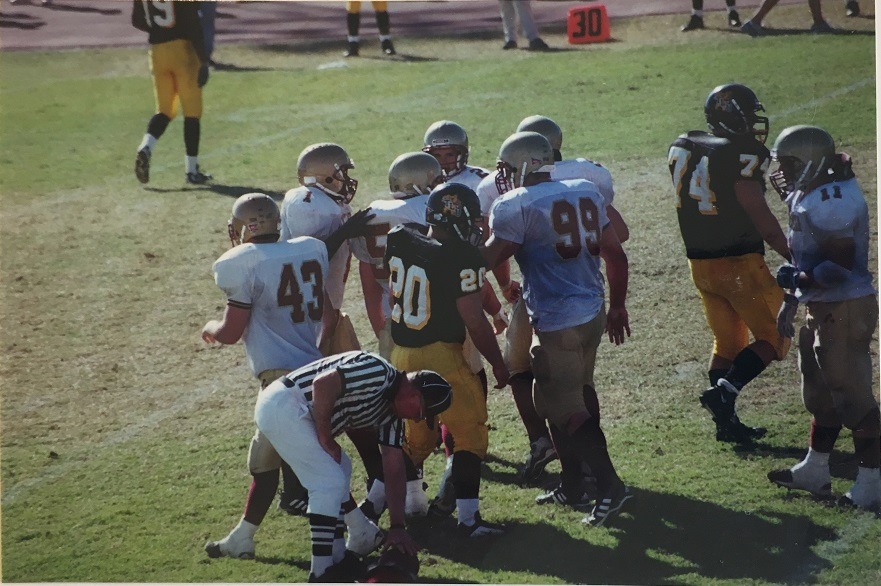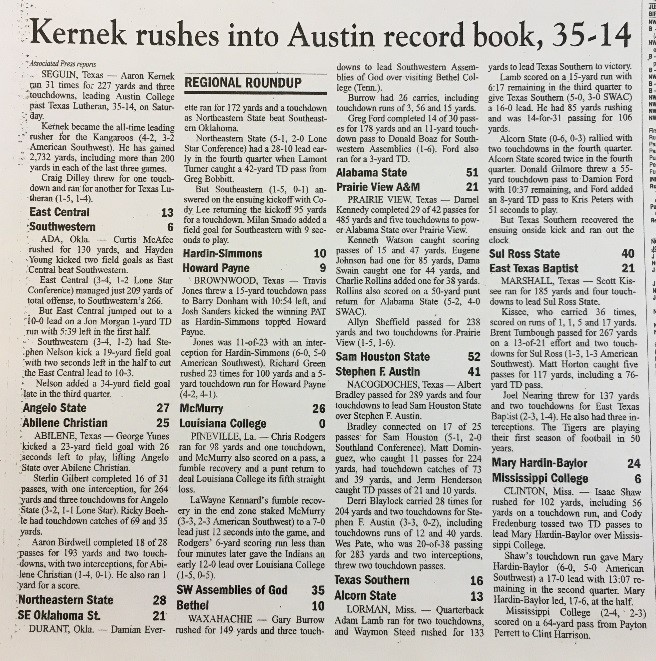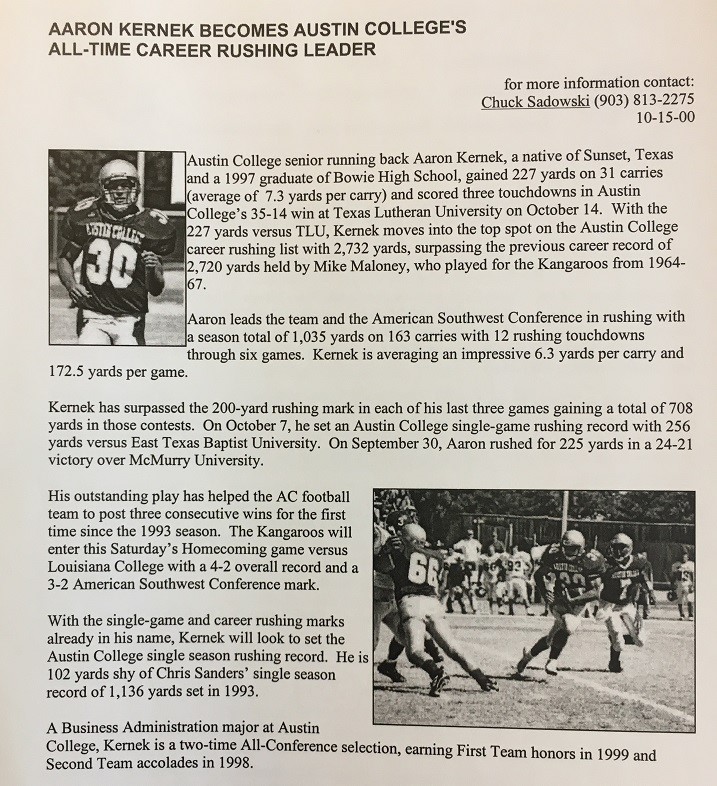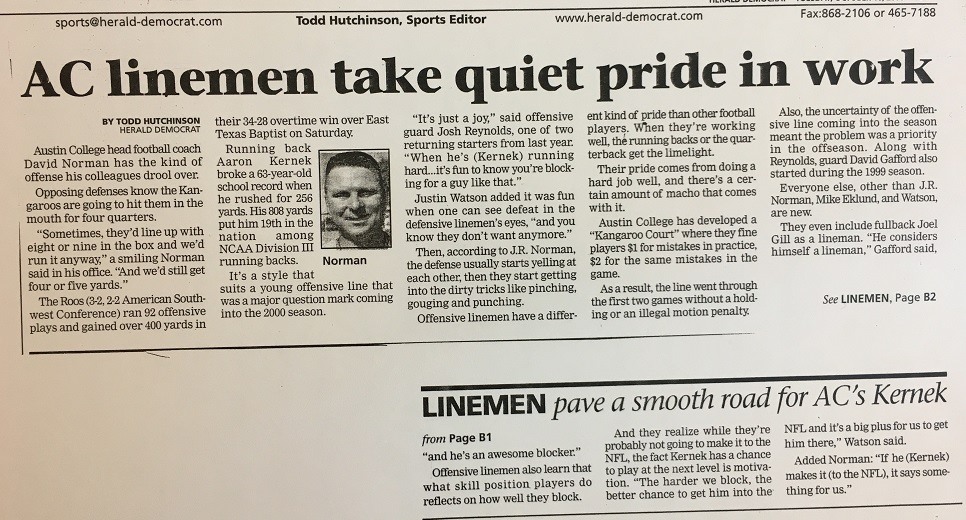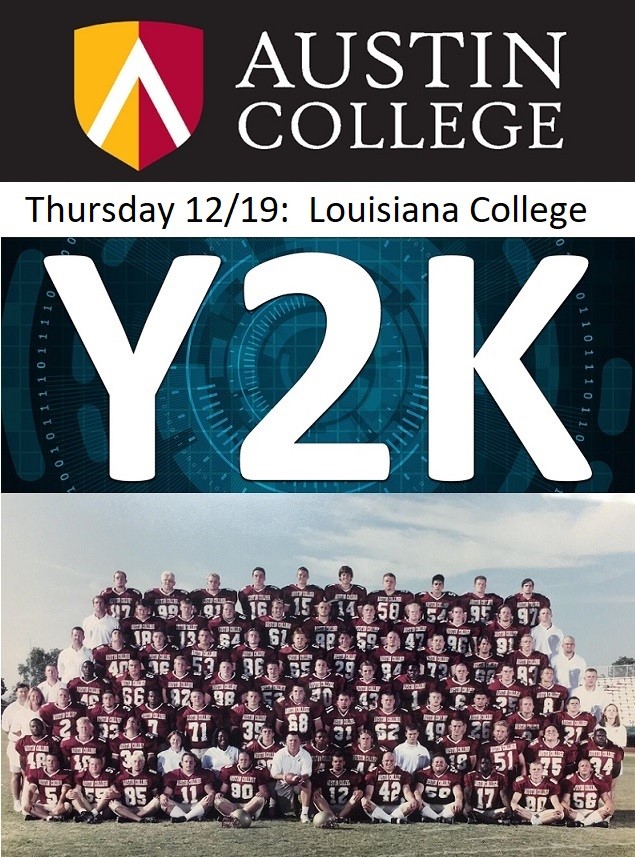 Thursday 12/19: Louisiana College
Austin College is a family, and nothing says family like the 2000 AC Homecoming game against Louisiana College.
AC Coach David Norman knew. "I'd rather be playing against anybody else," he said. Norman's Roos would be facing a Wildcat team led by head coach Marty Secord. Norman and Secord were Kangaroo teammates on the 1981 AC National Championship team. And that's not all. Coach Secord was in David & Margie Norman's wedding. Now that's family.
Secord did more than suit up with Norman in the early 1980s. He made Austin College coaching a permanent part of his family. Marty Secord married Kelli Morris Secord, daughter of Vance Morris & Paula Young Morris. Coach Vance Morris was an assistant coach at AC for 24 years, including the incredible championship year of 1981. In 2000, Morris was Secord's Defensive Coordinator at Louisiana College.
Assisting Morris on the LC defensive side was Buck Buchanan (h/t Michelle Brand Buchanan). Buchanan was an All-American Kangaroo who played for Norman in the late 1990s, and was an assistant coach in 1999. One year later, he had moved on to Alexandria to help Secord and Morris bring the Wildcat program back to life. After years without football, Louisiana College had reinstated the game in 2000.
Secord didn't have memories of Austin College on his mind in Sherman. He was too worried about AC's dangerous running back Aaron Kernek. "He's so big, he looks like he might be from Nebraska. Whether it be Hardin-Simmons or Howard Payne, he just runs through or over the defense. And downfield, he'll punish you."
Kernek had broken the 200-yard mark in each of the last three games. His 256-yard output against East Texas Baptist would today be an all-time Top 10 performance in the NFL. Having already set the career AC rushing record the week before in Seguin, Kernek only needed 103 yards to break the AC season rushing record held by Chris Sanders. He'd get it and then some. Kernek ran for 186 yards and Keiston Alexander threw for another 189. AC dominated time of possession, holding the ball twice as long as the Wildcats. AC posted a dominating 21-3 and improved to 5-2.
A stingy Redshirt defense held Louisiana College to just 88 total yards, including an incredible MINUS 37 on the ground. There was simply no ground game against the defensive line of Ben Northington, John Palmer, Justynn Royal, and Duncan McCallum, backed by linebackers Reed Heim, Marvin Nash, Charles Gurley, and Kevin Cook. "'I feel like this has been the best game we've played this year,' said linebacker Charles Gurley." In a tip of the cap to the Roo secondary of Marcus Schulz, Jason White, Landon Powell, & Clint Burns, Gurley said "a lot of my sacks were coverage sacks."
For Kangaroo QB Travis Stein, the game was especially meaningful. Stein was injured in a preseason game against Trinity, and had to endure the first half of the season from the sidelines. Healthy again, Stein was finally suited up against Louisiana College and ready to help his teammates. Austin College is family, even when coaches leave for other schools. From Stein: "This was the first game I suited back up, desperate to get on the field after my preseason shoulder injury at Trinity. Buck [Buchanan] and Coach Mo knew what I was battling and Coach Morris wrote me a hand written note that I still cherish to this day."
Marty Secord is today the Head Coach at Wakeland HS, in Frisco. You'll find Buck Buchanan in Conway AR, where he's Head Coach of the Hendrix Warriors. Buck and Hendrix returned to Sherman in 2019 and defeated the Roos in a game I called with Kirk Hughes, the "Voice of the Roos." Vance Morris just recently retired after over 50 years of coaching; nearly 25 were at Austin College. His former players, including Secord & Buchanan, recorded a wonderful retirement video on behalf of Morris. See the comments.
The 2000 Roos owned a four-game winning streak, and looked forward to a trip to Clinton, MS to extend it to five. Mississippi College would dominate the game well into the second half, however, and it looked certain that the streak would come to an end. But that's when the 2000 Austin College Kangaroos put together one of the most dramatic comebacks in school history.
Members/family of the 2000 Austin College Kangaroos:
Sunday 12/1: Millsaps
Thursday 12/5: Hardin-Simmons / Mary Hardin-Baylor
Sunday 12/8: McMurry
Thursday 12/12: East Texas Baptist
(AC National Championship Day)
Sunday 12/15: Texas Lutheran
Thursday 12/19: Louisiana College
Sunday 12/22: Mississippi College
Thursday 12/26: Howard Payne / Sul Ross
Sunday 12/29: NFL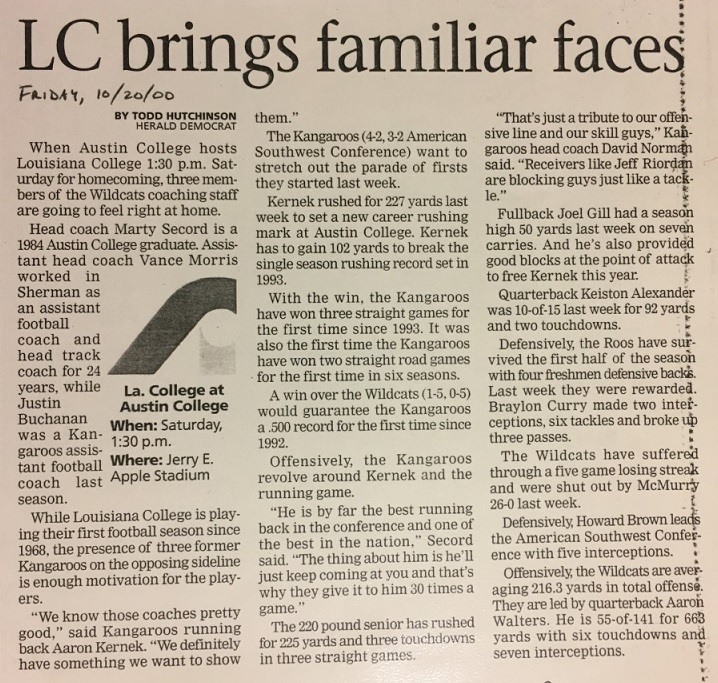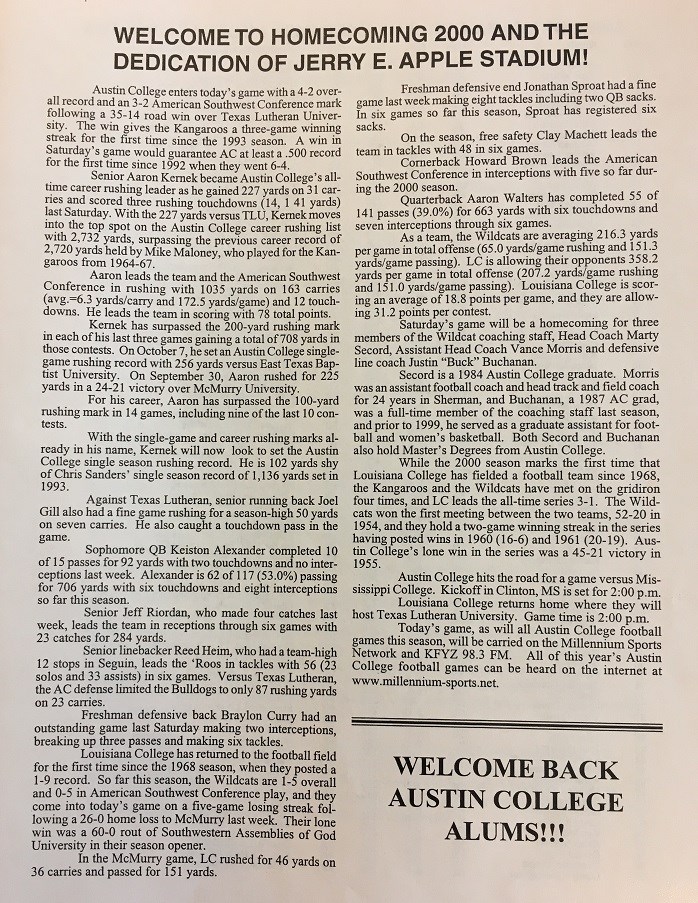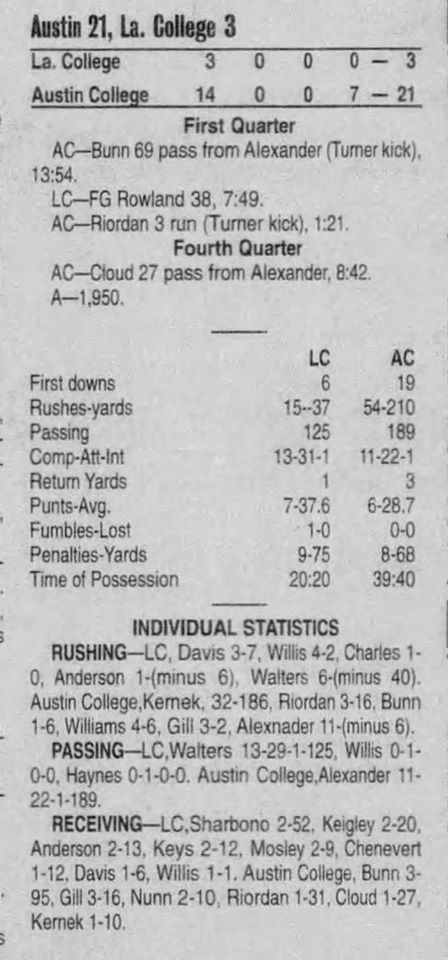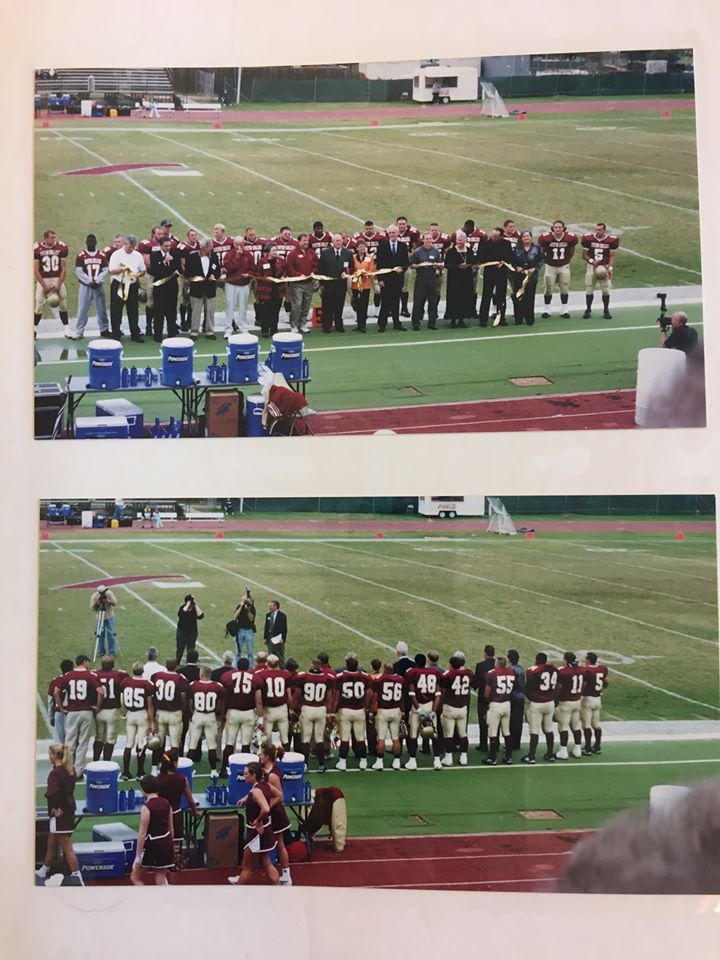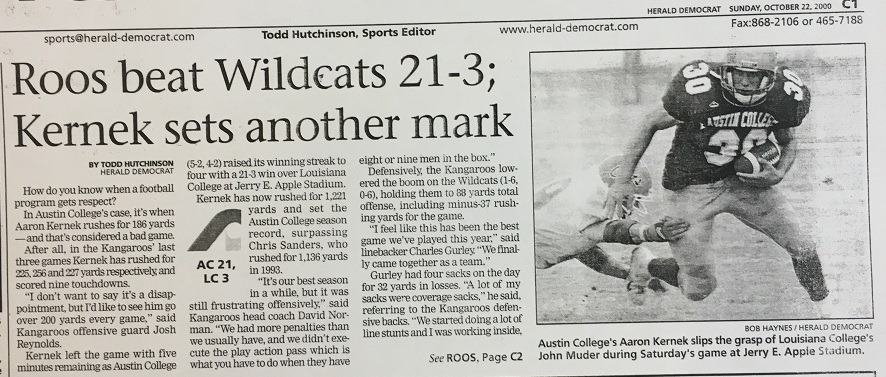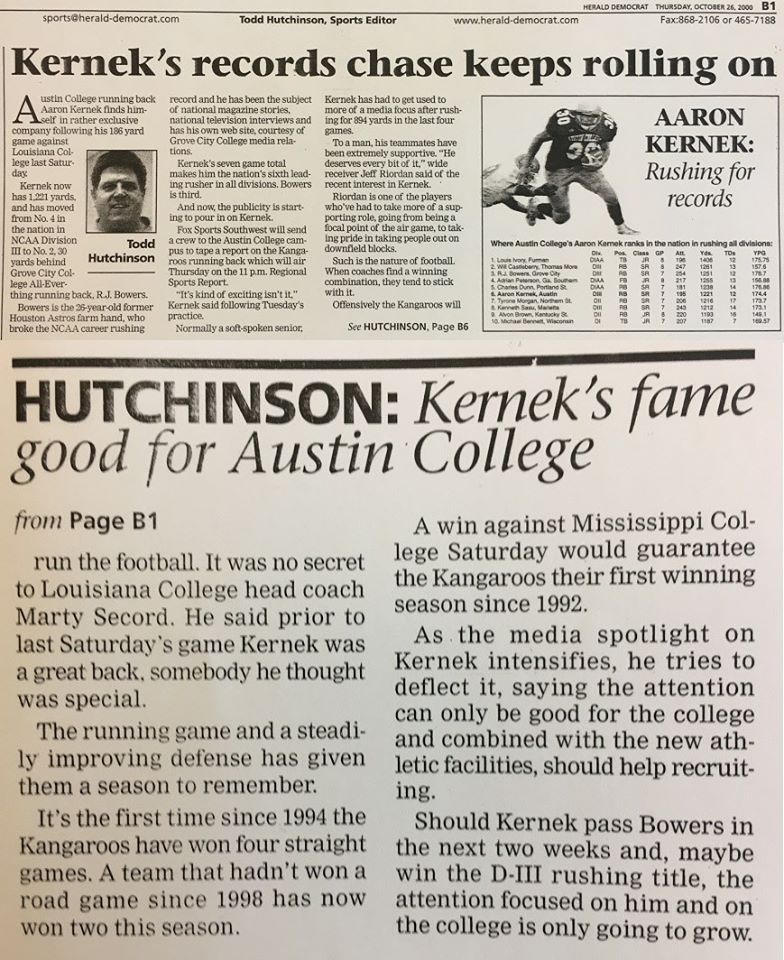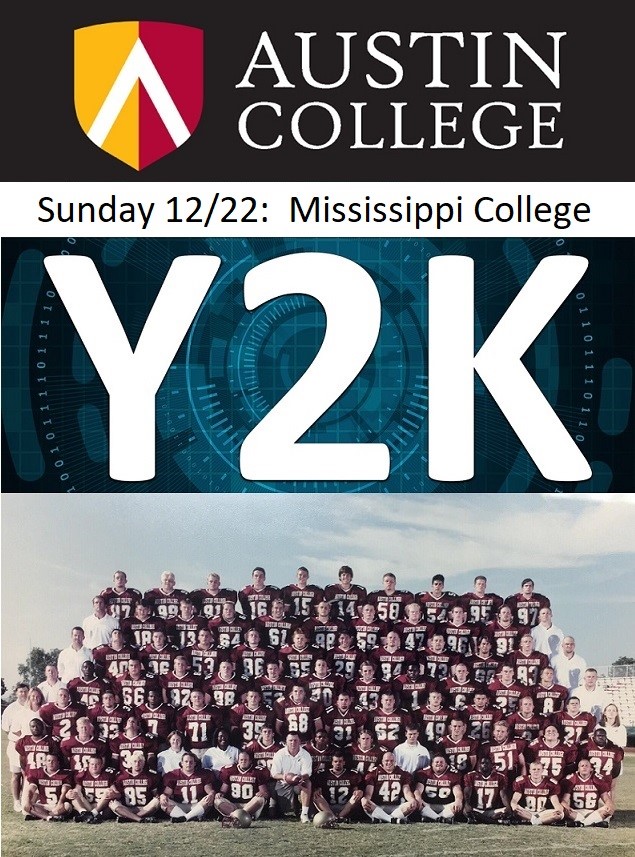 Sunday 12/22: Mississippi College
"And now with no timeouts, I think that the Patriots with this field position you have to just run the clock out. You have to play for overtime now. I don't think you want to force anything here. You don't want to do anything stupid, because you have no timeouts and you're backed up." – John Madden
Tied 17-17 with 1:21 left in Super Bowl 36, Tom Brady and the New England Patriots did not play for overtime. Commentator John Madden initially expressed his disapproval at Brady's aggressive play, but eventually realized he was wrong. Brady drove the Pats 53 yards to set up a championship winning field goal on the game's final play. Just before the final kick, Madden changed his tune:
"What Tom Brady just did gives me goosebumps."
Founded in 1826, Mississippi College (MC), became the first coeducational college in the United States to award degrees. Women began receiving diplomas in 1831. Provine Chapel opened in 1860 and was used as a hospital by General Grant during the Civil War. The Robinson-Hale football stadium came much later, in 1985.
The Choctaws were a Division II power in the 1980s. The peak was a D2 national championship in 1989, later vacated by recruiting violations. The loss of the title coincided with a decision to drop to the D3 classification in the 1990s, where MC continued their winning ways. The school won an American Southwest Conference championship in 1997. The freshmen who did so were seniors in 2000.
Average attendance at Robinson-Hale was one of the highest in Division 3, so it was no surprise when nearly 5,000 showed up to watch MC take on the Austin College Kangaroos. Mississippi College showed much of their old form in the first half, dominating AC and taking a 30-9 lead into halftime. The Roos, however, were not about to let their winning streak go quietly into the night.
Needing a change in the second half to spark the offense, Coach David Norman inserted QB Travis Stein. The AC rushing game led by offensive linemen Josh Reynolds, Justin Watson, David Gafford, Matt Walker, and Mike Eklund suddenly came to life. A third quarter TD run by Josh DuBose cut the lead to 30-16. Just before the 4th, Stein took it in himself from 9 yards to reduce the margin to 7.
Late in the 4th, AC got the break they were looking for. Jason George blocked a Choctaw punt, which set up a Stein-to-Roby-Nunn 11-yard TD strike with 1:04 left. The Kangaroos had come all the way back to tie the game. The 21-point second half deficit was gone. There was, however, still time left for Mississippi College to pull it out.
The Choctaws looked like they just might do it. MC drove methodically down the field and looked to be in position to set up a game winning field goal. But a Marcus Schultz interception at the Austin College 33-yard line ended the threat. With 30 seconds left and deep in their own territory, the Roos would run the clock out and play for overtime.
Or would they?
Travis Stein entered the game and engineered a drive that John Madden would have initially questioned. Three Stein passes over 27 seconds carried the Roos all the way from their own 33 to the Mississippi College 3-yard line. Over the middle for 26. Left sideline for 18. And over the middle again for 20. Timeout. 3 seconds left. A Chad Turner 20-yard field goal on the game's final play capped one of the most dramatic comebacks in AC history.
The Choctaw defense keyed on Kernek, who was held under 100 yards for the first time all season. That created opportunities for the passing game; Stein finished the day with 15 completions for 256 yards. Austin College headed back to Sherman with a 5-game winning streak.
The video quality is poor. Old technology and the Mississippi sun setting in the west at dusk makes it hard to watch. But you can watch that final drive in the comments below. The AC interception by Schulz, the three quick strikes by Stein, and the game winning field goal by Turner. I think you'll agree with both John Madden and me after watching:
"What Travis Stein just did gives me goosebumps."
Members/family of the 2000 Austin College Kangaroos:
Sunday 12/1: Millsaps
Thursday 12/5: Hardin-Simmons / Mary Hardin-Baylor
Sunday 12/8: McMurry
Thursday 12/12: East Texas Baptist
(AC National Championship Day)
Sunday 12/15: Texas Lutheran
Thursday 12/19: Louisiana College
Sunday 12/22: Mississippi College
Thursday 12/26: Howard Payne / Sul Ross
Sunday 12/29: NFL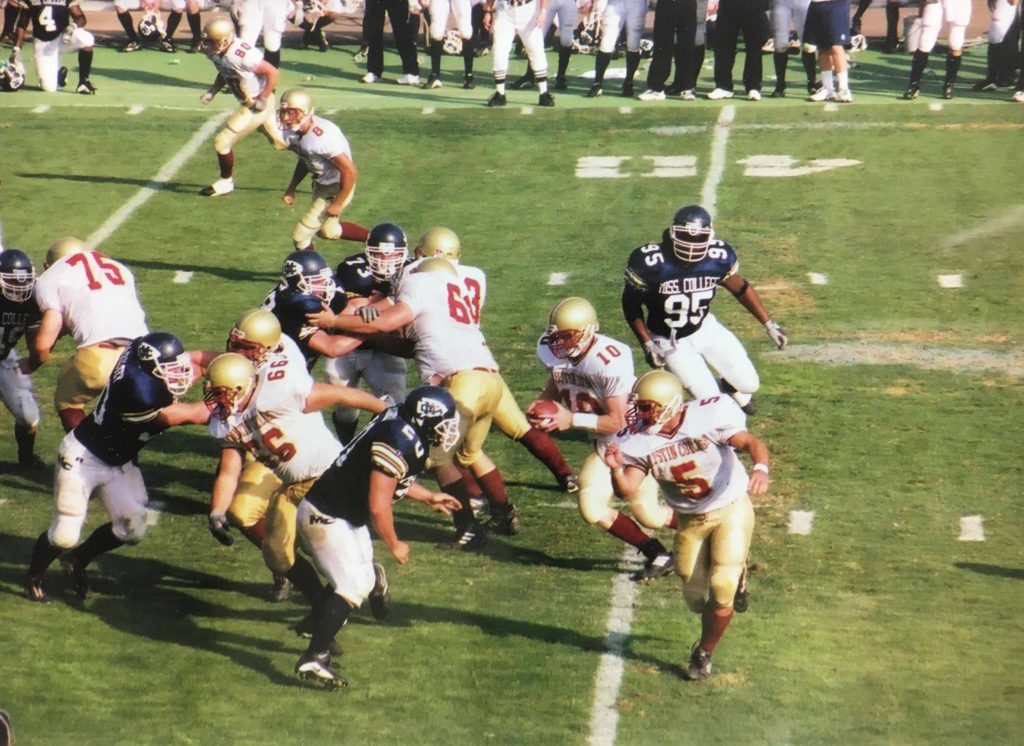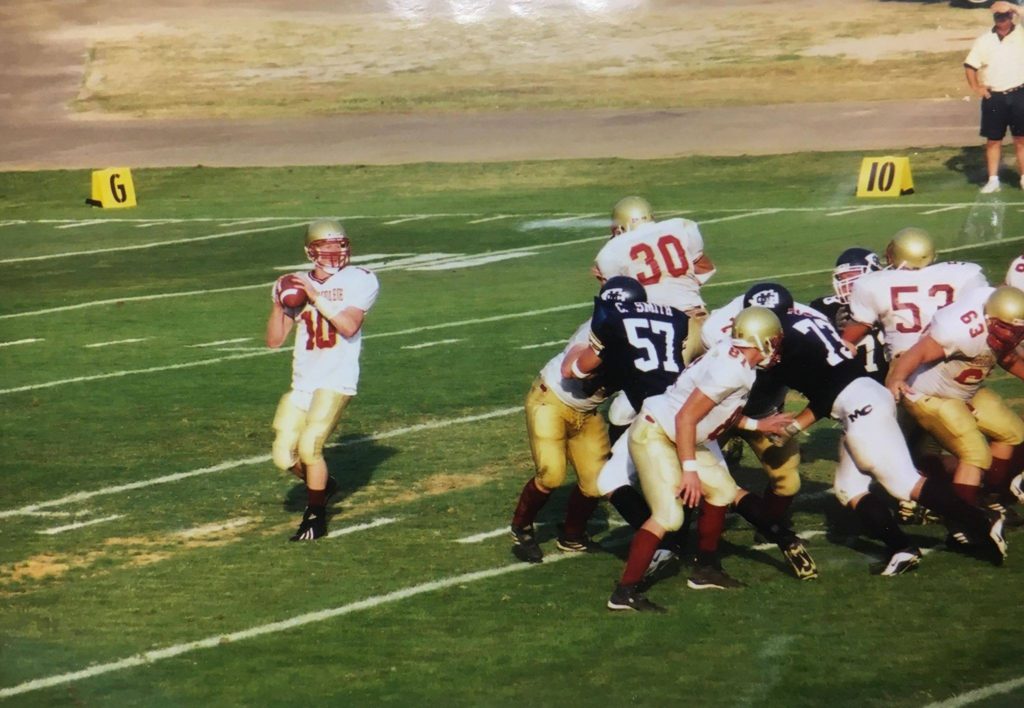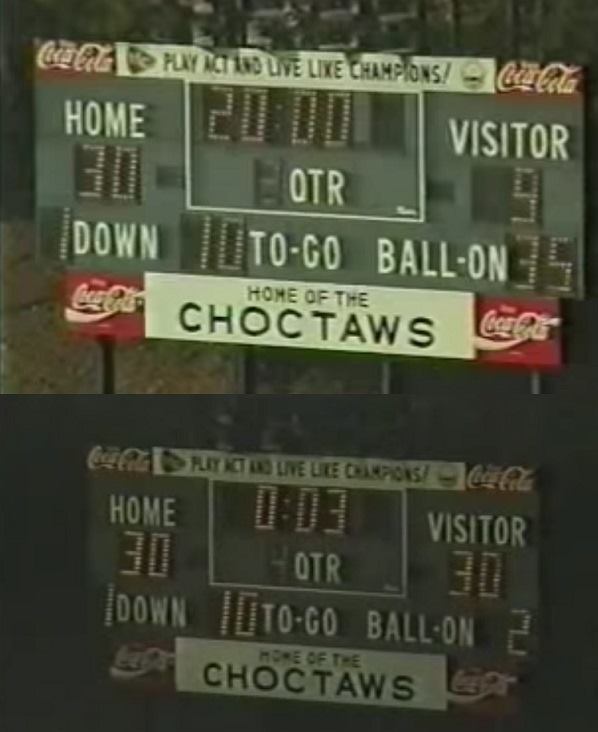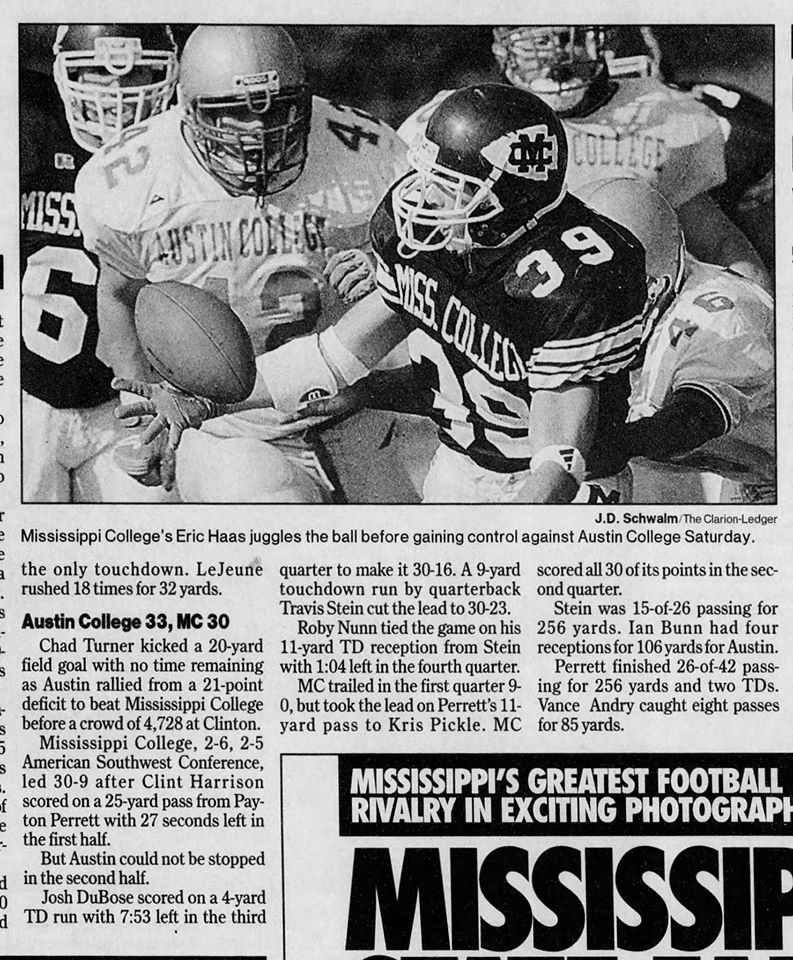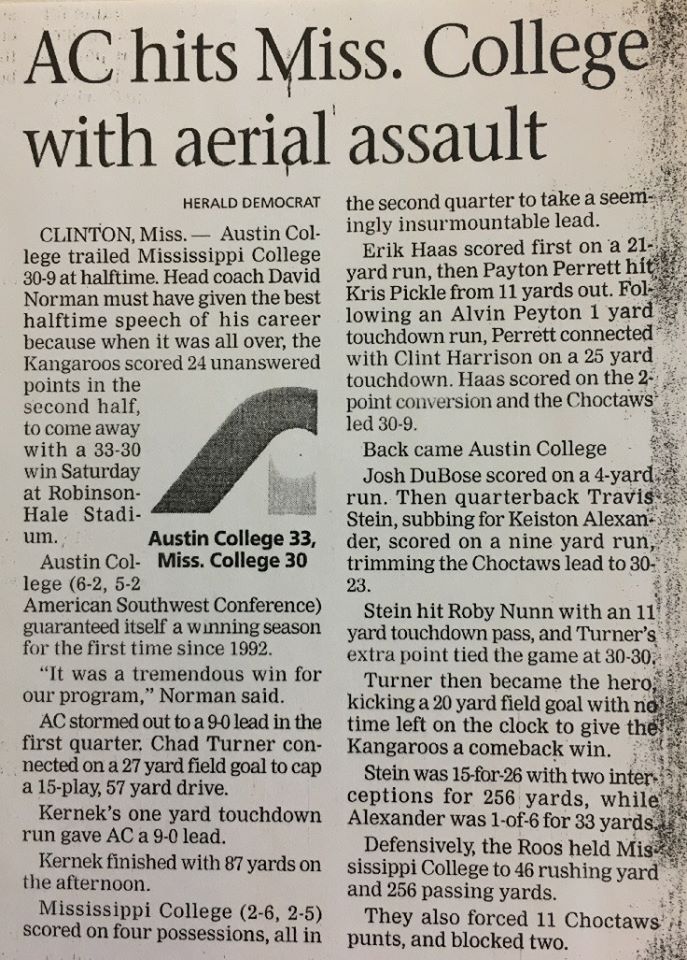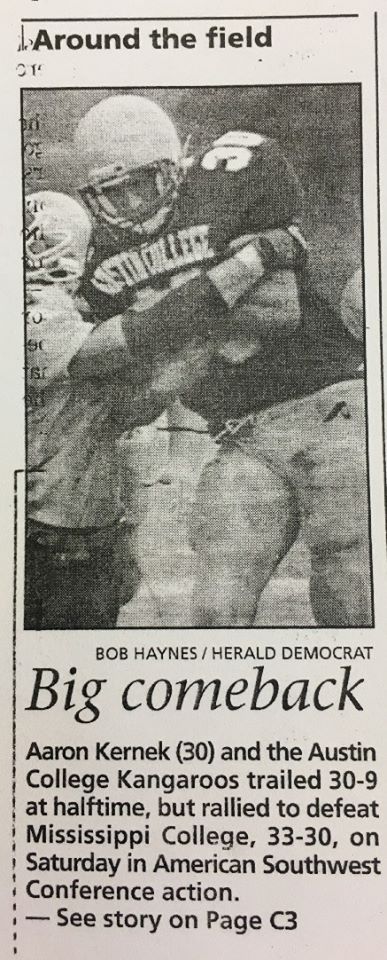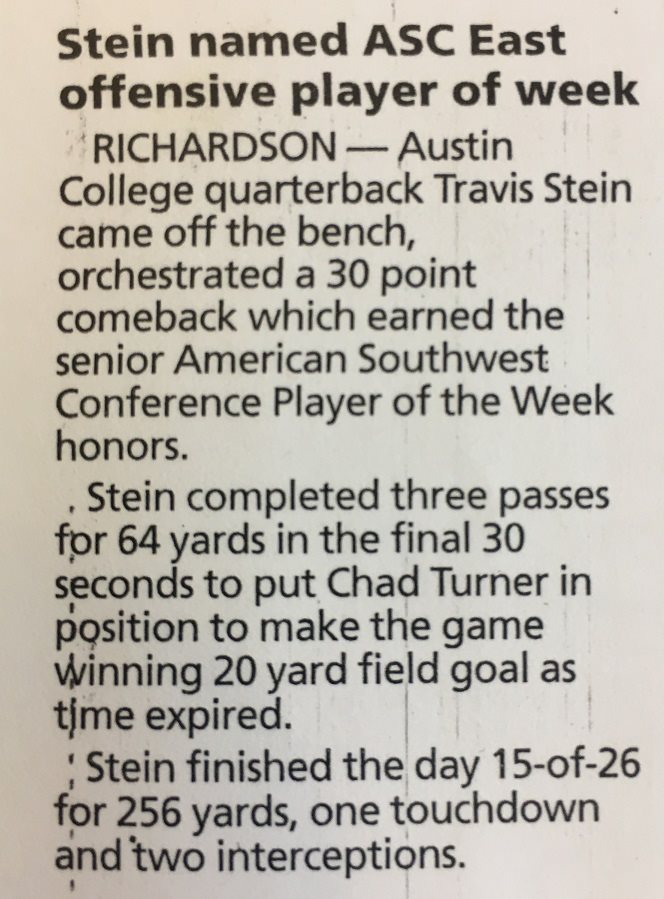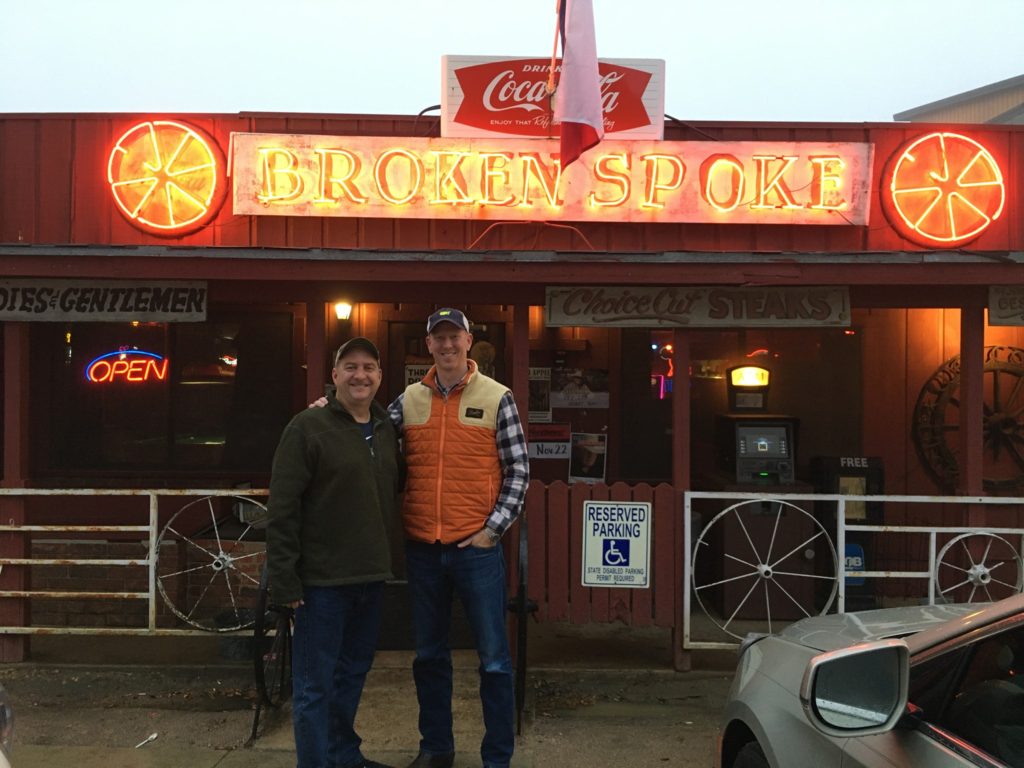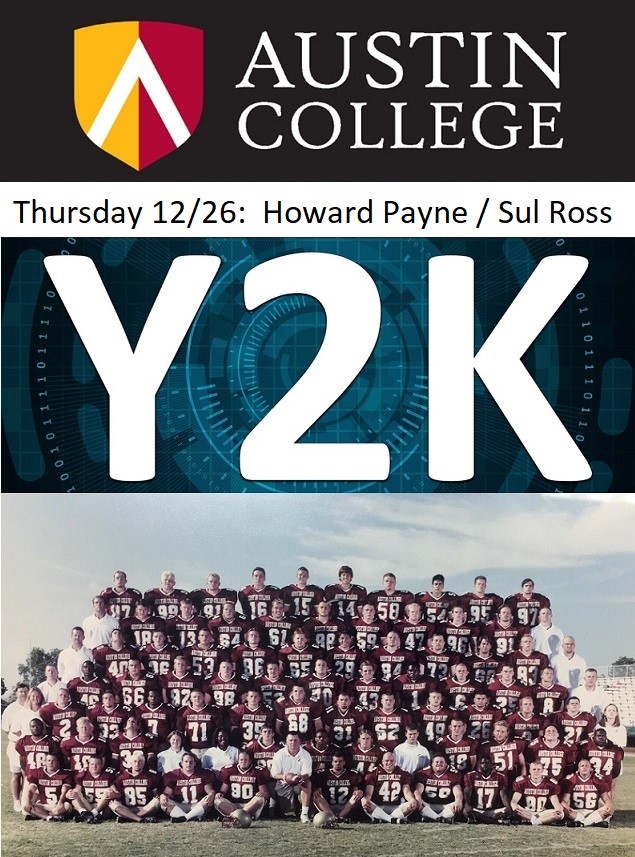 Thursday 12/26: Howard Payne / Sul Ross
Couch fires. They're a thing.
Probably not legal. But hey, it's college. You head out to a rural plot of land with a small house where your buds live. You celebrate the game, plan your weekend, and catch up with your college family. The beverages flow, and the stakes are raised. Furniture is moved to the lawn. You know, the couch purchased for $15 at the Grayson County Army/Navy store. The sun sets, the north Texas chill of an early fall arrives, and somebody gets a bright idea.
Burn baby, burn.
Yeah, we had our share of couch fires in the early 90s at a little place called Hickory. Not unique. There were Roo couch fires at different times and places throughout the Sherman metropolitan area I'm sure. But one was the most meaningful of all. The king of all AC couch fires.
The 2000 Roos were on fire, sitting on a five-game winning streak and headed back home after the dramatic comeback in Mississippi. The late fall rains came hard, and left Jerry Apple stadium as muddy as it had ever been. Howard Payne arrived, and ended the streak. The Roo running game never got going in the slop. The Yellow Jackets toughed out a 17-0 victory.
AC prepared for the long trip to Jackson Field in Alpine to face Sul Ross State in the final game of the season. Hardin-Simmons had defeated Mary Hardin-Baylor for the ASC title a week before; a win over Sul Ross would secure third place. After 9 games, Kernek had amassed 1,382 total rushing yards. His 154 yards-per-game and nearly 6 yards-per-carry were tops in the conference.
The Lobos gave the Roos all they could handle. Sul Ross erased a third quarter AC advantage, and took a lead in the 4th. A late Kangaroo drive against a weary Lobo defense, however, proved to be the winner. Kernek churned up huge chunks of yardage behind offensive linemen Josh Reynolds, Justin Watson, David Gafford, Matt Walker, and Mike Eklund. With just over three minutes to play, he found the end zone. AC led 28-27.
The Lobos had one last gasp, but the effort went nowhere. With help from the defensive line of Ben Northington, John Palmer, Justynn Royal, and Duncan McCallum, AC linebackers Reed Heim, Marvin Nash, Charles Gurley, and Kevin Cook shut down Sul Ross's final drive. A desperation 4th down pass fell incomplete in tight secondary coverage by Marcus Schulz, Jason White, Landon Powell, & Clint Burns, and the Roos took over on downs. The season ended in Alpine, with an ASC third place finished secured and seven wins achieved. It was the highest win total since a 1990 Roos squad that made the NAIA playoffs.
The 2000 Roos returned to Sherman to celebrate the end of a successful season. Later that spring in 2001, they gathered at a house much like any AC student house. The celebrated and planned and laughed and lived like Roos have done in Sherman for decades. Night fell, and a couch and tv were moved to the front lawn. But this would be no ordinary AC party viewing. This night, part of the football team, alongside friends and family, would be watching the NFL draft. An Austin College Kangaroo just might be a part of it.
There was a possibility that Aaron Kernek would be drafted in the later rounds, maybe round 11 or 12. In the end, no NFL team picked Aaron Kernek that night. But it didn't matter. That evening, Kernek got a phone call.
"Welcome to the Baltimore Ravens"
Aaron Kernek learned that he would be invited to Baltimore Ravens training camp. He'd have a shot to earn a spot on the Ravens roster. According to QB Travis Stein, one Roo was especially helpful in ensuring Kernek was not overlooked by NFL scouts: Mr. Gene Babb, the Dean of AC football and the father of the NFL Scouting Combine. Babb, whose name sits on the AC scoreboard, passed just last year.
The draft party shifted into high celebration mode. Yes, somebody had a match. Yes, it was struck. Yes, that $15 Army-Navy store couch went up in flames that evening in 2001, just like many a couch in Sherman before and since. But this couch fire topped them all, for this party's celebration was unique and special.
A Roo was headed to the NFL.
Members/family of the 2000 Austin College Kangaroos:
Sunday 12/1: Millsaps
Thursday 12/5: Hardin-Simmons / Mary Hardin-Baylor
Sunday 12/8: McMurry
Thursday 12/12: East Texas Baptist
(AC National Championship Day)
Sunday 12/15: Texas Lutheran
Thursday 12/19: Louisiana College
Sunday 12/22: Mississippi College
Thursday 12/26: Howard Payne / Sul Ross
Sunday 12/29: NFL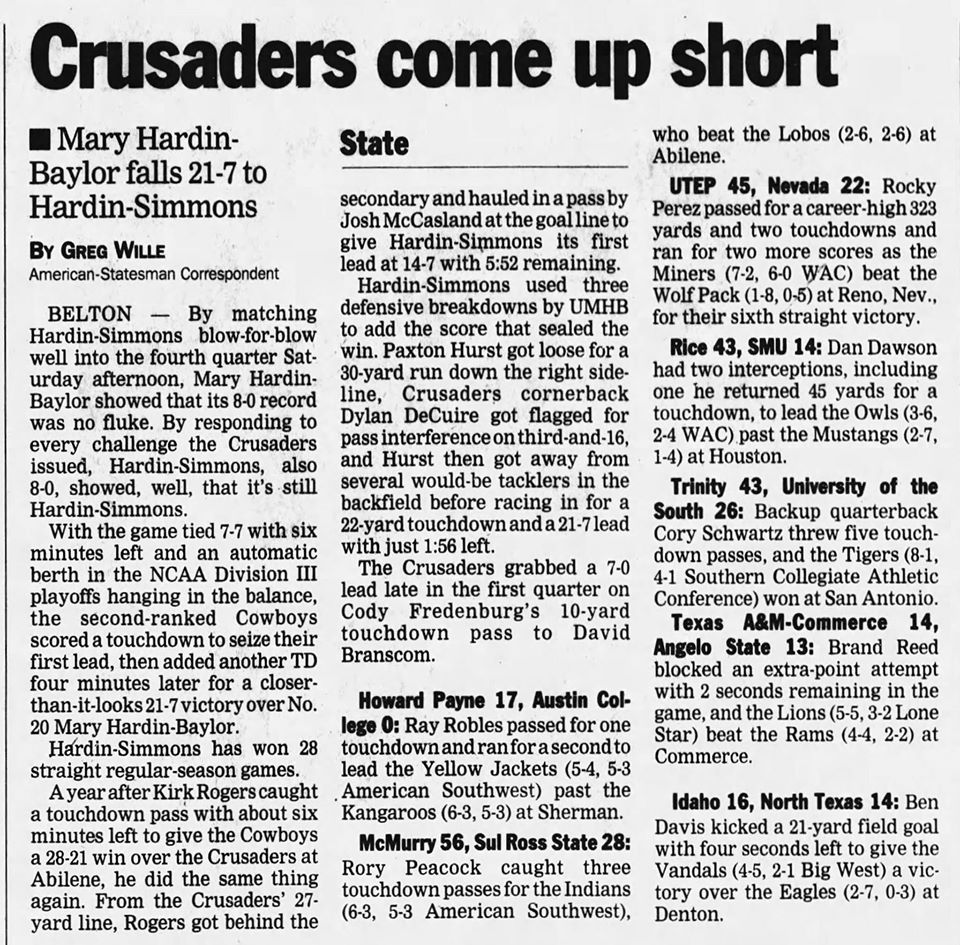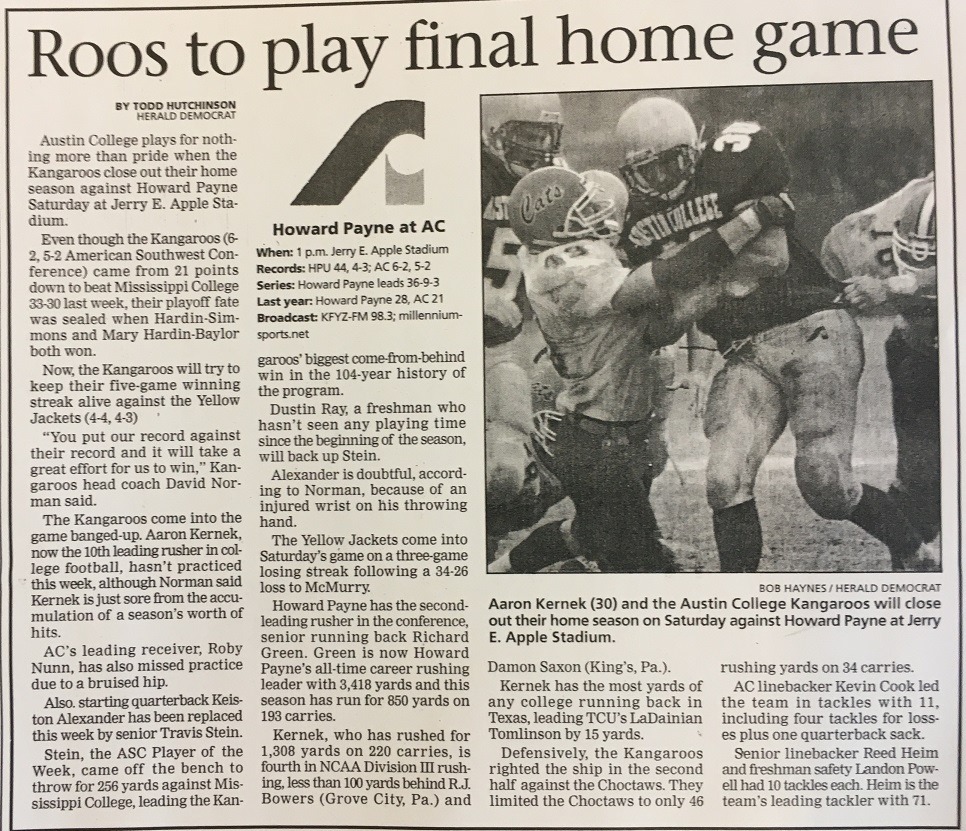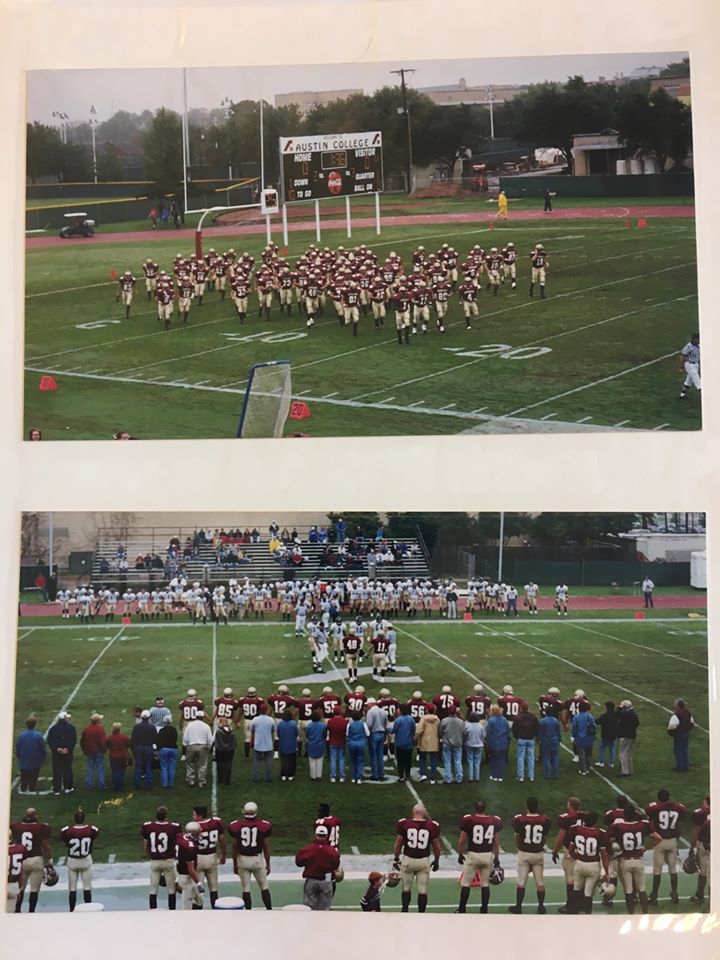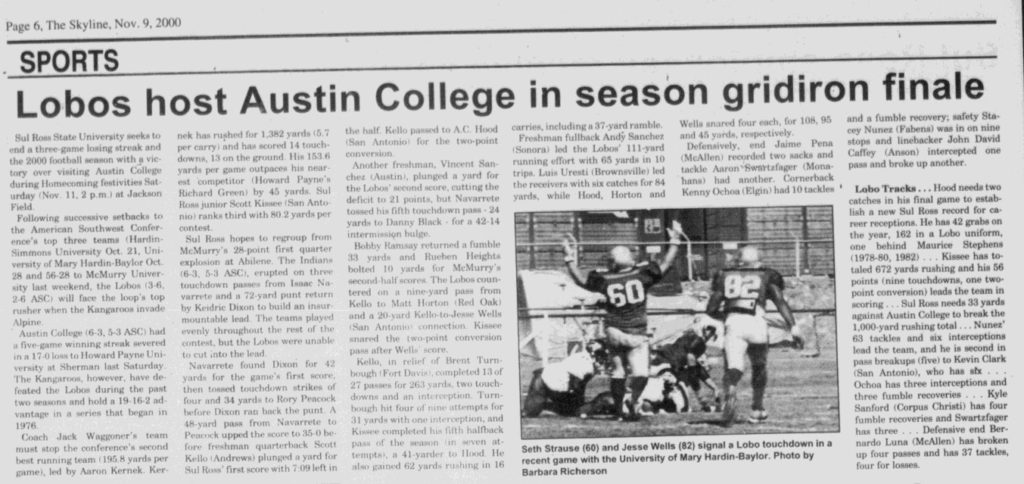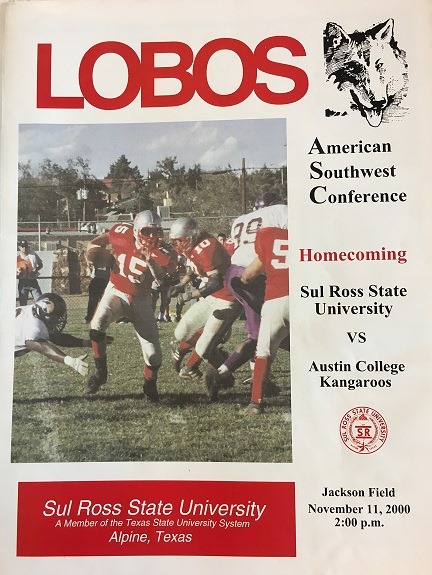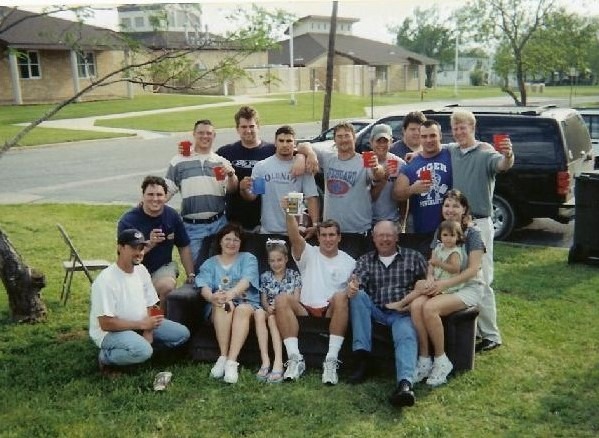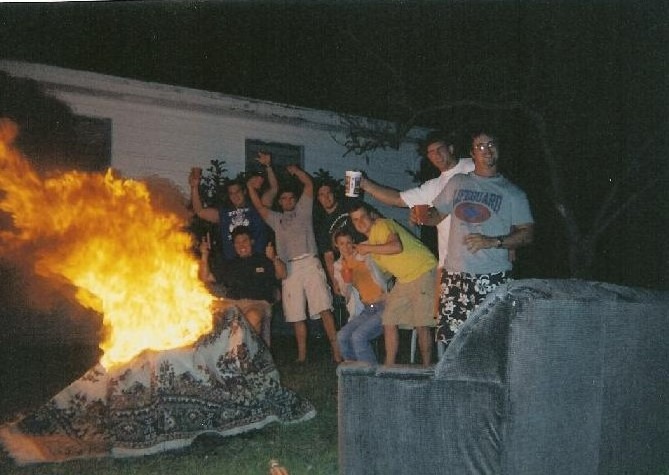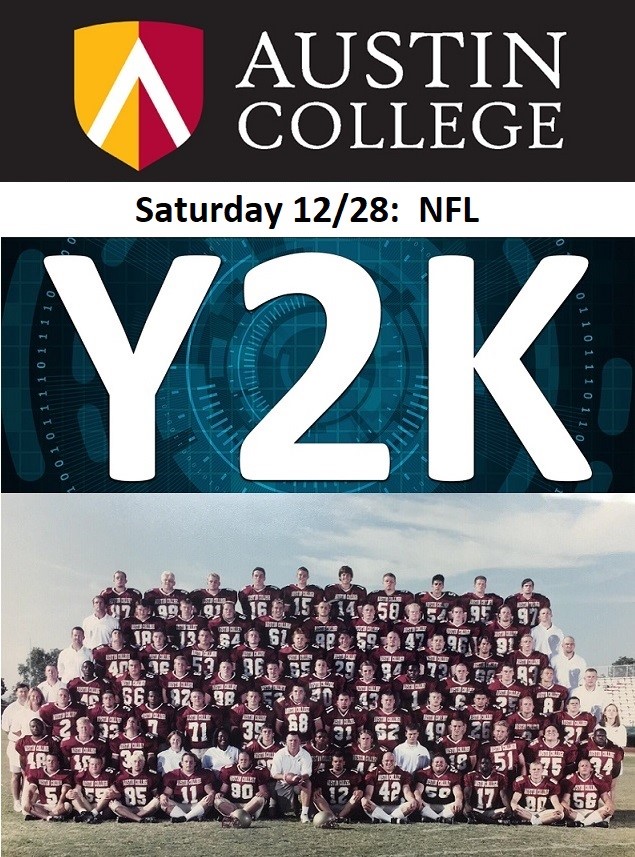 Saturday 12/28: NFL
New York City is the greatest city in the world.
And after September 11, 2001, the greatest city in the world was suffering. New Yorkers turned to their neighbors, communities, fellow citizens for healing. They also turned to their beloved sports teams. The Yankees World Series run coincided with a return of the New York Giants to the gridiron.
The defending NFC champion New York Giants played their first post-9/11 game at Kansas City against the Chiefs. The date was Sunday, September 23, 2001. There was very little on the minds of fans in Kansas City other than the lives of those impacted by the attacks. Fans paid tribute to America, and New York beat Kansas City 13-3. Wearing NYPD & FDNY baseball caps in the postgame locker room, every member of the New York Giants roster celebrated.
That roster included an Austin College Kangaroo.
Aaron Kernek had reported to the Baltimore Ravens training camp in July of 2001. He was considered a potential substitute for injured Pro Bowler Jamal Lewis in August, and was competing hard for a spot on the roster of the defending Super Bowl champions. Kernek even briefly made an appearance in the NFL documentary "Hard Knocks" (see the comments). Week after week, Kernek survived one round of cuts after another. The roster was finally set on Wednesday, September 5th. He had made it. Austin College Kangaroo Aaron Kernek was signed to the Ravens practice squad. He was on the roster when Baltimore kicked off their season against the Chicago Bears on September 9th. The Ravens celebrated their Super Bowl triumph before kickoff, and defeated Chicago to begin a defense of their title.
Two days later, the world stop turning.
As New York and the nation recovered from the September 11th attacks, Aaron Kernek was traded from Baltimore to the New York Giants practice squad. On September 19th, the New Jersey Record reported in its "Giants Notebook" that New York had "waived receiver Pat Woodcock and practice team safety Kelly Herndon, replacing them with defensive end Gillis Wilson and running back Aaron Kernek."
The Record also reported more somber news within its Giants Notebook: the visit by head coach Jim Fassel to Ground Zero in Manhattan, and the thoughts of Giants RB Greg Comella:
"Jim Fassel's halting words and heavy pauses said as much about his visit to the World Trade Center devastation as his descriptions did Wednesday afternoon. The Giants coach spent much of Monday evening in lower Manhattan, overwhelmed by the response from rescue workers who wanted to talk with him about the Giants or pause to pose for pictures. 'Even with all the death and destruction, I look at those guys and they're doing their jobs,' Fassel said. 'I will never, ever, ever feel sorry for myself in a press conference after a loss again.'"
Kernek spent the rest of the 2001 season on the New York Giants roster. He's a part of the team photo. It's an incredible picture. Alongside the Kangaroo are a lot of familiar faces. Quarterbacks Jesse Palmer and Kerry Collins. Hall of Fame kicker Morton Andersen. Running back Tiki Barber. Heisman winner Ron Dayne. Current Saints coach Sean Payton. Cornerback Jason Sehorn. Receiver Amani Toomer. Defensive End Michael Strahan. In the team photo, Kernek is seated next to running back Damon Washington.
The defending NFC champion New York Giants stumbled to a 7-9 season in 2001, in part because of poor rushing. Tiki Barber, Ron Dayne, and Damon Washington all went down with injuries early, as NFC East contests with the Philadelphia, Washington, and the Dallas Cowboys loomed. An October 9th, 2001 article mentioned the injury problems, and noted that Giants Coach "Fassel could sign another running back, probably practice squad fullback Aaron Kernek. Short of that, he remained hopeful either Barber, Dayne, or both would get back to practice." Just before Super Bowl 36, the first of many won by the New England Patriots, Kernek was signed by the Giants for a second season.
Giants training camp in the summer of 2002 was a positive one for the Kangaroo. Meanwhile, Barber and Dayne continued to struggle with injuries. So did rookie Charles Stackhouse. In an August 1st article, the injuries wreaking havoc with the Giants running game were mentioned, as was the increasing reliance on reserves. "Aaron Kernek, Adam Wright, and Darian Barnes are reaping the benefit, getting plenty of reps" noted a local New York paper.
Kernek saw plenty of touches during the 2002 preseason, just as he had one year earlier. He was in New York on Sunday, August 11th when the Giants hosted the New England Patriots at home. The Boston Globe printed the rosters of both squads before the first game of the 2002 season. A young Aaron Kernek was on the Giants list; a young Tom Brady can be found on the Patriots side. Kernek saw action in the game at the Meadowlands against Brady and the defending Super Bowl Champions.
His appearance in the game was one of the high points of Austin College athletics.
It was also the end of the road. Kernek sustained a neck injury in the game, which would eventually force the Giants to release him weeks later. The Green Bay Packers had interest in the Roo after his release, and invited Kernek to join the squad. However, Green Bay doctors would not clear Kernek to play after examining the injury. His NFL career was effectively over.
From Roo Quarterback Travis Stein:
"Green Bay tried to pick up Kernek [after his release from the Giants]. He had suffered a neck injury which still gives him fits to this day. The Green Bay team doctor wouldn't pass him. That was the year Green Bay's top two running backs went down and a no name third stringer had the year of his life. That would've been Aaron."
Every athlete has a ceiling, and every athlete could probably have broken through that ceiling with just a bit more luck. But what a ceiling for this member of the 2000 Austin College Kangaroos. He was a member of the defending Super Bowl champion Baltimore Ravens in 2001, and had seen preseason playing time as a New York Giant in 2002. Playing time against Tom Brady and the defending Super Bowl champs. At the Meadowlands. In New York City. The greatest city in the world.
Now that's quite a ceiling. In the comments, you'll find a clip of a Kernek touchdown run against McMurry at Louis Calder stadium. Watch it! You'll see why this Roo is at the very top of the AC rushing yardage list.
One purpose of Roo Tales is to create a little pride in our alma mater. Years ago, someone who I had not yet met messaged me after a story. He said the stories make me "proud to be a Roo." Yes! Me too. That thought has stayed with me for some time. It's not just the history, community, and memories. It's the pride. The big boys in Austin and College Station don't need any additional pep rallies on their behalf, but little ol' Austin College could stand to benefit from some of that spirit.
The appearance of Aaron Kernek in the National Football League is obviously something to make us all proud. However, this year's Roo "season in review" was not about one person. It was about an incredible team of coaches and players who put together a very special season. Thanks to the 2000 squad for letting me tell your story. I've already met a number of you, and am looking forward to meeting more at Legends, Homecoming, or around my hometown of Austin, TX. The 2000 Austin College Kangaroos certainly make me "proud to be a Roo."
A happy 2020 to all. We'll pick another AC football season in December 2020 and do it all again.
Members/family of the 2000 Austin College Kangaroos:
Sunday 12/1: Millsaps
Thursday 12/5: Hardin-Simmons / Mary Hardin-Baylor
Sunday 12/8: McMurry
Thursday 12/12: East Texas Baptist
(AC National Championship Day)
Sunday 12/15: Texas Lutheran
Thursday 12/19: Louisiana College
Sunday 12/22: Mississippi College
Thursday 12/26: Howard Payne / Sul Ross
Saturday 12/28: NFL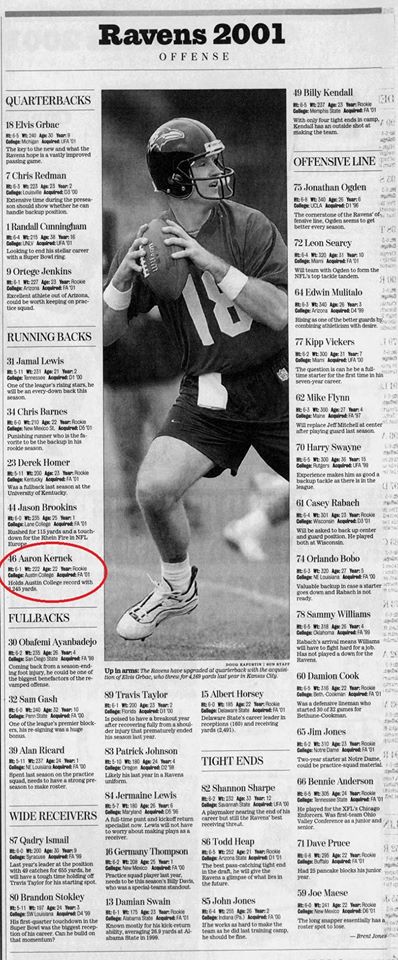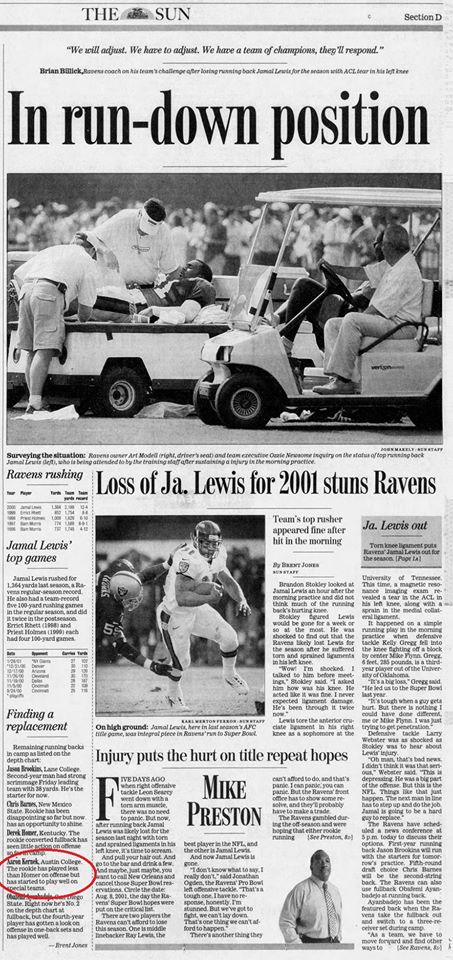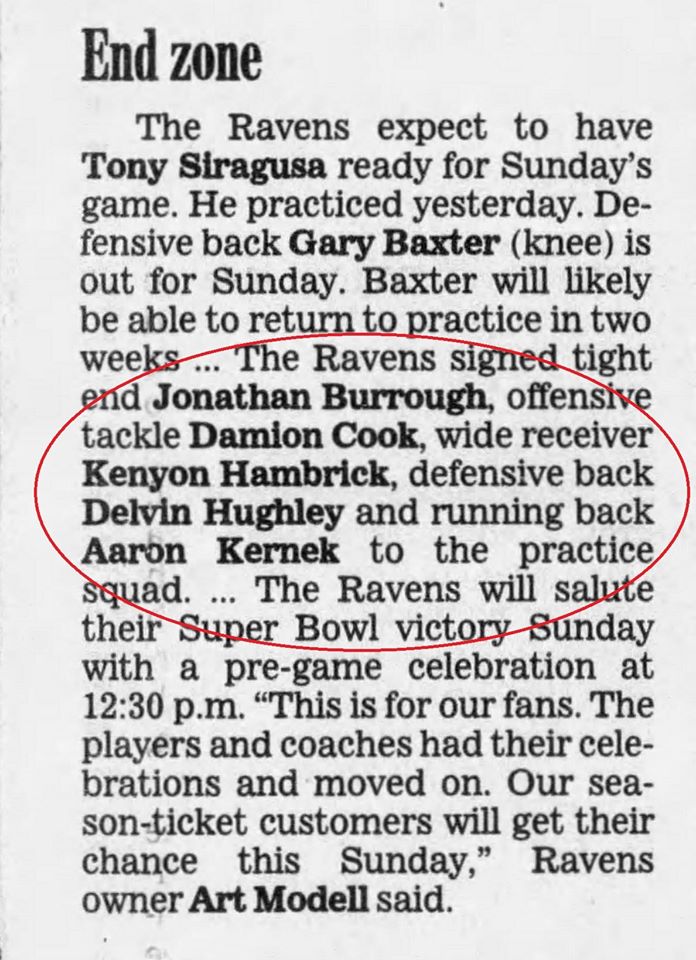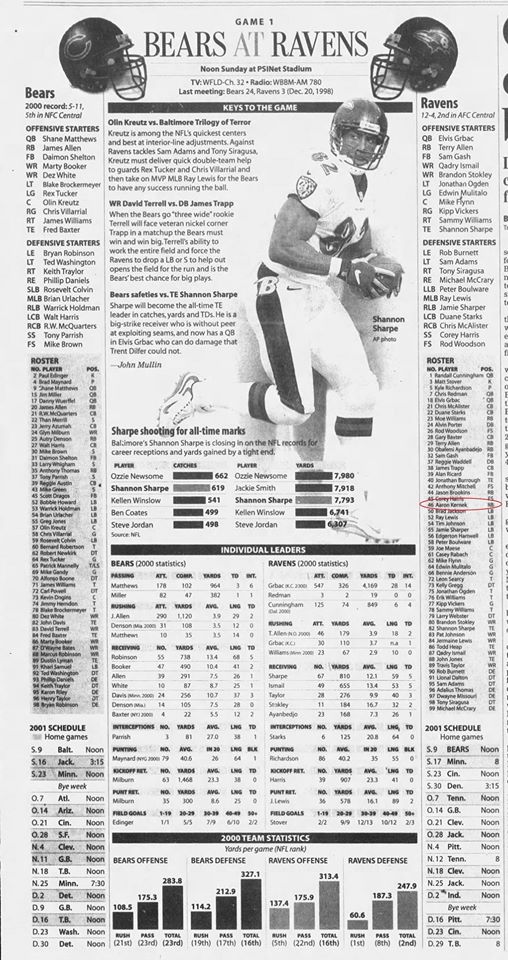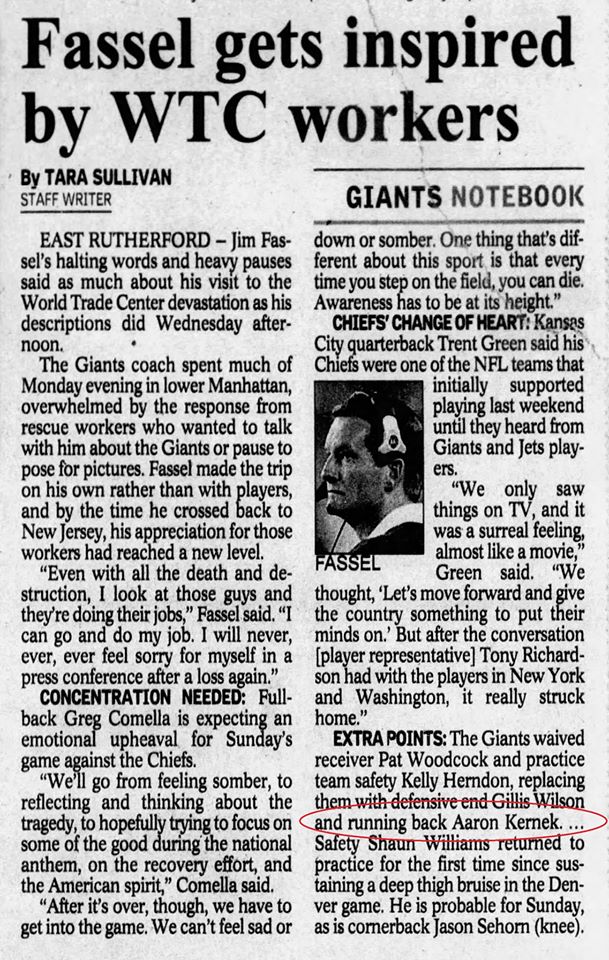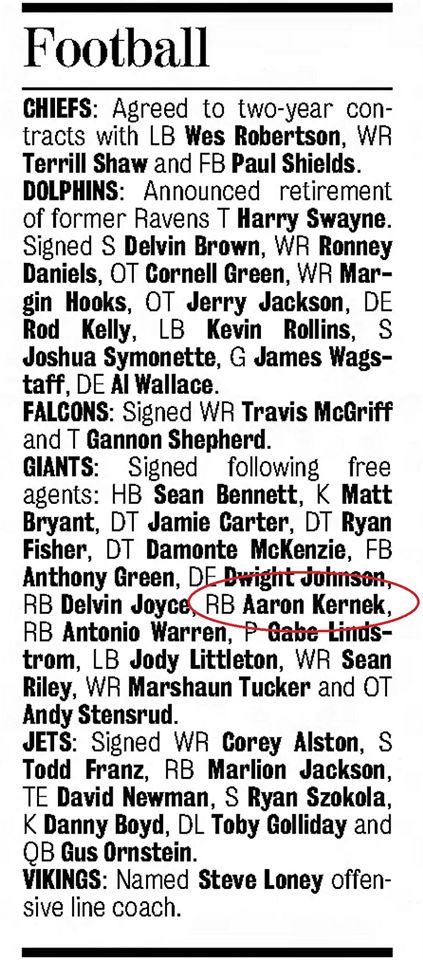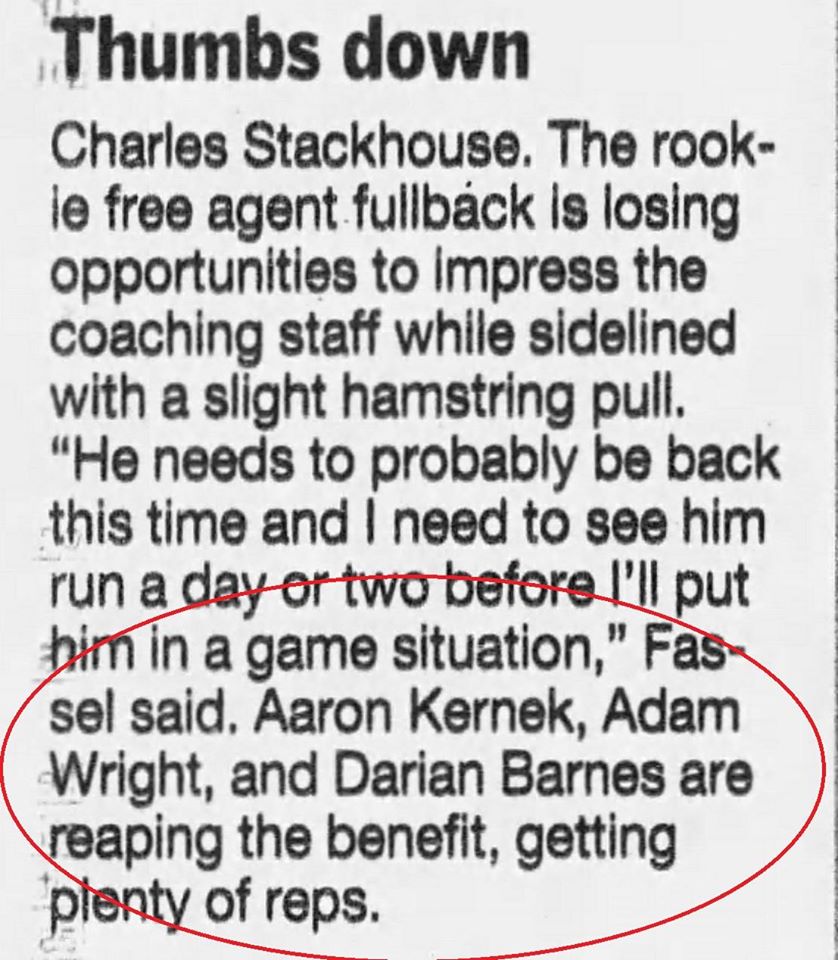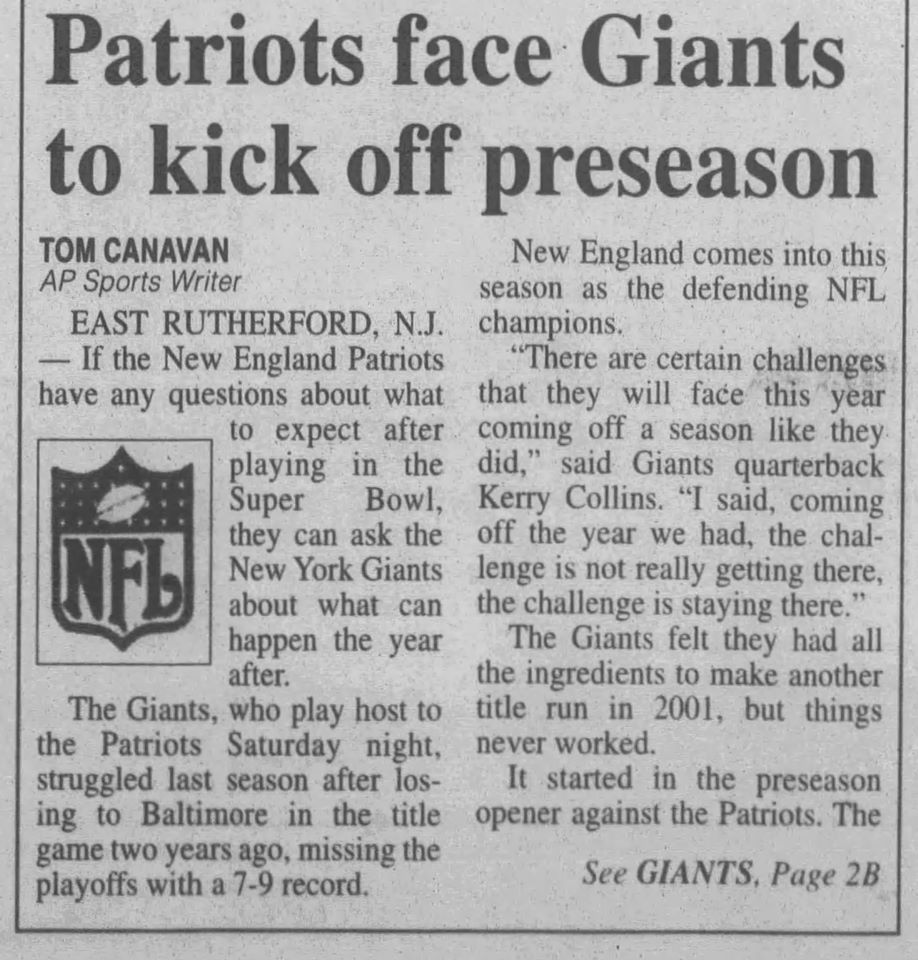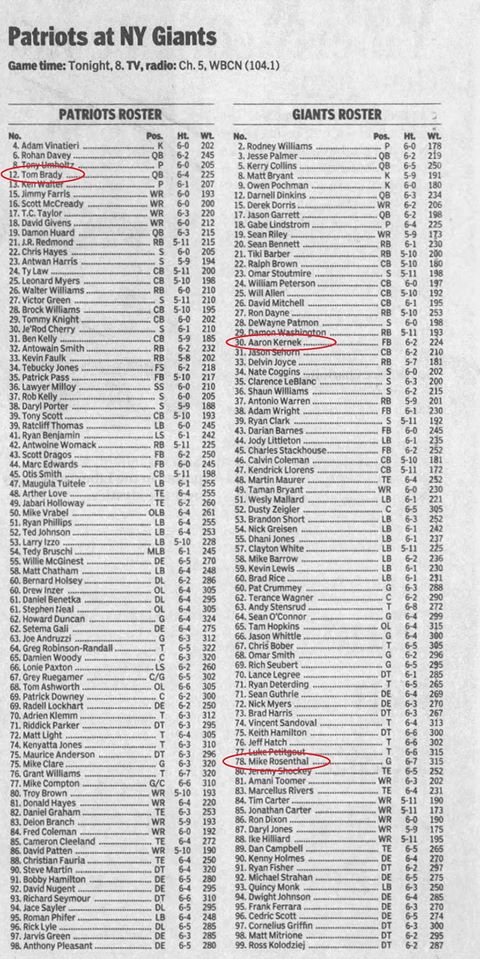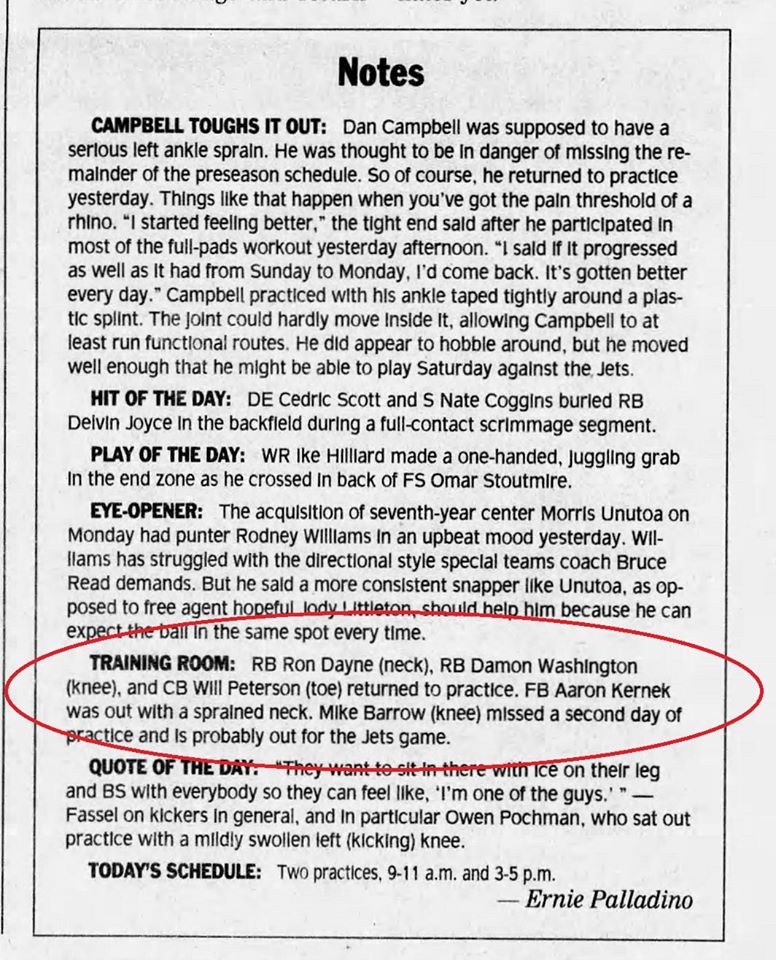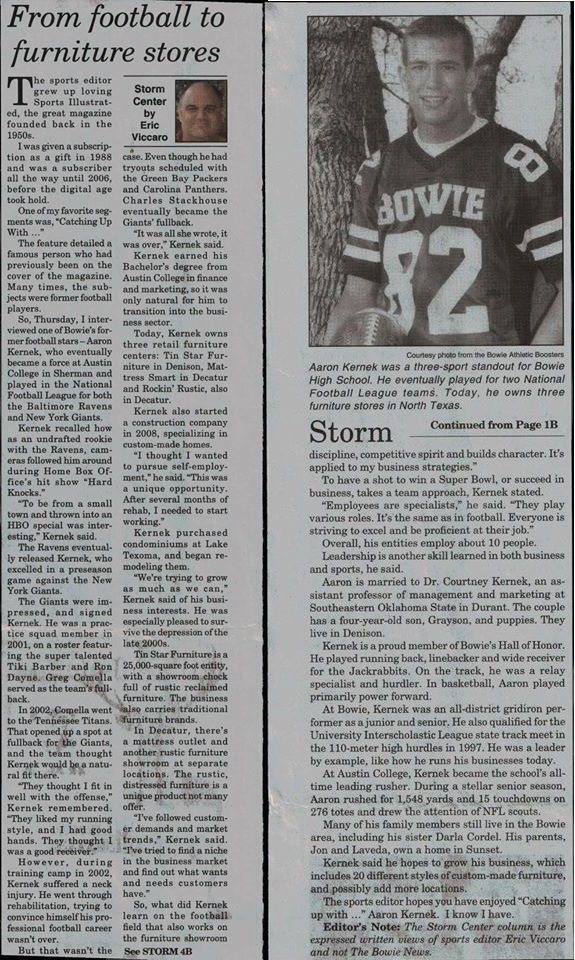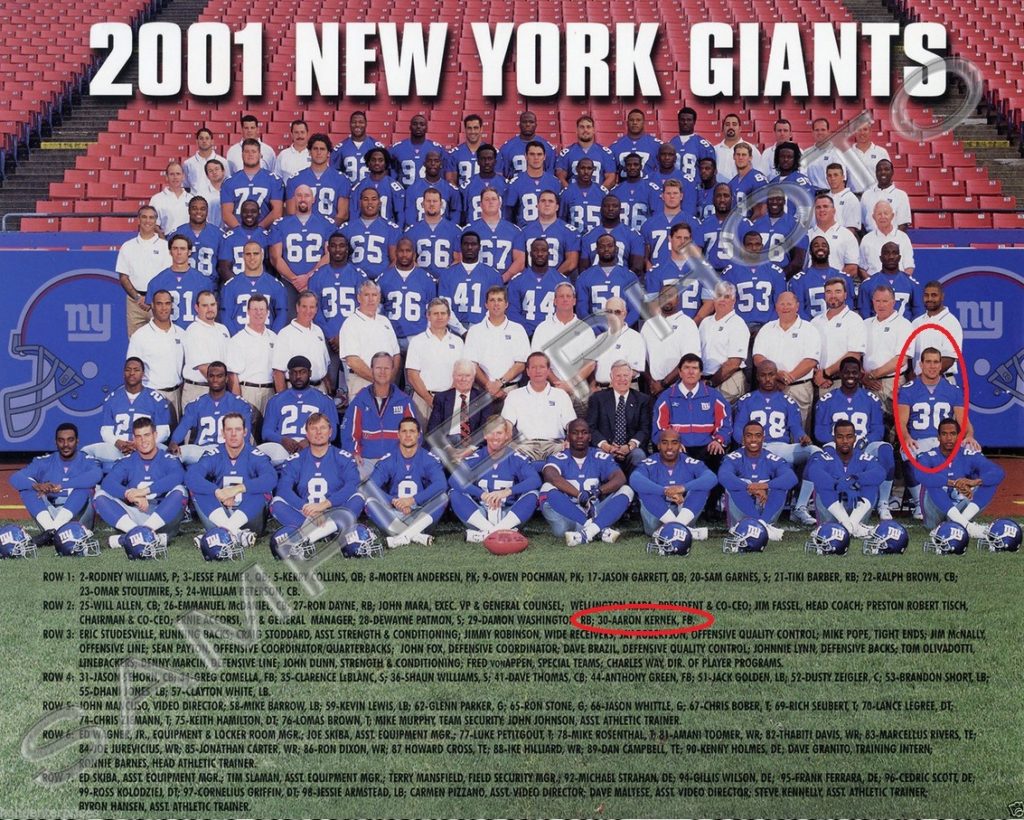 https://www.youtube.com/watch?v=QX3Dx8XoeAw&fbclid=IwAR08Up9ewCyevBDEaagmqwZHa5xPJJJYkAjS3xdMQEeBNnbJJ4NupNcxWCs