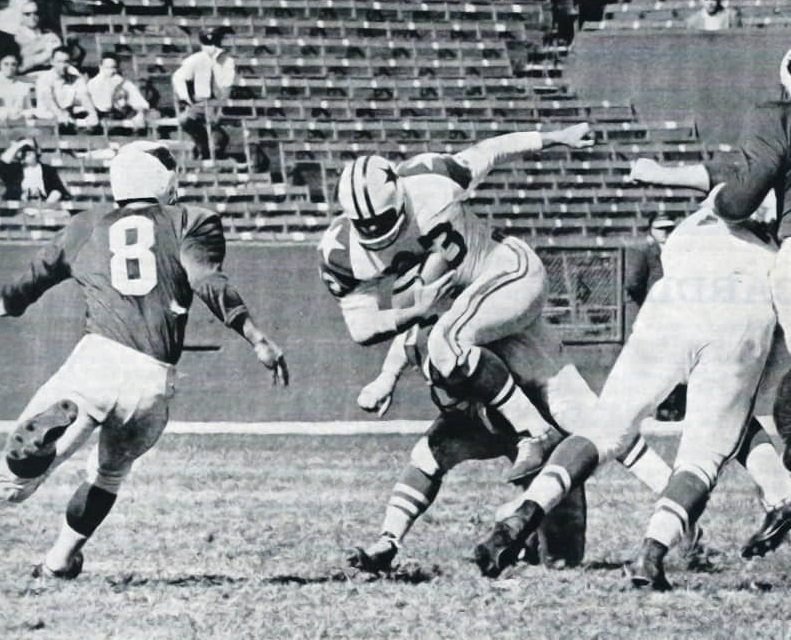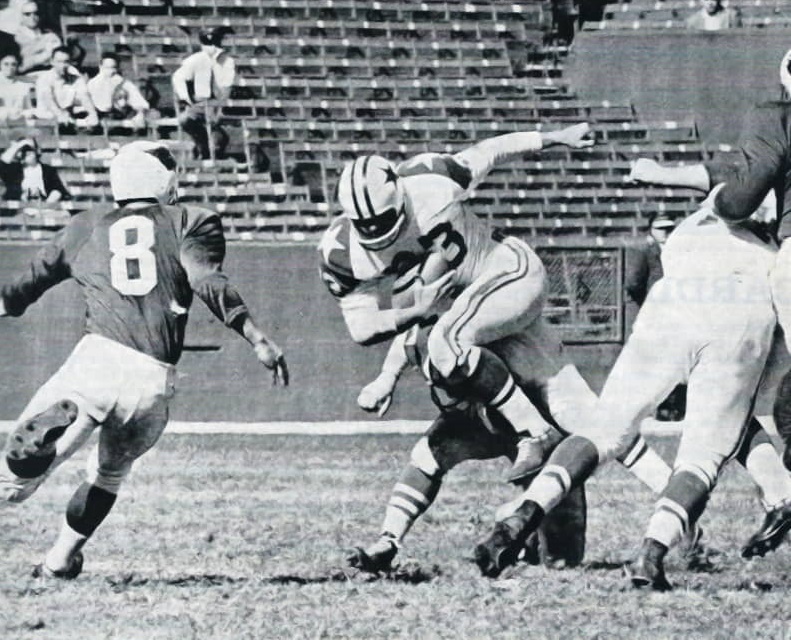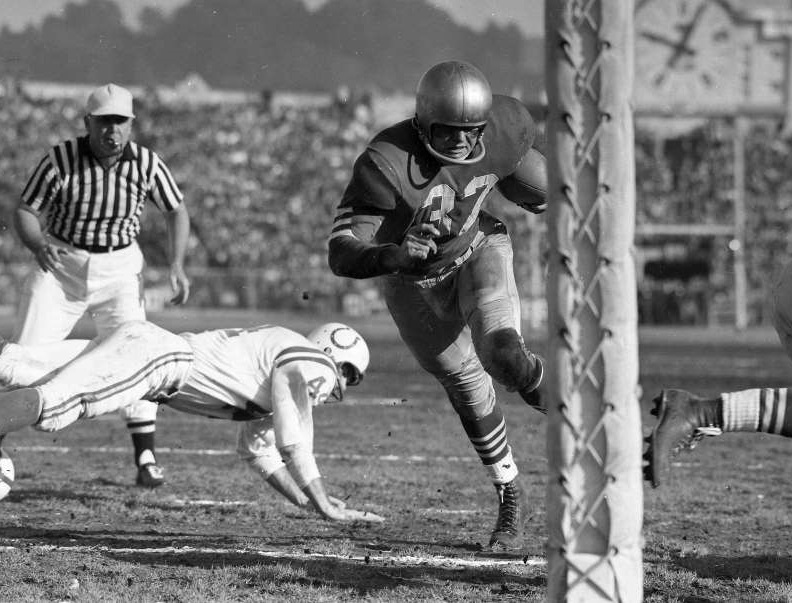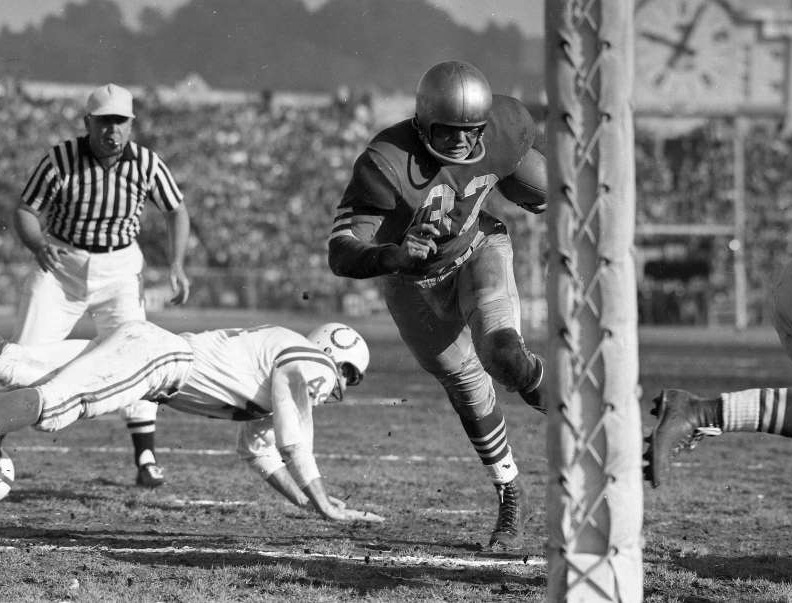 Who you rootin' for today? The San Francisco 49ers of Kangaroo Gene Babb? Or the Dallas Cowboys of Kangaroo Gene Babb?
The photo of Cowboy Gene Babb comes from October 23, 1960. Babb had multiple carries in a reserve role, as Coach Tom Landry's Cowboys fell to the Cardinals at old Sportsman's Park in St. Louis. Babb's reserve role as a veteran in 1960, combined with QB Don Meredith's reserve role as a rookie in 1960, led to a long friendship. That friendship lasted thru 1981, when Meredith attended Austin College's 1981 national championship game at the invitation of Gene Babb.
The photo of 49er Gene Babb comes from December 8, 1957. After receiving the handoff from 49ers Hall-of-Fame QB Y.A. Tittle, Babb scored on this 2-yard scamper against the Baltimore Colts at San Francisco's old Kezar Stadium. San Francisco defeated Johnny Unitas, Alan Ameche, and the rest of the Baltimore Colts by a score of 17-13. Babb finished the season with just under 500 all-purpose yards and 3 scores in his rookie season, leading San Francisco to within a hair's breadth of the NFL title game.
The Baltimore Colts regrouped in 1958 to win the NFL title in what many consider to be the greatest game ever played and the birth of the modern NFL. The 1958 NFL title game was the first ever to be televised, and the first ever to head to overtime. It ended on an OT run by the Colts for the win: "Unitas gives to Ameche, and the Colts are champions of the football world!"
The winning coach for the Colts in 1958, Weeb Ewbank, would later hire Austin College Coach Joe Spencer in 1969 as part of his staff on the upstart New York Jets of the AFL. Ewbank, Spencer & Joe Namath shocked the football world again that year, leading the New York Jets to a Super Bowl III victory over Ewbank's old team……the Baltimore Colts. The Jets victory was the first title for the AFL, leading to the AFL-NFL merger and solidifying the Super Bowl as an American institution.
The losing coach for the Giants in 1958, Jim Lee Howell, soon saw the departure of the New York Giants defensive coordinator he had hired years earlier. The NFL expanded in 1960, and a new team……..the Dallas Cowboys…….needed a head coach. Tom Landry left New York for Dallas. One of his first acts as Dallas head coach was to complete a roster. He found a team willing to trade a veteran running back to the Cowboys. That team was the San Francisco 49ers. That running back was Kangaroo Gene Babb.
Who you rootin' for today? The San Francisco 49ers of Kangaroo Gene Babb? Or the Dallas Cowboys of Kangaroo Gene Babb? Me, I'll be pulling for the Dallas Cowboys of Kangaroo Gene Babb. I'll be hoping for three straight road playoff wins, followed by an OT Super Bowl win. Hey, it could happen. I mean, if an Austin College Kangaroo can come within a hair's breadth of all of these momentous events in professional football history, then surely in a few weeks we can all watch as:
"Prescott gives to Pollard, and the Cowboys are champions of the football world!"