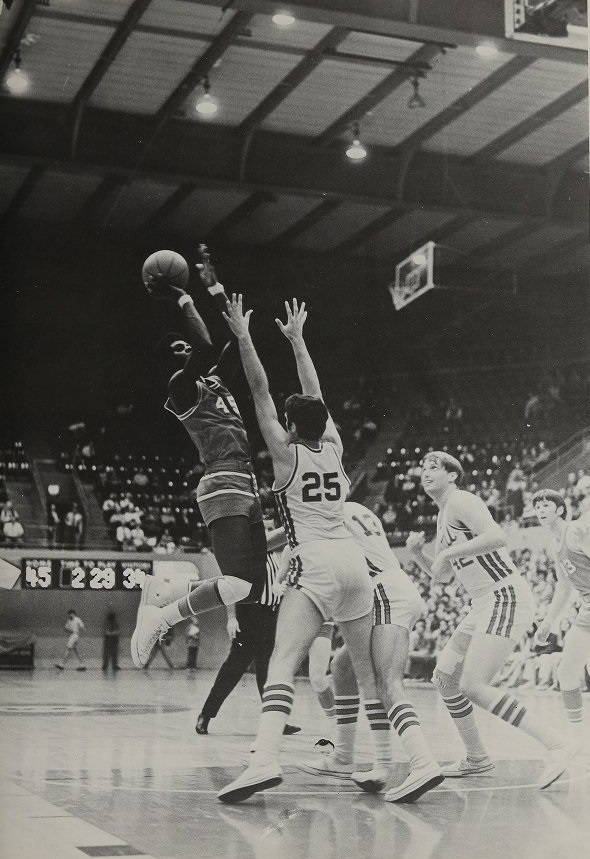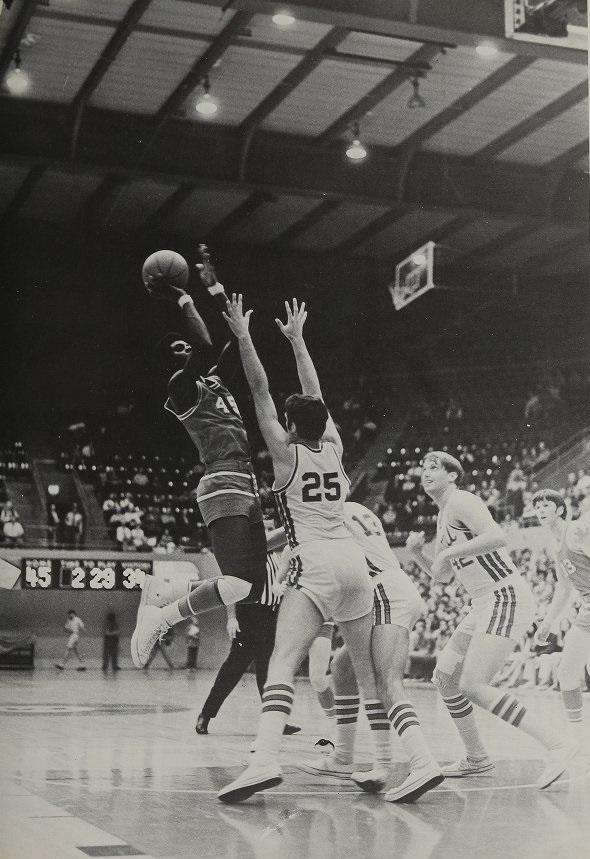 This is a cool pic.
It's a pic of Austin College Kangaroo Lee Burnett (#45), a shooting guard for Bob Mason's AC squad in 1970-71. AC faced the SMU Mustangs at Moody Coliseum that year. The Roos would put up 76 points against the Southwest Conference (SWC) juggernaut in the loss. Despite transferring from junior college, Burnett finished his short AC basketball career with over 1000 points.
In addition to the win against AC, SMU basketball also scored victories against Baylor, Arkansas, Texas A&M, Texas Tech, Rice, & TCU in 1970-71. The Mustangs were led by 1st Team SWC shooting guard Gene Phillips, who was tasked with guarding Burnett that night against AC at Moody.
One year later, Gene Phillips signed a contract to play for the American Basketball Association's (ABA) Dallas Chaparrals. The "Chaps" also played at SMU's Moody Coliseum. On November 3, 1971, Phillips took the floor at Moody once again against the ABA's Virginia Squires. Only, he wasn't guarding Roo Lee Burnett that evening. Instead, Phillips was instructed to shut down Virginia Squires star Julius Erving (Dr. J.).
Narrator: He did not.
Gene Phillips was inducted into the SMU Mustangs Hall of Fame in 2011. He was SWC player of the year when he faced the Roos, an honor awarded to players such as Clyde Drexler, Akeem Olajuwon, & Travis Mays. His jersey was retired, only the third SMU Mustangs jersey to hang in Moody Coliseum.
The Dallas Chaparrals moved to San Antonio in 1973, changed their name to the Spurs, and were chosen to join an enlarged NBA in 1976. With 5 NBA titles from 1999 to 2014, the Spurs are considered an elite NBA franchise. In a tribute to their ABA predecessor, Tim Duncan, Tony Parker, Manu Ginobili, and the San Antonio Spurs played a number of games during the 2011-12 wearing the uniforms of the Dallas "Chaps."
Despite over 1000 career points, Lee Burnett is apparently not a member of the AC Hall of Honor. Sounds like Marc may have another project.