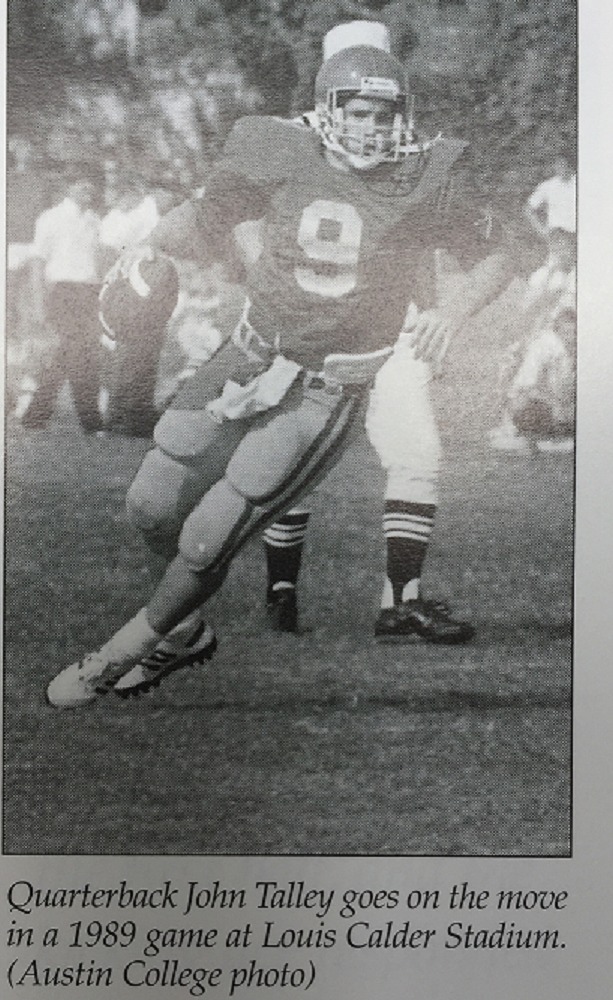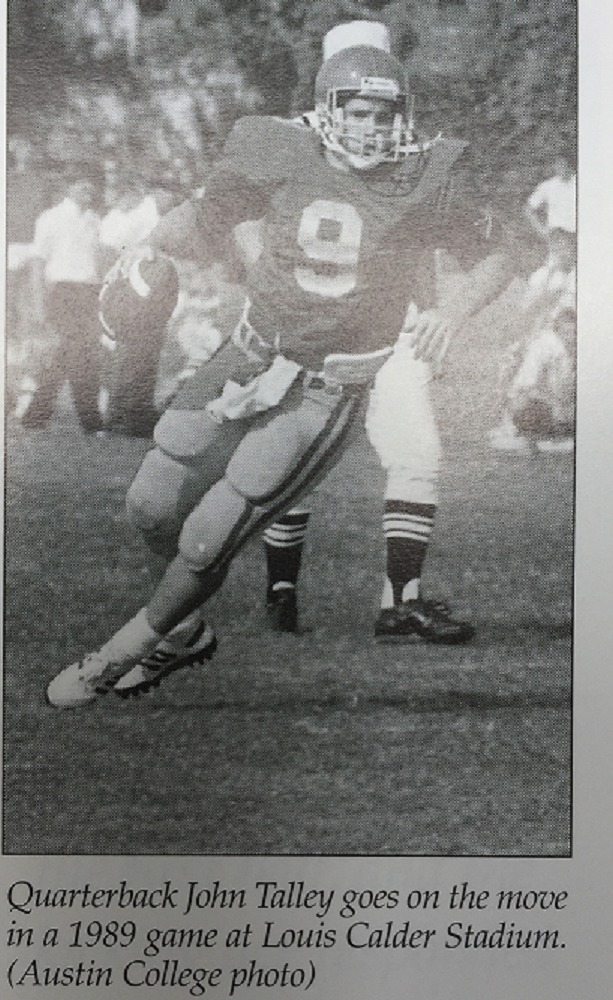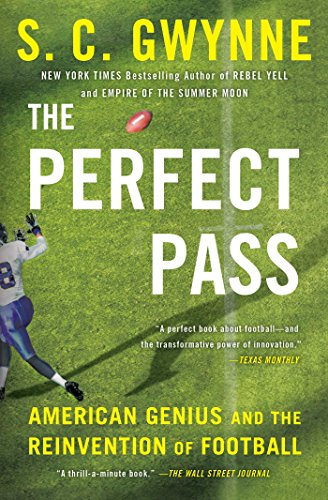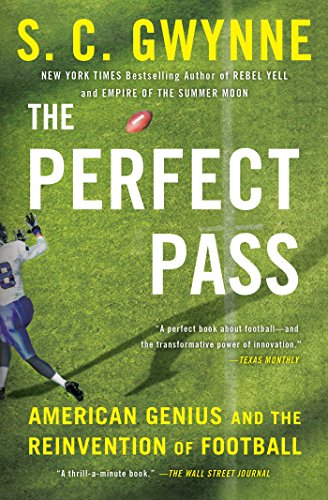 To paraphrase the end of the 1992 movie A River Runs Through It, "eventually, all things merge into one. And a Roo Tale runs through it."
I think back to 1992 from time to time. It was the senior year at Austin College for me and John Talley, my AC fraternity pledge brother and the starting QB for the Kangaroos. Talley led AC to 6 wins that year, with victories over Trinity & Tarleton. One of the joys of AC is the close proximity between varsity athletes and intramurals heroes like me. As I sometimes tell folks, my weekends back then were (1) watching Talley beat Tarleton on a Saturday and (2) catching Talley passes on a Sunday.
Talley had a rocket for an arm and could easily throw it half a football field. On one Sunday back in 1992, we were playing a pickup game at Old Settlers. I went deep at full speed as Talley rolled out. He threw a Doug Flutie bomb to me that was flawless. Not good, not great, immaculate. It zipped over the guy covering me and hit me in full stride right in the breadbasket. I didn't even have to make an adjustment. It was the "perfect pass."
And I dropped it.
As I ran back to the huddle, Talley gave me a look that said "Peerrrrrrrish……there's nothing more I could have done." Hahahaha. For me, the pass was too perfect. Had I been forced to adjust a little then perhaps I would have hauled it in. But honestly? I just thought it was cool that an AC tennis player could be catching passes from the AC quarterback on a lazy Sunday. No intramural hero in Aggieland was catching TD passes from Kevin Murray on a lazy Sunday. Which is sorta why I choose intimate AC over the factory that is Texas A&M in the first place.
"The Perfect Pass" is the title of a book written by S.C. Gwynne that details the revolutionary football changes of Coaches Hal Mumme and Mike Leach. As the sporting world knows, Leach died suddenly this week. He was an eccentric, brilliant, hilarious, sometimes controversial football visionary who changed the game forever. Roo Claude Webb Jr. mentioned the book in the wake of Leach's passing; it is a highly entertaining read. Mumme & Leach took their "Air Raid" offensive schemes to the SEC, Pac-12, and Big XII where they enjoyed considerable success. Imitation is the best measure of success, which can be found in the number of big-time college programs who have installed Air Raid elements into their own schemes.
The Air Raid of Mumme and Leach was more than just an aggressive passing game. It was intricate, detailed, and above all fast. The two coaches approached the passing game like mad scientists, focusing on maximizing the advantages of time and space to keep defenses tired, on their heels, and frustrated in their constant failures to get a stop. After you've finished "The Perfect Pass," you'll fully understand just how brilliant the minds of Mumme and Leach were. It was hard for players, fans and administration to accept Air Raid at first because it just took so long for their difficult system to be mastered.
But Mumme and Leach found a laboratory willing to give their system a chance: a small, religiously affiliated NAIA school on hard times that was amenable to creative coaches trying something new. No, not little NAIA Austin College. Little NAIA Iowa Wesleyan (IW). In 1991, in the same year that my buddy John Talley was leading AC at quarterback, Hal Mumme & Mike Leach implemented their Air Raid system at IW with vigor. They had a QB named Dustin Dewald who fully bought in; the wins started to come as Dewald began to flawlessly execute the intricate system and rewrite the collegiate record books. Today, Dewald is ranked fifth all-time in career passing yards in the NCAA/NAIA. His 61 completions in a September 1991 game is still tops in the nation.
Mumme brought Dewald to Iowa Wesleyan from his previous coaching job: Head Coach of Copperas Cove High School in Texas. Yes, in the days before Mumme met Leach in Iowa and began to collaborate on their revolutionary Air Raid ideas in full, Hal Mumme was already dedicated to the passing game in Texas. In 1988, Mumme commented on his then Copperas Cove QB Billy Parks in the Austin American Statesman, with an emphasis on the passing game and the success of his Copperas Cove QB predecessors:
"Mumme has stressed air travel since signing on at Copperas Cove High three years ago. 'We're a small Class 5A school without a lot of depth, particularly among linemen, so we've had to move the football by throwing it. Our two previous quarterbacks, Dustin Dewald and John Talley, threw well enough to make us competitive.'" – Hal Mumme
Since the sudden passing of Mike Leach this week, the tributes have been overflowing across the football world. This includes Hal Mumme, who waxed nostalgic about Leach, his success at the highest ranks of college football, and their days together implementing their mad scientist-like passing scheme at an NAIA school that looks remarkably similar to Austin College. Everyone, it seems, has a Mike Leach story.
And me too. For if a Roo Tale is anything, it's about the ties that bind from big to small and from the present to the past. That includes the ties that link Mike Leach to Hal Mumme, Iowa Wesleyan, Copperas Cove, Dustin Dewald, my pledge brother John Talley, and Sunday afternoon pickup football games at Old Settler's Park in Sherman, TX. No matter how many times I think about that 1992 dropped pass, I still smile. Because AC is a special place where an intramural hero like me can play with a Mumme-coached quarterback who I still consider family 30 years later.
And I enjoy writing all about it. Because "eventually, all things merge into one. And a Roo Tale runs through it." See you Super Bowl Sunday Talley.