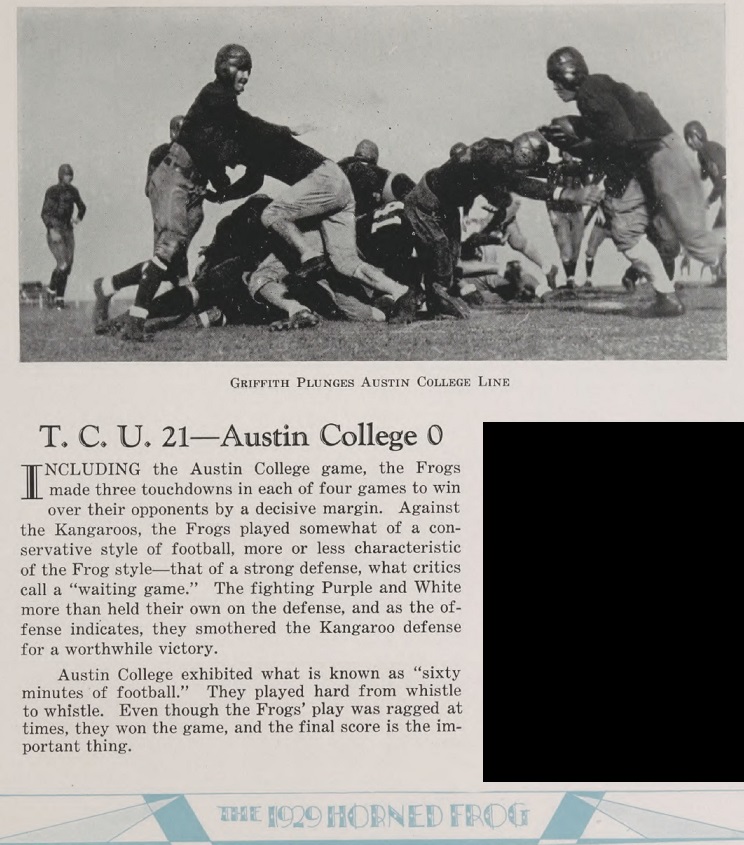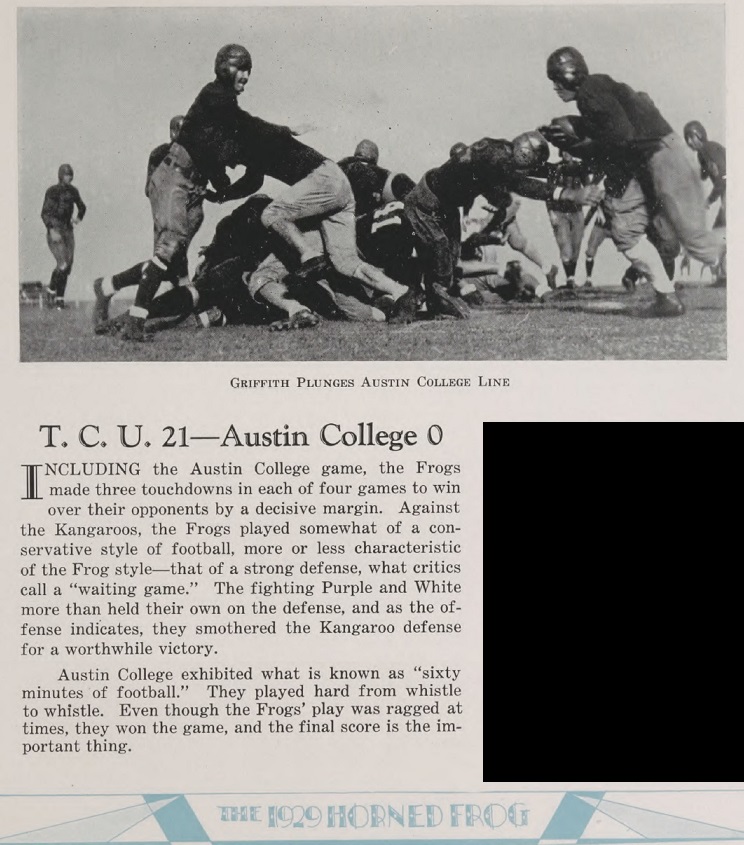 The AC-TCU football rivalry 100 years ago was surprisingly competitive. From TCU's move to Fort Worth in 1910 to their acceptance into the Southwest Conference in 1923, the Horned Frogs held only a pedestrian 6-5 record against the Roos. That period included a bitter 7-0 TCU victory in 1912, when both schools had two of their best squads ever and were invited by Dallas officials to play at the State Fair. AC's biggest victory came in 1923, when the Roos defeated SWC member TCU 27-0 on their way to a TIAA championship.
But the rivalry turned lopsided as Fort Worth growth and SWC membership propelled TCU into the football stratosphere. Future SMU great Matty Bell coached TCU to an 8-2 record in 1928, which included this 21-0 victory (and great photo in the TCU yearbook!) over Austin College. TCU's 9-2-1 record in 1930 included a 33-7 win over AC at Clark Field on the campus of TCU. The 1930 Roo-Horned Frog matchup was the last ever game at TCU's Clark Field; two weeks later, TCU inaugurated their brand-new Amon Carter Stadium. The Roos visited Amon Carter Stadium twice, in 1931 & 1932.
The TCU-AC rivalry ended in 1933, after the Horned Frogs visited Sherman to kick off the season. The 1933 game took place at Cashion Field, where Hughey Gym now sits. TCU was coached by Francis Schmidt, who in 1934 would depart to coach the Ohio State Buckeyes. Schmidt's assistant in 1933 was Dutch Meyer, who would lead TCU to its only two national championships in 1935 & 1938. On the bench in Sherman that day was a TCU freshman QB named ("Slingin'") Sammy Baugh.
The 1933 TCU Horned Frogs beat the Austin College Kangaroos 33-0 in Sherman. But there's no shame in that. TCU beat a lot of teams during this golden era. From 1928-1938, the Horned Frogs compiled an 89-17-9 record that included three SWC championships, a Heisman Trophy winner (Davey O'Brien), and two national titles led by O'Brien (1938) and Baugh (1935). On Monday, the 2022 Horned Frogs will be looking for national title #3.
Francis Schmidt, the TCU Coach who left for Ohio State in 1934, is nationally famous for a quip about beating rival and heavily favored Michigan: "those fellows put their pants on one leg at a time, the same as everyone else." Amen Coach. Yes, the SEC is formidable. But the mighty Georgia Bulldogs may be shaky after narrowly escaping Ohio State. And TCU's win over Michigan has Horned Frog fans believing.
Despite their underdog status, there's a former TCU Coach who beat AC in Sherman in 1933 who would tell the 2022 Horned Frog team the same: "those fellows from Georgia put their pants on one leg at a time, the same as everyone else." Go Frogs, beat the Bulldogs.