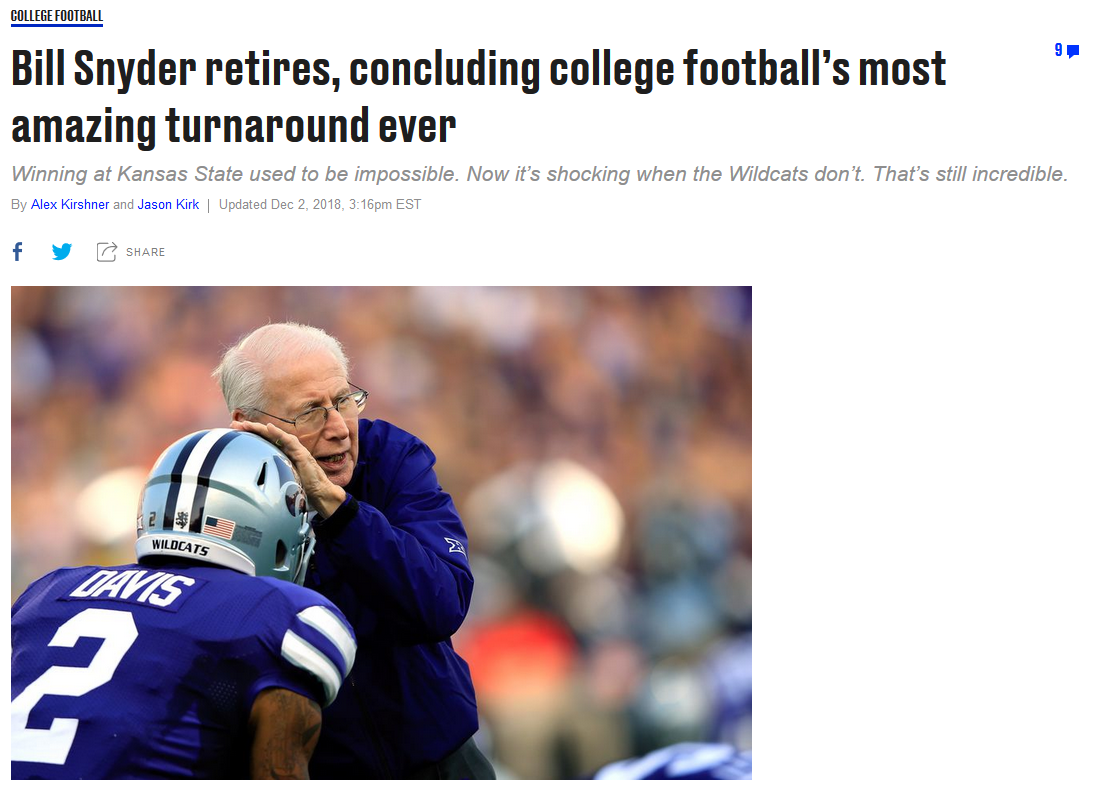 Coach Bill Snyder, the "architect" of the greatest turnaround in college football history, has retired from Kansas State after 30 years in Manhattan. The fact that Coach Snyder is a former Austin College assistant football coach (and swimming coach too….I see you Claude Webb Jr.!) has been a source of pride for Roos for decades. Snyder played at William Jewell (Liberty, MO) alongside former Coach Vance Morris (h/t Paula Young Morris) back in the late 1950s/early 1960s. By 1975, both were assistants to Larry Kramer in Sherman.
We're reviewing the 1968 season this month. The 1968 Roos defeated William Jewell that year, just as they beat nearly every other team that crossed their path. Coach Snyder's career will be worked into the 1968 William Jewell chapter still to come.
I didn't play football for Coach Snyder back in 1975. In fact, I didn't play football at all and I have yet to meet him. But I still have a Coach Snyder story all the same. Actually, it's more of an Austin College story. It's a good one, because it combines two elements every Roo associates with AC: (1) a pride in the place, and (2) an understanding we are a small fish in a big pond.
Many of y'all my age know Richard Gudmundsen. Richard has been living his best life lately, traveling with spouse and/or friends to places such as New Zealand, Mongolia, South America, and Everest base camp. Atta boy Rich.
20 years ago, you were more likely to find him clowning around with Frank Tooley, Paige Norton, and me in places such as New York, Boston, & Montreal. There's a great Connecticut "Rich story" in the comments below. But this post is about another story. The Bill Snyder story.
In 2000, we were both in Austin kicking back and watching a game. Rich and I knew enough about Snyder at the time to know his trajectory.
Sherman –> Denton –> Iowa City –> Manhattan.
That day, Kansas State was playing somebody; I forget who. Maybe a Big XII game?
Rich & I were barely paying attention.
At halftime, Coach Snyder led his Wildcats into the locker room. The television commentators spent the intermission talking to Coach Hayden Fry.
Rich & I still had little interest.
Snyder was Fry's assistant at Iowa in the 1980s. Together, they revived the Hawkeye program and won Big X titles. Fry talked about their time in Iowa City, and how unsurprised he was about Snyder's turnaround in Manhattan.
Rich & I started to focus a bit more. But still, only a little.
Then the commentator asked Fry a question. "You were both together at North Texas, right?"
Rich & I immediately stopped talking, and started listening.
Snyder was Fry's assistant at North Texas in Denton during the 1970s. There, they both (once again) revived the fortunes of the Mean Green football program. Their success in Denton had caught the eye of Iowa administration. All of a sudden, the interview had gone from Manhattan to Iowa City to Denton. There was only one stop left.
After a few minutes of North Texas, the commentator then amazingly asked the question we were sure he would not ask. But ask it he did.
"Where did you find him?"
Dead silence.
Coach Hayden Fry: "Snyder was coaching at a small school in north Texas……….."
Rich & Marc (thinking): "Say it."
Coach Fry: "It was north of Denton, near the Oklahoma border…"
Rich & Marc (talking): "Say it!"
Coach Fry: "Ohhhh……..what was the name of that college?"
Rich & Marc: "FOR THE LOVE OF ALL THAT IS HOLY SAY IT!!!!!!!!!!!!"
Coach Fry: "Oh yeah, Austin College. Up there in Sherman, TX."
Rich & Marc: "YAS! YAAASSSSSSSS! YAAAAAAAAAAAAASSSSSSSS!"
Pandemonium. Then high fives. Maybe a little sweat. Then probably some naps. But we had somehow made the entire trip in one interview. Legendary Coach Hayden Fry had taken us all the way from the greatest turnaround in D1 history to Austin College. Barely. Haha. Good ol' Rich.
Rich, hope all is well in San Antonio. Keep living your best life, which we were often NOT doing during brutal New England winters.
Congratulations to Coach Snyder on a well-deserved retirement. More Coach Snyder to come on Wednesday 12/19, when the 1968 AC Kangaroos take on William Jewell.
https://www.sbnation.com/college-football/2018/12/2/13463716/bill-snyder-retiring-kansas-state-coach?fbclid=IwAR1VZSfwn6PxCCQeLkFPrk8zTcMbJmLP4ASUaHao57sqDJOgpnLNRFd6CA0