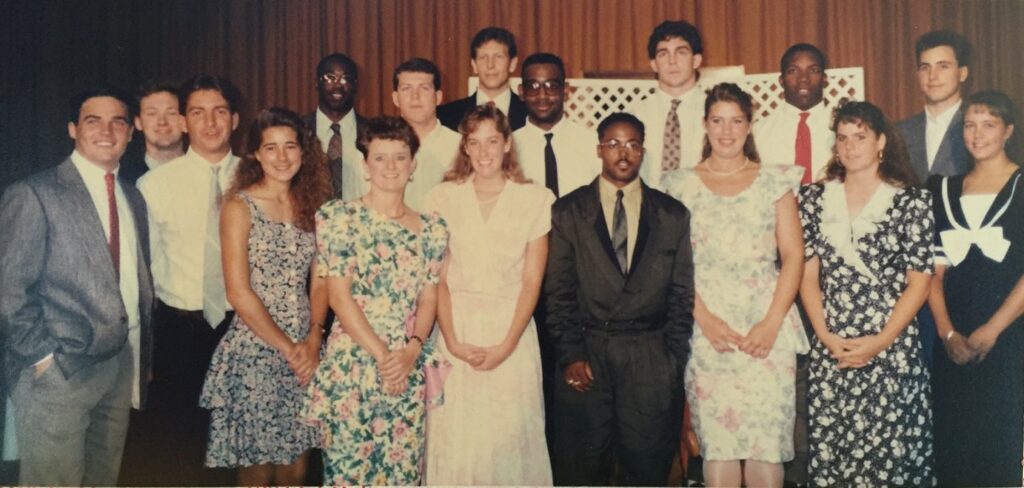 Hey look! It's me! With a Roo coaching legend.

Heather Woods Sanders was a 1st team all-conference volleyball player at AC, earning the sport's outstanding player award at the 1990 Athletics Convocation.

Coach Sanders has led New Braunfels Canyon volleyball for 23 years, leading the Cougarettes to consistent district titles and multiple state tournament appearances. Sanders sits in the Austin College Hall of Honor.

Earlier this year, Coach Sanders notched career win #700; if she chooses to pursue, the all-time Texas HS career wins record of 1,079 could very well be hers.

The 2021 Cougarettes are Coach Sanders's most successful team ever. Their 43 wins are tops in the history of the program. Just last weekend, Canyon punched their ticket to the Class 5A state tournament.

I've written about Coach Sanders before. The daughter of Faye Godwin, a friend and colleague at UT System, was a phenomenal player for our Austin Bowie Bulldogs. But that Bowie dream season ended in the playoffs with a loss to Sanders and her Canyon team. The daughter today plays for Florida State.

I've told Brien Sanders (husband and former Roo offensive lineman on the 1988 football conference champions) in the past that a Canyon state title would be worth a Roo story. Well, here's hoping that this weekend the long awaited state title will come.

State semifinals on Friday, title match on Saturday. Hopefully by Sunday we'll be celebrating that elusive Canyon state championship.

Go get 'em Coach.
https://herald-zeitung.com/sports/article_5105b782-320e-11ec-b6b3-473eb9dfad8d.html?fbclid=IwAR0SJVms1Cgfc8H0nnDdyGQ-dEZWk9PUGWDd47XIHtCUEmGBoXFAJf487MY
https://herald-zeitung.com/community_alert/article_57e6cc78-472e-11ec-9c1c-a3828abb1abd.html?fbclid=IwAR1i59sGnoNtRF47G7rBGva7is-hLZ5gXGD8YAtgQOXWcHSBjRhLDiMvgAA