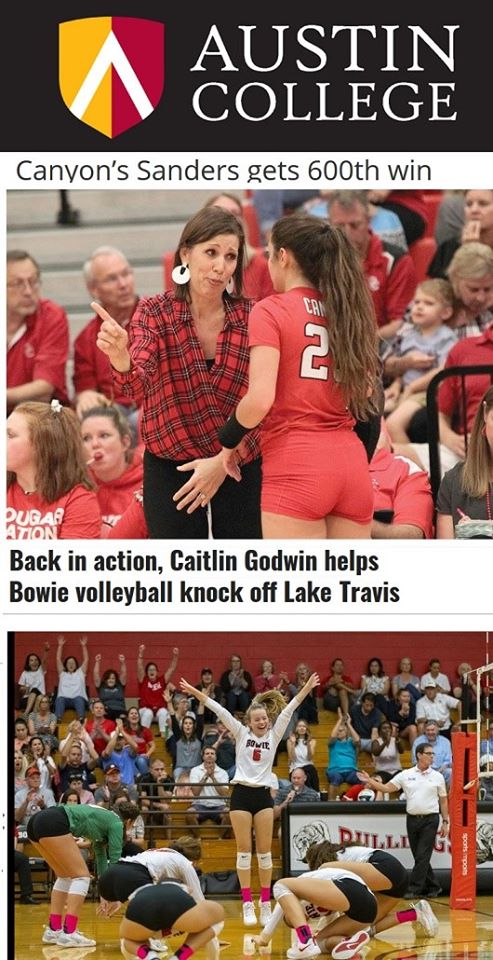 Most Roo Tales are about men. It's just baked into the cake when writing 100-year old stories. The past is full of inequity; athletics is no exception. Sport in the early 20th century was the exclusive province of males, and most Roo stories come from this era. Nevertheless, I always look for opportunities to stray.
The story of women in sport is like the story of women in America………a long struggle to find their well-deserved place at the table. I've written about AC women's basketball, softball, and tennis; these stories have been some of my favorites. However, there is still one huge sport with significant female participation that has been glaringly absent for some time. Time to change that.
Coach Ed Garza has been at the helm of Austin College volleyball for nearly a quarter century. Coach Garza recorded his 600th win at AC just last month; his teams consistently post 20-win seasons. Check out the number of likes on Coach Garza's 600-win post from last month (see the comments). That's a whole bunch of former players and future coaches who have moved on from AC volleyball to write their own stories. Players like Jessica Saunders, President of the "A" Board, Kaitlin Shores, recently inducted into the AC Hall of Honor, and Kelly Brianne McDaniel, who has followed Garza into coaching. Kelly, now a volleyball coach herself at East Central (San Antonio) HS, says the following of Garza:
"[Coach] Garza truly cares about this sport and his teams. My first weekend ever playing for him in 2009 he reached his 400th win. My senior year we got him his 500th. I have never had a coach that was so truly dedicated to this game."
Coach Garza's tenure in Sherman began just after my own departure from AC in the early 1990s. Back then, I was honored to win the Carroll Pickett award for tennis at the AC Athletics Convocation. I still have a photo from that evening, and there are some heavy hitters in that picture. Mark Murphy (football), Kyle Matlock (baseball), and Amber Sprouse Mcgregor (swimming) are there. So is Jimmy Baird (football) and Barry Holcomb (swimming). I see Marcie Kobos's spouse Phil as well; Phil earned the basketball award, and their son is currently playing hoops for the Roos. But I'm more interested in a different person in the photo today. The Roo who won the Volleyball award: Coach Heather Woods Sanders of New Braunfels.
When you think of New Braunfels & AC, you probably think of the Kyle family. Any Roo who attended AC from the late 1980s thru the early 1990s is familiar with the athletic success of Matt, Kat, and Jennifer. Why, just last week I was chatting with Jennifer at homecoming about her winning the Pickett award for tennis alongside a stellar AC volleyball career. When you think of New Braunfels, however, the person who truly should come to mind is Coach Sanders.
For a quarter century, Heather Sanders has coached volleyball at New Braunfels Canyon High School. Like Coach Garza, Sanders has 600 wins to her name. Her Cougar squads consistently appear in the Texas High School volleyball playoffs, and have numerous state tournament appearances. I mentioned to spouse Brien Sanders during Jason Johnson's Hall of Honor induction that a Roo Tale would be appropriate when that first Canyon state title eventually arrived. Brien was an offensive lineman on the 1988 TIAA conference champion Roo football team; just like Jason (h/t Lisa Lindsay Johnson), Heather also sits in the AC Hall of Honor.
Heather was featured in the January 2017 Austin College magazine when AC devoted an issue to former Roo players who had made their mark in the coaching ranks. The piece, written by Leigh-Ellen Clark Romm, includes a quote from Coach Sanders:
"'My liberal arts education gave me an appreciation for all sorts of perspectives on all sorts of issues,' Heather said. 'As an educator, you encounter people from many backgrounds and perspectives on life.' Heritage classes, study abroad in Paris, and an international studies class in Washington, D.C., laid her foundation of broadened thinking. On that foundation, she works with her students to see them reach their own potential."
Those sentiments expressed by Coach Sanders meshed nicely with a coaching article I was fortunate to write for the January 2017 Austin College magazine. That article, titled "Roo Coaches are Educators First," could have easily been written about Coach Sanders.
The Canyon Cougars march through the 2019 regular season included a district victory against Coach Kelly Brianne McDaniel's East Central HS Hornets. It was Roo vs. Roo, and Canyon emerged on top. Of Sanders, Kelly says the following: "I have definitely had Heather Sanders as an amazing mentor."
Canyon Volleyball's regular season has ended, and the Cougars once again begin a playoff run in search of a Texas High School championship. Their first playoff game will be on Tuesday, November 5th, and their opponent is a familiar one to the Parrish family: our own James Bowie Bulldogs from Austin, TX. Bowie volleyball is led by a very special player.
Austin College Kangaroo John Cotton and I have worked side by side with Faye Godwin for nearly 20 years. Faye is also a close friend of Dianne's and my neighbor Conny Kohler Ruthven. We've watched with delight as daughter Caitlin Godwin has transformed into an elite volleyball player. Beach volleyball is specifically her strength; Caitlin will be attending Florida State on a sand volleyball scholarship next year. As a senior at Bowie, she was lured back for one final indoor VB season with the Bulldogs. We've watched her guide Bowie to a playoff appearance with upset wins over teams like district champion Lake Travis. The Austin American Stateman ran a piece on Caitlin after the win over Lake Travis, and included an awesome photo of her celebrating and surrounded by teammates. Godwin was later named Statesman player of the week.
Interestingly, Caitlin's volleyball coach in Jr. High was Kim Jacoby, a Roo who played volleyball alongside Coach Sanders and the Kyles in Sherman under Garza's predecessor Coach Connie LaBorde. Coach Jacoby is also a good friend of the Godwins. On the way to the playoffs, Bowie knocked off Ryan Drake's Austin High Maroons. Ryan, a fine volleyballer herself, is the daughter of Kangaroo Lindsey Drake. Lindsey is also a close friend of another one of our neighbors, LuAnn Glowacz. Austin Volleyball families, like Roo families, are tight.
So the 2019 Texas High School volleyball playoffs begin next week with the Bowie Bulldogs facing the New Braunfels Canyon Cougars on Tuesday. Game time 7pm at Canyon Lake High School. Both schools have strong Roo ties in a sport that has been a consistent winner in Sherman. Who will I be pulling for? Hey, I'm not gonna answer that question. However, you better believe that the school which emerges with a victory will have my fandom all the way to a state title. Good luck to the Godwin family, my colleagues for nearly 20 years. Well done Sanders family on 20+ years of awesome volleyball in New Braunfels.
Congratulations to Roo Coach Ed Garza on win #600 this past fall; thank you for nearly 25 years at Austin College. Coach Garza's former players are a family that I'm only now beginning to know well, and I know there are more great Roo volleyball stories yet to be told. I bet this one is only the beginning.
Go Bowie. Go Canyon. Go Volleyball. Go Roos.
https://www.statesman.com/sports/20191016/back-in-action-caitlin-godwin-helps-bowie-volleyball-knock-off-lake-travis?fbclid=IwAR2gqLP3D17t_XXiXufGhAP_OE-hnxzzf17482no2BDY2tUPdsnSwCDGbeo
http://herald-zeitung.com/sports/article_c9883794-cf46-11e8-9e5b-dbc1bb55e12f.html?fbclid=IwAR0-MQcB8YmuKrSooBeFJeQTGrTnOpeYIqO8-7vku8mjtthdjfSY7PyEkS8