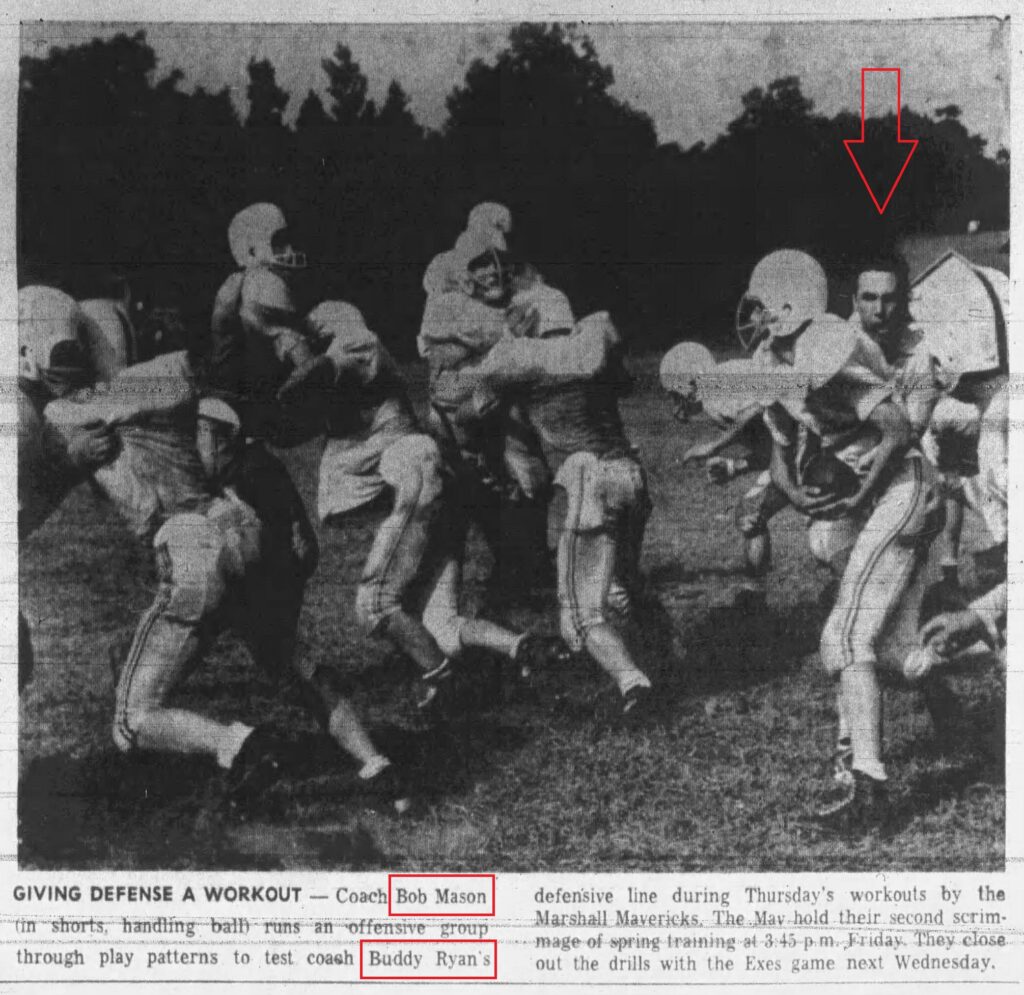 Before his four decades of service at Austin College, Bob Mason was a coach in the Texas High School ranks. In 1960, Mason was the Offensive Coordinator (OC) for the Marshall Mavericks football team when a new Defensive Coordinator (DC) arrived: Buddy Ryan.

Marshall stumbled to a 2-8 season in 1960, as Buddy Ryan's defense gave up nearly 22 points a game. Bob Mason left the next year to coach basketball in Sherman. Ryan would leave Marshall one year later, eventually reaching the professional ranks.

Ryan's time at Marshall was not the only instance when he worked closely with a Kangaroo on the offensive side of the ball. Joe Spencer, the 1960 AC Head Football Coach who lured Bob Mason back to Sherman, was the Offensive Line (OL) Coach of the AFL champion New York Jets in 1969. The Jets DC was Buddy Ryan. With Spencer's line protecting Joe Namath and Ryan's defense shutting down the Baltimore Colts, the Jets shocked the football world in Super Bowl 3.

Buddy Ryan would become one of the most recognizable Defensive Coordinators in the NFL. Ryan is credited with inventing the "46 Defense," which powered the Chicago Bears to an 18-1 Super Bowl winning season in 1986. You remember those guys, right? William "The Refrigerator" Perry, Mike Singletary, Richard Dent, & the Super Bowl Shuffle? Sure you do.

Buddy Ryan was also an unpleasant fellow. He almost game to blows with Coach Mike Ditka during the one loss in that 1985-86 season. He famously did the same again in 1993 with OC Kevin Gilbride while leading the Houston Oilers defense. And don't bring up Buddy Ryan around Cowboys fans, after his running up the score on Tom Landry and placing a bounty on Troy Aikman.

Marshall stumbled again last night in a 42-0 loss to Carthage, a perennial state power that at one time fueled an AC Coach Vance Morris-driven East Texas pipeline of players to Bob Mason in Sherman. That pipeline included a First Team All-East-Texas linebacker named Chris Medlin. Medlin, a Carthage fan and my AC fraternity pledge captain, reported the Marshall score to a group of us old Roos last night. I told Med I'd turn the Marshall game into a Roo Tale. And so it is written, and so it shall be done.

The stories of Bob Mason would probably make one heckuva book. Did he ever mention his time alongside Buddy Ryan to anyone at AC? He certainly did not to me. What I'd give for him to still be with us, so I could pour a drink and listen. I'm sure he's got at least one about his time in Marshall, TX alongside Buddy Ryan.