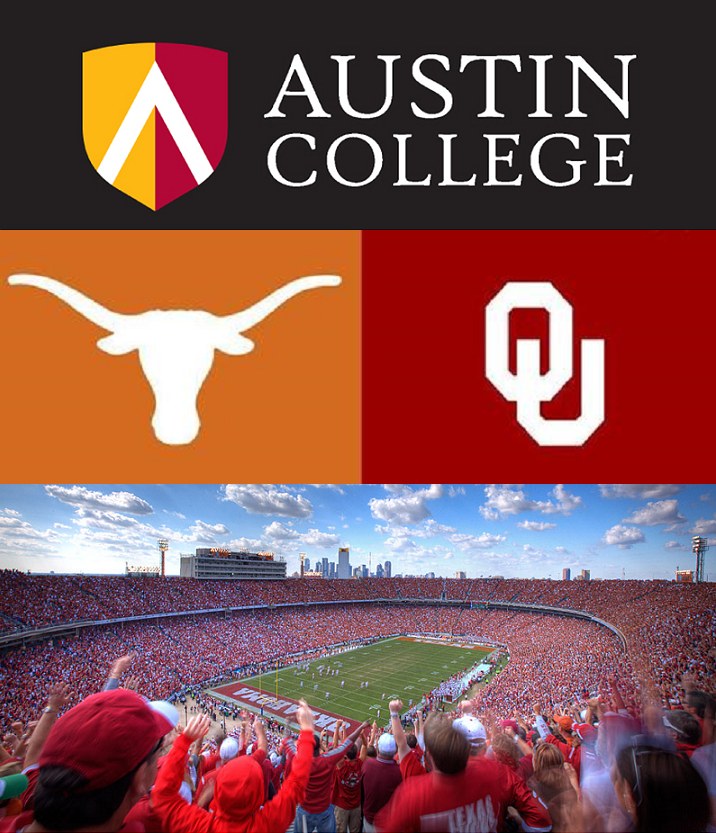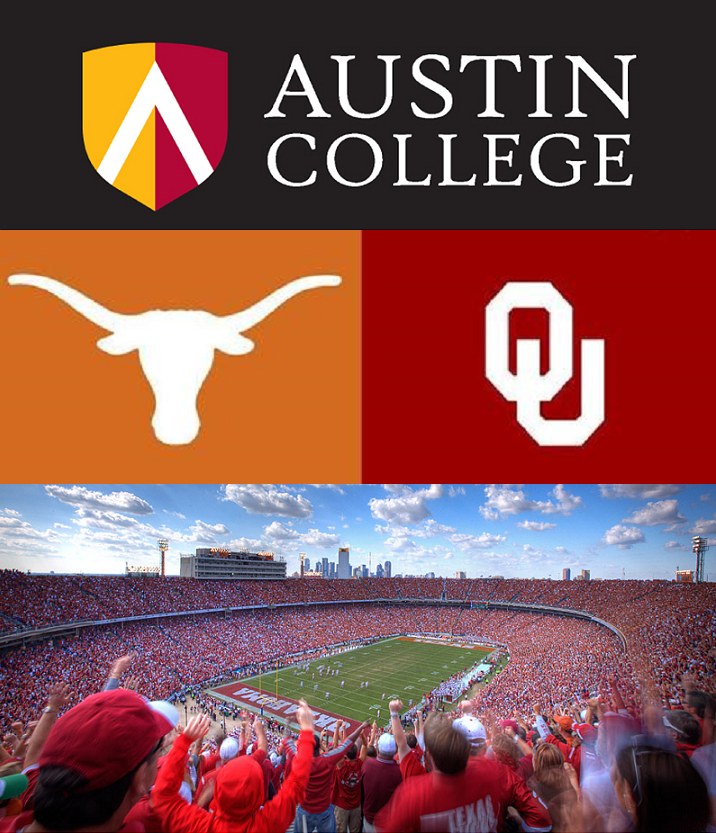 It's UT-OU this weekend in Dallas, with yet another edition of the Red River Rivalry at Fair Park. And you know what that's got me thinking about, don't you? Of course you do. Marc's 1992 summer after Austin College graduation, the fighting Redhawks of Miami (OH) University, and a fellow named Chester Johnston.

Chester Johnston hailed from Miami University in Ohio, graduating in the early 1900s. He made his way to Austin College in 1909, becoming head coach of AC football in 1911. That year, Johnston's crew made a splash. Austin College finished the season 3rd in the TIAA conference behind Texas & Texas A&M. The season was capped with a Thanksgiving Day victory over Southwestern at Fair Park.

Dallas had no college to call its own in 1911 (SMU was still years away), and residents clamored for football from visiting Texas schools. The AC-Southwestern game drew big crowds, exciting Fair Park business interests. If two small private schools could attract such fandom, why not invite two large state schools? Invitations were sent to Texas & Oklahoma, who both agreed to meet at Fair Park in 1912. Johnston's AC team was the spark that lit the fire. Read more in "Roos, Pirates, and the Red River Rivalry." In the comments.

But Johnston was not done with UT just yet. One week before that first edition of the Rivalry in October of 1912, Chester Johnston took his AC club down to Austin to face the Texas Longhorns. AC won! But then they lost. On a highly disputed call that angered Johnston for the rest of his days. In short, AC wuz robbed. At the beginning of the 1913 season, Johnston remarked to the press that: "I should have whipped UT last year but failed by a narrow margin." Read more in "We Wuz Robbed. Longhorns vs. Roos." In the comments.

Johnston didn't have much time to sulk after that UT-AC game in Austin. The Longhorns had a date with Oklahoma seven days later at Fair Park, and so did Chester Johnston. Texas & Oklahoma both selected Johnston as the head referee for the first ever Red River Rivalry Game in Dallas. The Sooners defeated the Longhorns 21-6 as Johnston worked to officiate a clean game denied to him and his AC team just a week earlier in Austin.

After WW1, Johnston returned to his native Ohio. He spent a career teaching, coaching and in administration in the Buckeye State until his quiet passing at his Oxford, OH home in 1939. Johnston's role in helping to establish the Red River Rivalry is not his only contribution to Roo fans who support UT or OU. College teams were busy adopting mascots in this era; it was Johnston who decided that his 1913 AC football squad would adopt the nickname "Kangaroos."

I graduated from AC in May of 1992, after a junior year in Madrid and a senior year JanTerm in Mexico. Mom & Dad were inspired to learn Spanish that summer at the University of the Americas (UDLA) in Cholula, Mexico, and asked my brother and me if we want to tool around for a summer of bilingual fun. Of course, we said. We spent that summer as partiers with no classes to take, facilitating nights out on the town between Spanish-speaking Mexican students and English-only American students attempting to learn a new language.

One of those groups of Americans came from Miami (OH). We hit it off so much, I even visited one of them in Oxford, OH on the way to grad school one year later. Lovely campus you got there Redhawks. It's a shame I can't go back in time to Mexico, have a Corona, and thank that exceptional group for sending us Chester Johnston: an Ohio man who played a role establishing the Red River Rivalry. And an AC man who gave us the mascot we proudly call our own.