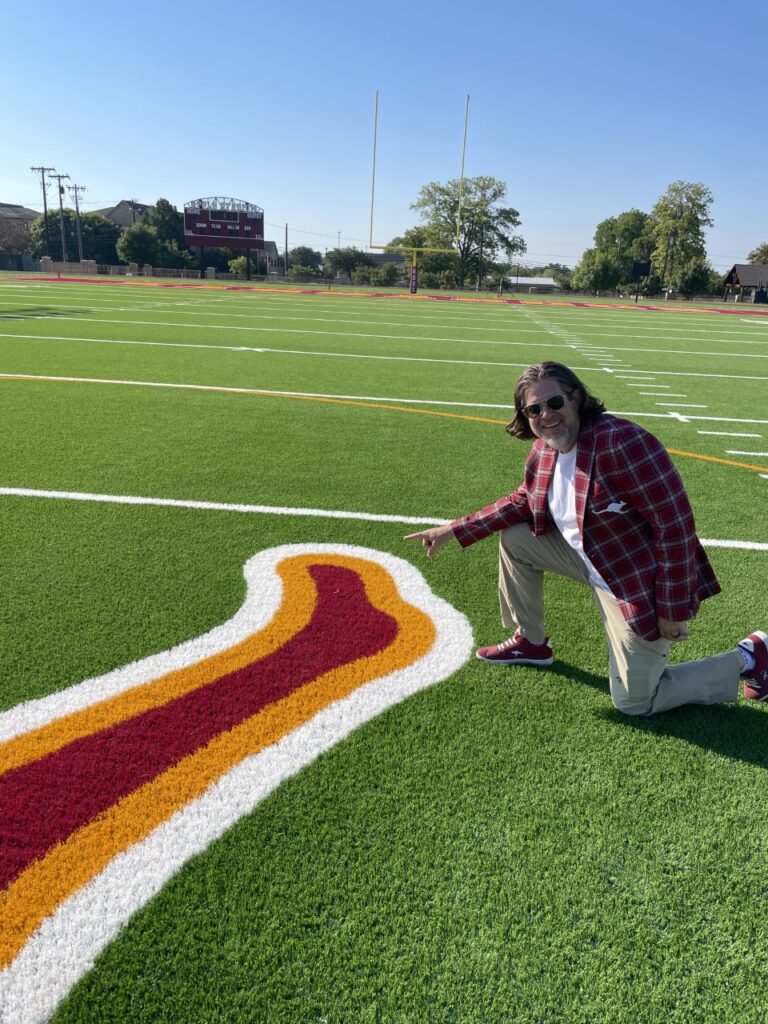 I recently shared a piece from a Texas A&M fan site that ranked all college mascot logos. Kirk Hughes & I are big fans of the AC logo, but it was ranked poorly by A&M in part because the writer claimed that "the kangaroo has a human foot and now I can't un-see it." Not impressed Aggies, not impressed.
Before I assisted Kirk in the call of yesterday's game against Rhodes College, we were walking around the beautiful brand-new turf & track at Jerry Apple Stadium and talking about that logo which now graces mid-field. It was then that Kirk made an incredibly astute observation. That "human foot" on the kangaroo sits on the 47-yard line. Kirk did his best impression of a Jim Vice hold at the foot of the Roo as I took a photo.
On December 12, 1981, backup quarterback Jim Vice jogged out to the 47-yard line, kneeled, and awaited the snap. His hold was true as the "human foot" of Gene Branum booted a field goal that traveled 57 yards and one inch into the frigid air. The ball miraculously found its way to the crossbar and bounced over, giving Austin College a national championship. On the sidelines, wide receiver Clayton Oliphint celebrated with his teammates.
Reverend Clayton Oliphint of First United Methodist Church Richardson (FUMCR) comes from a strong Methodist family. His father was a Methodist Pastor too and was even close with my own family's Methodist Pastor in College Station: Reverend Bob Waters of the A&M Methodist Church. But after "the kick," Oliphint's father shouted "Today, God is a Presbyterian." AC Athletic Director Bob Mason famously repeated the line later. It was a day of joy.
The day before Kirk & I called the game on Saturday, I was honored to stop by a gathering of 1981-era Roos in Dallas. But the occasion was more solemn with moments of tears. These fellas with whom I chatted were suffering from the loss of Rossi Felix, a 1981 championship teammate and a beloved brother from their Phi Sig fraternity.
Rossi was taken from them much too early, and the fellas had just come from Rossi's service at First United Methodist. I learned that Rev. Oliphint, Larry Fedora, Mike Foster, and others had delivered incredibly moving remarks to the Felix family and those in attendance. I also had a conversation with Clayton about the importance of finding "joy" on a daily basis, even when none seems to be found.
On Saturday morning, President O'Day spoke to a gathering of donors responsible for the new Jerry Apple Stadium. His remarks included the loss of Rossi Felix, and the tears from some of Rossi's teammates in attendance were present once again. But O'Day also carried a message from Rossi's teammates: despite the tragedy of this week, Rossi would have insisted that we still find "joy" in the beautiful surroundings of the day.
When I told the story of the 1981 season in 2016, I wrote the following: "one of the joys of sport are the 'moments.' These moments can at times break our hearts. But they can also be sources of celebration and pride that last a lifetime. The 'kick' is one of those moments. The 'kick' is joy. And it does not solely belong to the 1981 team. The kick belongs to all Roos."
So, fine, whatever you say Texas A&M fan site. In that logo, you might only see a human foot that you "can't unsee." But Kirk & I see a lot more than that. We see a living monument at the 47-yard line to one of the greatest "feets" in AC sports history. We also see a moment of profound joy experienced by Rossi Felix in 1981, joy that Rossi's teammates and brothers who knew him best would tell us to continue searching for on a daily basis.
Kirk, thanks again for inviting me to call the game. Count me in for a night game next year. We are all of many faiths, but this weekend it certainly felt that once again for a brief moment "God was a Presbyterian."