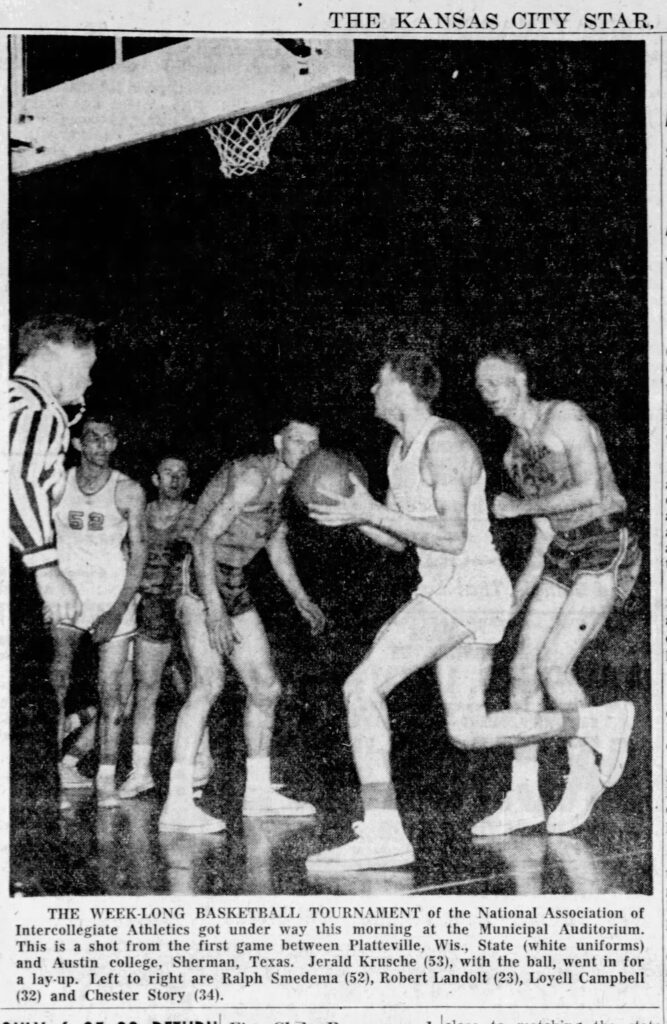 I don't have any 1949 AC Centennial commemorative plates to offer in the AC Alumni Group, but I'm not surprised that Roo John Landolt did. The Landolt family name is synonymous with Austin College.
But I do have something else to offer! It's basketball season, so here's a 1958 newspaper clipping of the AC basketball team in Kansas City. The Roos went 19-5 under Coach Floyd Gass, winning the District 8 championship to advance to the NAIA national tournament held in Kansas City's Municipal Auditorium.
Municipal Auditorium ("Municipal") is synonymous with basketball. Built in 1935, the arena still hosts the NAIA tournament today. It is also frequently the site of the women's Big XII tournament and was the site of three of the first NCAA Final Fours.
"Municipal" was also the site of one of the most famous dunks in NBA history. In 1979, Daryl Dawkins of the Philadelphia 76ers shattered the backboard glass at Municipal in a game against the Kansas City Kings. The Dawkins dunks led the creation of retractable rims and the end of shattered backboards.
Until recently, "Municipal" was also the home court of the University of Missouri-Kansas City (UMKC) basketball team. Why is this interesting? Well, the mascot of Division 1 UMKC is the Kangaroos. "Municipal" has seen a lot of Roos since 1958.
But perhaps my favorite part of this basketball story? AC's leading scorer in 1958, with 14 points per game, was Robert Landolt. See #23 in the photo. The Landolt family, as I mentioned earlier and as John Landolt can attest, is synonymous with Austin College!