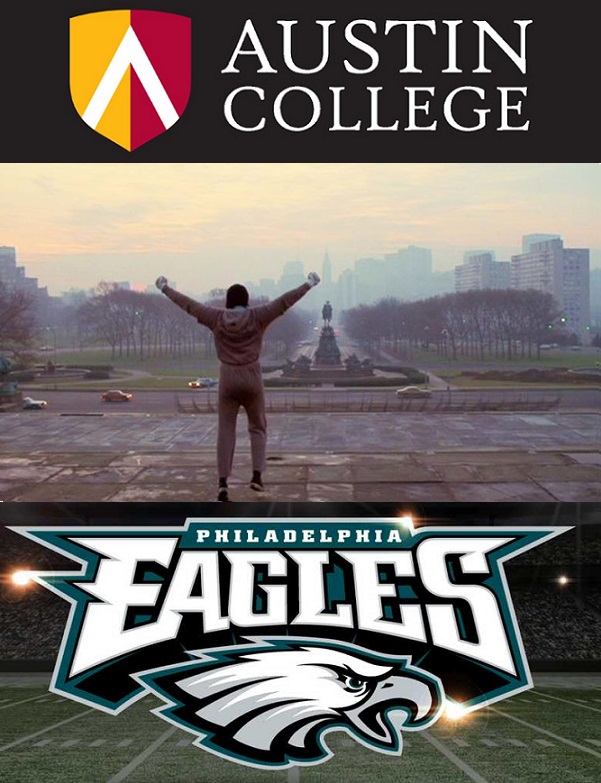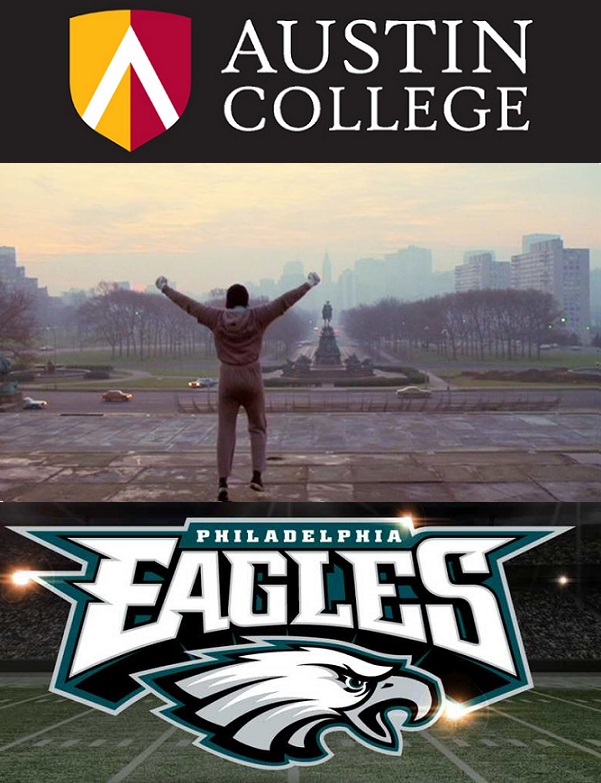 Philadelphia Eagles QB Davey O'Brien led the NFL in passing yards in 1939. The former Heisman trophy winner from TCU was a media darling in the City of Brotherly Love that year.
But O'Brien would have been nothing without his Eagles supporting cast. That cast included center Maurice Harper, who hiked the football to O'Brien, and wide receiver Joe Carter, who caught more than a few Eagles touchdowns thrown by O'Brien.
Harper (AC '36) and Carter (AC '31) were both Austin College Kangaroos. These Kangaroos are only two of numerous Roo ties to the Philadelphia Eagles football team, which today secured a berth in Super Bowl LVII in two weeks.
Looks like I better get to work on the Philadelphia Eagles Super Bowl Roo Tale. This one is for AC Sports Information Director (and Eagles fan) Jeff Kelly.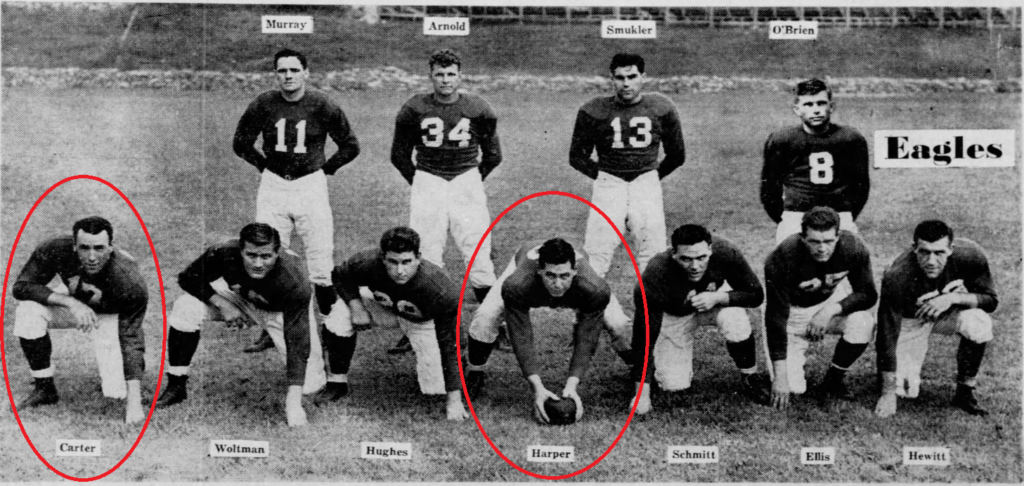 The terrible winter weather in Texas is not helping my work on the Philadelphia Eagles Super Bowl Roo Tale.
We're without power in the ATX, but luckily have shelter and heat with family in Hays County.
But the weather is not nearly as bad as the 1948 NFL championship game. The Philadelphia Eagles beat the Chicago Cardinals 7-0 in a blinding blizzard at Shibe Park.
No less than four Austin College Kangaroos played for the Eagles at Shibe Park in the 30s and 40s. By 1948 all four had retired.
But the 1948 title game did include a Roo. In this photo, Roo Joe Coomer (#50) makes a tackle for the Cardinals against Philly in a losing effort.
See the comments for a video about the 1948 title, Philly's first championship. Joe Coomer is just one small part of the Eagles Super Bowl Roo Tale, which I hope to get back to once this winter weather finally comes to an end.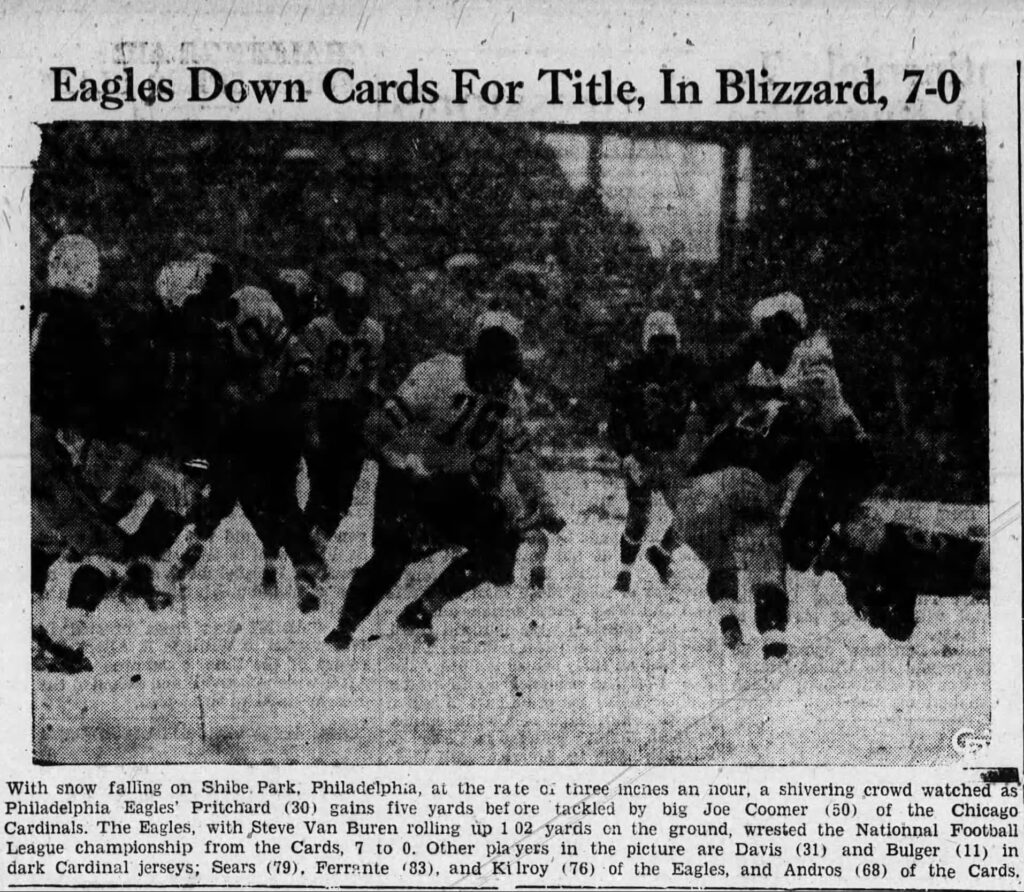 I'm writing a Philadelphia Eagles Super Bowl Roo Tale in a lead up to the big game on February 12th. The story will highlight the numerous ties between Austin College athletes and the Philadelphia Eagles. Consider today's entry a Philly Roo Tale "preview."
The story will focus in part on Joe Carter, an Austin College Kangaroo who played 8 years for the Eagles in the 1930s. Carter was good, so good that he qualified for the 1939 NFL All-Star game. A precursor to the Pro Bowl, the All-Star game at the time pitted the League champion against the best players from all other NFL squads.
The TV show Pawn Stars follows the business of the Harrison family in Las Vegas. The show has also spawned a million "Best I Can Do" memes, to which I plead guilty to creating often. I'm suddenly now a fan of a Season #9 episode called "Shamrocked," when Joe Carter's stepdaughter arrives to get a price on her stepfather's All-Star game jacket.
The Harrisons are notoriously tight fisted and focused on proof. But their interest in Carter seems to overcome any concerns when they offer his stepdaughter a deal which makes her pleased. See the video in the comments. Roo Tale Pawn Stars y'all!
The Philadelphia Eagles Super Bowl Roo Tale will be out just before the big game on February 12th. If you wanna chat about it or anything else Roo Tale, come on out to the Austin College Super Bowl Party hosted by Roo Kevin Carnes. The Carnes ranch is super nice and super convenient. See the comments for the invite.
Roo Wayne Whitmire will be there at the Carnes Ranch too. And that's awfully convenient. Because the NEXT Philly Roo Tale "preview" will tie Austin College Kangaroo Joe Carter to my AC pledge brother and former AC baseballer Wayne Whitmire.
Y'all want a great preview? Best I can do is a Whitmire preview.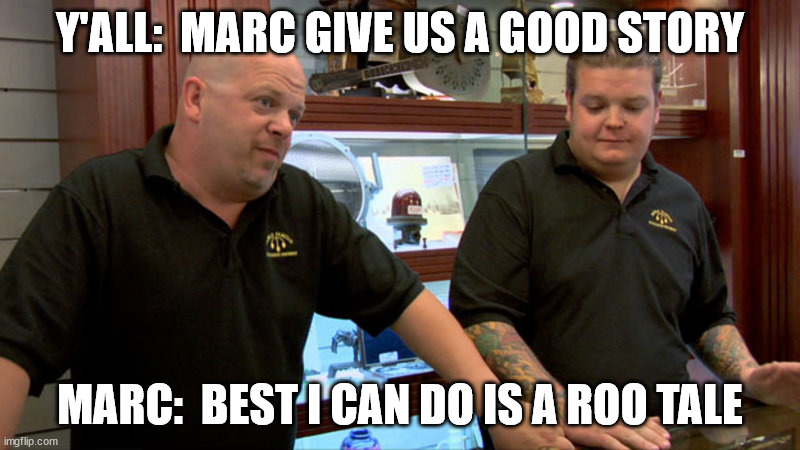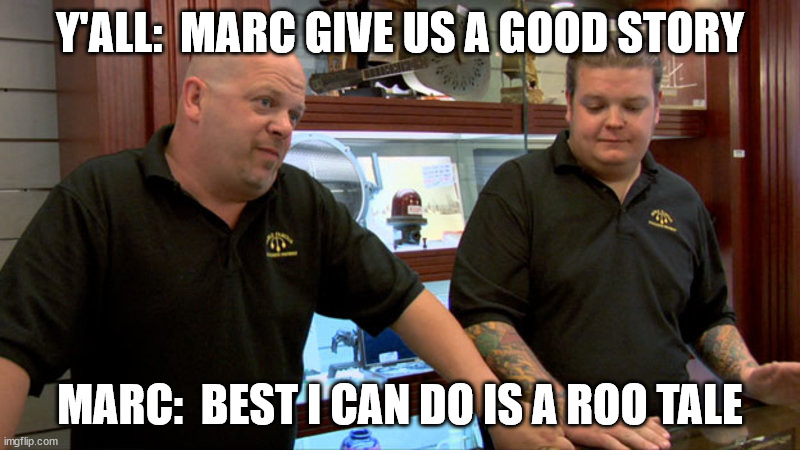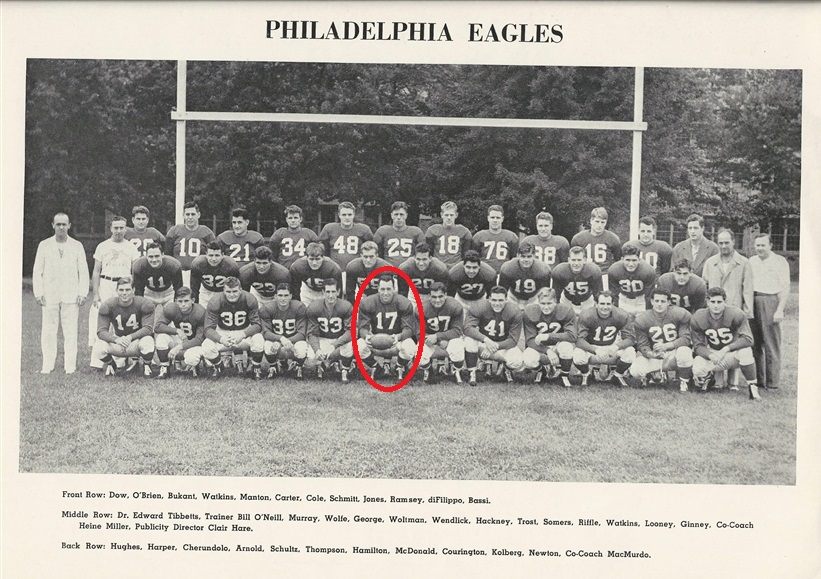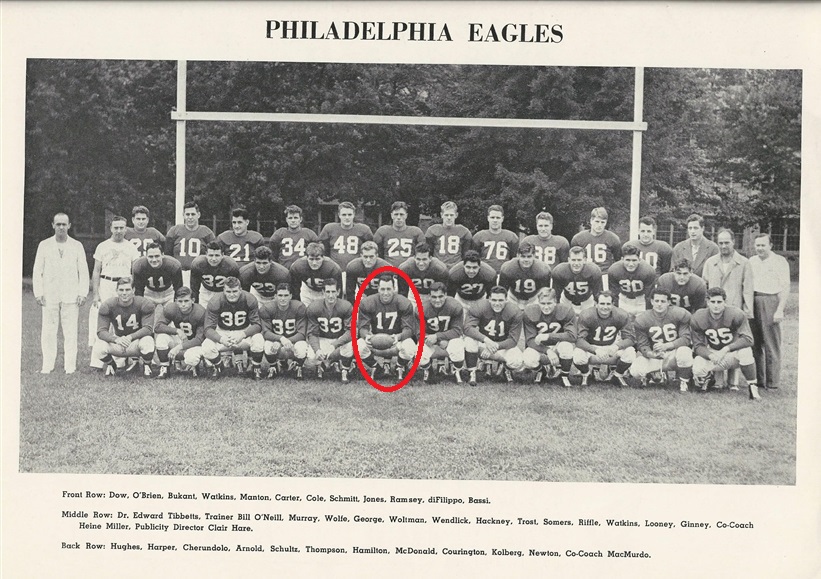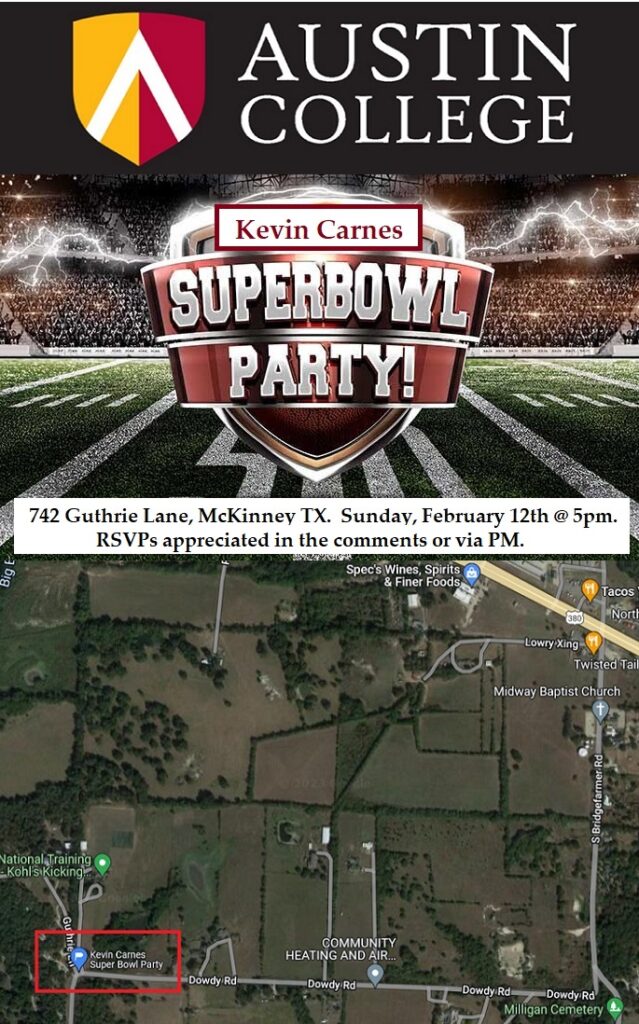 A fun thing about Roo Tales is when one of you contributes. Here I am writing about Roo connections with the Philadelphia Eagles, thinking I've got them all. When suddenly Paula Morris mentions that the father of Philly QB Jalen Hurts played against the Roos in Sherman when I was a student. From Paula:
"Jalen Hurt's father is Averion Hurts. He was Howard Payne's offensive left tackle against Austin College the year Vance had the game ball put in the time capsule of AC's new library (whenever that was). It was a great comeback victory for AC! Our entire defense received TIAA Defensive Player of the Week! A tremendous honor for the entire unit! Averion was Jalen's football coach at Channelview (TX) High School throughout Jalen's high school career."
As I mentioned to Paula, I attended that game in 1989 with Wayne Whitmire and a few of my pledge brothers. Another pledge brother, QB John Talley, was on the field. Not only that, but four of our fraternity actives (Chris Medlin, Bill Didlake, Carlos Longoria, Frank Tooley) played on the defensive side of the ball for Coach Vance Morris and his redshirt pride defense. Those guys were going toe-to-toe against Averion Hurts that day. Many of us in that fraternity will be watching Jalen Hurts on Sunday at the Austin College Super Bowl party hosted by Kevin Carnes (invite in the comments).
But it's a 1988 game from the year before against Howard Payne that I remember more clearly. The Roos were unstoppable my freshman year, jumping out to a 7-0 record thanks in part to All-American wide receiver Otis Amy. Amy, who would set the NAIA career receptions record that year, caught that record breaking catch in a road win against Tarleton to clinch a conference championship and earn a berth in the NAIA D2 playoffs.
But the 1988 Roos were not perfect in conference. They traveled to Brownwood undefeated with a Top 10 ranking and, well, they just got crushed by the Yellow Jackets. At the time it was weird, because AC had already crushed Howard Payne in Sherman. The team shook off the loss and cruised to a 9-1 final TIAA record. I can recall a few from the 1988 squad muttering "Remember the Payne," a rallying cry to not let it happen again.
Still, how to explain that loss? I hopped over to the 1989 Howard Payne yearbook and found my answer.
The Howard Payne yearbook includes a pic of Otis Amy playing in uniform, always an exceptional reason for a GoRoos post. It also has a write up of the best game of the season for the Yellow Jackets:
"Then came their most impressive showing of the year. In a home game against Austin College, then the NAIA Division II's tenth-ranked team, the Jackets exploded for five touchdowns on the way to a 37-10 rout. The victory surprised not only conference opponents, but it also grabbed media attention across the state."
The answer for the loss may be found in a second photo on that page. Averion Hurts was a two-way player. The father of Jalen Hurts not only played on the offensive line, he led the "stingy defense" of the Yellow Jackets. So now I know. Averion Hurts prevented a Roo perfect season. Otis Amy NEARLY played for the Dallas Cowboys after his AC graduation. Guess what? According to the papers, Averion Hurts was given a tryout by America's team too.
When I'm watching the Super Bowl on Sunday alongside my fraternity fellas who played against the Philly QB's Dad back in 1988-89, I'll be sure to pass on the reason why those guys "Remembered the Payne" in 1988. It's because Jalen's father prevented a perfect AC season by putting the "Hurts" on the Roos. After 35 years, it all finally makes sense.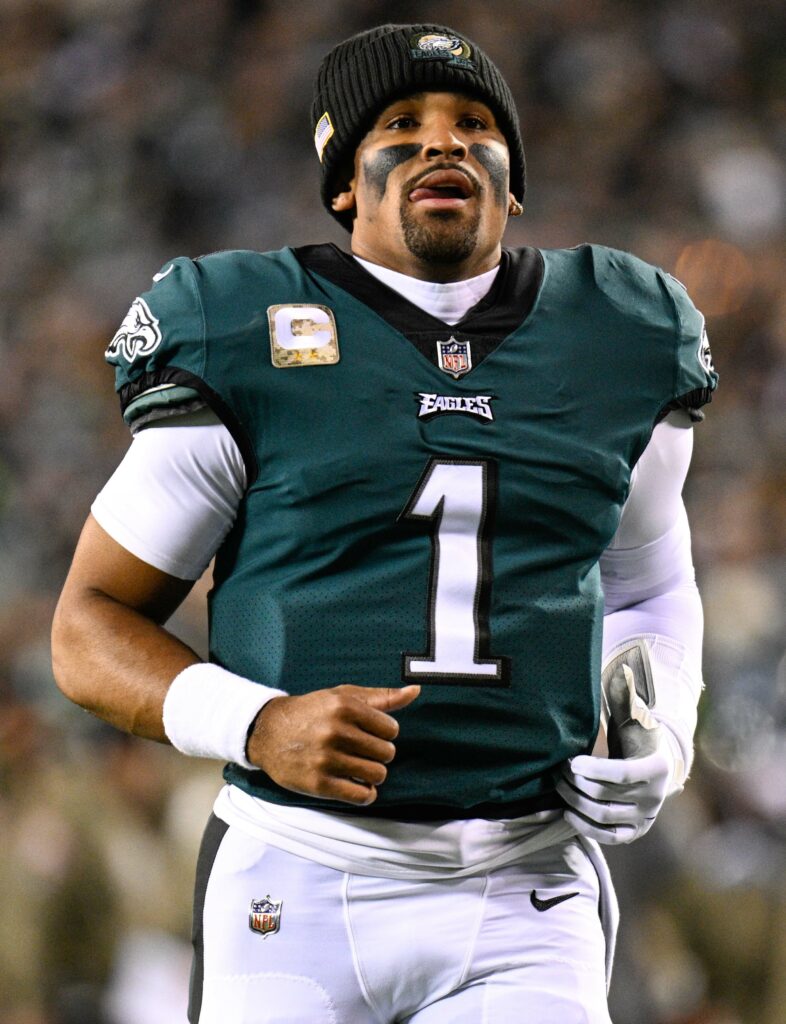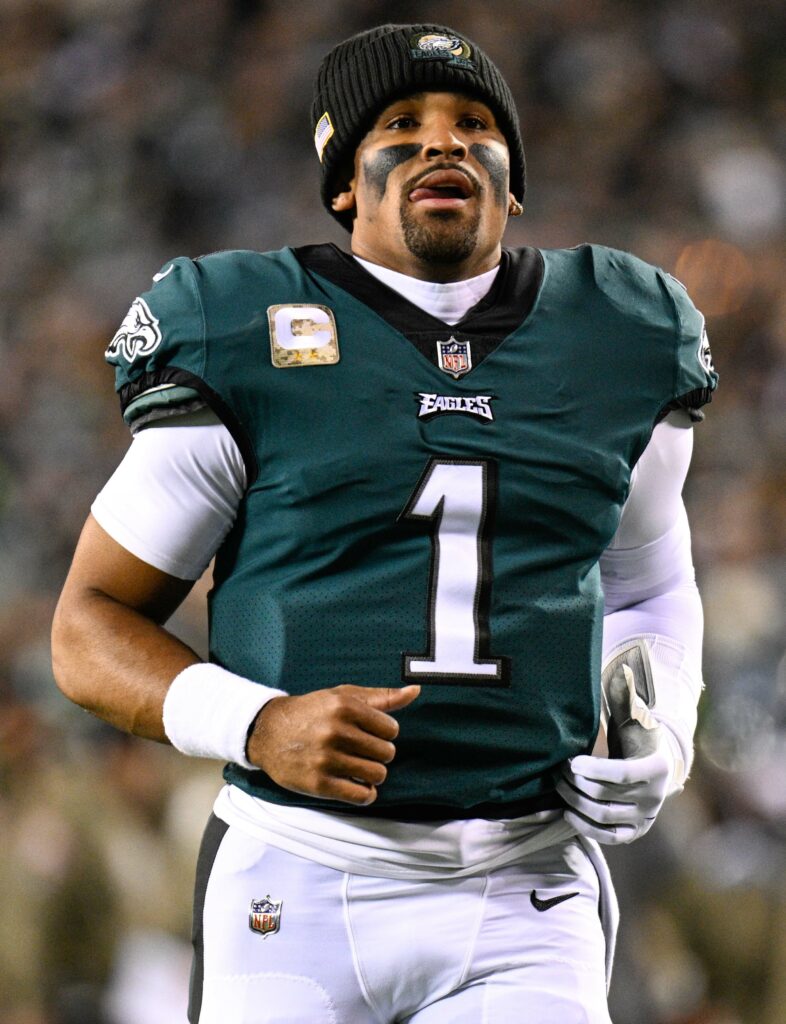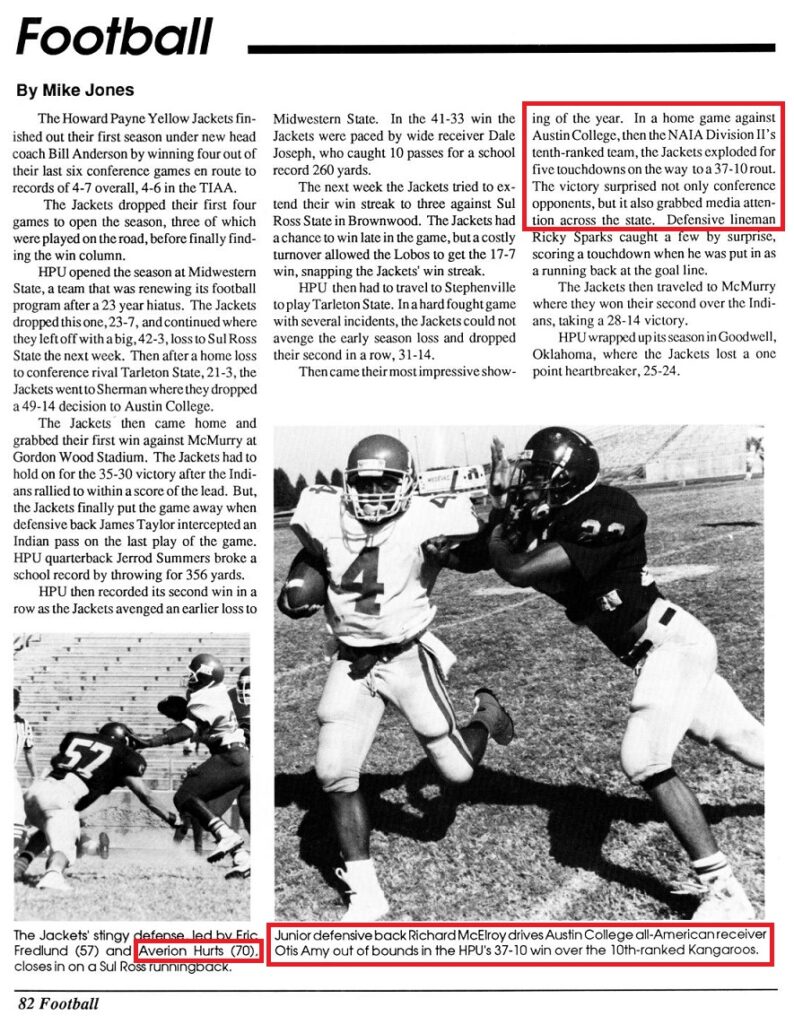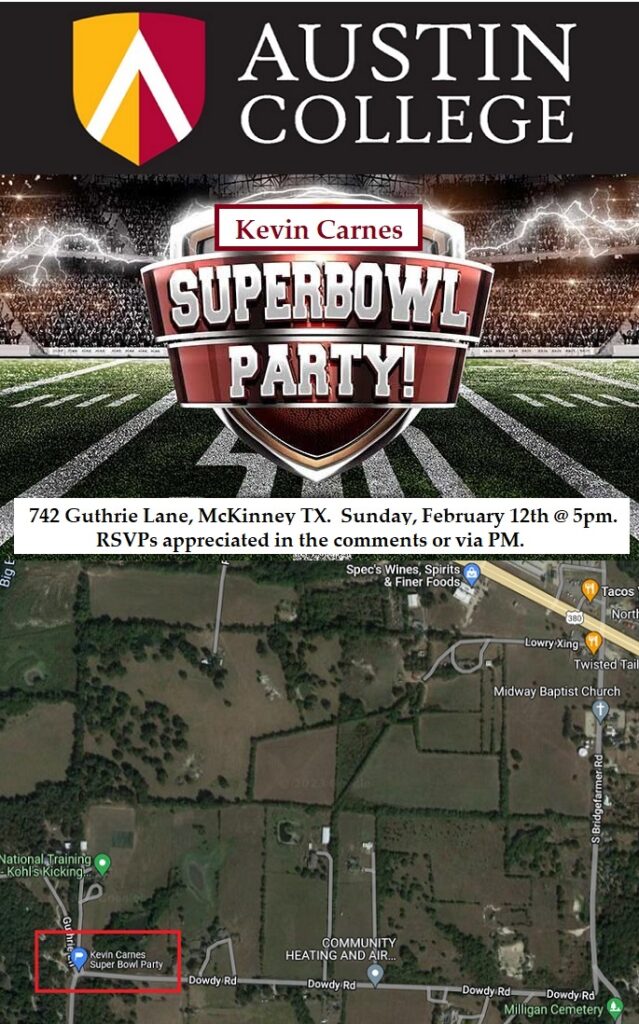 https://www.sportskeeda.com/nfl/news-who-are-jalen-hurts-parents
My Austin College pledge brother Wayne Whitmire has a hilarious explanation of every Roo Tale. It goes something like this: "the second cousin of Philly QB Jalen Hurts is married to a woman whose grandfather played Austin College football in 1931." It's funny because it's true. The ties are fun, but the ties can be a stretch. My response is always the same. These are Roo tales, not New York Yankees tales. I have much less to work with, W!
Whitmire, a Corpus native and proud Texan, has seen his fair share of sporting events in the great state of Texas over the past fifty years. He saw Troy Aikman's last game as a Cowboy in 2000 and Joe Montana's exciting Cotton Bowl victory over Houston in 1979. But perhaps my favorite Whitmire sports story? Wayne had great seats at Texas Stadium when the Cowboys hosted the Philadelphia Eagles on December 21, 1980. At the time, Eagles Wide Receiver Harold Carmichael held an NFL record: 127 games with at least one catch.
But the streak ended that night. In the second quarter just yards in front of Wayne, a hit by Dallas DB Dennis Thurman knocked Carmichael out of the game. He never returned. Carmichael's NFL consecutive games with a reception record, which began in 1972, ended at 127 in 1980. Carmichael would recover from that game, however, leading the Eagles to their first Super Bowl berth weeks later. The Eagles have reached another Super Bowl in 2023; Philly will face Kansas City on February 12th.
I'm writing a Philadelphia Eagles Super Bowl Roo Tale in preparation for the game. The story will highlight the numerous ties between Austin College athletes and the City of Brotherly Love's favorite football team. It's sure to get some eye rolls from Wayne. But perhaps we can go even further, linking the Eagles to a specific AC athlete: former Roo baseballer Wayne Whitmire himself. I mean, given Wayne's definition of a Roo Tale, the ties can surely be stretched far enough to pull it off.
Harold Carmichael, whose streak ended with Wayne in attendance, is beloved in Philly. And not just because of the consecutive games streak. He led the NFL in receptions in 1973, all while hauling in passes from Eagles Hall of Fame QB Ron Jaworski for the better part of a decade. His iconic jersey #17, a non-standard number for a wide receiver, is ubiquitous in Philly.
And yet…………as Yoda would say…….there is another.
There is another Eagles wide receiver with a remarkably similar story as Carmichael. He led the NFL in receptions in 1934, all while hauling in passes from Eagles Hall of Fame QB Davey O'Brien for the better part of a decade. Incredibly, he also wore jersey #17 as an Eagle just like Carmichael. Even more amazing? He's an Austin College Kangaroo just like Wayne.
AC wide receiver Joe Carter played for the Roos from 1928 to 1931. He was an "end" in the two-way era, catching passes on offense and playing cornerback on defense. In the run-dominated era of the 1930s, Carter compiled nearly 2,000 yards receiving during his 11-year career. And in 1934, nobody caught more balls in the NFL than this Kangaroo.
A 1936 article in the Philadelphia Inquirer shows a picture of this Roo in Eagles jersey #17 under the headline "Carter Carries Freight for Eagles." The caption reads "Joe Carter made a valiant effort to advance the Eagles' cause in their final fray in the National Pro League yesterday when the Philadelphians clashed with the Brooklyn Dodgers at the Municipal Stadium." Municipal Stadium, long since torn down, sat just a stone's throw south of the Veterans Stadium where #17 Harold Carmichael did his best work for the Philadelphia Eagles in 1980.
The website 247sports.dot.com recently wrote about the "Greatest Philadelphia Eagle to wear each jersey number." The winner for #17 was obvious: Harold Carmichael. But I was much more interested in who won second place, noted at the end of that article:
"The legacy for Carmichael will forever last with the Eagles as arguably one of the top wide receivers in team history. Carmichael is 28th all-time in receiving touchdowns to go with his two All-Pro selections. Honorable mention: Joe Carter. Carter was a two-time Pro Bowler and two-time All-Pro in seven seasons with the Eagles (1933 to 1940). He had 1,810 receiving yards and 21 touchdowns with the Eagles. Carter led the NFL in receptions in 1934 and was third in points scored in 1938."
Joe Carter is just one of many Roo ties to the Philadelphia Eagles, all of which can be read in the Roo Tale to come. After you read it, consider stopping by the Austin College Super Bowl party hosted by Kevin Carnes at his awesome ranch just east of McKinney. See the invite and directions in the comments. Wayne has also started a new business; he's your go-to guy for all of your decorative concrete needs. See his website in the comments.
Wayne and I will both be at the Super Bowl party. Hope you can make it too. If you do, you can ask Whitmire about the time he saw Harold Carmichael's streak for the Philadelphia Eagles come to an end, as well as the time his Austin College pledge brother wrote a story about that game and tied it to "a Philly wide receiver who also led the NFL in receptions while also wearing Carmichael's jersey #17 after playing Austin College football in 1931."
Wayne has already declared Sunday the "Kelce Bowl" in reference to the Kelce brothers, the first set of brothers to face each other in the Super Bowl. Travis Kelce is a tight end for Kansas City. His brother Jason Kelce is a center for the Philadelphia Eagles. Centers for the PhiladelphiaEagles? Why, that happens to be the subject of the NEXT Philadelphia Eagles Super Bowl Roo Tale Preview.
Oh good lord, not another one.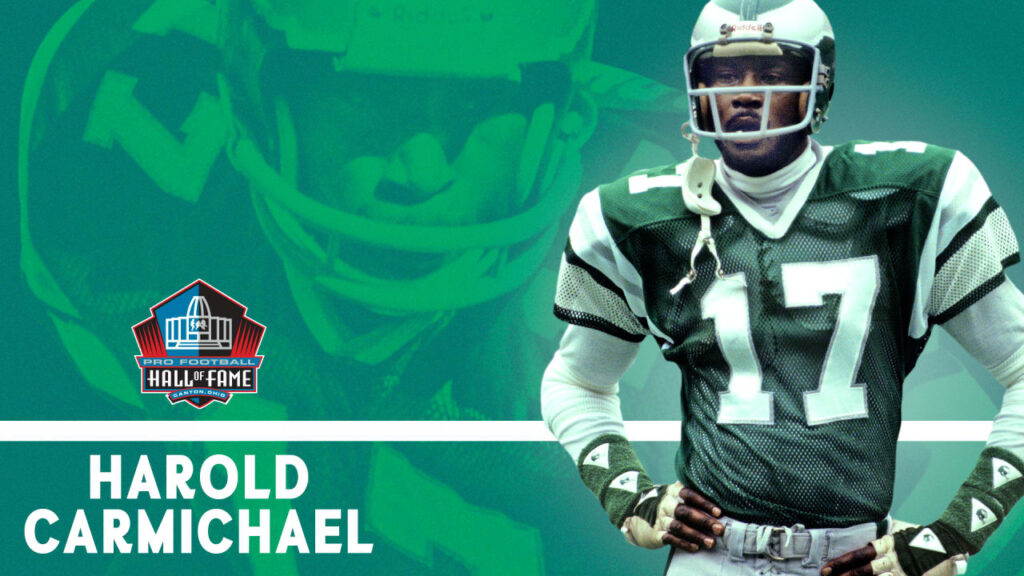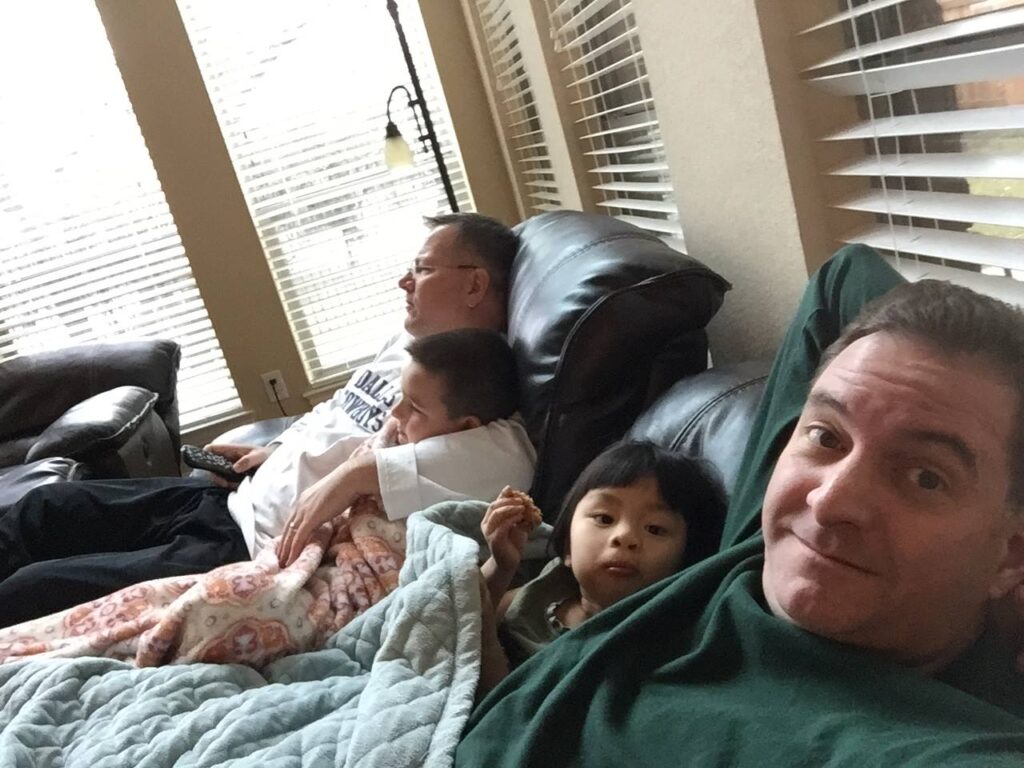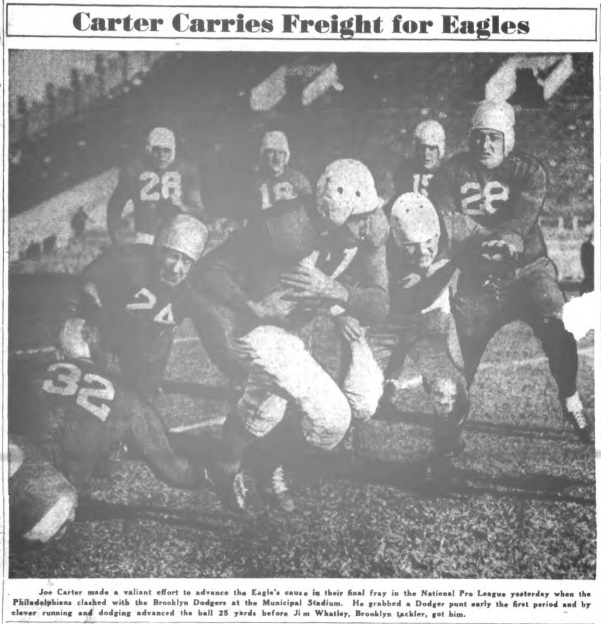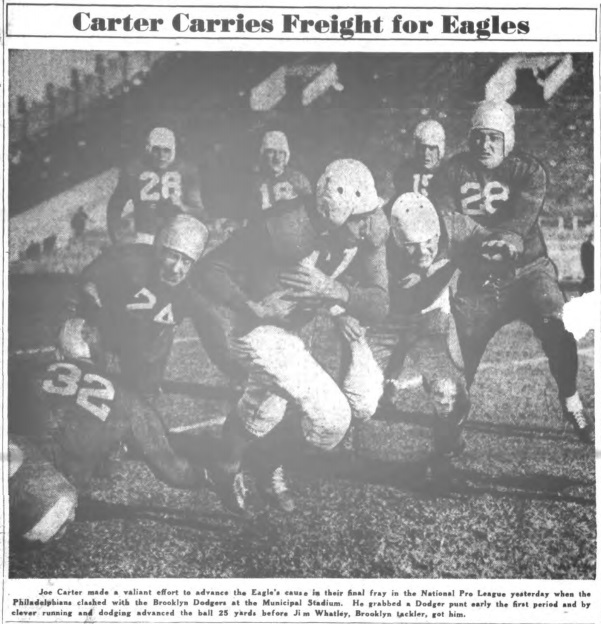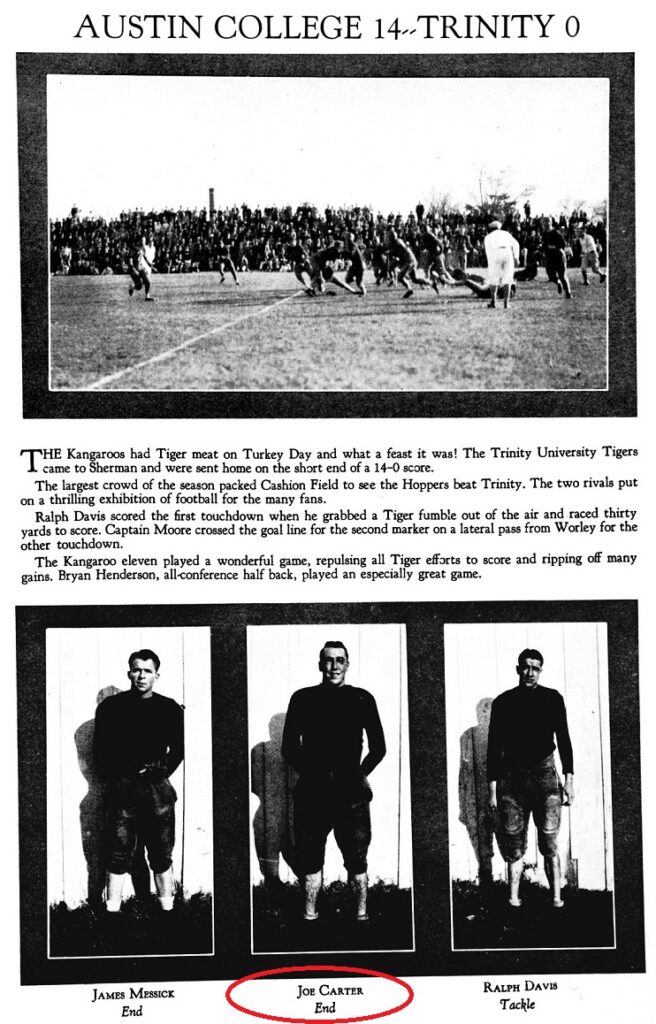 https://247sports.com/nfl/philadelphia-eagles/Article/Harold-Carmichael-Philadelphia-Eagles-greatest-No-17-53381802/
Gunter, TX sits just south of Sherman on Hwy 289. It's booming, a product of Metroplex growth northward. Gunter football is prospering too. The Tigers have won three state titles since 2016 and have advanced to at least the state semifinals for 7 consecutive years. The Gunter family of Bill Magers and Angela Bell Magers have watched their sons make these state title runs in Gunter a reality. A few have gone on to Austin College like their Dad, a member of the 1981 AC national championship team. I'm a fan of the Magers brothers of Bill & Angela.
Brothers are a feature of this year's Super Bowl. It's been dubbed the "Kelce Bowl" after the Kelce brothers. In fact, Wayne Whitmire texted that same phrase to a group of us just after the Super Bowl contenders were decided. Brothers Travis Kelce (Tight End for Kansas City) and Jason Kelce (Center for Philadelphia) will compete in this year's Super Bowl in Arizona. It is the first Super Bowl ever in which brothers will compete. Donna Kelce, the mother of both, has told the press that one way or another, she can't lose.
It may be the first Super Bowl featuring brothers on opposite sides of the ball. But Jason Kelce is not the first Center for the Philadelphia Eagles. There have been others, including an Austin College Kangaroo.
Maurice "Moose" Harper was raised in Sherman. He attended AC from 1933 to 1937, starring for Roo football during a high point in the program. Harper was a Center for the 1935 Texas Conference Champion Kangaroos. As an athlete in the era when players played both ways, he also lined up on the defensive side. A Harper interception for a touchdown against St. Edwards in 1935 helped to seal the Conference title for the Roos.
After graduation from AC in 1937, Harper traveled to Philadelphia and signed with the Eagles. From 1937 to 1940, he was the starting Center for the Eagles; he played both ways in Philly, just like his days in Sherman. In 1937 against the Washington Redskins, Harper had a pick six for the Eagles which sealed a 14-0 win. The losing QB of that game was Washington's Sammy Baugh, who led TCU to a national championship in 1935.
Harper was joined on the offensive side by wide receiver Joe Carter, an Austin College Kangaroo who had played in Sherman in the years before Harper's arrival. Carter, who led the NFL in receptions in 1934, was the Eagles' biggest threat. During the 1939 and 1940 seasons, many Philly offensive plays saw the football touched by only three players: Harper, who hiked; Carter, who caught; and the Philly QB Davey O'Brien who threw in between the two. O'Brien, a former Heisman Trophy winner, led TCU to a national championship in 1938.
Maurice Harper was inducted into the AC Hall of Honor in 1971, alongside such well-known AC athletes as OU Athletic Director Donnie Duncan, OSU football coach Floyd Gass, and former AC Athletic Director Bob Mason. Like many Roos both before and after, Harper made a career of coaching in the Lone Star State after his playing days were over. His first stop on the coaching circuit was little Gunter, TX, the home of the Magers brothers.
Whitmire and I will be watching the "Kelce Bowl" at the Austin College Super Bowl party hosted by Kevin Carnes. Stop on by if you are in the neighborhood. The Carnes Ranch is just a short drive from the former Gunter home of Roo Maurice Harper. There, we can talk about whatever brothers topic you like: The Magers brothers in Gunter, the Kelce brothers in the Super Bowl, or why………despite the fact he will never admit it……..of all of Wayne's pledge brothers, I'm his favorite.