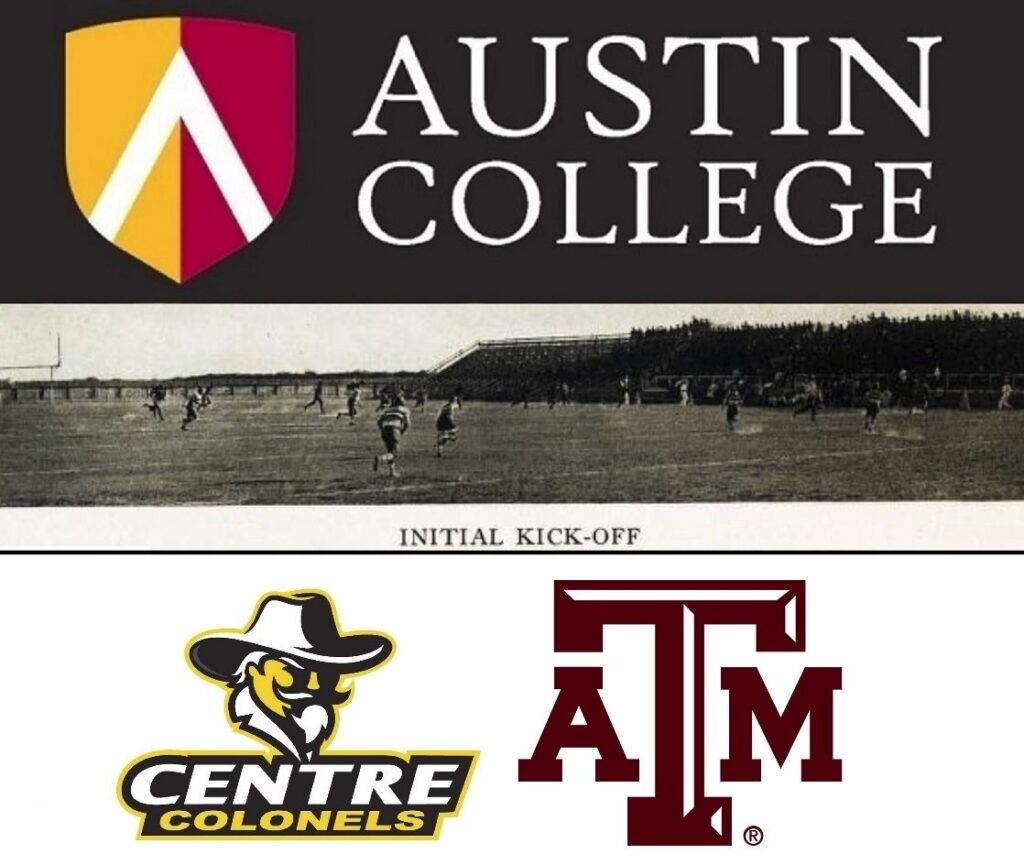 Centre College? Why, the Presbyterian school is practically Austin College's "12th Man."

Centre College was founded in Danville, Kentucky back in 1819. Its name derives from its central location in the Bluegrass State. Like AC itself, Centre College can tell stories of the hardships of the Civil War. The campus was occupied by both Union and Confederate troops during the conflict. The "Praying Colonel" graduates of Centre College flooded west after the war to expand the influence of Presbyterian education.

Centre College grad Samuel Luckett arrived at Austin College in 1871 and began a campaign to relocate the school from a suffering Huntsville to a more prosperous home in North Texas. He succeeded. AC made the move to Sherman in 1876, the same year as the founding of Texas A&M. For his efforts, a dormitory (and my home for three years) was built and named in his honor. AC's Sherman location? That's the work of Centre College.

Centre College grad Henry Boude was elected President of AC in 1878, soon after the move. Boude's overriding goal was the construction of AC's first "Old Main" Administration Building, an endeavor which ended a growing debate about whether to remain in Sherman. Construction was complete by the early 1880s, about the time Texas A&M finished work on its own "Old Main." Both of the original buildings at A&M (1912) and AC (1913) were eventually lost to fire. But Centre College would come to AC's aid again.

Centre college grad W.B. Guerrant assumed the AC presidency in 1944 and managed the significant postwar growth over the next ten years. For decades after 1913, construction on a new "Old Main" had languished; students referred to the ugly half-built structure as "the shell." But the current Admin building was completed during Guerrant's tenure. Texas A&M had already constructed their new "Old Main" on the ruins of their first structure; because of the efforts of this Centre College graduate, AC could finally say the same.

In the early 21st century Centre College & Austin College were briefly conference rivals in football. The Praying Colonels visited Jerry Apple Stadium, and the Kangaroos traveled to Kentucky to take on Centre. AC upset #19 ranked Centre 20-13 in Sherman back in 2019 but fell to Centre 34-27 in Kentucky ten years earlier. That 2009 matchup took place at historic Farris Field on the campus of Centre College. Farris Field was constructed nearly 100 years ago. Which brings us to the "center" of this "Centre" story.

The ties between AC & Centre also include the sport of football 100 years ago. During the campaign of 1921-22, both schools played at Fair Park Stadium (a precursor to the Cotton Bowl) in Dallas. Little Austin College arrived at Fair Park Stadium in October of 1921, to face big Southwest Conference member S.M.U. The Roos dominated the Mustangs and left Dallas with a 17-7 victory. Weeks later, little Centre College arrived at Fair Park Stadium to face another big Southwest Conference member: Texas A&M. The Aggies & Colonels met in a bowl game on January 2, 1922: 100 years ago today.

It's still something of a shock for Aggies to understand. But not for Roo Tale readers who know the rich American history of small Presbyterian schools. In the A&M-Centre game 100 years ago, the Aggies were the underdog. Centre College was undefeated and had beaten invincible Harvard 6-0 in Massachusetts. That victory, which took place on the same day as Austin College's own Fair Park Stadium victory against SMU, is often considered the greatest upset in the history of college football. When AC football visited Centre in 2009, the Roos no doubt saw the famous "C6H0" references to the game.

But mighty Centre would struggle against those underdog Aggies on January 2, 1922. Decimated by injury, Texas A&M coach Dana X. Bible asked a student named E. King Gill to come down from the stands, dress, and be ready to enter the game if called upon. It wasn't necessary; a heroic effort by Bible's Aggies resulted in a 22-14 victory over Centre Coach Charley Moran and his Praying Colonels. Against this small Presbyterian cousin of AC, the "12th Man" tradition of Texas A&M was born. To this day, Aggie students remain standing throughout every college football game. Bible & Moran, inextricably linked in this Aggie football classic, both coached in games against Austin College.

Yes indeed, the contributions to AC from Centre College stretched all the way back to 1859, when Samuel Luckett received his Centre diploma on the eve of the Civil War. But they continued into our lifetimes as well. Coach Sig Lawson was a beloved member of the Austin College community for over 25 years. Lawson was known for uttering the phrase "what's good for the left is good for the right." Sig knew what was up; focusing on both sides was the only way to ensure an athlete could find his "center." Lawson came to Austin College in the 1970s, from Centre College.
https://theeagle.com/sports/college/aggiesports/football/texas-a-ms-12th-man-turns-100-years-old/article_585c22b2-6b77-11ec-95ac-47e82afac132.html?fbclid=IwAR1qv89UsBijS5p4er64PHh3af2xSkq2H1qanBuH3l0zGlR80Imst5ag2Ww