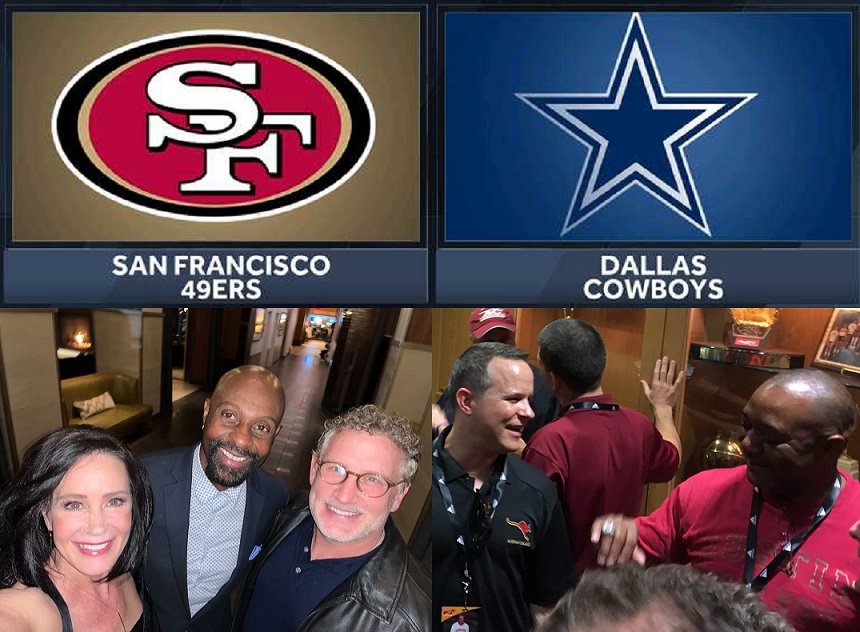 The following story is true.

After 120 years of college football, two men stood alone at #2 & #1 on the ALL-TIME CAREER receptions mark. By the end of the 1988 season, nobody in the history of the game had caught more passes than:

#2: Austin College Kangaroo Otis Amy (right)
#1: The buddy of Austin College Kangaroo Jim Buie (left)

Jim Buie ran into Jerry Rice at a Dallas dinner on Friday with his spouse Holly. Jim & Holly bought Rice a drink and snapped a picture. According to Jim, Rice was "extremely nice to us and others; he is in town for the 49ers/Cowboys game." Like Amy, Rice played his football at the small college level (Mississippi Valley State). Jerry Rice will be rooting for San Francisco on Sunday.

After his exceptional career at Austin College, Otis Amy was nearly a Dallas Cowboy. On April 22, 1989, the city of Dallas honored Cowboys coach Tom Landry with a parade. That same day, longtime Cowboys scout Gil Brandt was preparing for the next day's NFL draft and was talking about Amy in the papers:

"'He has been a very productive player at Austin College,' said Dallas Cowboy super scout Gil Brandt. 'He has a chance to get drafted, probably in the last few (10-12) rounds.'"

Although Otis barely missed the NFL, he did finish his AC career with 280 receptions (#2 all-time behind Jerry Rice's 303) and 4,018 total yards. 4,018 yards? Good lord. That's the distance from City Limits to the Austin College campus.

Otis Amy received the Gene Babb award in 1988, an award named for a Kangaroo who did in fact play for the Dallas Cowboys. Babb, started his career as a San Francisco 49er, faced the Niners as a Cowboy in the first ever meeting between the two clubs in 1960. Gene Babb ran the NFL combine for years after his playing days, and made sure his fellow Roo Otis Amy got a fair look in the hyper competitive world of the NFL.

Otis Amy was Jim Buie's teammate on the gridiron and Marc Parrish's 1988 C/I Leader. Not surprisingly, you'll find Otis, Jim, & Marc rooting for the Cowboys on Sunday. To read more about Otis Amy, Jerry Rice, and Austin College football in 1988, see the comments for the Roo Tale "The 12 Days of Roo Football Christmas: the 1988 Season."

Hey Jerry! Jim and I already know: you are the GOAT (greatest of all time) of wide receivers. But AC? We've got our own receiver GOAT in Otis Amy. And hopefully Dallas will be getting the goat of your San Francisco 49ers all afternoon on Sunday. Austin College was, after all, founded in 1849 by a "Cowboy" preacher who took a "pass" on traveling to California alongside other "49ers" and chose to stay put in Texas.

Go Cowboys, beat the Niners.