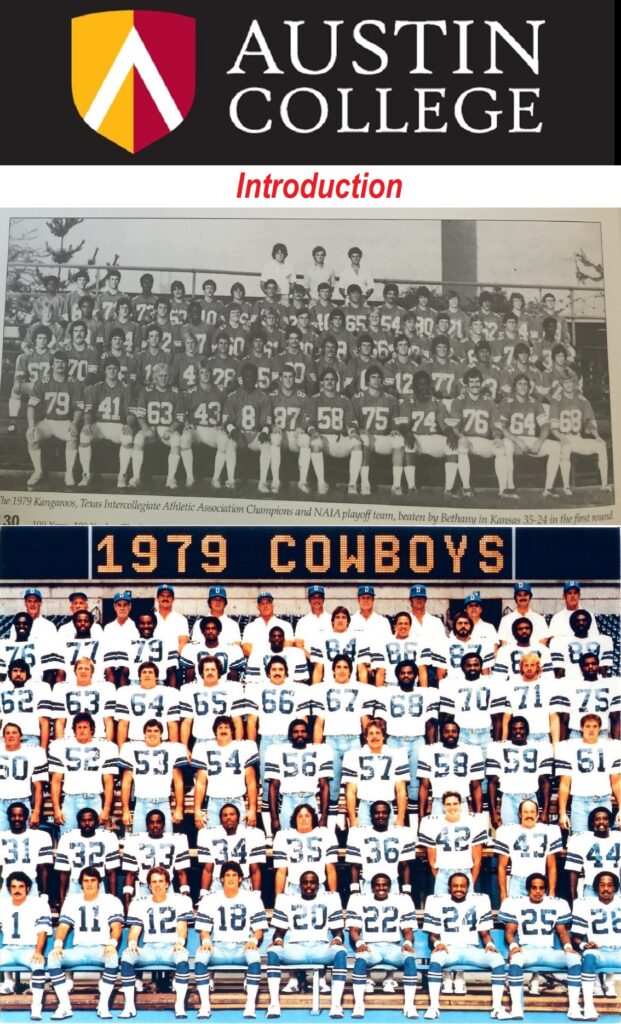 "You gotta love 'em. You gotta love the Cowboys. They're the most exciting team in the NFL. They can pull it out!" – Dallas Cowboys safety Charlie Waters in the broadcast booth, moments before the iconic Roger Staubach-to-Tony Hill touchdown over Washington to end the 1979 regular season.
The 1970s belonged to the Dallas Cowboys. The Cowboys had the best record in the NFL over those 10 seasons, surpassing the Steelers, Dolphins, and Raiders. Those 10 years brought two Super Bowl titles, five Conference championships, and 10 straight winning seasons. The Cowboys during the decade of the 1970s was the organization with whom many of us came of age.
The last season of 1979 might have been the most memorable. An aging Cowboys team walked a tightrope all year. Defensive Tackle Jethro Pugh and Defensive End Ed "Too Tall" Jones had both retired after the 1978 season. Safety Charlie Waters was lost for the season due to injury and would join Brad Sham, the "Voice of the Cowboys," in the broadcast booth. Running back Tony Dorsett & Wide Receiver Drew Pearson both suffered injuries which would limit their production. Aging Quarterback Roger Staubach and Safety Cliff Harris would call it a career at the end of the 1979 season.
And yet, this Cowboys team clawed and scrapped its way to yet another NFC East title, defeating division rivals Philadelphia on the road and Washington at Texas Stadium at the end of the season to earn the crown. The win over Washington, the comeback directed by Staubach, and the catch by Hill are legendary moments in Cowboy lore. The 1979 Dallas campaign came to a premature end in the playoffs, but even that painful loss could not tarnish a remarkable Cowboys season.
The 1979 Cowboys look a lot like another team: the 1979 Austin College Kangaroos. Tarleton State had won the TIAA crowns in both 1977 & 1978. McMurry was picked to win the TIAA title in 1979, with Tarleton expected to fight for a three-peat. Neither would, as AC walked a tightrope all season and marched their way to the conference title. That title was earned, like the Cowboys, with a huge win on the road against McMurry, followed by an exciting victory at Jerry Apple Stadium against Sul Ross to clinch.
The season didn't start out so rosy. My friend John Cotton, an AC freshman in 1979, attended the first game of the season and noticed a lack of enthusiasm and spirit. At that moment, John decided to become an AC cheerleader. He'd have a lot to cheer about until his graduation, as that 1979 squad made winning a habit and laid a foundation for future success throughout the 1980s. John's years were a good time to be a Roo.
Roos who will make an appearance in the story: Julius Bell, Price Clifford, Jimmy Curry, Mike Gollahon, Brent Hollensed, Bill Leonard, Bart Miller, David Norman, Clayton Oliphint, Don Parnell, Wilson Renfroe, Russell Roden, Jeff Robbins, Larry Shillings, Eddie Shuttlesworth, Kip Stansell, Ramon A Torres, David Simmons, Brent Adams, Paul Gardner, Mike Pappas, Mark Sartain, Mark Shepard, Bob Simeone, Rory Dukes, Scott Ericksen, Doug Gollahon, Leonard Harris, Mark Howeth, Kelly Hyde, Chris Luper, Ronnie Roberson, Ty Quick, Steve Sullivan, Ricky Turner, Kevin Woodrow, Randy Sims, Vance Morris (h/t Paula Young Morris), Larry Kramer (h/t Sandra Kramer), and more.
Cowboys who will make an appearance in the story: Gene Babb, Don Meredith, Tom Landry, Clint Murchison, Tex Schramm, Gil Brandt, Bob Lilly, Roger Staubach, Tony Dorsett, Drew Pearson, Billy Joe DuPree, Tony Hill, Jay Saldi, Harvey Martin, Brad Sham, Charlie Waters, Cliff Harris, Robert Newhouse, Butch Johnson, Larry Cole, Preston Pearson, Jerry Jones, Jimmy Johnson, Emmitt Smith, Troy Aikman, Michael Irvin, Tony Romo, and more.
This 1979 Roo Tale will be told in 12 chapters, with each chapter following a theme: (1) a 1979 Roo game, (2) a 1979 Dallas Cowboy game, and (3) a Roo-Cowboy story which ties it all together:
Chapter 1: Tarleton, San Francisco, & Gene Babb
Chapter 2: Trinity, Chicago, & Obert Logan
Chapter 3: McMurry, Cleveland, & Don Meredith
Chapter 4: Lubbock Christian, Minnesota, & Cliff Harris
Chapter 5: Sul Ross, Los Angeles, & Larry Kramer
Chapter 6: Tarleton, St. Louis, & Gil Brandt
Chapter 7: Trinity, Houston, & Luv Ya Blue
Chapter 8: McMurry, New York, & Ron Kirk
Chapter 9: Millsaps, Philadelphia, & Vance Morris
Chapter 10: Sul Ross, Washington, & The Champions of 1979
Epilogue: 1981
We'll kick off Chapter 1 tomorrow. Because most Roo fans are Cowboys fans and vice versa, my hope is that this story will be a fun trip down memory lane for 1979 Dallas Cowboy fans as well as an appropriate way to honor the 1979 TIAA champs from Sherman.
"You gotta love 'em. You gotta love the Cowboys. They're the most exciting team in the NFL. They can pull it out!" – (20:44 mark)
Chapter 1: Tarleton, San Francisco, & Gene Babb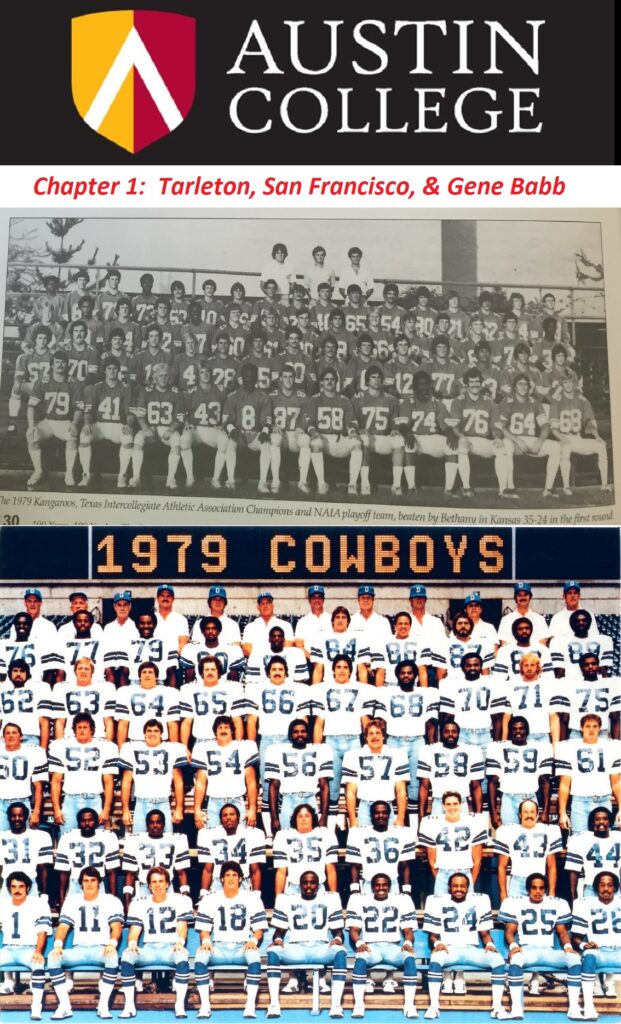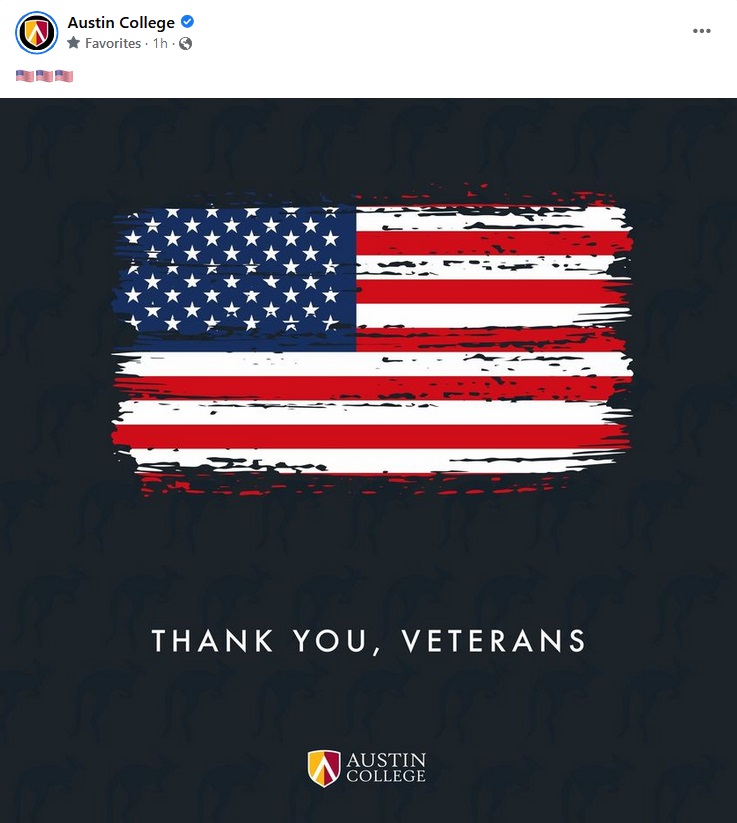 Today is Veteran's Day. A thank you to all Americans who serve.
Gene "Duke" Babb is Mr. Austin College Kangaroo. He's also a veteran member of the original Dallas Cowboys.
The Odessa, TX native arrived on the Austin College campus in 1953. Babb's play on the gridiron was something small colleges rarely experience: an NCAA D1 caliber athlete starring at an NCAA D3 sized school. His rushing contributions over four years sparked Coach Joe Spencer's Roos to four straight winning seasons. Babb's impact was so great that Austin College established the Gene Babb Award for outstanding football player just after his 1957 graduation. Babb went straight from Sherman to the NFL, signing a contract with the San Francisco 49ers in Hughey Gym for (in his words) "all the money in the world."
Babb's contributions to the 49ers were real during his two-year tenure as a backup running back. Over 500 all-purpose yards, combined with his Texas roots, made Babb an appealing pick up for the newly established Dallas Cowboys when the NFL expanded in 1960. Babb was signed by the Cowboys in exchange for a future draft choice, and first year Coach Tom Landry approved. "Gene should be outstanding in our system," [Landry] remarked in the summer of 1960. "He gives you all you want a fullback to do in the National Football League. He's a good short yardage man and you'll be hearing from him." Babb was on the sidelines suited up in Dallas silver and blue when the Cowboys kicked off their initial season in 1960 for Coach Landry. Tom Landry, a copilot of a B-17 Flying Fortress during World War II, is perhaps the most famous U.S. Veteran of the Dallas Cowboys.
The initial seasons of the newly born TIAA conference were dominated by Tarleton State in Stephenville. Tarleton had won conference titles in both 1977 & 1978; the latter crown was secured with a victory over second place McMurry, allowing the undefeated Texans to earn an NAIA D2 playoff spot. The end of the road for Tarleton in 1978 came a week later, when Findlay (OH) advanced with a 13-6 win over the Texans. Findlay would fall in the 1978 national championship game to the Concordia (MN) Cobbers, a school which three years later would endure the painful sight of a game-tying, crossbar-hitting, 57-yard field goal that forced Concordia to share a national co-championship with Austin College.
Despite the second-place finish, however, optimism was high in Abilene. "This Could Be McMurry's Year," screamed the Abilene Reporter News: "If you had asked McMurry Coach Spud Aldridge early last summer who would win the TIAA football championship, he'd have all but come out and told you it would be McMurry." McMurry was loaded, with most starters back from a 7-3 finish in 1978. "The Tribe returns virtually its entire offensive and defensive lines. In all, the [then] Indians return eight offensive starters and five more from a defensive unit that allowed just 96 points in 10 games last fall."
Nevertheless, the road to the title still ran through Tarleton. And that's exactly who the 1979 Roos would face to open the season.
Tarleton was 3-0 lifetime vs. Austin College as the 1979 campaign began, but those salad days would end abruptly. AC would win the next 12 in a row and 16 of the next 20, dominating the Texans in TIAA play for a decade. It all began with a victory over the nationally ranked Texans at Jerry Apple Stadium on September 8th, 1979. Defensive back Leonard Harris returned a second quarter punt for a 79-yard touchdown. Kicker Wilson Renfroe made the score 10-7 Roos in the third. Running back Kelly Hyde broke free for 19 yards to increase the lead to 17-7. A late TD by Tarleton closed the margin to 17-13, but the Texans never regained possession. Suddenly, it appeared that a Tarleton TIAA "three-peat" might not be in the cards for 1979.
From 1979 Roo Offensive lineman and U.S. Marine Corps Veteran Don Parnell: "The greatest [Tarleton] win was in '79. TSU came to Sherman as one of the top teams in the nation with Tally Neal their All-American linebacker and future All-American Ricky Bush. We beat them…for the biggest win in AC football history in the previous 20 years." Joining USMC Veteran Don Parnell on the 1979 Roos were fellow Veterans Jeff Broyles (Navy) and John Clarke (Air Force), Coach Sig Lawson, Coach Ralph "Slats" McCord, and Coach Bob Mason. Please leave the names of additional 1979 Roo Veterans not mentioned here in the comments.
From 1979 Roo Kicker Wilson Renfroe: "Our 1978 team was good and had an incredible defense. The team was just missing a few very important parts. We opened the [1979] season at home against Tarleton State University, who were ranked #4 in the NAIA D2 preseason poll. We beat them 17-13. Defense was stellar, as they would be all year."
The 1979 Dallas Cowboys also got off to a hot start in September. One day after the AC victory over Tarleton, the Cowboys defeated the San Francisco 49ers at Candlestick Park by a 21-13 score. In a scene that would become a nail-biting staple of both the Roo & Cowboys seasons, Dallas came from behind to win with a 4th quarter TD pass from Cowboys QB and U.S. Naval Academy Veteran Roger Staubach to tight end Billy Joe DuPree. From narrator Jon Facenda of the 1979 Dallas Cowboys NFL Film "Team on a Tightrope:"
"In San Francisco, [Quarterback] Roger Staubach generated a furious second half rally to defeat the 49ers. For two weeks, the Cowboys had flirted with disaster."
Gene Babb arrived in Dallas in 1960, and played two seasons for Cowboys Owner / World War I Veteran Clint Murchison, General Manager / World War II Veteran Tex Schramm, and Coach / World War II Veteran Tom Landry. His nearly 300 all-purpose yards during that first season also included a touchdown reception in the second game ever played by the Cowboys. In a 27-25 loss at the Cotton Bowl, QB and Korean War Veteran Eddie LeBaron found Babb for a 27-yard score. It was the first 4th quarter TD reception in Cowboys history, nearly two decades before Billy Joe Dupree's 4th quarter catch from Veteran Roger Staubach to defeat Babb's old team in San Francisco in 1979.
Tarleton State, the largest institution within the Texas A&M System outside of College Station, is today a public NCAA D1 school which will face the Aggies at Kyle Field in 2025. Renovations to Tarleton Memorial Stadium have boosted capacity to nearly 25,000 fans. But during the TIAA years, a Tarleton Texan victory against Austin College was as rare as Cowboys loss in the 1970s. And all of that Roo "Purple Poo" futility began with a dramatic 17-13 upset victory by AC at Jerry Apple Stadium in 1979.
A salute to all U.S. Veterans from Austin College & the Dallas Cowboys, on this Veterans Day of 2022.
Julius Bell, Price Clifford, Jimmy Curry, Mike Gollahon, Brent Hollensed, Bill Leonard, Bart Miller, David Norman, Clayton Oliphint, Don Parnell, Wilson Renfroe, Russell Roden, Jeff Robbins, Larry Shillings, Eddie Shuttlesworth, Kip Stansell, Ramon A Torres, David Simmons, Brent Adams, Paul Gardner, Mike Pappas, Mark Sartain, Mark Shepard, Bob Simeone, Rory Dukes, Scott Ericksen, Doug Gollahon, Leonard Harris, Mark Howeth, Kelly Hyde, Chris Luper, Ronnie Roberson, Ty Quick, Steve Sullivan, Ricky Turner, Kevin Woodrow, Randy Sims, Vance Morris (h/t Paula Young Morris), Larry Kramer (h/t Sandra Kramer)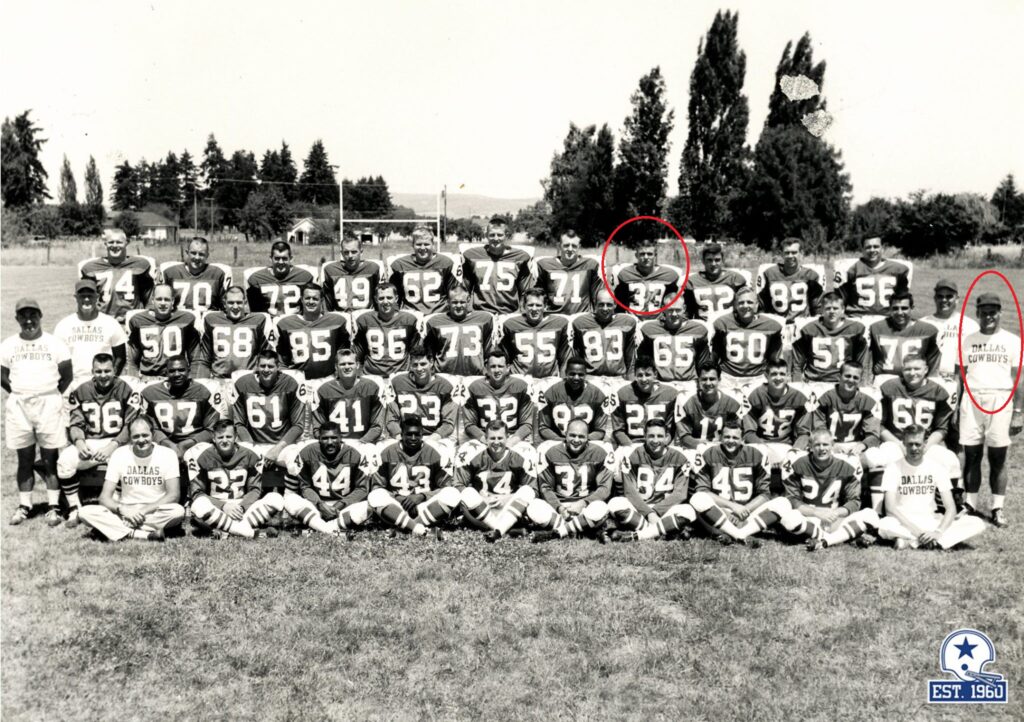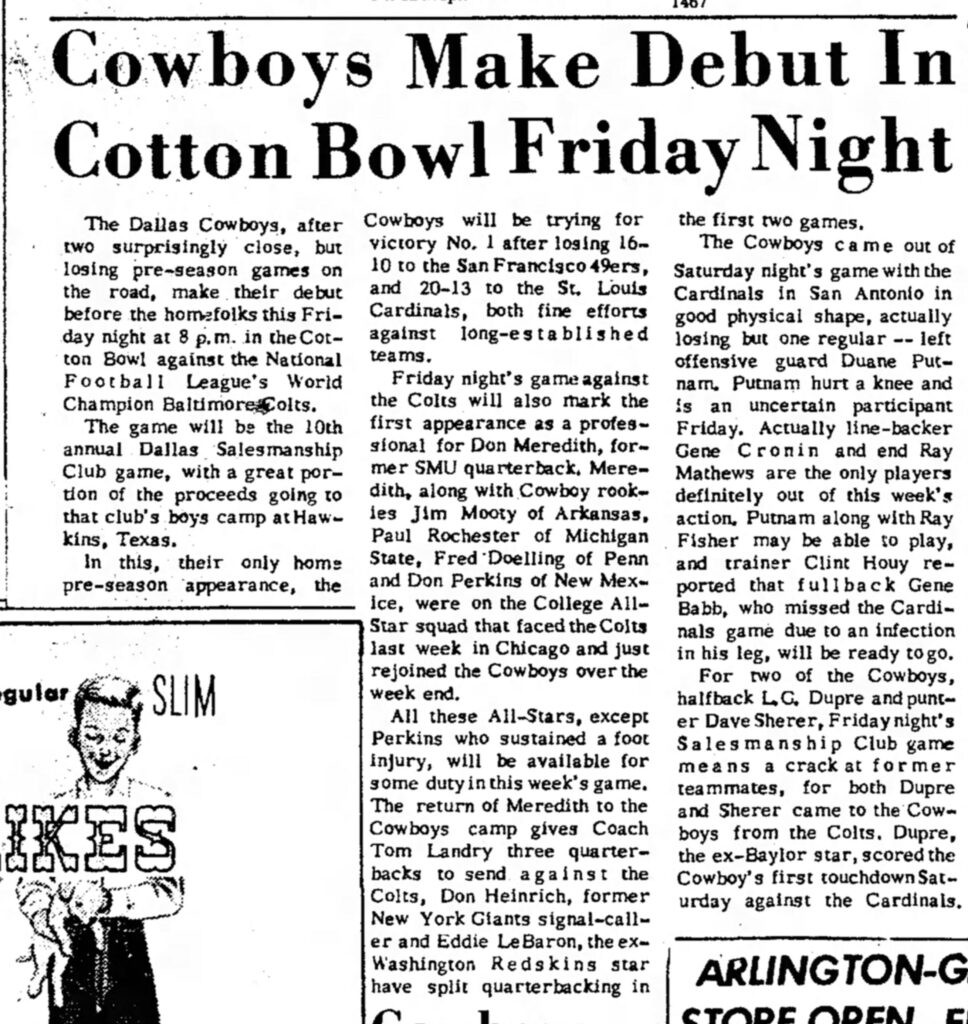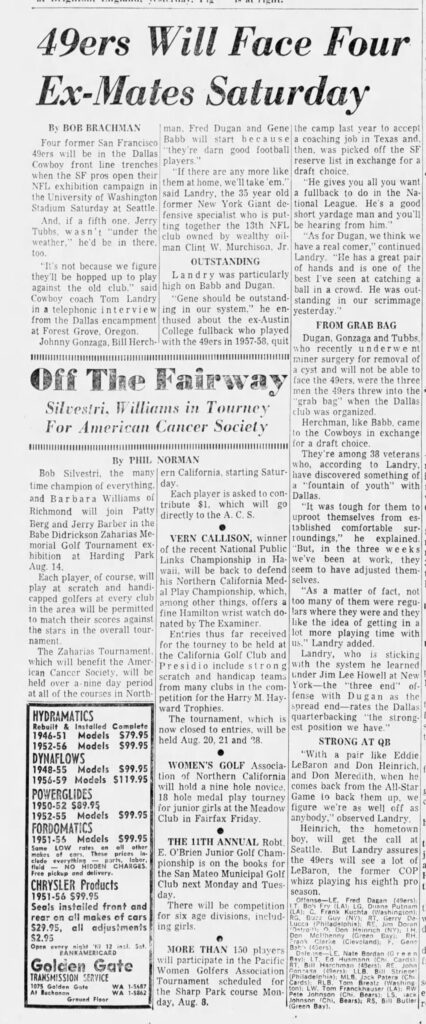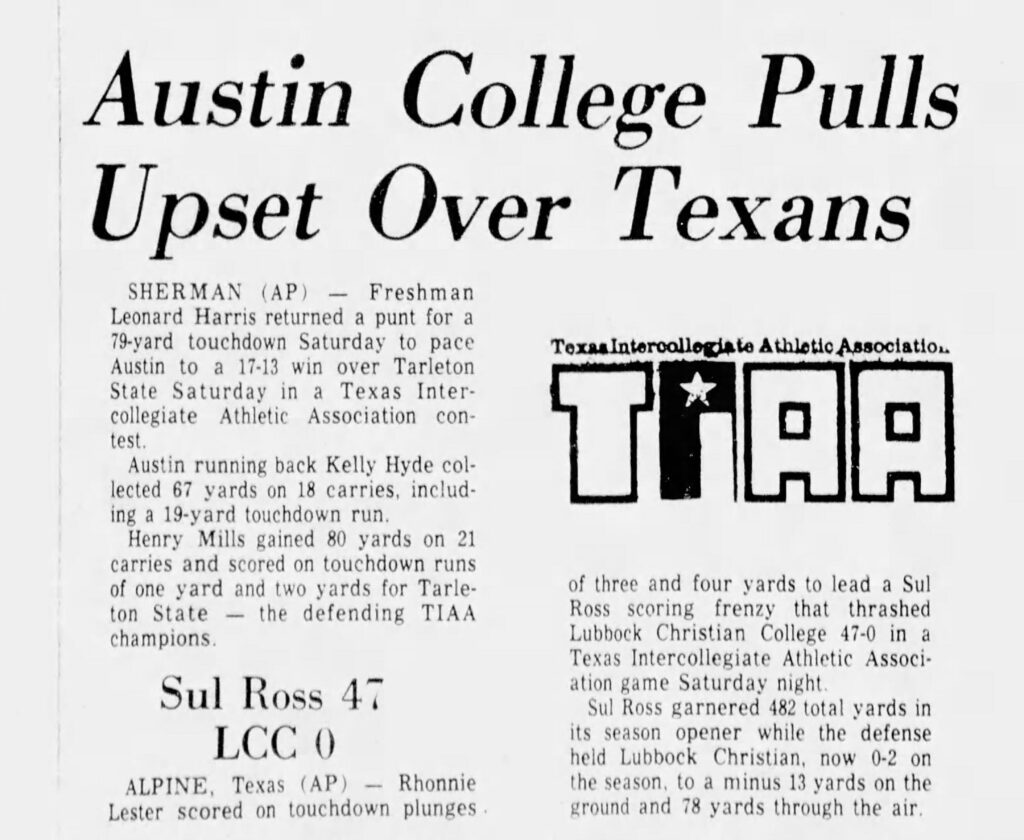 Chapter 2: Trinity, Chicago, & Obert Logan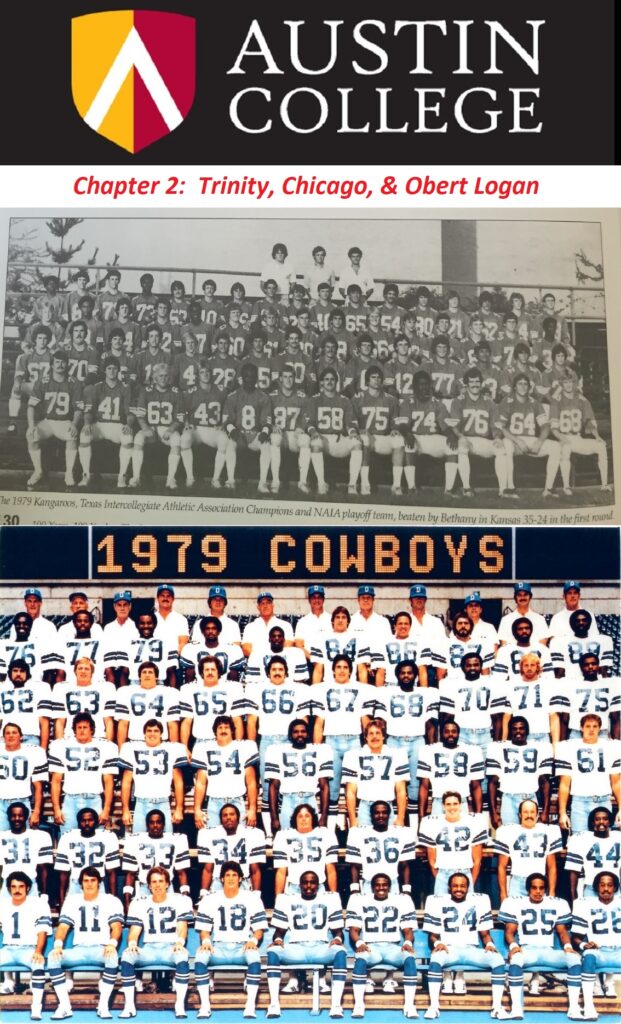 Of all the players in the schools which comprised the 1979 TIAA conference, only two ever suited up for the Dallas Cowboys:
Gene Babb: Austin College
Obert Logan: Trinity University
Babb was a member of the first two Cowboys teams in 1960-61, playing on both the offensive and defensive sides of the ball. Babb was a teammate of Defensive Tackle Bob Lilly, nicknamed "Mr. Cowboy." He was close with Cowboys General Manager Tex Schramm, the architect of "America's Team" in the 1970s. And Babb was a lifelong friend of Quarterback Don Meredith, often referred to as the "original Cowboy." Meredith quarterbacked the Cowboys to their first NFL Championship appearance in 1966, falling to Green Bay. One year later, Dallas was defeated by Green Bay again in the famous championship game known as the "Ice Bowl."
With Meredith calling signals in Dallas, Quarterback was not a problem for the Cowboys in 1966. Quarterback was not a problem for Austin College in 1979 either. The Roos suddenly had a QB from my hometown of Bryan-College Station.
From "100 Years, 100 Yards: The Story of Austin College Football:"
"Wins for Head Coach Larry Kramer had been scarce. But the pieces began to fit in 1979. It all began with an unlikely quarterback candidate from Bryan who had not played any football since his senior year in High School. Kramer in 1978 had bugged tight end Chuck Broach about [Bryan QB Larry] Shillings, Broach's high school buddy, and Broach kept him up to date. Quarterback had been a dilemma for three or four years. The good prospects either got hurt or transferred. [One of] the most successfully had been Karl Meisenbach. Meisenbach, TIAA freshman of the year in 1977, transferred to Trinity to play against the Kangaroos."
Karl Meisenbach left his Roo teammates for Trinity in order to win. In the end, all he did was open up the position for the most successful Quarterback in Roo history. Shillings filled Meisenbach's spot, bringing to AC a fiery will to win and a fundamental change in AC's offense. "With Shillings' strong arm, an offensive line that led the league in the least number of sacks, and one of the strongest receiving corps in AC's history, Kramer shelved his two tight end grinding offense and installed the pro set."
Shillings' first order of business? Dispatch that fair weather former Roo Karl Meisenbach. Austin College traveled to San Antonio to face the Trinity Tigers. In San Antonio, it was all Roos. From the Kangaroo newspaper:
"Karl Meisenbach left AC to play for Trinity because he wanted to play for a winning team. Well, AC let him down again as the Kangaroos defeated the Tigers of Trinity 22-2. Larry Shillings led the offensive charge by completing 10 of 17 passes for 148 yards and two touchdowns. Scott Erickson caught 4 passes for 37 yards while Doug Gollahon took in 3 tosses for 35 yards. Rory Dukes caught only one pass, but it was a spectacular 48-yard touchdown pass. For the second week in a row, Kelly Hyde led Roo rushers with 49 yards. Rickey Turner carried 10 times for 46 yards and Bob Simeone added 22 yards on four carries."
"Defensively, the Kangaroos shut down the Trinity offense. Mike Gollahon, Kevin Woodrow, and Paul Gardner got to Meisenbach and put him away. Tiger runners could only gain 39 yards on the ground. When the ball went in the air it seldom found the intended receivers, as can be confirmed by [Leonard] Harris, [Chris] Luper, and [Ronnie] Roberson interceptions. [Wilson] Renfroe had field goals from 23, 34, and 33 yards."
The Chicago Bears visited Texas Stadium that same weekend, hoping to knock off the surging Dallas Cowboys. They came close. But the Cowboys continued walking their tightrope in 1979, pulling off a 24-20 victory after a 4th quarter Roger Staubach TD pass to Tony Hill. Staubach finished the game with 18 completions for 222 yards and three touchdowns, two to Hill and one to Billy Joe Dupree. Brad Sham, the "Voice of the cowboys," called the game winning Staubach-to-Hill catch: "Staubach, play fake. Hitch screen to Hill left side. The 20, 15, 10! Ohhh what moves, what quickness by Tony Hill! The thrill!"
From narrator Jon Facenda of the 1979 Dallas Cowboys NFL Film "Team on a Tightrope:" "Once again, [the Cowboys] walked the tightrope and survived."
Back in San Antonio, the Roo party had begun. "The locker room was a place of happiness. Players were laughing, joking, and smiling. Senior linebacker Mark Howeth said to one of the coaches, 'it's a helluva lot more fun to play now.'" As Shillings and his fellow newcomers were celebrating their win over Meisenbach and Trinity, they were taken aback by another scene in their own locker room:
"In the locker room after the game, a couple of freshmen were dumbstruck when some of their teammates fell to their knees and started crying with joy. 'We knew it was a victory, but was it that big?,' the freshmen asked themselves. Then they found out it was the first win on the road since 1973. Until that game, nobody on the team had ever won away from Sherman."
From 1979 Roo Kicker Wilson Renfroe: "At this point, the AC football program had not won a road game since the Nixon Administration. When we beat Trinity, it was a really big deal. In fact, that 1979 team did not lose a single regular season road game all year. I believe this was a real turning point for the program at that time. We didn't lose a lot of guys from the 1978 team but had a wonderful addition. We finally got a quarterback when Larry Shillings transferred to AC. Larry Shillings was the most obvious missing piece to our team puzzle. He was perfect for what we needed. He was smart and gutsy and ran and threw well. Steve Sullivan was also a transfer quarterback candidate, but they converted him to wide receiver, because Larry was that good and Sully was lightning fast! But we really didn't know we would be that good, at least not yet."
In addition to Austin College's Gene Babb, Trinity's Obert Logan is the only other 1979 TIAA school to boast a Dallas Cowboy. Logan saw action in the first NFL Championship game between Dallas & Green Bay in 1966. Like Babb, Logan was a teammate of Defensive Tackle Bob Lilly, was close with Cowboys General Manager Tex Schramm, and was a lifelong friend of Quarterback Don Meredith. After Tom Landry told Logan and his fellow rookies that his priorities were "God, family, and the Dallas Cowboys," Logan remarked that he was unsure how the Cowboys placed third on the list. At the time of Logan's passing in 2003, Lilly, Schramm, and Meredith were the pallbearers of this Trinity Tiger.
Julius Bell, Price Clifford, Jimmy Curry, Mike Gollahon, Brent Hollensed, Bill Leonard, Bart Miller, David Norman, Clayton Oliphint, Don Parnell, Wilson Renfroe, Russell Roden, Jeff Robbins, Larry Shillings, Eddie Shuttlesworth, Kip Stansell, Ramon A Torres, David Simmons, Brent Adams, Paul Gardner, Mike Pappas, Mark Sartain, Mark Shepard, Bob Simeone, Rory Dukes, Scott Ericksen, Doug Gollahon, Leonard Harris, Mark Howeth, Kelly Hyde, Chris Luper, Ronnie Roberson, Ty Quick, Steve Sullivan, Ricky Turner, Kevin Woodrow, Randy Sims, Vance Morris (h/t Paula Young Morris), Larry Kramer (h/t Sandra Kramer)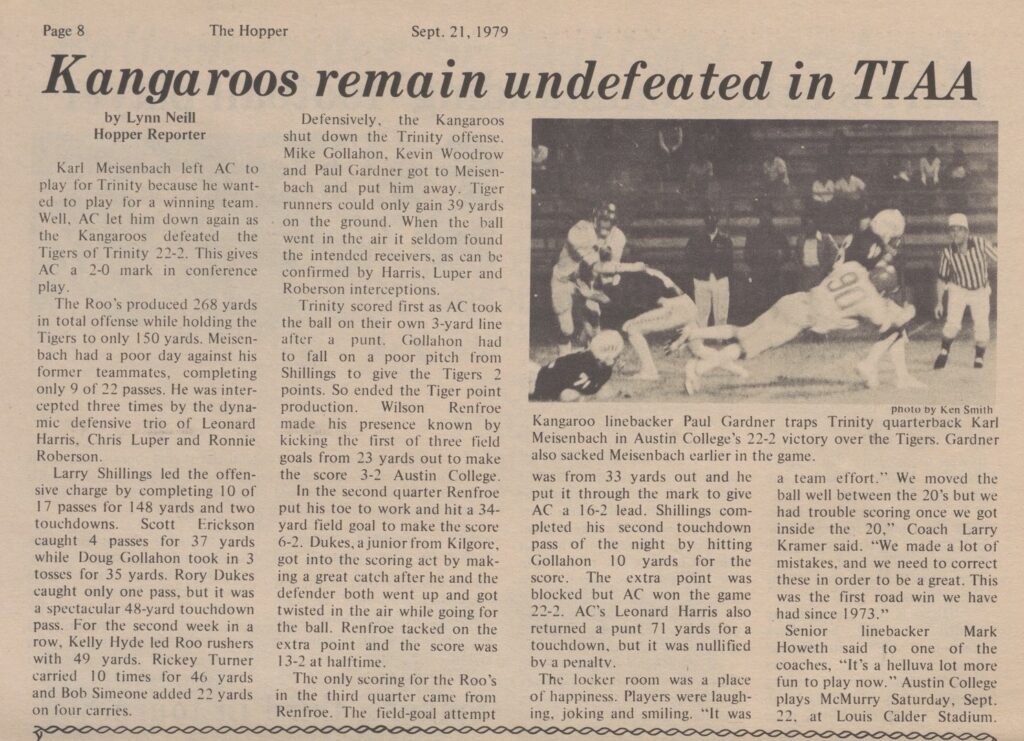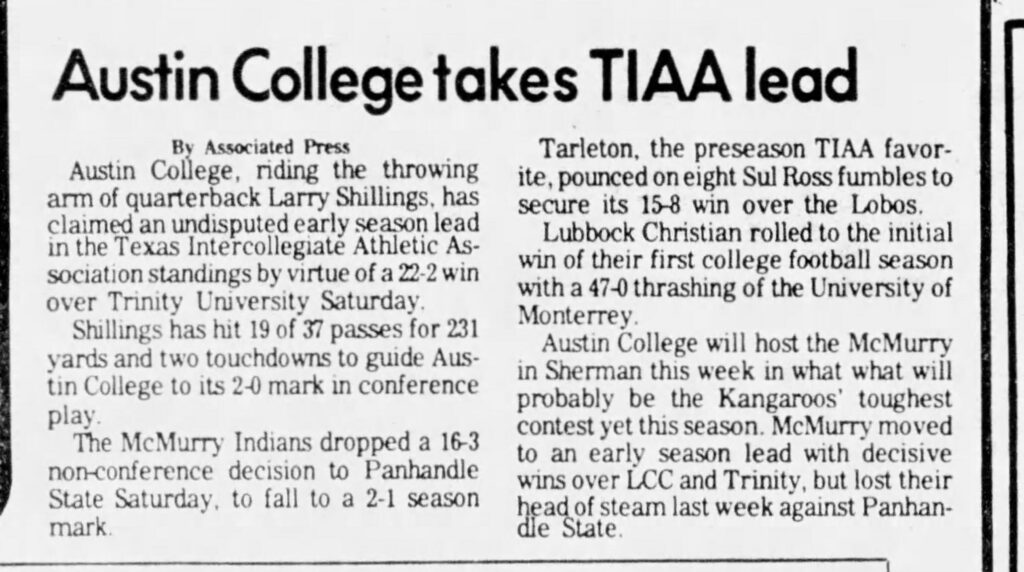 Chapter 3: McMurry, Cleveland, & Don Meredith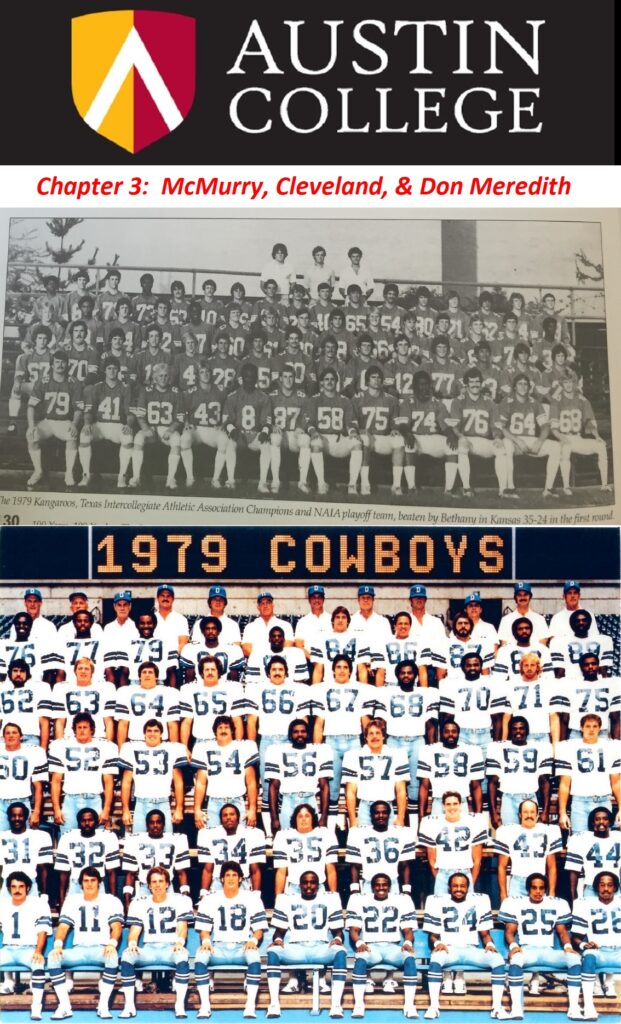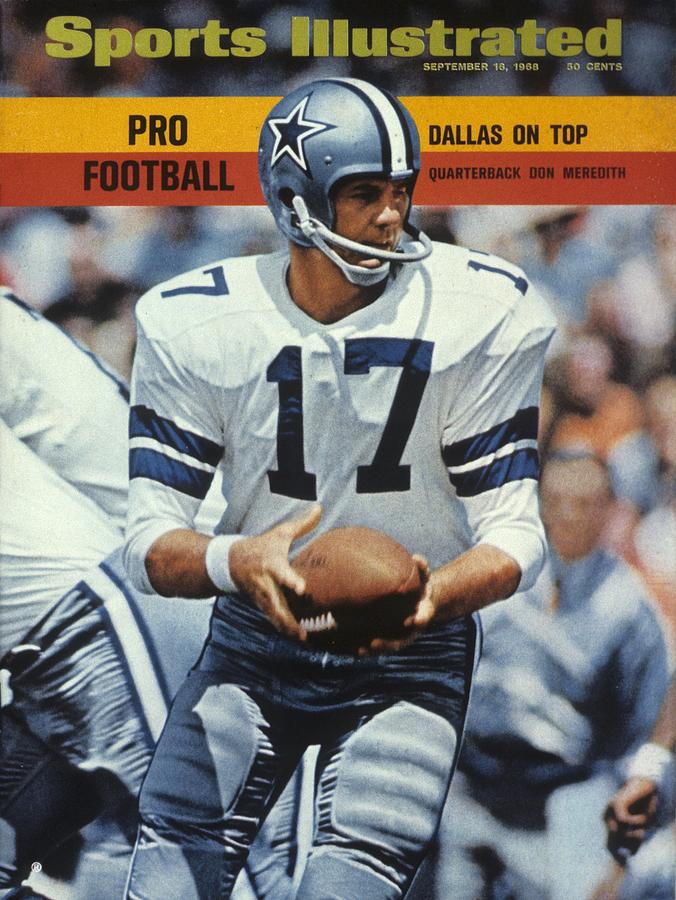 Don Meredith was known as the "original Dallas Cowboy" because of the unique contract he signed with owner Clint Murchison. Before the organization had a coach, scout, draft, or even a mascot in 1960, this quarterback from tiny Mt. Vernon, Texas was already a Dallas Cowboy in 1959. Meredith came to the Cowboys from SMU, where he had taken over the Mustang QB duties from future Austin College Head Coach Duane Nutt.
Meredith's play at quarterback was limited during his first two Cowboy seasons in 1960-61. In fact, Meredith sat on the bench for the first half of the 1960 season while watching AC's Gene Babb get considerable playing time. But that all changed in November of 1960, when Tom Landry began starting the SMU star at QB. Meredith got his first official Cowboys start against the Los Angeles Rams, in a week that coincided with a Gene Babb injury:
"The Los Angeles Rams are going to get a good look at rookie Don Meredith's passes today. Cowboy Coach Tom Landry says he will give the tall and talented former Southern Methodist passing whiz a starting call. Meredith's presence in the lineup will give the underdog Cowboys only half their nominal starting quartet since fullback Gene Babb turned up with a knee injury that required a cast. [Babb] will be sidelined."
After Babb's departure from the Cowboys in 1962, Meredith became the full-time starter. And the wins started to come. The Cowboys went 7-7 (.500) in 1965, ending a streak of futility. In 1966, Meredith led Dallas to 10 victories and reached the NFL championship game. 1967 was supposed to be the year when that first title would arrive, but it was not to be. With temperatures around 20 below zero, a QB sneak by Green Bay's Bart Starr in the waning seconds allowed the Packers to defeat the Cowboys in the famous "Ice Bowl." After an early playoff exit at Cleveland in 1968, Meredith retired just short of a Cowboys crown. Those tightrope near misses frustrated Meredith for a lifetime.
Jon Facenda, narrator of the Dallas Cowboys 1979 NFL Film "Team on a Tightrope," was channeling Meredith & the 1960s Cowboys when he said the following: "When you teeter so precariously on the high wire, you are bound to slip and fall." Those falls came for both Austin College & the Dallas Cowboys on the weekend of September 23rd, 1979. The Cowboys had a date on Monday Night Football at Cleveland at the site of Meredith's final playoff loss. The Roos had a trip planned to Abilene, to face TIAA preseason favorite McMurry.
McMurry Coach Spud Aldridge, however, knew that his squad's road to a title would go through Sherman: "The Tribe won two close contests last season by taking advantage of the Kangaroos then lack of offense. It's a luxury they won't enjoy this season with transfer quarterback Larry Shillings from Texas A&M. 'We barely beat them twice last year,' says Aldridge, sounding like a man preparing to face a firing squad,' and that was when they didn't have a quarterback. Now they have one and they've got more returning starters than we do.' The Roos defense is tight in the middle with inside linebackers Mark Howeth and Price Clifford. 'They're both as big as our offensive linemen,' Aldridge points out."
After the early wins over Tarleton & Trinity, Austin College was beginning to believe a corner had been turned. Nevertheless, preseason TIAA favorite McMurry came to Sherman and showed the Roos why they had been picked to finish first. McMurry's defense, leading the NAIA D2 in yardage against the rush (30 yards-per-game), shut down an AC offense that could manage only one touchdown. Final score: McMurry 16, AC 6. After their win against the Roos in Sherman, it indeed looked like 1979 might finally be McMurry's year.
The 1979 Dallas Cowboys stumbled as well. That same weekend as the McMurry loss, Dallas fell at Cleveland on Monday Night Football. MNF Commentator Don Meredith called the game, alongside Frank Gifford & Howard Cosell. The "Kardiac Kids" in Cleveland put the Cowboys in an early first quarter deficit from which they never recovered. A 52-yard Brian Sipe-to-Ozzie Newsom touchdown beat Cowboy safety Cliff Harris, tomorrow's story topic in this 1979 Roo Tale.
After the losses, it appeared that the preseason optimism might have been premature. Perhaps the Cowboys' best days were behind them. And maybe AC would find itself on the outside looking in once again within the TIAA. But Dallas still had its eyes on the prize in the NFC East: contests against New York, Philadelphia, and Washington still loomed. And Austin College? Because of the round robin format which ensured two conference games against each opponent, the Roos would have another chance for a win against McMurry.
From Roo Kicker Wilson Renfroe: "We came home to play McMurry in the third game and laid an egg. It was not a great game at all by the men in red and gold. Though it was hard, the loss probably galvanized us to work harder and get better, which we did. I don't know if we thought we were good yet, but this loss did not cause us to drop our heads. Quite the opposite: I think each player internally dedicated himself to being better."
If the Roos still had holes to plug, it was probably not in their already strong, Dallas Cowboys-like rushing attack. From Renfroe:
"In the back field was fullback Bob Simeone. Bob was [a Cowboys fullback] Daryl "Moose" Johnston long before Moose was famous. He was big and very fast but could mow defensive ends and linebackers down like a scythe. Since most of the carries were done by the tailbacks, Bob did not get a lot of limelight that way. But everyone on the team knew how important he was, both with his play and character, much like Moose would be 10+ years later. The tailback position was a two-headed monster that ate up yardage. Kelly Hyde and Rickey Turner shared time at that position and both were very effective. Both possessed speed and quickness and the instinct that makes one a great tailback. Rickey was a great talent in high school but came from meager family means. Because of the work study program at AC then, he was able to attend and flourish. Sadly, Rick passed away several years ago from a work-related accident that caused severe pulmonary damage. He was a wonderful player and a better man."
"Wonderful player and a better man" might be appropriate words to describe the original Cowboy, Don Meredith. During their rookie seasons with the Cowboys in 1960, Gene Babb & Don Meredith became lifelong friends. Meredith accompanied Babb to the Austin College campus throughout the 1970s, stopping once to pose in a picture at AC alongside Bob Mason, Floyd Gass, Bill Long, Duane Nutt, Slats McCord, and the AC Athletics staff. Meredith lamented never reaching the mountain top with the Cowboys in the 1960s, but his success laid the foundation for the two Super Bowl titles Dallas earned in the 1970s.
Like Meredith's years in Dallas, the 1979 championship season for Austin College would end just short of a national title. But the 1979 season laid a foundation for a national crown two years later. In 1981, AC earned that national championship on a dramatic 57-yard field goal in the final seconds at Jerry Apple Stadium. In attendance that day were thousands of Roo fans, among them Gene Babb and his good friend Mr. "Dandy" Don Meredith.
Today, the Dallas Cowboys face the Green Bay Packers at Lambeau Field, the site of Don Meredith's biggest disappointment as a Cowboy. Go get 'em Dallas. Win won for Don, a friend of Austin College. And oh, by the way, "Dez caught it."
Julius Bell, Price Clifford, Jimmy Curry, Mike Gollahon, Brent Hollensed, Bill Leonard, Bart Miller, David Norman, Clayton Oliphint, Don Parnell, Wilson Renfroe, Russell Roden, Jeff Robbins, Larry Shillings, Eddie Shuttlesworth, Kip Stansell, Ramon A Torres, David Simmons, Brent Adams, Paul Gardner, Mike Pappas, Mark Sartain, Mark Shepard, Bob Simeone, Rory Dukes, Scott Ericksen, Doug Gollahon, Leonard Harris, Mark Howeth, Kelly Hyde, Chris Luper, Ronnie Roberson, Ty Quick, Steve Sullivan, Ricky Turner, Kevin Woodrow, Randy Sims, Vance Morris (h/t Paula Young Morris), Larry Kramer (h/t Sandra Kramer)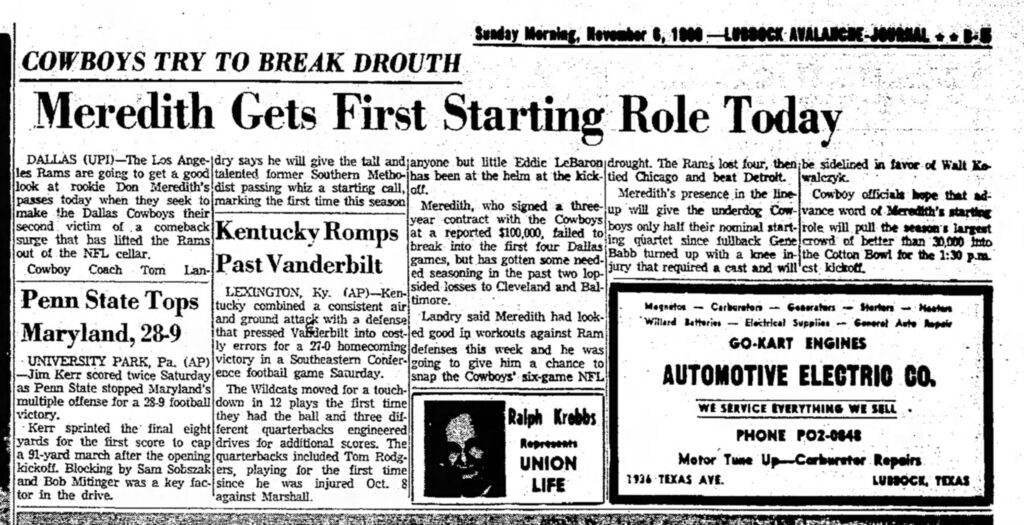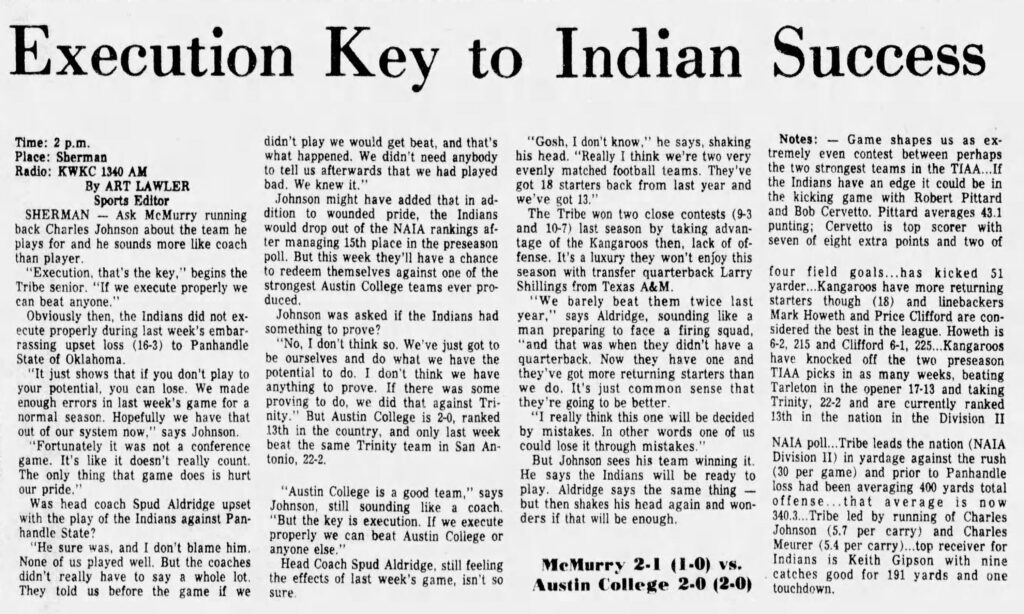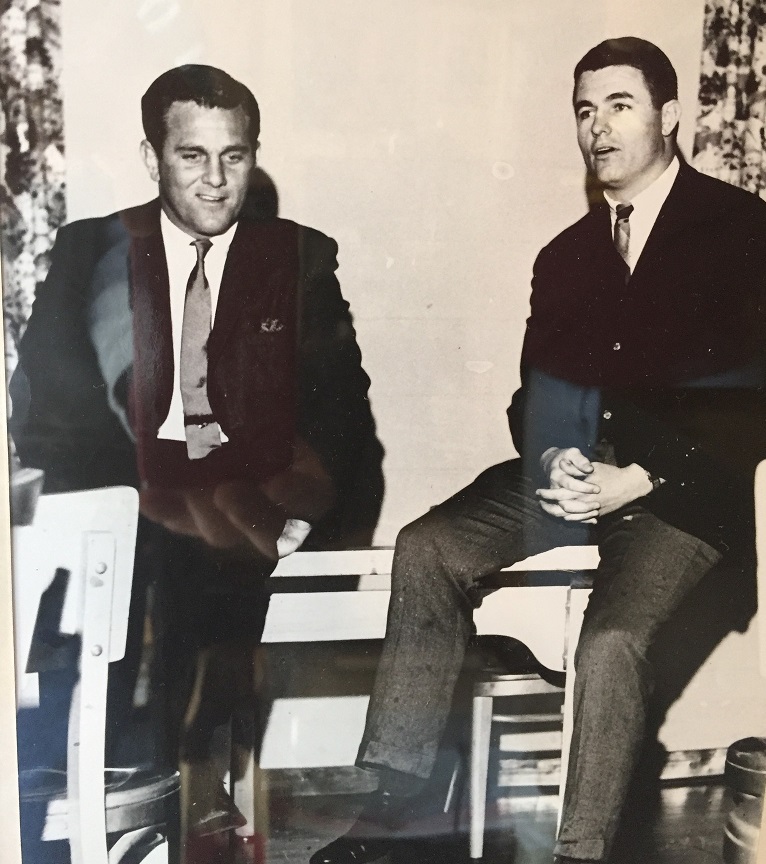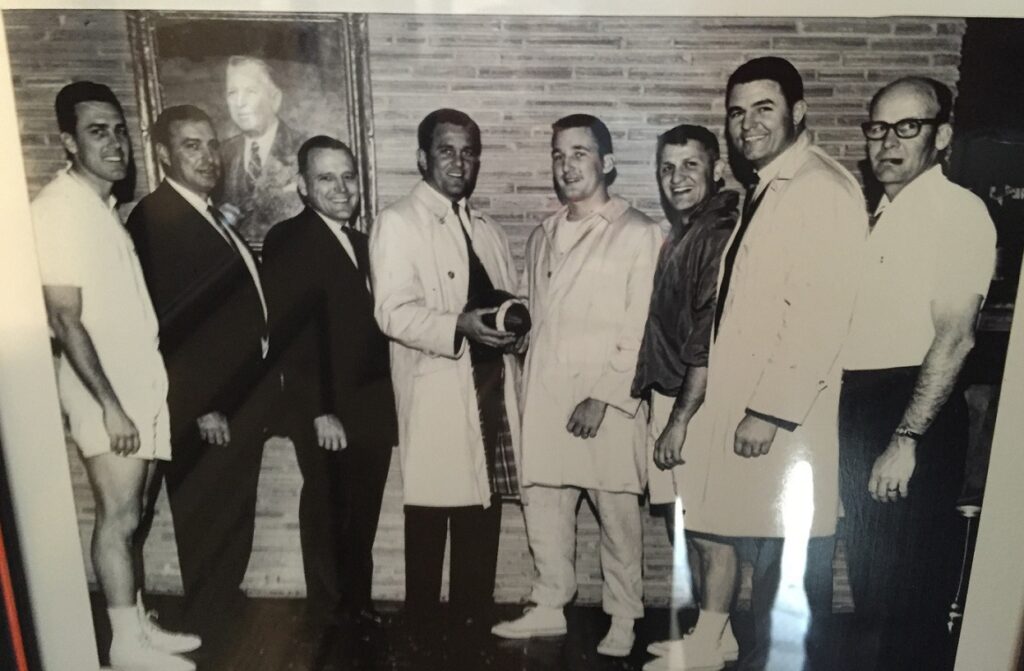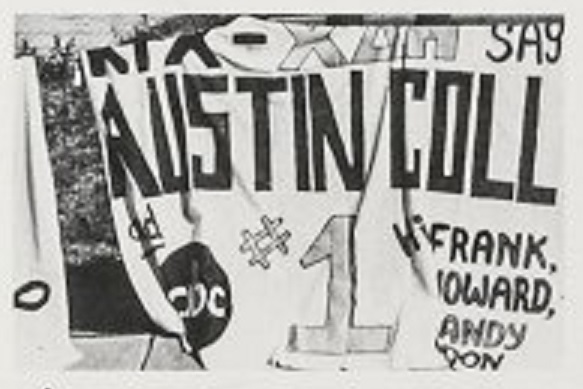 Chapter 4: Lubbock Christian, Minnesota, & Cliff Harris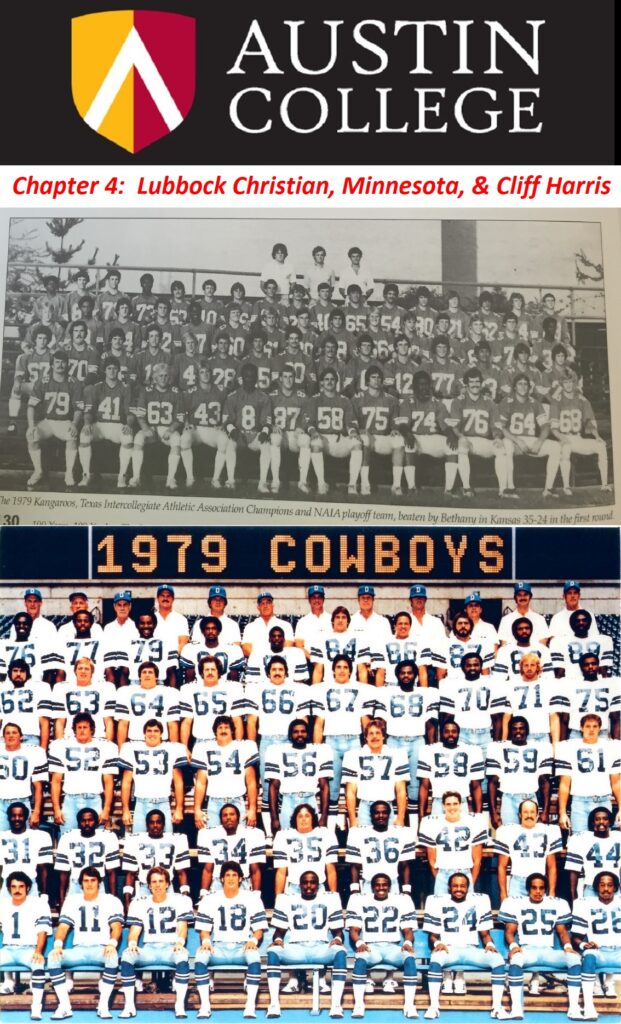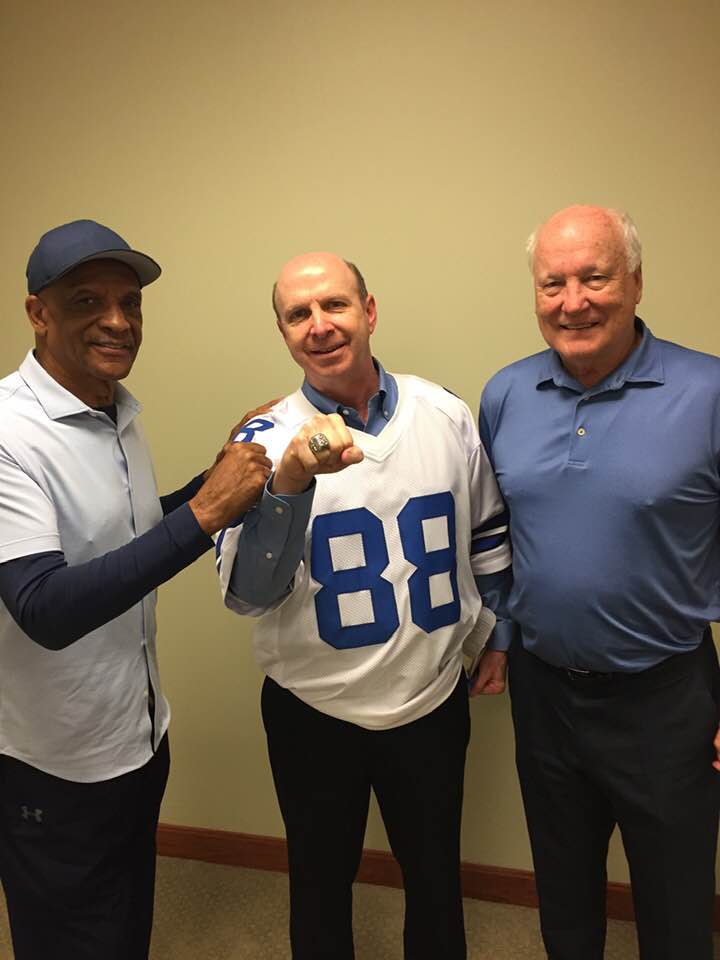 First United Methodist Church – Richardson (FUMCR) Pastor Clayton Oliphint recently gave a sermon about grace. Pastor Oliphint described his first Roo Touchdown in 1979, a catch in the end zone against newest TIAA member Lubbock Christian. In the sermon, Oliphint detailed his desire to contribute to the team as a freshman and his disappointment when that first TD pass from QB Larry Shillings initially went through his hands, bounced off his chest, and floated away.
Oliphint: "And finally, I got my big break. It was about halfway through the [1979] season and it was a home game. And I'll never forget, there was like 5 seconds left in the half and we had just crossed midfield. And there was time for just one more play. It's basically the "Hail Mary" play, where all receivers go deep. Here it was, my big moment to prove to all of these people that I belonged."
Oliphint: "I ran as fast as I could down to the goal line. I turned around and I reached up to catch the ball. But I was running out of control. I mistimed my jump. The ball hit me right in the chest and bounced off. I fell back into the end zone. I'd missed the moment. I thought I'd done all the right things, but I blew it."
Oliphint: "And then the funniest thing happened. That ball that bounced off my chest hit my foot and went into the air. Suddenly, this prize floats down and lands in my lap. I'm looking down at the football as the referee is standing over me signaling 'touchdown.' The referee said 'son, your Christmas gift just came early.'"
Oliphint: "That play for me symbolizes grace. Grace is that unmerited, unearned gift that God gives us. It is not something we do on our own. It is something we didn't deserve. And God's grace is available to all."
One of Oliphint's flock listening in the congregation that morning, former Cowboys safety Cliff Harris, was likely moved and reminded of his own football past.
Cliff Harris knows a thing about Hail Marys. Harris was on the sidelines when wide receiver Drew Pearson hauled in a 50-yard TD pass from Roger Staubach with just seconds remaining to defeat the Minnesota Vikings in a 1975 NFL playoff game. The iconic play was coined by Staubach: "I just threw it up there as far as I could. It was a Hail Mary." The phrase "Hail Mary" permanently entered the football lexicon. Cliff Harris, watching from the sidelines as Drew Pearson hauled in the catch, described the change in atmosphere for the papers the next day.
"Nothing," Dallas safety Cliff Harris said. "There was all this noise…and then there was nothing. If this had happened in Dallas, it would have been nothing, followed by pandemonium. Here it was the other way around."
Cliff Harris, Drew Pearson, & Roger Staubach returned to Metropolitan Stadium in 1979 to face Minnesota. No "Hail Mary" was needed in 1979, as the Cowboys cruised to a 36-20 victory. Staubach was 15-23 for 174 yards, much of that yardage to Drew Pearson. Cliff Harris and the Doomsday Defense kept the Vikings in check, as the 1979 Cowboys increased their record to 5 wins against just 1 loss.
The 1979 Roos also had just 1 loss and looked to keep it that way against Lubbock Christian. Larry Shillings completed two TD passes, including the "Hail Mary" to Oliphint mentioned earlier. Kelly Hyde rushed for 96 yards and a score. Doug Gollahan caught 8 passes for 99 yards and was called the 'receiver of the day' by the AC newspaper. Wilson Renfroe booted a 31-yard field goal. The Redshirt Defense limited Lubbock Christian to just 44 yards on the ground. Linebacker Price Clifford has two interceptions which set up scores, the last one a touchdown run by freshman and future AC Athletic Director David Norman. AC rolled, 36-0.
From Roo kicker Wilson Renfroe: "The fourth game we played Lubbock Christian College at home. It was a game we needed after McMurry, as we won handily 36-0. We played very well on both sides of the ball. The offense, especially, was beginning to find its personality. We moved from playing a traditional offense with two backs, usually in the "I" formation, two wide outs, and tight end, to eliminating the tight end and playing with three wide outs. The offense began to open up and score."
Despite the considerable size of the Lubbock Christian defense, the Roo offensive line of Brent Hollensed, Ty Quick, Bill Leonard, Mike Papas, and Julius Bell was more than up to the task. From a Roo newspaper article entitled "Kangaroos outweighed, not outplayed:"
"Guyle Roberson, the 6'7" 333 lb. defensive tackle for Lubbock Christian College, outweighed his opposing Kangaroo blocker in last Saturday's game by 133 lbs. Mike Papas, the Kangaroo's 6'0" 205 lb. offensive guard had Roberson's number most of the day and held him to five tackles. Said Papas: 'it was like blocking a mattress with a tree behind it.'"
The AC newspaper interviewed Hollensed in 1979, who was asked about the difference between that year and the years before. "Hopper Hysteria," he said. "People come out to watch and that makes a big difference. So everyone come out." That same week, the Kangaroo newspaper wrote an article on "Hopper Hysteria:"
"With mania happening in Dallas and fever rampant in Fort Worth, a new cloud has appeared on the horizon in the form of 'hysteria' in Sherman. 'Spirit has been lacking at Austin College for several years. The success of Hopper Hysteria has been a community thing. Austin College has a very good team this year, and they will have more in the future. [We] hope we can encourage people, promote spirit, and a sense of togetherness,' said KDSX-AM station manager Bill Hooten, while covering 1979 AC football and working closely with AC Athletic Director Bob Mason. "Coach Mason said he hopes for a spirit spillover into other sports and an overall spillover into the college community as well."
Reverend Oliphint, who wore #88 at AC in 1979, produces a FUMCR "More Than Sunday" podcast for his congregation. Last year, Cliff Harris helped Clayton rope in a special guest for his podcast: the original #88, Drew Pearson. Pearson, whose nephew Tre Stewart played and coached at Austin College in the 2010s, and Harris, who played against Austin College in the 1960s, probably had to work hard to move the conversation topic from football to grace.
Imagine all they could have chatted about: Pearson's famous 1975 catch in Minnesota, Harris's last season as a Dallas Cowboy in 1979, or the TIAA Champion Kangaroos of 1979 & the "Hail Mary" throw which Reverend Oliphint "grace"fully hauled in.
Julius Bell, Price Clifford, Jimmy Curry, Mike Gollahon, Brent Hollensed, Bill Leonard, Bart Miller, David Norman, Clayton Oliphint, Don Parnell, Wilson Renfroe, Russell Roden, Jeff Robbins, Larry Shillings, Eddie Shuttlesworth, Kip Stansell, Ramon A Torres, David Simmons, Brent Adams, Paul Gardner, Mike Pappas, Mark Sartain, Mark Shepard, Bob Simeone, Rory Dukes, Scott Ericksen, Doug Gollahon, Leonard Harris, Mark Howeth, Kelly Hyde, Chris Luper, Ronnie Roberson, Ty Quick, Steve Sullivan, Ricky Turner, Kevin Woodrow, Randy Sims, Vance Morris (h/t Paula Morris), Larry Kramer (h/t Sandra Kramer)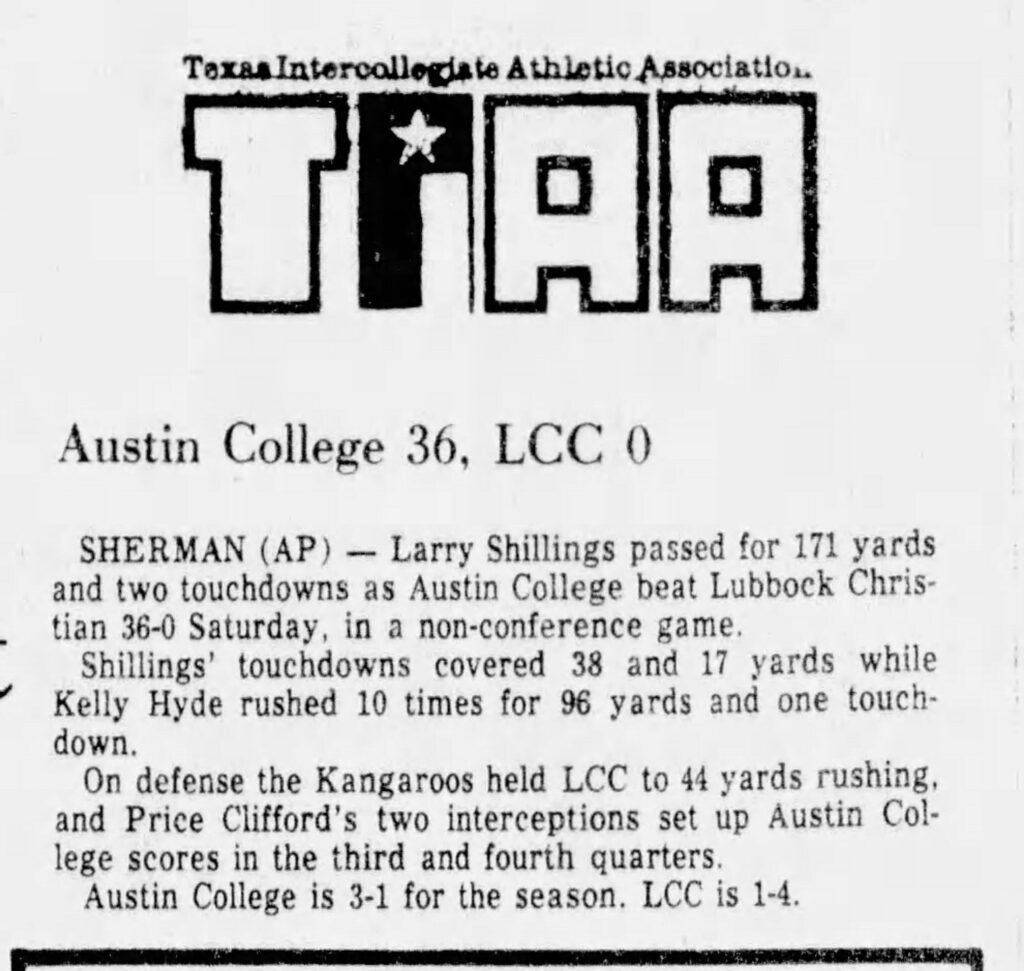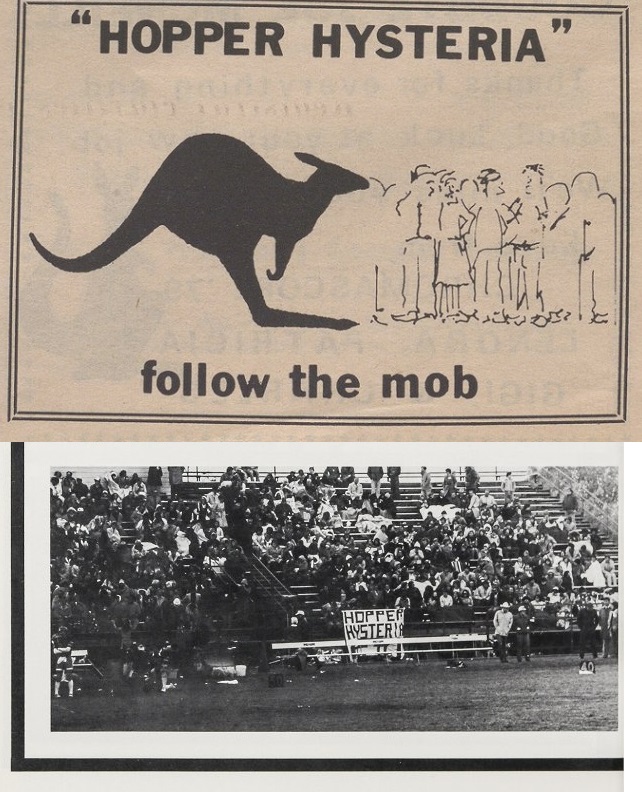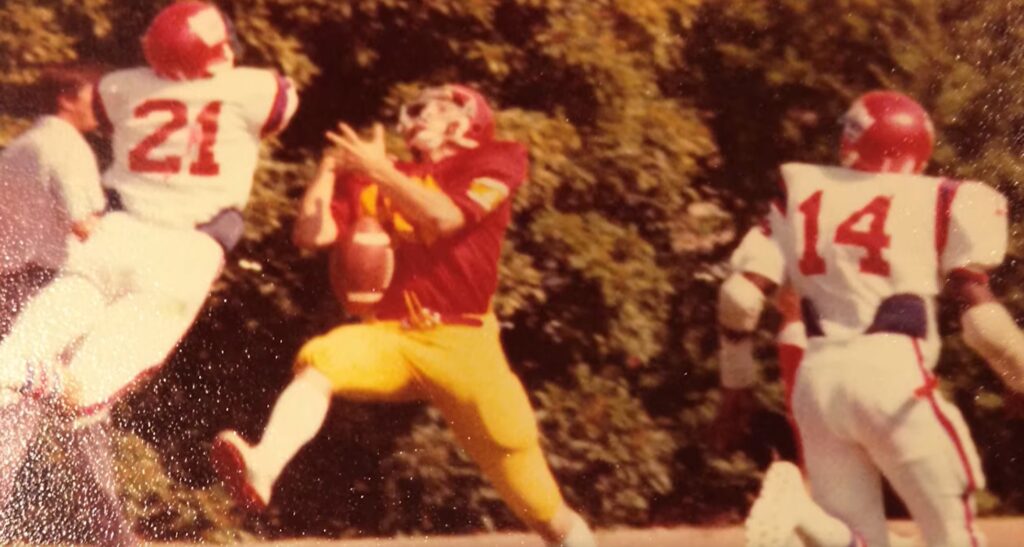 Chapter 5: Sul Ross, Los Angeles, & Larry Kramer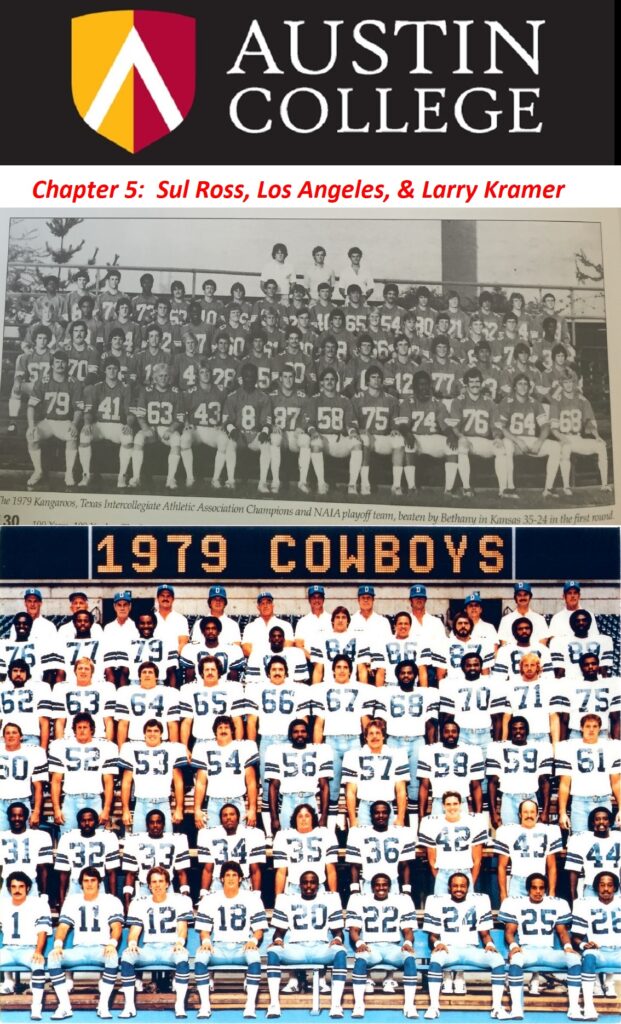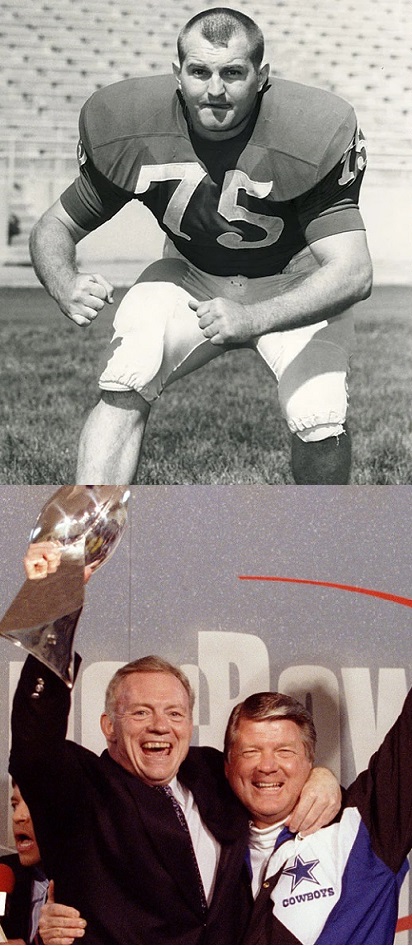 1979 AC Head Coach Larry Kramer knew the Dallas Cowboys. The 1964 Consensus All-American Offensive Lineman from Nebraska led his Big 8 Champion Cornhuskers to a 1965 Cotton Bowl berth. There, in the stadium that the Cowboys called home, Kramer faced an undefeated Arkansas Razorbacks team led by a defensive lineman named Jimmy Johnson and an offensive guard named Jerry Jones. Arkansas won 10-7 and claimed the national championship.
Kramer's Nebraska coach Bob Devaney was quick to praise Johnson, Jones, & Arkansas. "They ought to be #1," said the legendary coach. He was also quick to praise members of his own squad. After being asked if any Huskers had a professional future, Devaney spoke highly of the future AC coach. "We have four who were drafted, and I'm sure they will sign," mentioning Larry Kramer by name. Devaney was right: Kramer was drafted by the Baltimore Colts and later signed with the Minnesota Vikings. Razorbacks Jerry Jones and Jimmy Johnson would return to Dallas 25 years later to take over the ownership and head coaching duties of the Dallas Cowboys.
Kramer knew that a missing piece of the puzzle in 1979 was quarterback, and he struck pay dirt after convincing Larry Shillings to transfer from Texas A&M. Shillings, a QB for Coach Merrill Green's Bryan Vikings and part of a backfield that included future Baltimore Colt Curtis Dickey, was looking to play football again. "When I came here and saw the way everyone was looking forward to the fall and how positive they were about our chances to win, I couldn't wait to play again," remarked Shillings in a Kangaroo newspaper article entitled "Shillings Adds Skill to Kangaroo Offense."
After the win over Lubbock Christian, Kramer and his 1979 AC squad made the long trip to Alpine, TX to face Sul Ross. The nearly 600 miles was eased by a dominating 31-10 win. Kelly Hyde scored three touchdowns, two on the ground and one from a Larry Shillings pass. Rory Dukes hauled in a 33-yarder from Shillings for another score, and the always consistent Wilson Renfroe nailed a field goal from 31 yards. The Red Shirt Pride (RSP) secondary limited the Lobos to just 9 completions on 30 attempts, with two picks. For his work, Kelly Hyde was name TIAA running back of the week. From the Kangaroo newspaper:
"As the Hoppers took the field against the Sul Ross Lobos, the news of a Tarleton victory over previously undefeated McMurry was on its way to Alpine. An AC victory meant a three-way tie for first in the TIAA. Despite the fact the Hoppers had never won in Alpine, Larry Shillings passed for 172 yards and Kelly Hyde added 87 yards on the ground to pace a Hopper offense that netted 381 yards. After spotting the Lobos three points, the AC offense got untracked with an 80-yard drive in seven plays that ended with [Kelly] Hyde going over from the 1-yard line."
From Roo kicker Wilson Renfroe: "Trips to Alpine were never fun, and the two previous times we went there we lost of course. We usually took an extra day to travel there (by bus). Starting left guard Mike Papas was my bus buddy. We sat together and leaned on each other to sleep. At Sul Ross, we played both night and day games there over the years. This game was at night. We beat them fairly handily 31-10 in another game in which the offense improved, while the defense was steady as usual. For once, it was a great 15-hour bus ride back to Sherman!!"
Coach Kramer, an All-American offensive lineman at Nebraska, knew he had the real deal on the Roo offensive line in 1979. From Renfroe:
"The offensive line was the heart of the offense. Bill Leonard was a sophomore playing center. He was a bit undersized, much like Mark Stepnoski was for the 90s Cowboys. But he succeeded on great technique. The guards were both veterans. Mike Papas played left guard and was a true senior like me. He had great technique and was much stronger than he might appear. Brent Hollensed was the right guard, and the "Big Cat" was outstanding! Strong, yet mobile and quick, he was a superior lineman with the feet and thinking skills of a running back. Next to Brent on the right side was Julius Bell. "Big Jue" weighed at least 250, but probably more! That was big for back then. If Big Jue caught a defensive back unaware, he could and would mow them down like grass. A great straight on blocker and very mobile too. Big Jue's counterpart on the left side was Ty Quick, who was quick and very strong. A fiery desire to succeed made Ty one of the best tackles in the nation."
Vince Ferragamo and the Los Angeles Rams traveled to Dallas to take on the high-flying Cowboys and learned why 1979 was a year not to tangle with Tom Landry's squad. Tony Dorsett found the end zone twice. Roger Staubach connected for two touchdowns, one to Tony Hill and the other to tight end Jay Saldi. The Doomsday defense kept L.A. out the end zone, limiting their offense to just two field goals. The 30-6 Cowboys win pushed Dallas's record to 6-1 in 1979.
The arrival of Jerry Jones & Jimmy Johnson in Dallas ten years later is still controversial because of the unceremonious dismissal of Coach Tom Landry & General Manager Tex Schramm. It certainly did not help that the 1989 Dallas Cowboys went 1-15, their worst season in franchise history since Gene Babb's inaugural Cowboys year of 1960. But Jimmy Johnson had a plan to return Dallas to the glory years. That goal meant rebuilding the Dallas defense, and interestingly Johnson got that help from a player who had starred for Larry Kramer in 1989.
The Cowboys selected defensive tackle Leon Lett of Emporia State (KS) in the 1991 draft, which came as no surprise to his Emporia Coach Larry Kramer. "We always knew that Leon had the tools to get a shot at the NFL," said Kramer. "He possesses the quickness and size to make the Cowboys roster." At Emporia under Kramer, Lett had led a defense that allowed only 3.1 yards-per-carry and took Kramer's Emporia State Hornets all the way to the NAIA D1 national championship game. As a Cowboy, Lett would help Johnson & Jones win three Super Bowls. His work would earn him two trips to the Pro Bowl. And as we all know, this Larry Kramer protégé ALMOST scored a touchdown in Super Bowl.
The NAIA D2 polls still failed to recognize the surging Roos. McMurry remained ranked and was a favorite to win conference. Tarleton was still ranked #13 even after a season opening loss to AC. And Austin College? Despite a 4-1 record, the Roos were still unranked. But that would soon change. AC left for a road trip against Tarleton. The Texans hoped to make Roo Meat of their visitors and keep their three-peat BID as TIAA conference champs alive. But a first ever AC victory in Stephenville would allow the Roos to end those Tarleton dreams………and finally earn the respect of pollsters with an NAIA D2 national ranking.
Julius Bell, Price Clifford, Jimmy Curry, Mike Gollahon, Brent Hollensed, Bill Leonard, Bart Miller, David Norman, Clayton Oliphint, Don Parnell, Wilson Renfroe, Russell Roden, Jeff Robbins, Larry Shillings, Eddie Shuttlesworth, Kip Stansell, Ramon A Torres, David Simmons, Brent Adams, Paul Gardner, Mike Pappas, Mark Sartain, Mark Shepard, Bob Simeone, Rory Dukes, Scott Ericksen, Doug Gollahon, Leonard Harris, Mark Howeth, Kelly Hyde, Chris Luper, Ronnie Roberson, Ty Quick, Steve Sullivan, Ricky Turner, Kevin Woodrow, Randy Sims, Vance Morris (h/t Paula Morris), Larry Kramer (h/t Sandra Kramer)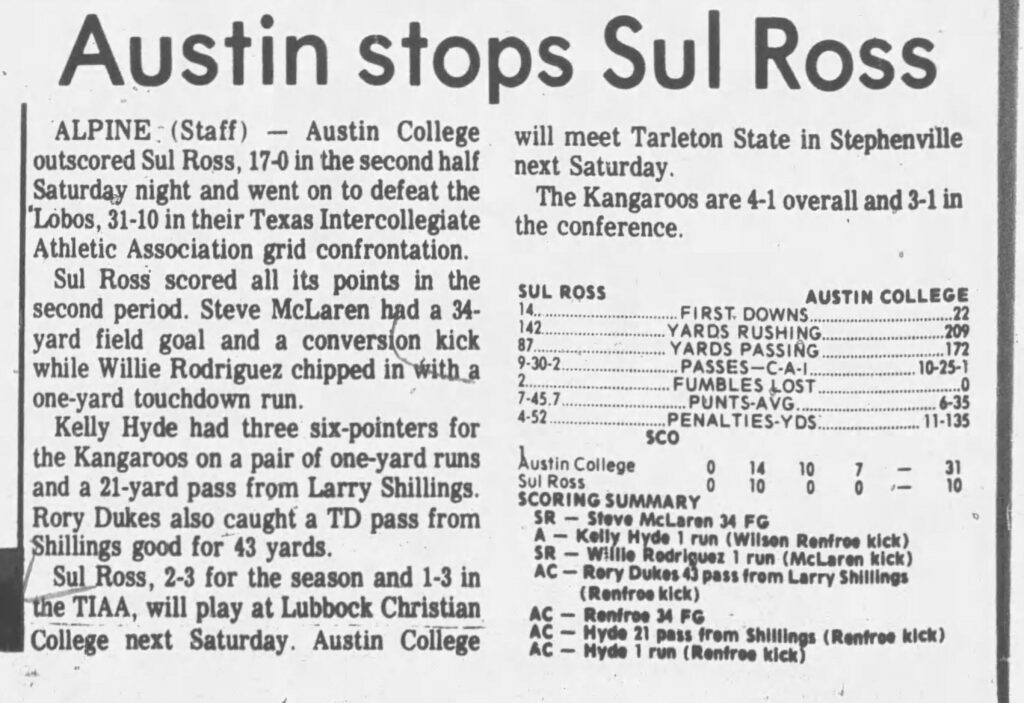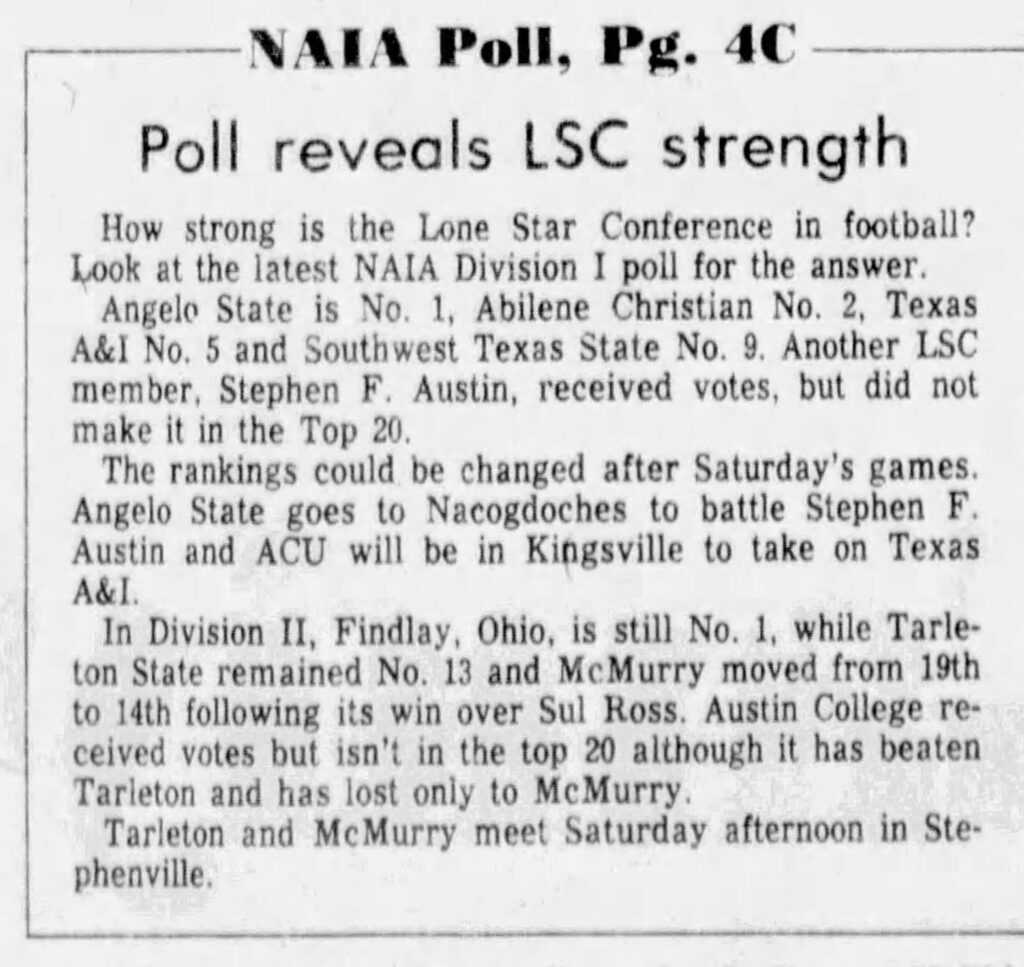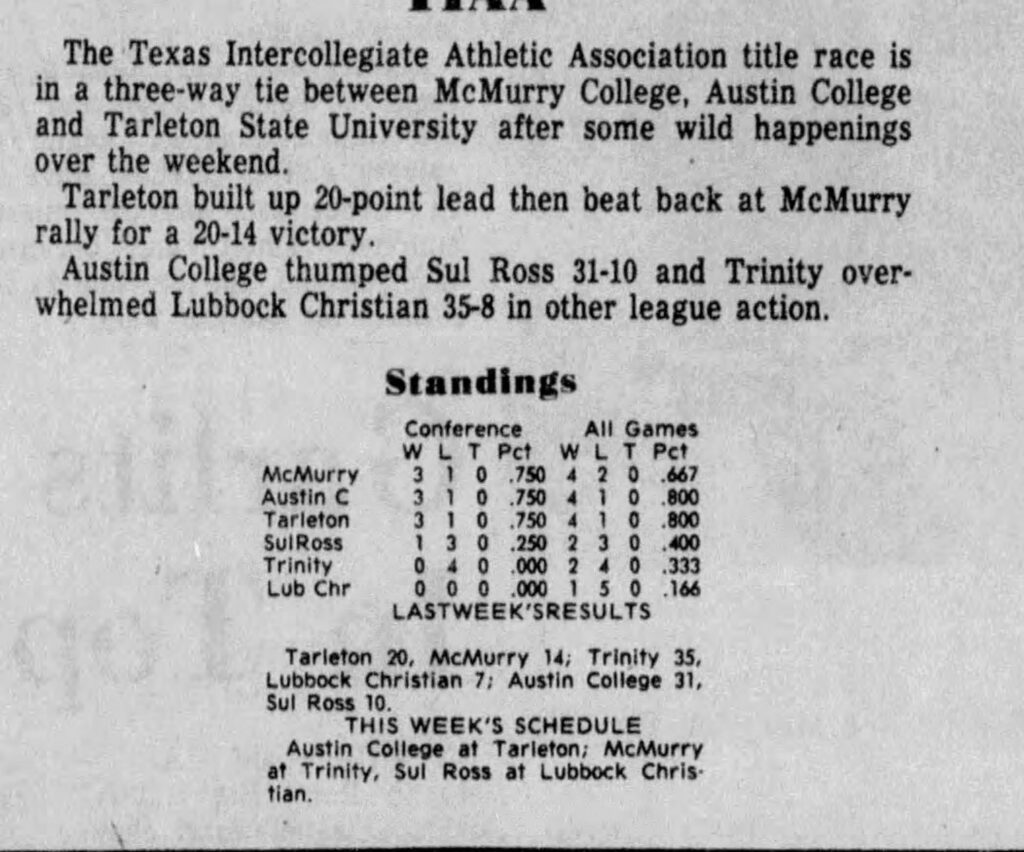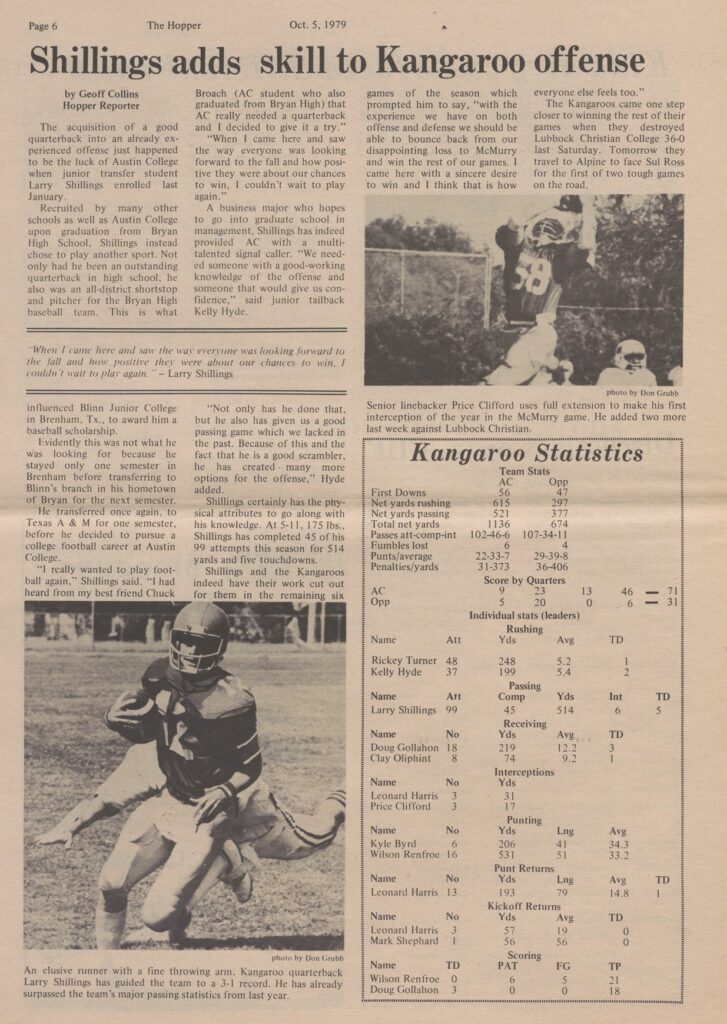 Chapter 6: Tarleton, St. Louis, & Gil Brandt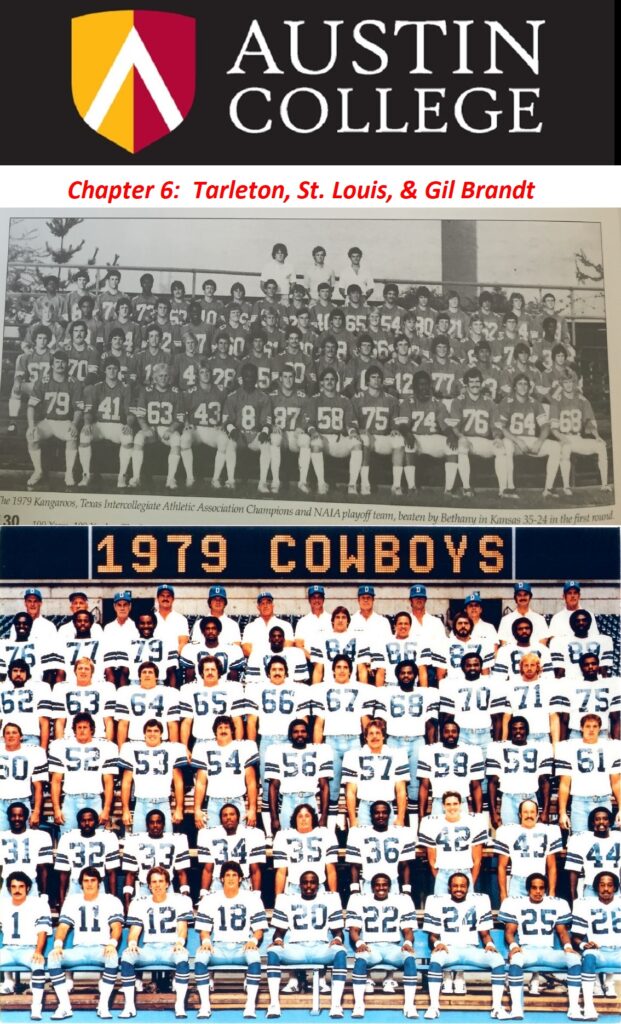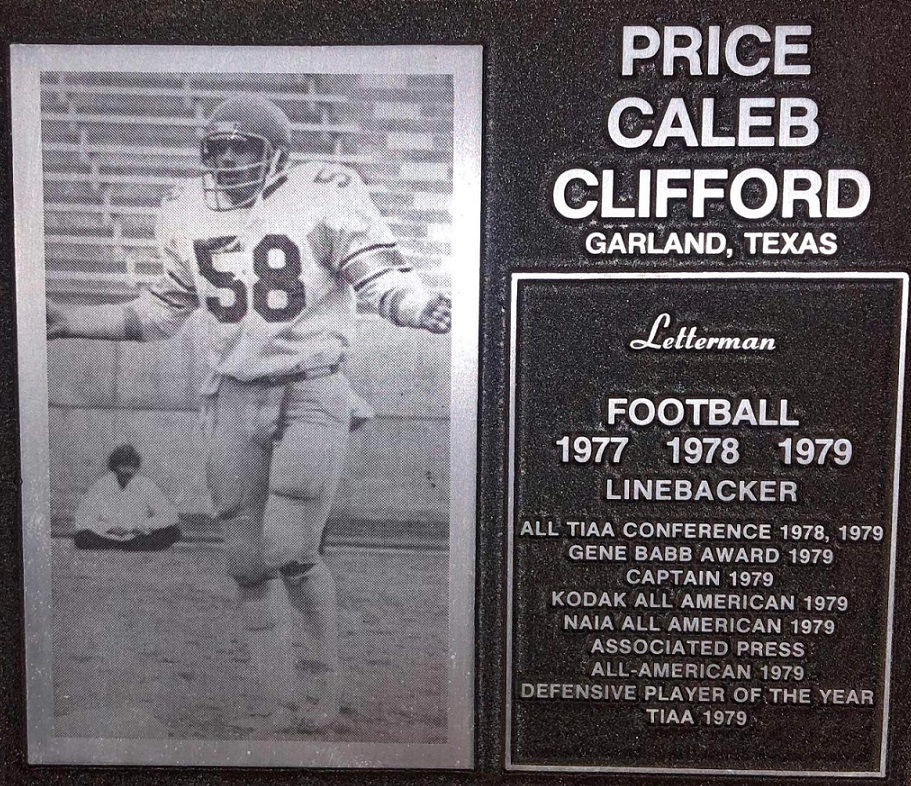 Gil Brandt deserves as much credit for turning the Dallas Cowboys into "America's team" as General Manager Tex Schramm and Coach Tom Landry. Yes, Schramm was responsible for obtaining the players and Landry's job was to coach them. But first they had to be found. That was the job of Cowboys Scout Gil Brandt. Brandt specialized in finding those diamonds in the rough at America's small colleges. Colleges such as Austin College in Texas. Or Ouachita Baptist in Arkansas.
The 1968 Kangaroo football team finished in the NAIA Top 10 with just one loss. That loss came at the hands of Ouachita Baptist, led by All-American safety Cliff Harris. Harris would later become an NFL Hall of Fame member of the Dallas Cowboys. Thanks to the help of Reverend Clayton Oliphint, I was able to interview Cliff Harris when the story of the 1968 Roos was told on their 50th anniversary in 2018. Against Austin College, Harris had four interceptions. What Harris told me on the phone about that game was remarkable:
Cliff Harris: "You know Marc, I'm fairly sure that it was the Austin College game film that led to the initial interest from [Dallas Cowboys scout] Gil Brandt."
The Tarleton Texans have never had a player suit up for the Dallas Cowboys, and it showed as Austin College arrived in Stephenville to take on the Texans. AC had defeated the defending TIAA champs in Sherman during week #1 and looked to complete the 1979 sweep. A Price Clifford interception led to a Kelly Hyde score, but Tarleton took the kickoff return back 99 yards to even the contest. A Jimmy Curry fumble recovery led to a Kelly Hyde TD and Leonard Harris returned a punt 80 yards for another. The Texans, however, returned a blocked punt for six and took a 20-19 lead at the end of the third quarter.
But the "fourth quarter belongs to the Roos." A Jimmy Curry interception set up a third Kelly Hyde touchdown. With Tarleton threatening to tie, Mark Howeth sealed the win with an interception return to the Tarleton three-yard line. Ricky Turner punched it in for the final score, and Austin College left Stephenville with a 34-20 win. The AC defense held Tarleton to only 88 total yards and five first downs. From the Kangaroo newspaper:
"With the meat of their schedule awaiting them a couple of weeks ago, the…Kangaroos looked as if they had a tough road to hoe. To make matters worse, the tough games were on the road. Well, the Hoppers took the bull by the horns and wrestled it to the ground as they ripped Sul Ross 31-10 and stunned ninth-ranked Tarleton for the second time this year 34-20. The Hopper defense totally dominated as five different players had interceptions to tie an all-time Kangaroos record. Leonard Harris, Jimmy Curry, Mark Howeth, Price Clifford, and Randy Sims each had an interception; the defense caused the Texans to fumble four times."
Tarleton, a preseason TIAA favorite, had defeated favorite McMurry earlier in the season. But two losses to the Roos had them on the outside looking in. Suddenly, only McMurry and Austin College were tied at the top of the TIAA leaderboard. That position was due in large part to a Roo defense led by linebacker Price Clifford.
Price Clifford was exactly the kind of player Dallas Cowboys scout Gil Brandt had his eye on. Clifford finished the 1979 season on the AP NAIA All-American team, a team that included Neil Lomax of Portland State. Lomax would later earn two trips to the Pro Bowl as a quarterback for the NFL's St. Louis Cardinals, racking up five victories over the Dallas Cowboys.
From Roo kicker Wilson Renfroe: "Price Clifford was the emotional barometer of the team. Not only was Price a great linebacker, but he had an outgoing personality and was very confident in himself. He kept the team loose with repetitious funny stuff and would get on people when they underperformed. One story about Price. When we played home games, we had pregame meal at 9 am. I was in line in the cafeteria close to Price on this one particular game. They usually fed us steak, eggs, and a whole lot of carbs and protein. On this day, Price's plate was relatively empty, especially compared to mine. He said, "I'm gonna be lean and mean today." Several hours later we were sitting around the locker room getting psyched up to play. About this time, Price sidled up to me and asked, 'Hey, do you have a candy bar or anything else to eat in your locker? I'm starving.' But he was gonna be lean and mean!"
The Roos were on a roll, and so were the Dallas Cowboys. The St. Louis Cardinals visited Texas Stadium but could do little to stop the Dallas juggernaut. Roger Staubach threw two touchdown passes to tight end Billy Joe DuPree and wide receiver Tony Hill. Running back Tony Dorsett broke the 100-yard barrier once again, and Rafael Septien added two field goals. Cliff Harris & the Doomsday Defense limited St. Louis to just over 200 total yards and zero offensive touchdowns. Dallas 22, St. Louis 13. The Cardinals would not defeat the Cowboys at Texas Stadium for another five years, until Price Clifford's fellow NAIA All-American Neil Lomax ended the losing streak for St. Louis.
Gil Brandt revolutionized the job of scout. He's credited with finding Dallas Cowboy prospects in other sports, in other countries, and of course in the overlooked small colleges of America. When AC's Otis Amy was hoping to be drafted in 1988, one scout in particular had his eyes on Amy: Gil Brandt of the Dallas Cowboys: "'[Otis Amy] has been a very productive player at Austin College,' said Dallas Cowboy super scout Gil Brandt. 'He has a chance to get drafted, probably in the last few (10-12) rounds.'" Otis Amy had set the all-time NAIA receptions record that year, passing most of 1979 wide receiver Clayton Oliphint's records along the way.
Clayton Oliphint, Coach Larry Kramer, and the Roo football program had a tradition 40 years ago: Before game day, the team would watch Cowboys highlight films. In 1982, Oliphint was asked by Kramer to stop by the Dallas Cowboys office to pick up that's week's highlight film. While in the office, Gil Brandt walked by.
Oliphint: "I spoke to a receptionist and Brandt walks by. 'Aren't you Oliphint from AC?' He rattled off some of my stats and our 1982 season, and said he always had an eye on small colleges for prospects. Man was I ever blown away. I've heard other stories through the years about Brandt's recall of players and stats but wow, what a mind. And all this before the internet."
Like many Roo football players during and after 1979, interest was often received from franchises in the CFL, USFL, and the NFL. That initial interest was usually not enough to bridge the huge gap between small college and professional football, a gap that Price Clifford's All-American teammate Neil Lomax was able to overcome. But many AC football players did get treasured letters from some of those franchises. Of all of the letters received by Oliphint at his old AC mailbox, his most prized is one from Gil Brandt and the Dallas Cowboys.
Julius Bell, Price Clifford, Jimmy Curry, Mike Gollahon, Brent Hollensed, Bill Leonard, Bart Miller, David Norman, Clayton Oliphint, Don Parnell, Wilson Renfroe, Russell Roden, Jeff Robbins, Larry Shillings, Eddie Shuttlesworth, Kip Stansell, Ramon A Torres, David Simmons, Brent Adams, Paul Gardner, Mike Pappas, Mark Sartain, Mark Shepard, Bob Simeone, Rory Dukes, Scott Ericksen, Doug Gollahon, Leonard Harris, Mark Howeth, Kelly Hyde, Chris Luper, Ronnie Roberson, Ty Quick, Steve Sullivan, Ricky Turner, Kevin Woodrow, Randy Sims, Vance Morris (h/t Paula Morris), Larry Kramer (h/t Sandra Kramer)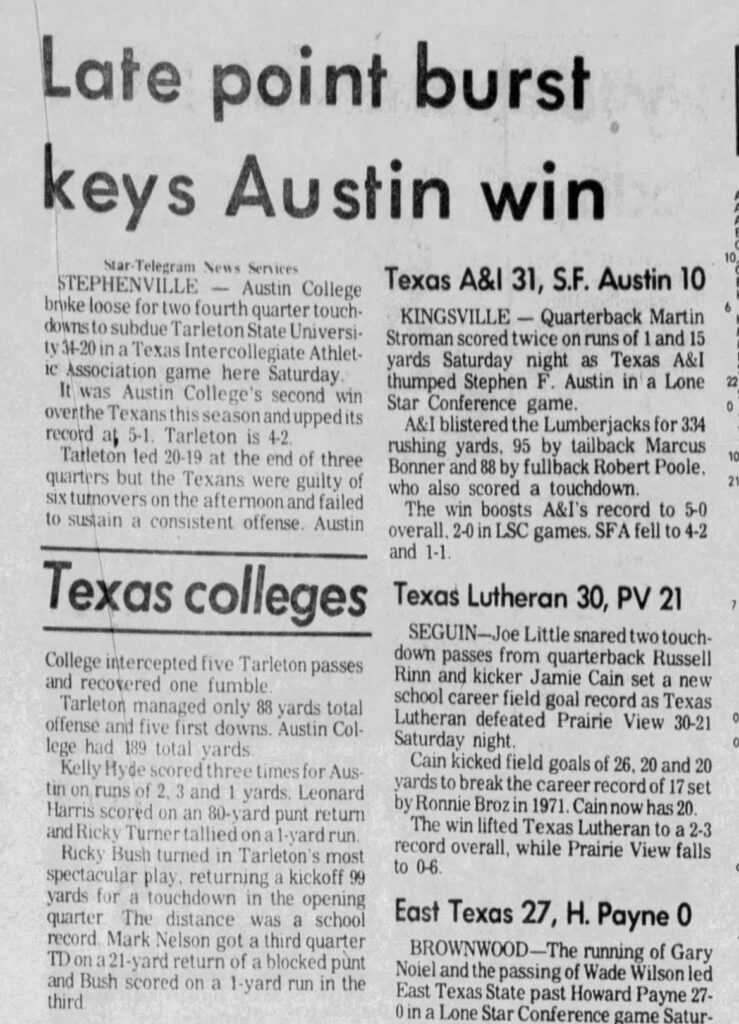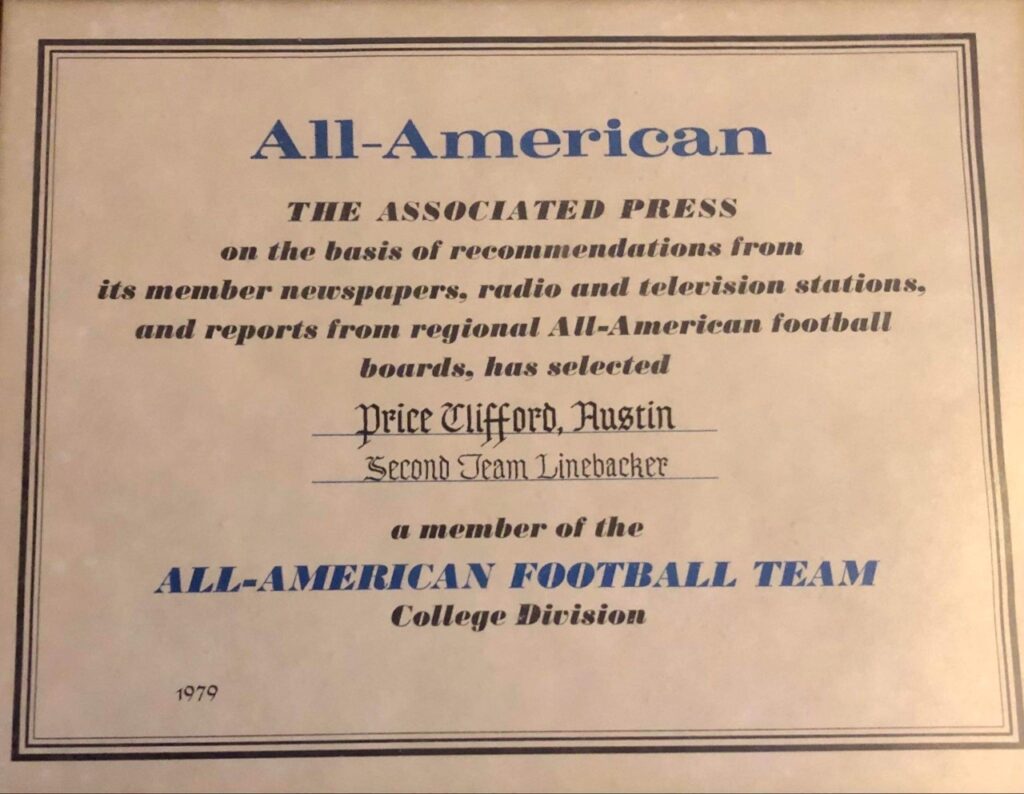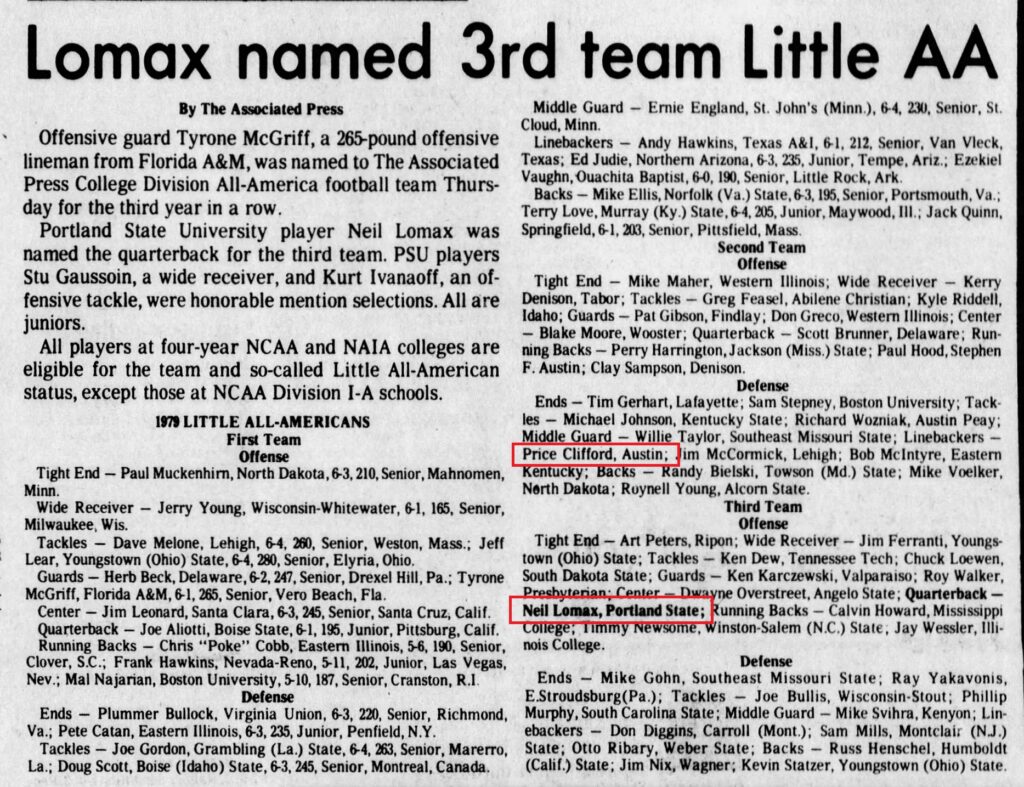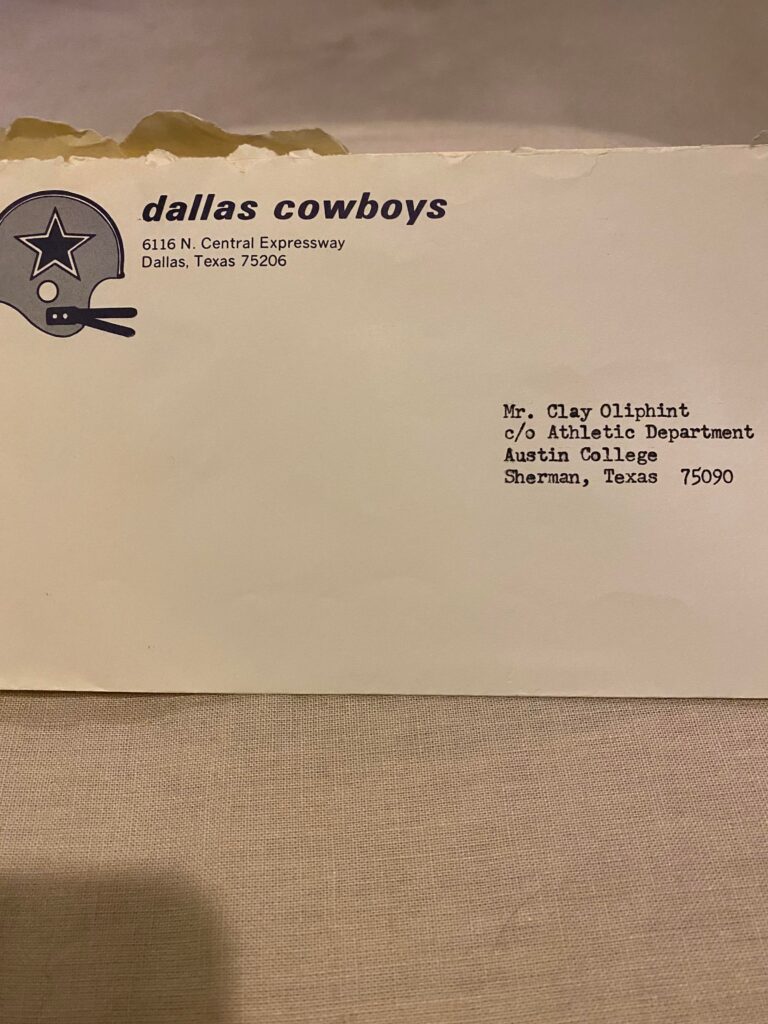 Chapter 7: Trinity, Houston, & Luv Ya Blue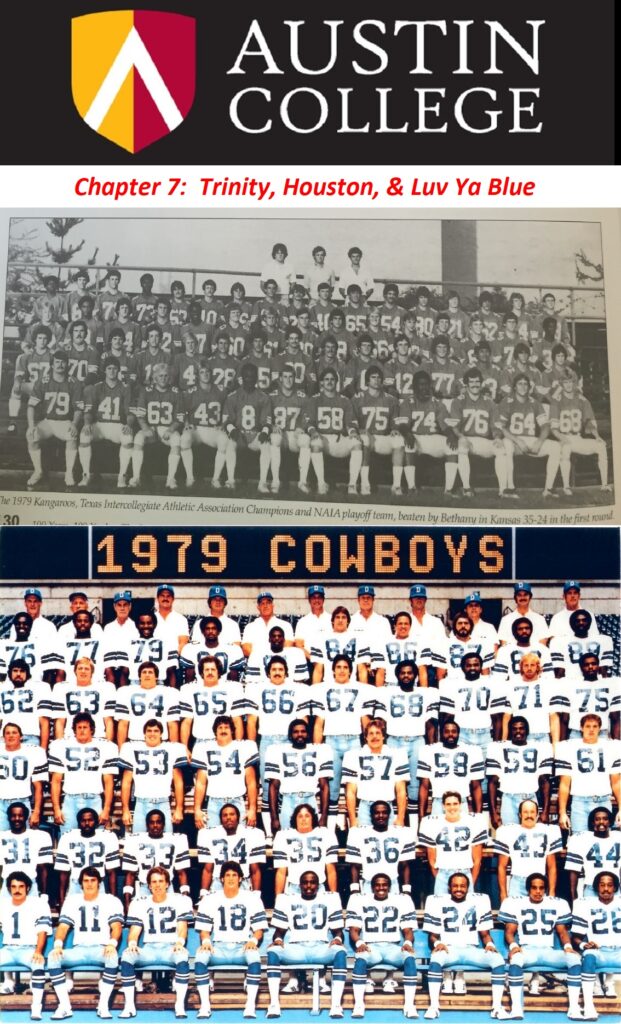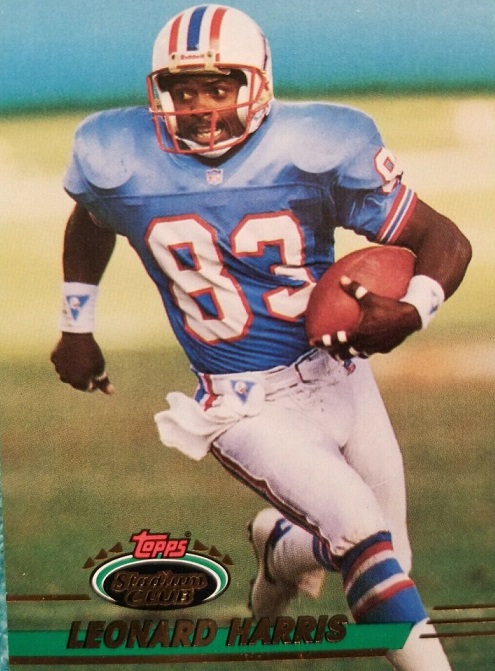 The 1979 Cowboys, riding high at the season's midpoint, began to stumble. A loss at Pittsburgh brought back memories of the defeat to the Steelers in the previous year's Super Bowl. That game was followed by two NFC East defeats, at home against Philadelphia and on the road against Washington. Suddenly, the Cowboys stood at 8-4 and found themselves trailing in the race for the NFC East title. A home game at Texas Stadium against the surging Houston Oilers would bring no respite. Houston defeated Dallas 30-24, dropping the Cowboys to 8-5. The victory by the Oilers led to a raucous locker room celebration by Houston Coach Bum Phillips.
Bum Phillips was a player before he was a coach. After service in World War 2, he enrolled at Stephen F. Austin University in Nacogdoches. Phillips played on the defensive line for the Lumberjacks, leading his squad to a seven-win season in 1948. That season also included a victory over the visiting Kangaroos of Austin College. In the 1949 SFA yearbook, a photo of a Phillips tackle is captioned: "Phillips goes high to bring them low – Wilson and Jones rush to give assistance." The opponent in the photo is unmentioned, but it may very well be Austin College.
While Dallas was slumping, AC was rolling. Trinity came to Sherman, and former-Roo-now-Tiger QB Karl Meisenbach came looking for revenge after the humiliating defeat at the hands of his ex-teammates in San Antonio. He would find none of it, as AC won easily 35-6. Much of the credit went to the AC Offensive line led by Brent Hollensed, Ty Quick, Bill Leonard, Mike Papas, and Julius Bell. Don Parnell, an offensive line starter on the 1981 championship team, wrote the following about Quick and Bell:
"Ty Quick and Julius 'Big Ju' Bell were dominate players. Coach Kramer loved to call screen passes. We had the tailback screen right or left but Ty and Big Ju talked to Kramer about faking the tailback screen left (which had three offensive line and out front) and then throwing a fullback screen right with Big Ju leading the way. Now if you ever want a guy leading you it's Big Ju. He has that nickname for a reason. Big bad Rob Simeone was our fullback, and he was a hoss. This play was a huge success when we first ran it against McMurry, and it completely opened up our screen game and put the opposing defenses on their heels. This was all due to a few very smart football players and a coach who would listen to his players!"
From 100 Years, 100 Yards – The Story of Austin College Football:
"[Larry] Shillings threw 44 yards to a flying Steve Sullivan for the second six. Shillings fired a 30-yarder into the teeth of a 35-mile-per-hour north wind, and as the ball faltered, [Clayton] Oliphint came back unseen by the Trinity defender, caught it, and stepped into the end zone. [Kelly] Hyde was knocked out of bounds at the one on a second-and-25 middle screen pass before Bob Simeone bounced across the goal line. Kyle Byrd relieved Shillings in the fourth and guided the Kangaroos to a TD with Turner picking up the final 17 steps."
The red shirt pride (RSP) defense as usual deserved a lion's share of the credit for the win.
"Again, it was the defense. [Mark] Sartain pounced on a Tiger miscue in the end zone for six for the first score. [Trinity QB Karl] Meisenbach had a tough day against his old teammates with three completions in 11 attempts for only 35 yards, two sacks, and two interceptions. [Mark] Howeth and Mike Gollahon had the sacks, and Ronnie Roberson and [Jimmy] Curry had the interceptions. [Wilson] Renfroe went five for five on extra points and punted three times for a 52-yard average including an AC record 76 yarder. [Leonard] Harris had a fumble recovery."
From Roo kicker Wilson Renfroe: "Our defensive line was unique. We played a 52 defense with three down linemen and two stand up defensive ends. The tackles were excellent, Mike Gollahon (Doug's bother) and Larry Hickman. At nose guard was Mark Sartain. Mark was less than 6 feet tall and was kinda built like Robert Newhouse of the Cowboys. What he lacked in size, he made up for in quickness and determination. The heart of the defense was the linebacker duo of Price Clifford and Mark Howeth. Both were good sized linebackers and would get up right on the line of scrimmage in front of the offensive guards and dare the other team to try to run the ball on them. Most teams couldn't. The secondary was solid and led by free safety Chris Luper. Ronnie Roberson played strong safety and was a great hitter. Jimmy Curry was one corner. The other corner is an interesting story. His name was Leonard Harris."
Defensive Back Leonard Harris, nicknamed "Frog" by his teammates, led the Roos with 8 interceptions in 1979. The entire Roo defense collected 30, an NAIA D2 record. The Kangaroo newspaper ran an article on Harris during the campaign, with a headline of "Harris Called 'Outstanding' Football Player:"
"In a little over four weeks since reporting to football workouts, Harris has earned the respect of not only his freshmen peers but also that of the upperclassmen as well. 'Harris is the strength we needed at the cornerback position to solidify our pass defense,' said senior linebacker Mark Howeth. 'And his amazing jumping ability will surely be an asset to him intercepting some passes most cornerbacks wouldn't even have a chance at." Bob Simeone, a senior fullback who has played four years at Austin College said of Harris, "in my four years here I have never seen a freshman athlete mature as fast as Leonard. He plays well under pressure and makes the big plays for us when we need them. He certainly has a big future ahead of him."
Indeed. Harris transferred to Texas Tech in 1980 and starred for the Red Raiders. His efforts in Lubbock elicited the interest of the newly formed USFL and eventually the NFL's Houston Oilers. From 1987 to 1993, Harris was an integral part of the Warren Moon receiving corps which guided the Oilers back to the winning era of the "Luv Ya Blue" Bum Phillips days of 1979. In 1989 on Monday Night Football, a Moon-to-Harris TD pass helped seal a win in front of the largest crowd in Astrodome history.
As the Cowboys and the Roos entered the 1979 home stretch, unfinished business remained. Dallas had three straight NFC games to play against New York, Philadelphia, and Washington. An NFC East title awaited if the Cowboys could run the table. Both Austin College & McMurry stood atop the TIAA leaderboard. McMurry, the preseason TIAA favorite, began planning their 1979 Homecoming in Abilene: a showdown against the Roos for first place in the conference. The contest would, in short, be the biggest Austin College football game of the decade.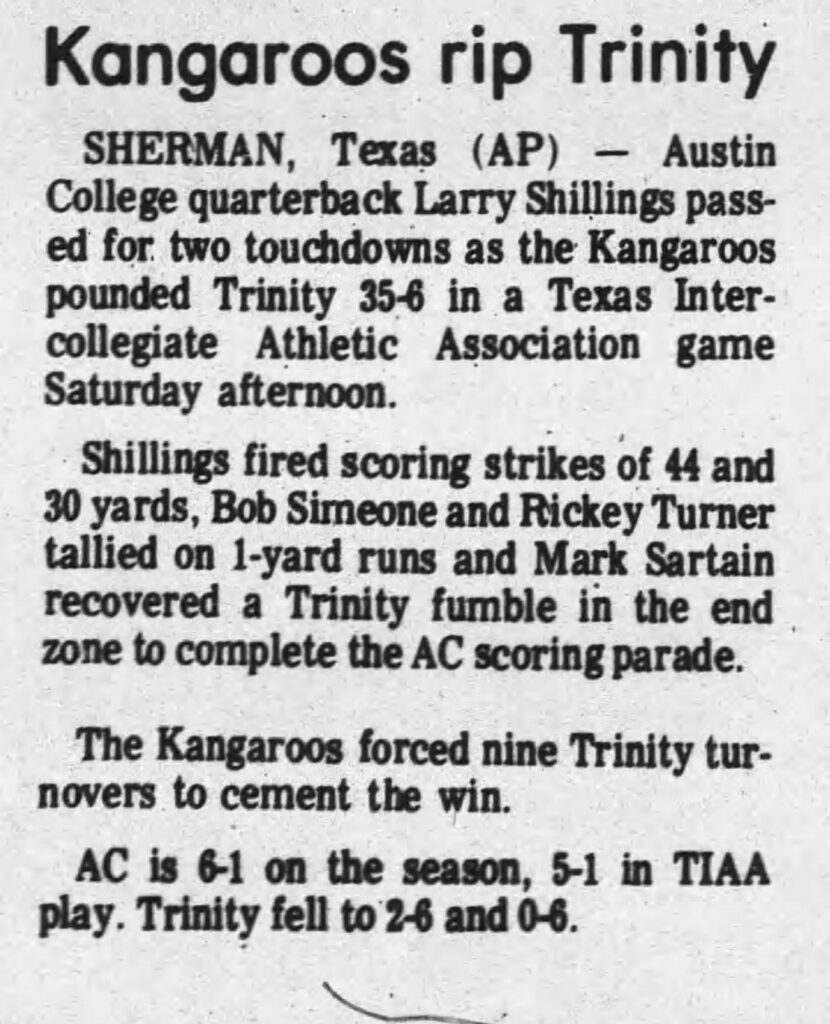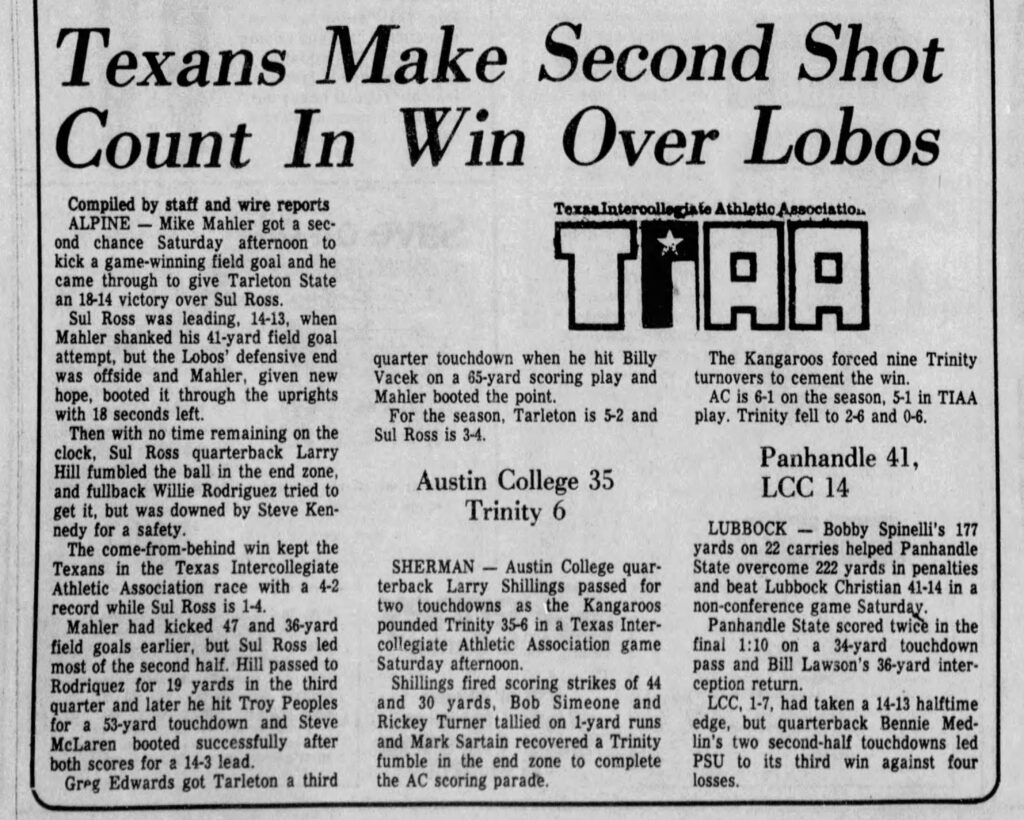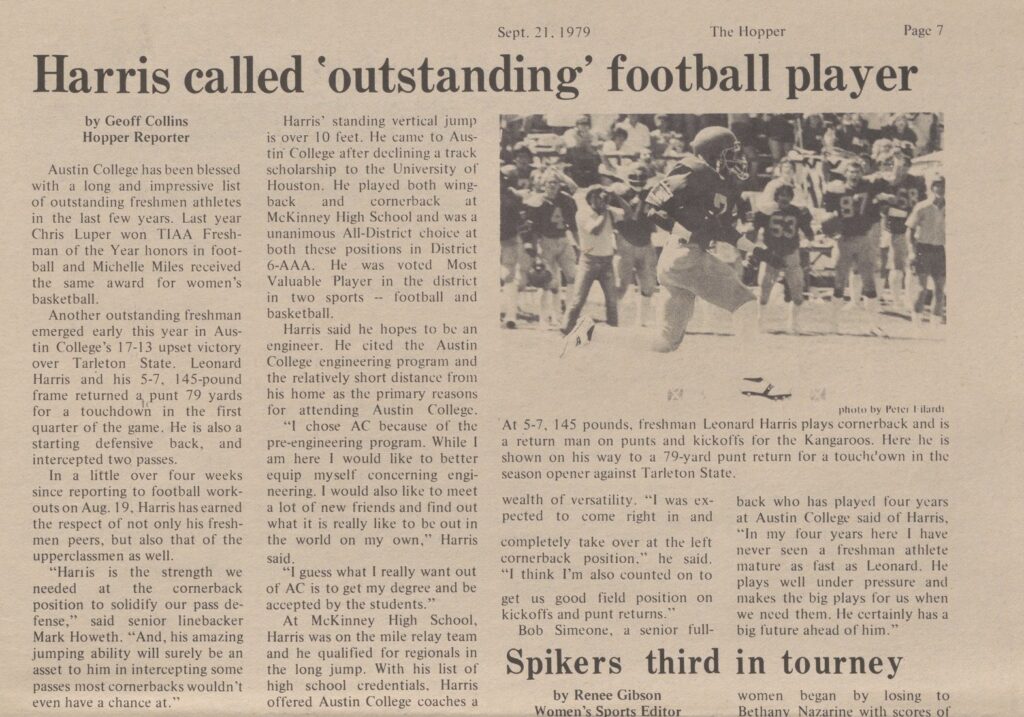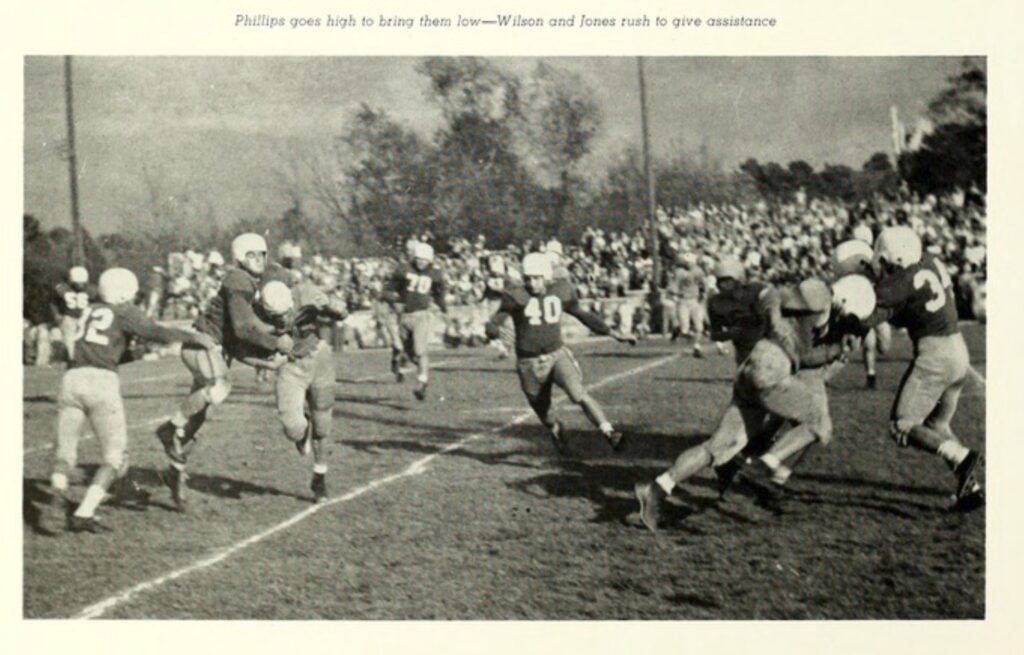 Chapter 8: McMurry, New York, & Ron Kirk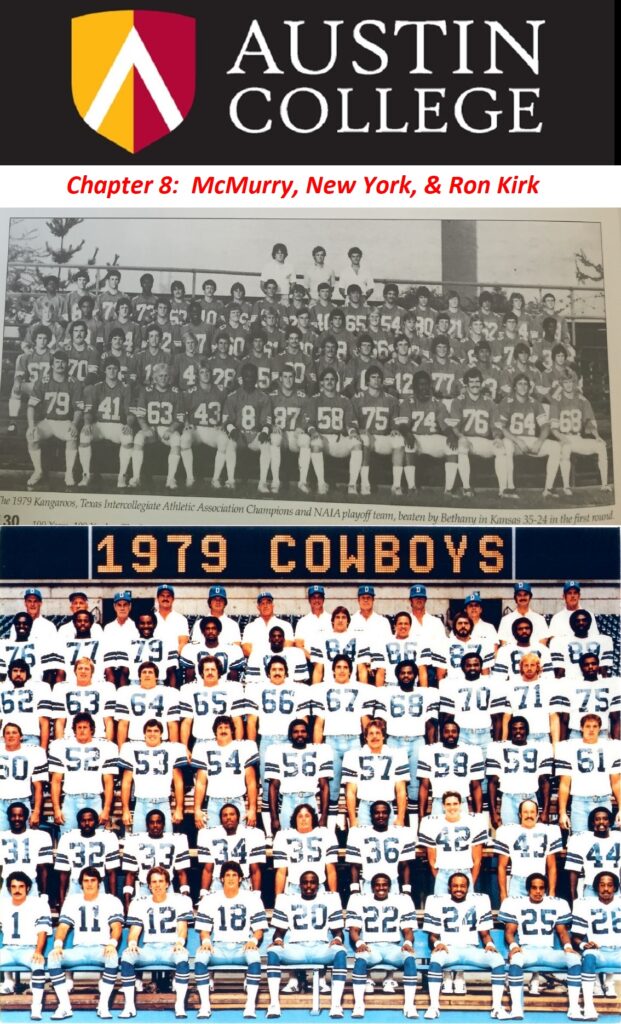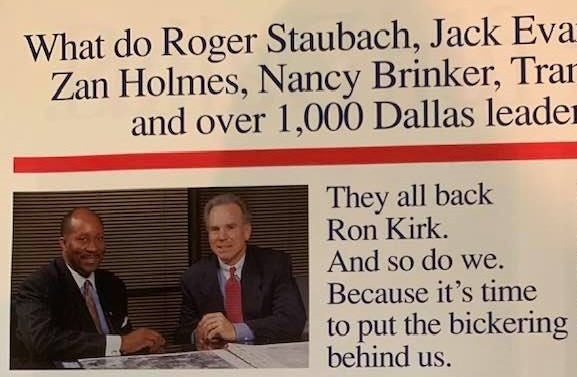 Austin College's Ron Kirk was a fan of the Larry Kramer AC teams of the mid-1970s. Kirk, an AC political science major on his way to law school, was a cheerleader who knew how to motivate a crowd to prepare them for a title celebration. For the 1979 Roos, that title was now in sight. From "100 Years, 100 Yards: The Story of Austin College Football:"
"It was a showdown in Abilene. McMurry and Austin College were tied for the loop lead with one loss each. The dressing room tension just prior to kickoff was tight. Stomach butterflies were running in herds. Guard Brent Hollensed was in the john loudly throwing up. [Coach Larry] Kramer, nervous as any and trying not to show it, pointed toward the suffering Hollensed and challenged, "Why can't the rest of you be like him?"
The 1979 game at McMurry was HUGE. So huge, that numerous pictures and stories can be tied to it. The story of Hollensed losing his lunch pregame is just one. The imposing pic of linebacker Price Clifford before a snap? That pic comes from the McMurry game. The sight of Larry Kramer firing up his players at half time also comes from the 1979 McMurry game. 1968 offensive lineman Keith Johnston is well known for his photography of Roo football. The game was so big that Johnston made 1979 AC-McMurry his very first effort at photographing Roo football. There was every expectation that this game would come down to the wire for this Roo team on a tightrope.
It didn't happen.
"The Kangaroos came home in first place with a solid 19-0 shutout. The offense managed only one touchdown, but a TIAA record-setting four field goals by [Wilson] Renfroe provided the cushion. The Kangaroos defense, tops in NAIA Division 2, kept McMurry from any serious threat in the first half. A [Leonard] Harris' interception just before intermission preceded a [Larry] Shillings throw to [Steve] Sullivan to the nine and to Doug Gollahon for the TD. A Price Clifford interception set up Renfroe's third field goal. [Chris] Luper and Harris added interceptions to Clifford's pick. Mike Gollahon had two sacks, and [Jeff] Broyles, [Kevin] Woodrow, and [Paul] Gardner had one each. Luper, Woodrow, [Mark] Howeth, and Clifford had seven tackles each." If ever a Roo defense earned the moniker "Red Shirt Pride," it was the first-in-the-nation AC defensive unit at McMurry in 1979.
From Roo kicker Wilson Renfroe: "The de facto TIAA conference championship game was set against McMurry in Abilene. By this time, we were a very confident team, but not overly so. It was our turn to have the revenge factor on our side. There was a quiet confidence we all had going into this game. This was a game for the defense. McMurry could do nothing on offense, not because they were inept, but because our defense was that good. We won the game 19-0, and it wasn't that close. I kicked a conference record four field goals and was named TIAA Offensive Player of the Week. It was a great feeling to feel that I had significantly contributed to our win that day. We were a happy bunch of Roos that day!"
Linebacker Price Clifford would finish the 1979 season has an NAIA All-American. The 6'1" 225-lb. senior led the red shirt pride defense with 104 tackles that year and was tied with future Houston Oiler Leonard Harris for team interceptions with seven. The Kangaroo newspaper reported the All-American selection, noting that "midway through the season, [Clifford] had a consecutive streak of four games in which he had at least one interception." The Roo paper ran with the imposing photo of Clifford in the AC victory at McMurry.
The entire New York Giants team gathered at midfield of Texas Stadium to intimidate the Dallas Cowboys, but the tactic failed. Roger Staubach connected with Drew Pearson for three touchdowns, and Tony Dorsett added a fourth in the waning moments to seal a 28-7 victory for the Cowboys. Safety Cliff Harris had an interception as the Doomsday Defense held Giants QB Phil Simms to 0 touchdowns and just 130 yards in the air. With the win, the Cowboys found themselves in a second-place tie with Washington and just one game back of Philadelphia. An NFC East title awaited with wins over both teams in the final two weeks.
Ron Kirk left Sherman for the rough and tumble world of politics. He worked for Texas Senator Lloyd Bentsen in the 1980s and Governor Ann Richards in the early 1990s, before embarking on a campaign for Dallas Mayor in 1995. Running with the support of a coalition that stretched from leaders of the city's African American community to the Dallas business community, Kirk was elected with 62% of the vote. His successful tenure in the mayor's office was rewarded by the city's citizens when they returned him to the office in 1999 with a landslide 74% of the vote. Instrumental in helping to elect Kirk in 1995 was the endorsement of one Dallas citizen in particular: former Cowboys quarterback Roger Staubach.
Green Bay had defeated Don Meredith and the Dallas Cowboys for the NFL championship during the infamous 1967 "Ice Bowl." Dallas Mayor Ron Kirk helped to atone for that loss in 1996 when he challenged the mayor of Green Bay to a bet when the Packers & Cowboys met in the 1995 NFC championship game. Dallas won, and the Green Bay mayor was forced to wear Dallas silver & blue at the next Green Bay city council meeting. "I hate it," said Green Bay Mayor Paul Jadin. "I just despise Dallas today. I would have rather lost to the [Packer rival] Bears than the Cowboys."
The Cowboys were America's team once again in the early 1990s, when Emmitt Smith helped Dallas win Super Bowls in 1993 and 1994. Both celebratory parades were marred with controversy: the 1993 parade had led to mayhem and arrests; the Dallas PD was criticized for heavy handedness during 1994 parade. In 1996, the Cowboys won their third Super Bowl in four years. Mayor Kirk was determined to throw a Cowboys party that reflected the compromises of his political coalition. "It was an astounding and unqualified success," Kirk said of the 1996 Cowboys parade, which was attended by an estimated 125,000 fans. "It wasn't too boring, it wasn't too hot. We finally reached that happy medium."
Mayor Kirk ran for the U.S. Senate in 2002 and was appointed U.S. Trade Representative (USTR) in 2009. No doubt applying the Ricardian lessons learned from a Dr. Hugh Garnett class at Austin College, Kirk was America's primary advocate for global, integrated commerce during the first decade of this century. Mayor Kirk recently reunited with his USTR boss on the golf course in Dallas; to complete their foursome on the links, the two choose former Dallas Cowboys quarterback Tony Romo and running back Emmitt Smith.
The McMurry game, the most important of the decade, began poorly for lineman Brent Hollensed. The All-American was throwing up pregame because of the magnitude. But the ending would be sweet. Of all of the excellent Keith Johnston photos of the win at McMurry, his best pic shows the final moments as the Roos are running out the clock. The team is celebrating, arms raised in triumph. AC cheerleaders are exuberant, yelling towards Roo fans who made the trip to Abilene. And in the center of the photo is Brent, hugging Assistant Coach Sig Lawson in celebration.
The 1979 Roos had two games left to play over two weeks, a non-conference matchup against Millsaps and a showdown with Sul Ross to decide the TIAA title. A loss to the Lobos would allow McMurry to earn a conference co-championship and perhaps steal the NAIA D2 playoff berth from Austin College. A victory, however, would allow AC to earn the TIAA title outright and advance to the NAIA playoffs for the first time in school history.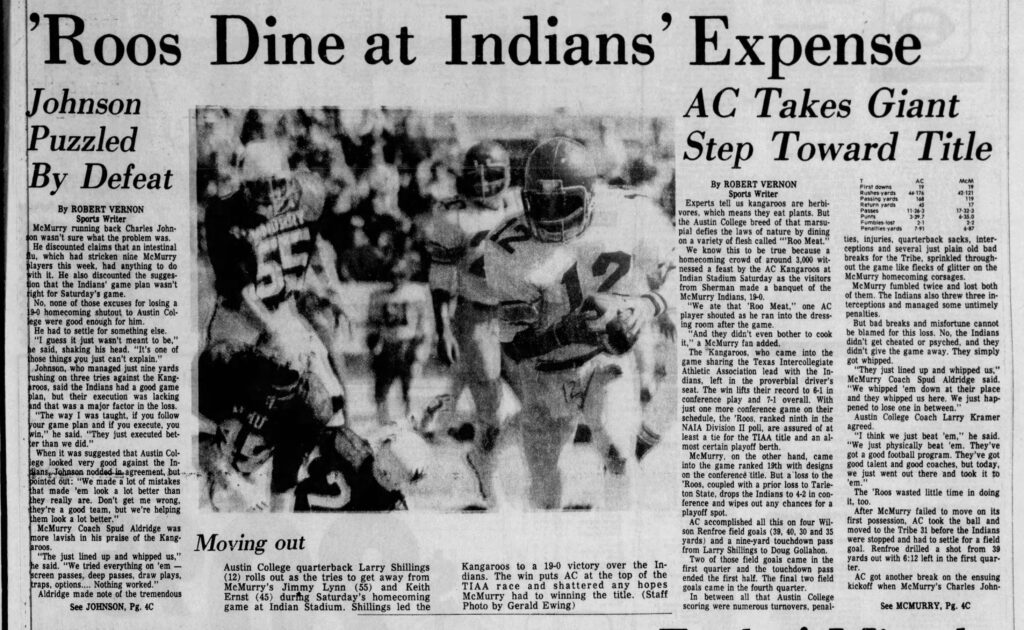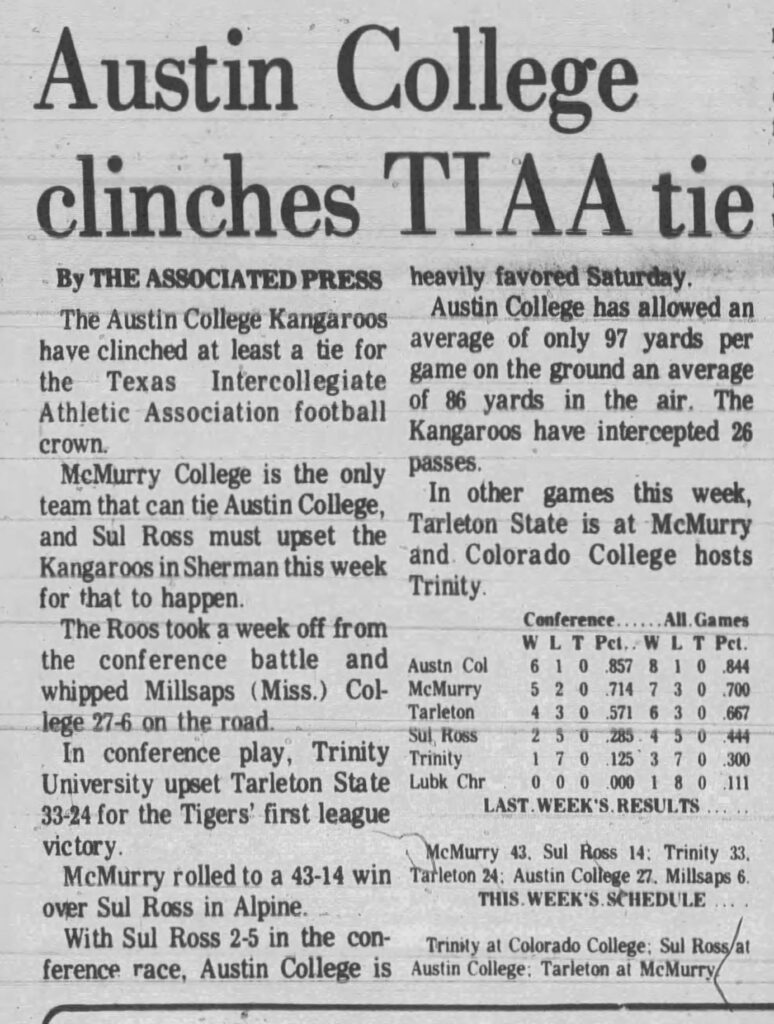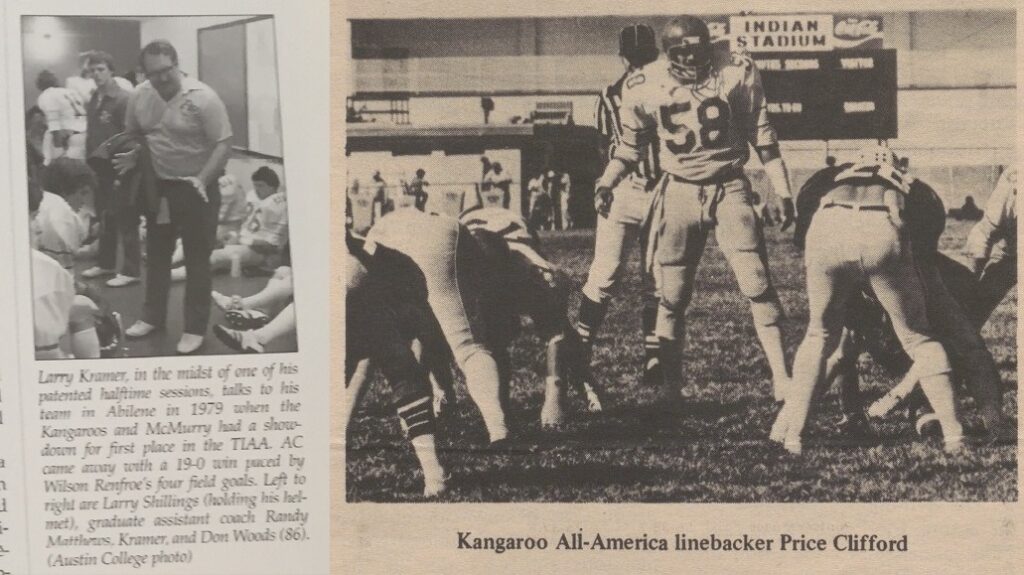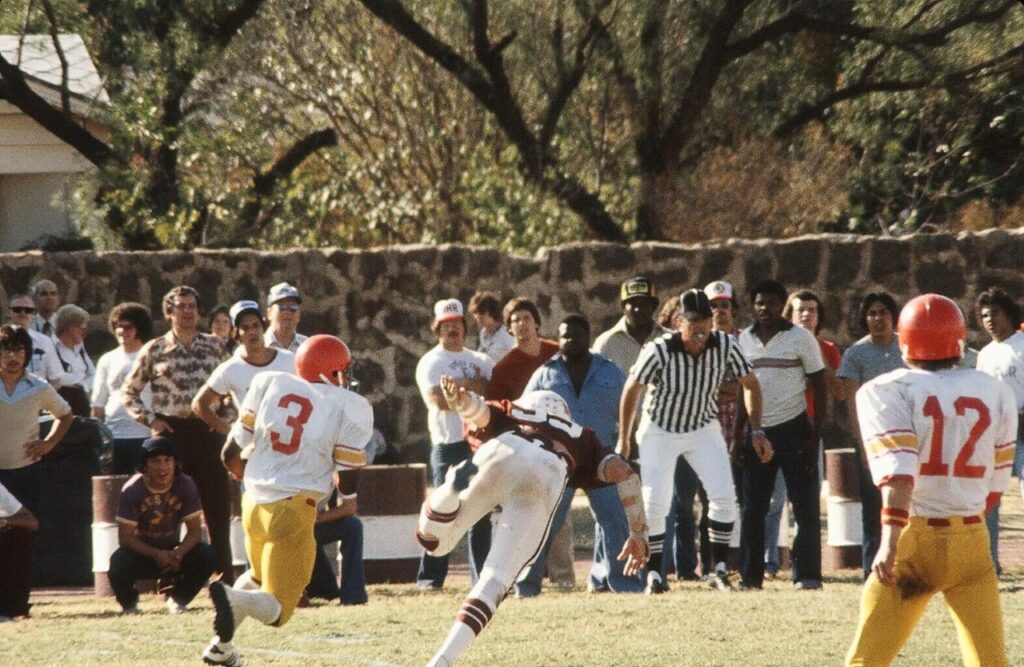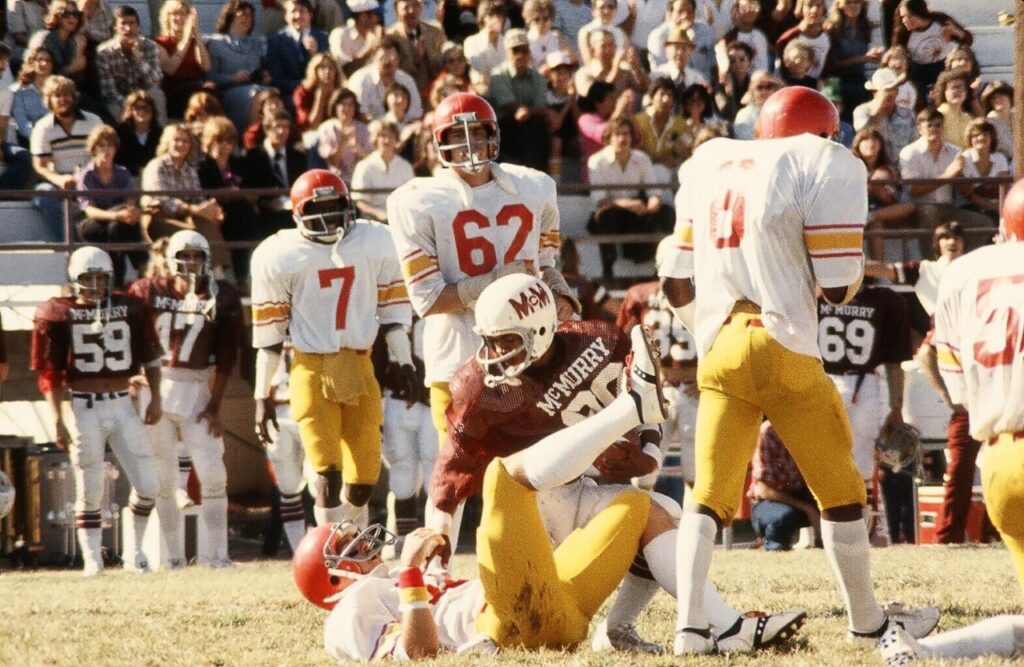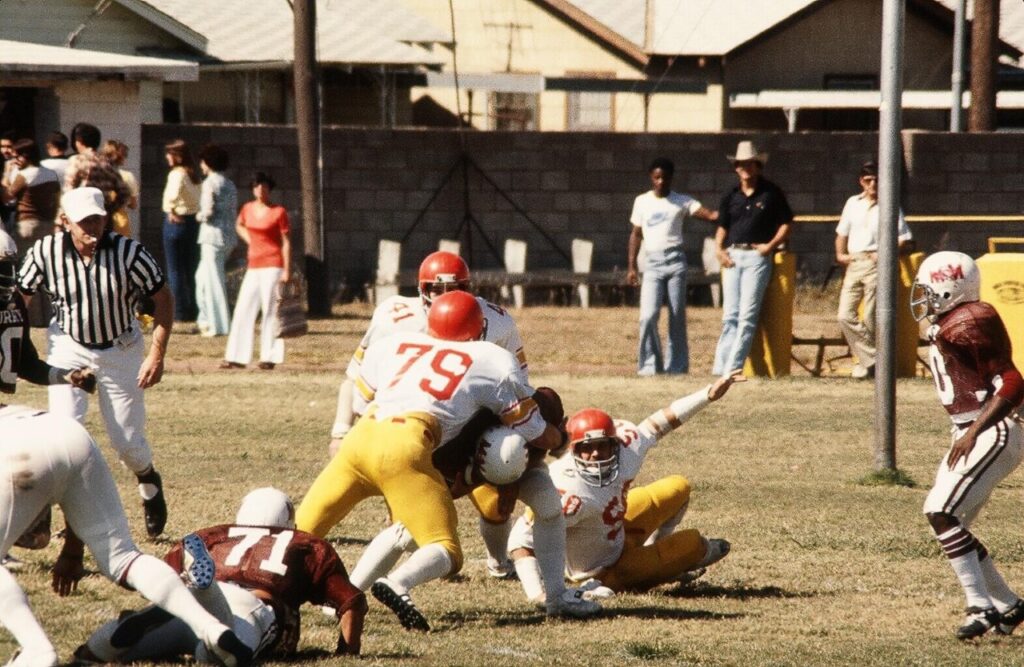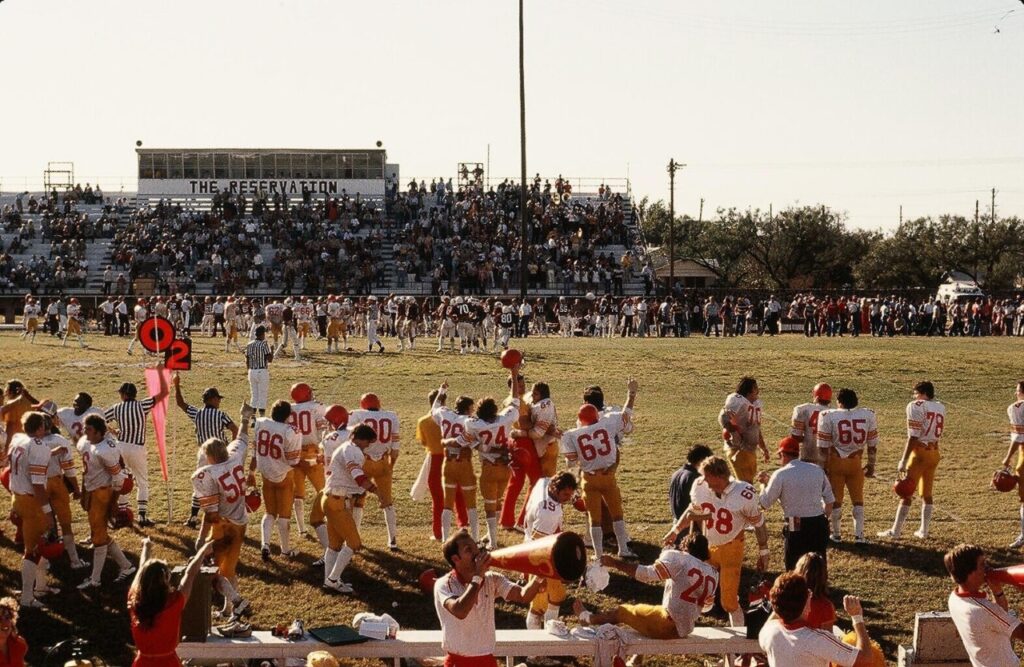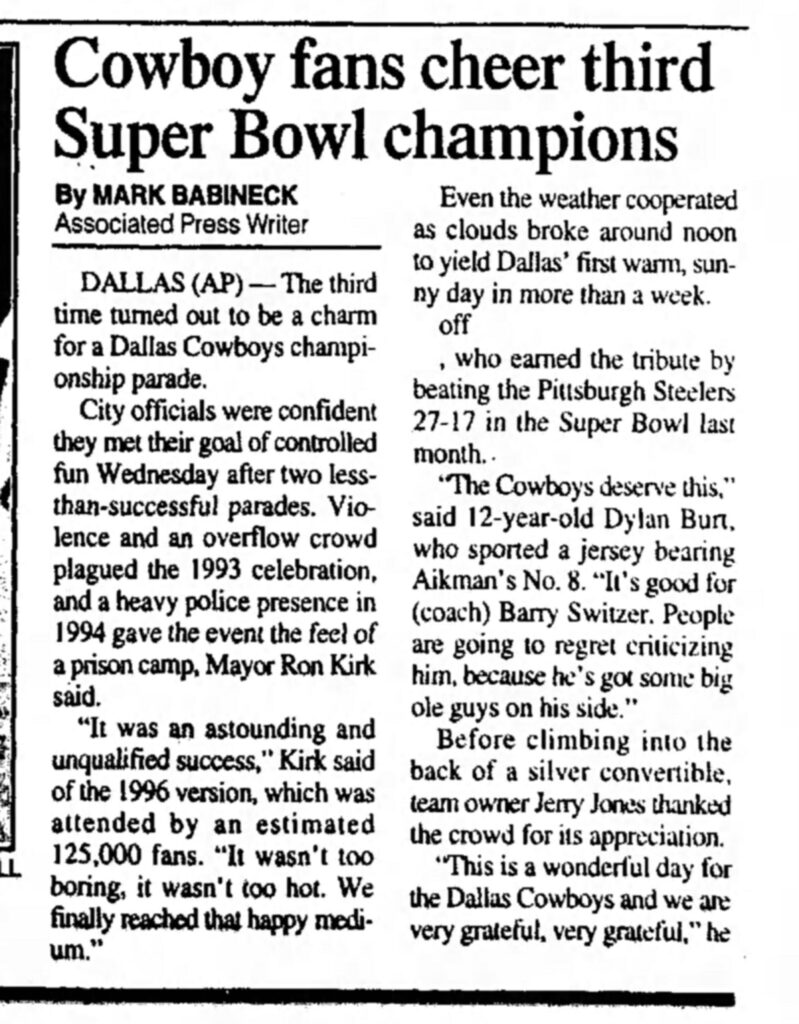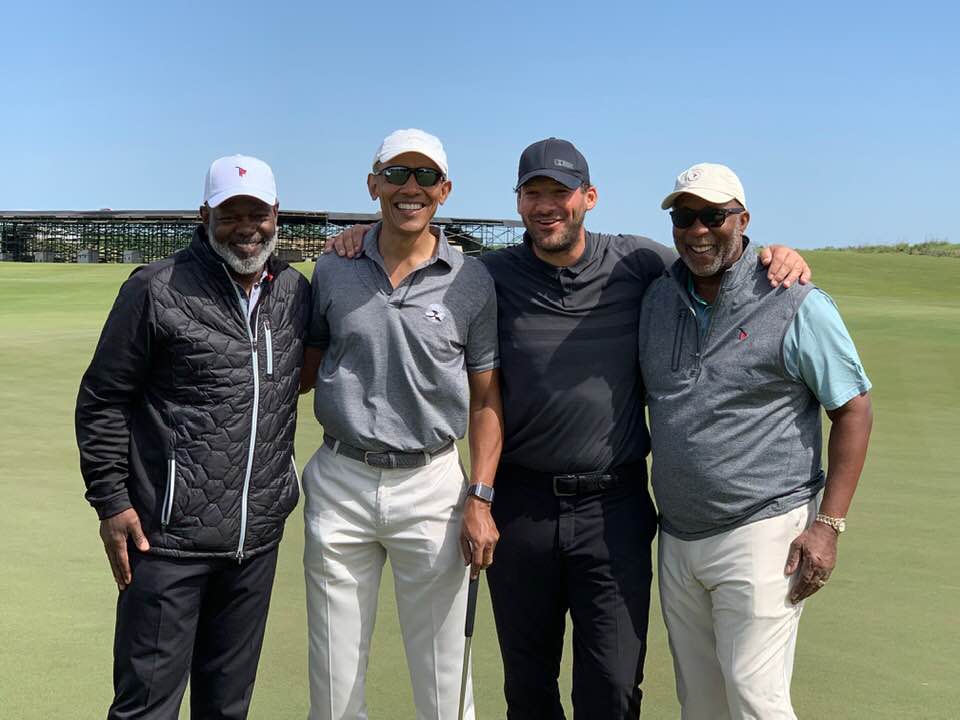 Chapter 9: Millsaps, Philadelphia, & Vance Morris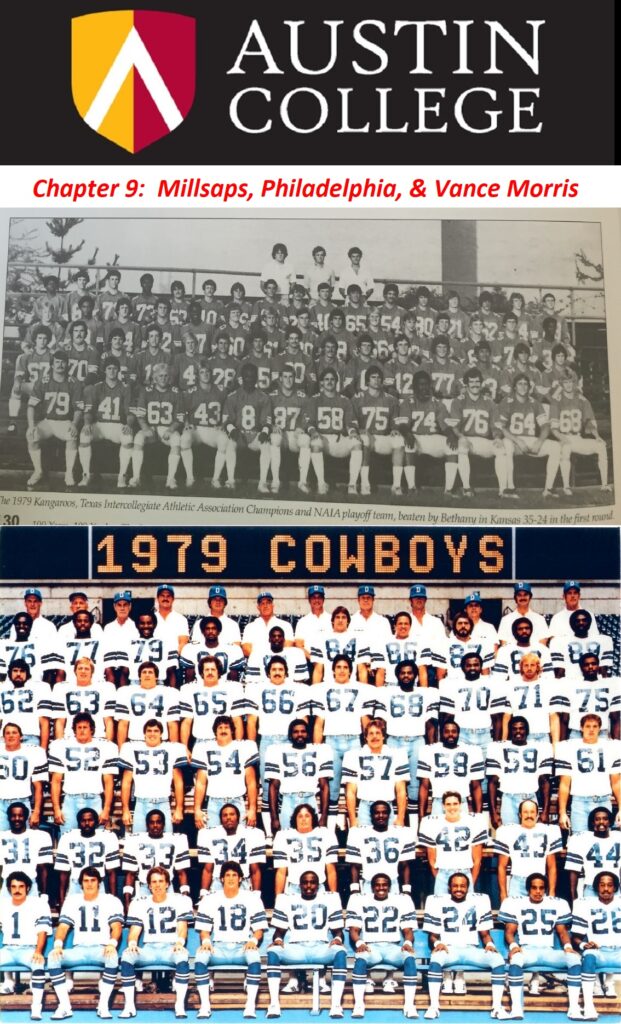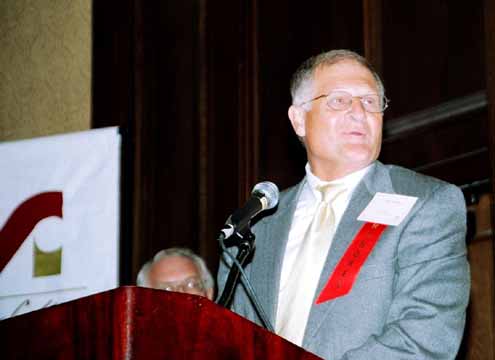 If anyone deserves credit for Austin College's #1 nationally ranked NAIA D2 defense in 1979, it is surely Roo Defensive Coordinator Vance Morris. Morris played his football in Missouri; in 1959, he was a teammate of future AC Offensive Coordinator and Kansas State Coach Bill Snyder while playing for the William Jewell Cardinals. That team would not be the only Cardinals squad in Missouri for whom Morris would play.
The 1968 movie "Paper Lion," starring Alan Alda as George Plimpton, tells the story of a quixotic attempt by a Sports Illustrated writer to try his hand at professional football. The movie concludes with the writer playing quarterback in a preseason game against the St. Louis Cardinals. St. Louis defensive back Jerry Stovall, a Heisman trophy runner up at LSU, was asked to do the movie. When Stovall declined, the Paper Lion producers instead asked Stovall's Missouri neighbor Vance Morris. Morris accepted, even donning Stovall's Cardinal jersey #21. Morris can be seen in the movie in St. Louis Cardinal red, pursuing actor-turned-quarterback Alan Alda.
By 1979, the work of Vance Morris in building a "Red Shirt Pride" defense was near culmination. The 1979 AC defense gave up the fewest yards per game in NAIA D2 and would set the all-time national record for most interceptions in a season. After the shut out of McMurry, Austin College found itself all alone in first place in the TIAA. One final contest to clinch the conference remained, a home game against Sul Ross. But before that match up, the Roos would travel to Jackson, Mississippi for a non-conference game against Millsaps. There, Morris would briefly cross paths with his former Missouri neighbor Jerry Stovall once again.
The Millsaps Majors Stadium sits across the street from Mississippi Veterans Memorial in Jackson, and two football games took place simultaneously in November of 1979: Austin College vs. Millsaps, and LSU vs. Ole Miss. Vance Morris was an assistant for the Roos; Jerry Stovall, the St. Louis Cardinal Morris portrayed in "Paper Lion," was an assistant for his alma mater LSU. Stovall was just one year away from being promoted to LSU Head Coach.
The Morris-led Roo defense dominated Millsaps, sparking a 27-6 win. The only Millsaps touchdown came on a late fourth quarter score when the game was out of reach. Mark Howeth, Price Clifford, and Leonard Harris each had an interception, allowing the 1979 defense to set an AC record for most interceptions in a season. Chris Luper led all tacklers with 13. Larry Shillings went 16 of 31 for 288 yards, throwing for touchdowns of 49 yards (to Steve Sullivan), 45 yards (to Rory Dukes), 19 yards (to Kelly Hyde), and 11 yards (to Clayton Oliphint). Morris' neighbor across the street, Jerry Stovall, also got the win; LSU defeated Ole Miss 28-24. From the Kangaroo newspaper:
"Austin College casually put 21 points on the board in the second quarter as quarterback Larry Shillings threw three of his four touchdown passes of the day in the quarter. In the scoreless third quarter, the Kangaroos intercepted two passes to tie and break the school record for interceptions in a season. AC now has 26 on the season, breaking the old record of 25 set in 1966. Linebacker Mark Howeth picked off a pass in the second quarter to set up the record. Linebacker Price Clifford, who now has seven on the season, tied the record in the third quarter and cornerback Leonard Harris broke the record with his sixth interception of the season."
The simultaneous AC / LSU wins also provided a moment of levity. From "100 Years, 100 Yards: The Story of Austin College Football:"
"Freshman linebacker Randy Sims was having his problems [in coverage]. As Sims came off the field after a defensive series, [Coach Larry] Kramer jerked his headset off and bellowed:
Kramer: "Sims, get on the curl!"
Sims: "I'm trying, coach."
Kramer: "Sims, GET ON THE CURL!"
Sims: "I would if I could, coach."
Kramer: "Sims, at least be an athlete."
Someone on the bench: "If he was an athlete, coach, he'd be playing across the street."
The hopes of the Dallas Cowboys season were still alive after the victory over the New York Giants at Texas Stadium. But the 1979 NFC East Title ran through first-place Philadelphia, and Dallas had to have the win. They got it, in a hard fought 24-17 victory. A Robert Newhouse touchdown put Dallas up for good in the 3rd quarter, and a Roger Staubach-to-Butch Johnson TD pass on a deflection sealed the win for Dallas. Having dispatched both the Giants and the Eagles, the Cowboys returned home for the season finale at Texas Stadium against Washington.
From narrator Jon Facenda of the 1979 Dallas Cowboys NFL Film "Team on a Tightrope:" "Nothing ever comes easy against the Washington Redskins, as the Cowboys turned the last game of the year into the most exciting and dramatic of the 1979 season." In fact, the game would arguably be the most famous in Dallas Cowboys history.
Hopper Hysteria was at its peak as the Roos returned home for the season finale. From the Kangaroo newspaper:
"After the Millsaps game, the Kangaroos are now set for Charter Week: Homecoming activities and a conference battle with Sul Ross. A victory over the Lobos will give the Hoppers their first ever TIAA championship and will likely result in an NAIA playoff bid to be extended to AC. The playoff bid will give the Kangaroos a legitimate shot at the national championship."
The Kangaroo newspaper began entertaining that national championship in an article entitled "NAIA Playoffs: AC May Play:"
"Over the past few weeks, the topic of a national playoff berth for the Kangaroos has come up more than once on the Sherman campus. How well would the Hoppers stack up against the top teams in the nation? NAIA D2 is comprised of four geographical areas in the United States. The top team in each area will automatically receive a playoff berth. In AC's area, that would be the nation's #1 ranked team: Bethany (Kansas). Bethany is undefeated and can clinch their spot with a victory Saturday. The Roos may face Bethany in the [NAIA playoff] quarterfinals."
With the win against Millsaps, AC moved to 8-1 and climbed to 6th in the NAIA D2 national poll. The Roos enjoyed a one game lead over McMurry heading into the final conference game at home against Sul Ross. With a loss to the Lobos, McMurry could still earn a TIAA Co-Championship and perhaps squeak by AC for the conference playoff berth with a higher NAIA D2 national ranking. AC looked to eliminate all hope for McMurry in that season finale by earning the conference title outright and putting an exclamation point on what had become an incredibly successful season. Hopper Hysteria would be out in force, and ready to celebrate a championship.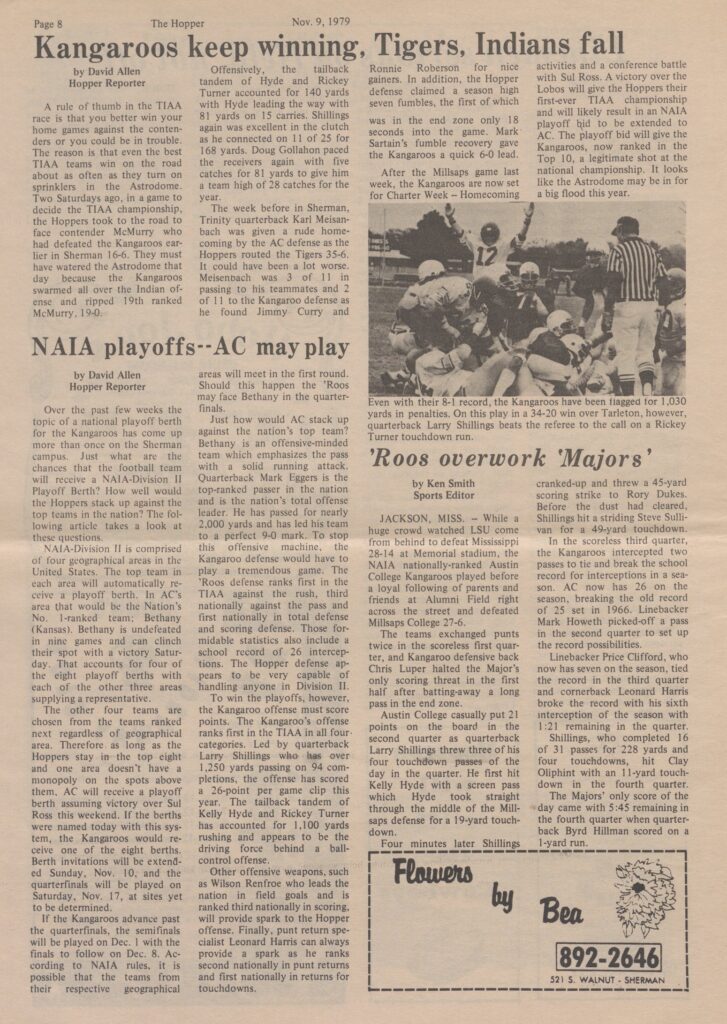 Chapter 10: Sul Ross, Washington, & the Champions of 1979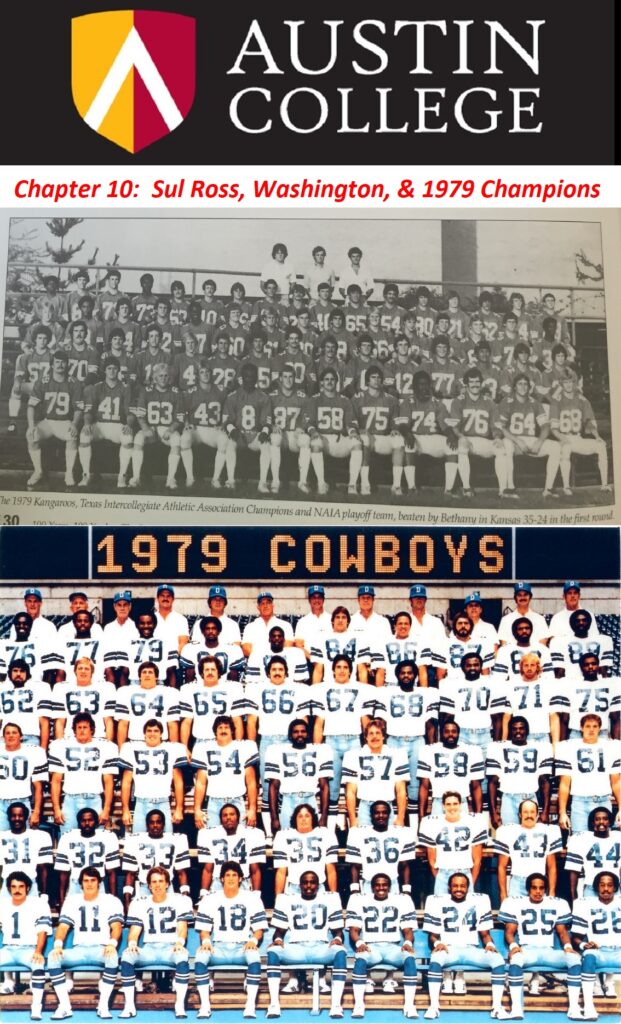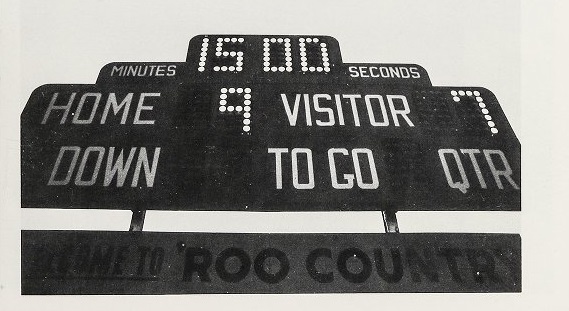 Hopper Hysteria was all around campus in the second week of November 1979. Defending TIAA champion Tarleton and preseason favorite McMurry had been dispatched. The Roos stood at an impressive 8-1. And all that remained for Austin College was a season ending win on November 12th against Sul Ross to earn their first TIAA conference crown. The Lobos would not make it easy.
A strong Sul Ross defense limited AC to just a single Wilson Renfroe field goal in the first half. A third quarter Lobo touchdown gave the visitors a 7-3 lead after 3 quarters. With a loss, McMurry could still earn a conference co-championship and perhaps the NAIA D2 playoff berth. After a long season on the tightrope, the fourth quarter of the season's final game would have to "belong to the Roos" if AC hoped to earn that championship. One final comeback was needed.
Austin College got the ball back in the fourth quarter with just over 10 minutes remaining and began the drive for a title. Leonard Harris, an all-star all season returning kicks, returned a punt to the Sul Ross 47. Running back Ricky Turner carried the ball six consecutive times behind Bell, Hollensed, Shuttlesworth, Papas, and Ty Quick to move AC down to the six. A Larry Shillings scramble from the six-yard line found the end zone. Sul Ross never threatened again.
From Roo kicker Wilson Renfroe: "Our last regular season game was in Sherman against Sul Ross. It was a very cold, gray day in North Texas that day. We had beaten Sul Ross fairly handily in Alpine a handful of weeks ago. Sul Ross came to Sherman very ready to play and we had a fight on our hands. This was another game for the defense, as they help keep the Lobos in check all day. The offense struggled to move consistently, but we won the game 9-7. A W is a W, and we'll take it!! We were the 1979 TIAA Conference champions, something that probably nobody anticipated in August or September."
Final Score: AC 9, Sul Ross 7. The 1979 Roos were TIAA Conference Champions. The Victoria Advocate ran a big headline on Sunday: "Austin College wins TIAA Title." The 1979 Austin College yearbook included a photo of the final score on the Louis Calder (now Jerry Apple) stadium scoreboard.
Down in Dallas, the Cowboys prepared for their own do-or-die game at Texas Stadium. Dallas hosted Washington in the regular season finale. The winner would earn the title of NFC East Champion. Like Sul Ross in Sherman, Washington was also not making it easy.
From narrator Jon Facenda of the 1979 Dallas Cowboys NFL Film "Team on a Tightrope:" "Nothing ever comes easy again against the Washington Redskins, as the Cowboys turned the last game of the year into the most exciting and dramatic of the 1979 season. Trailing 17-0 in the second quarter, their hopes for a championship appeared hopelessly lost."
The Cowboys had already overcome a 17-0 deficit early but fell behind again 34-21 late in the fourth quarter after a 66-yard TD run by John Riggins with 6 minutes remaining. But that's when Roger Staubach, a.k.a. "Captain Comeback," launched his most improbable of comebacks. Brad Sham, the "Voice of the Cowboys," wondered aloud if the impossible could happen. His color commentator, the injured safety Charlie Waters, certainly thought the answer was yes.
Brad Sham: "Only 2:38 left in the game. Can it happen again? Can they come back again?"
Charlie Waters: "You gotta believe Brad."
The Dallas offense came alive as Staubach connected on three straight passes, the last a 26-yarder to Ron Springs for a touchdown with just over 3 minutes remaining. Dallas needed a stop and got it, thanks to a key tackle by the Doomsday Defense:
From narrator Jon Facenda of the 1979 Dallas Cowboys NFL Film "Team on a Tightrope:"
"The defense believed, as a key play by Larry Cole on 3rd-and-2 turned the ball back to this team on a tightrope and primed the greatest comeback in Dallas Cowboys history."
Washington was forced to punt, and the Cowboys got the ball back down 6 on their own 25-yard line with 1:46 to play. The last Cowboys drive of Roger Staubach's last season would be one of the most defining of the franchise.
Staubach connected with Tony Hill for 20 yards, and then hit Preston Pearson for 22. A second pass to Pearson for 25 yards brought the Cowboys down to the 8-yard line with 45 seconds left. Color Commentator Charlie Waters captured the mood from the booth: "You gotta love 'em. You gotta love the Cowboys. They're the most exciting team in the NFL. They can pull it out!"
Staubach took one step back and lofted a high, arching pass to the corner of the end zone. Tony Hill beat the corner, hauled in the toss, and celebrated arms raised in front of a delirious Texas Stadium crowd. Sham had the call: "Staubach throwing in the end zone. Tony Hill! Touchdown, Tony Hill! Oh, the stadium goes wild. The Cowboys have won the East! This place has gone berserk."
Earlier in the Roo season, AC stood in second place at 3-1 with a loss to preseason favorite McMurry. But six victories later, the Austin College Kangaroos stood alone atop in the TIAA. Earlier in the Cowboy season, Dallas stood in second place at 8-5 with losses to both Philadelphia and Washington. But three NFC East victories later, the Dallas Cowboys stood alone atop the division. Both teams walked a tightrope all season, making it to the other side as champions.
The playoffs awaited for both teams. Dallas, which had reached the Super Bowl the year before, looked forward to a return trip to the biggest game in professional football. And Austin College, now ranked #6 in the nation, learned in Sherman that they would be traveling to Kansas to face Bethany College, the top ranked team in the country. The Roos believed: in 1979, they could go all the way.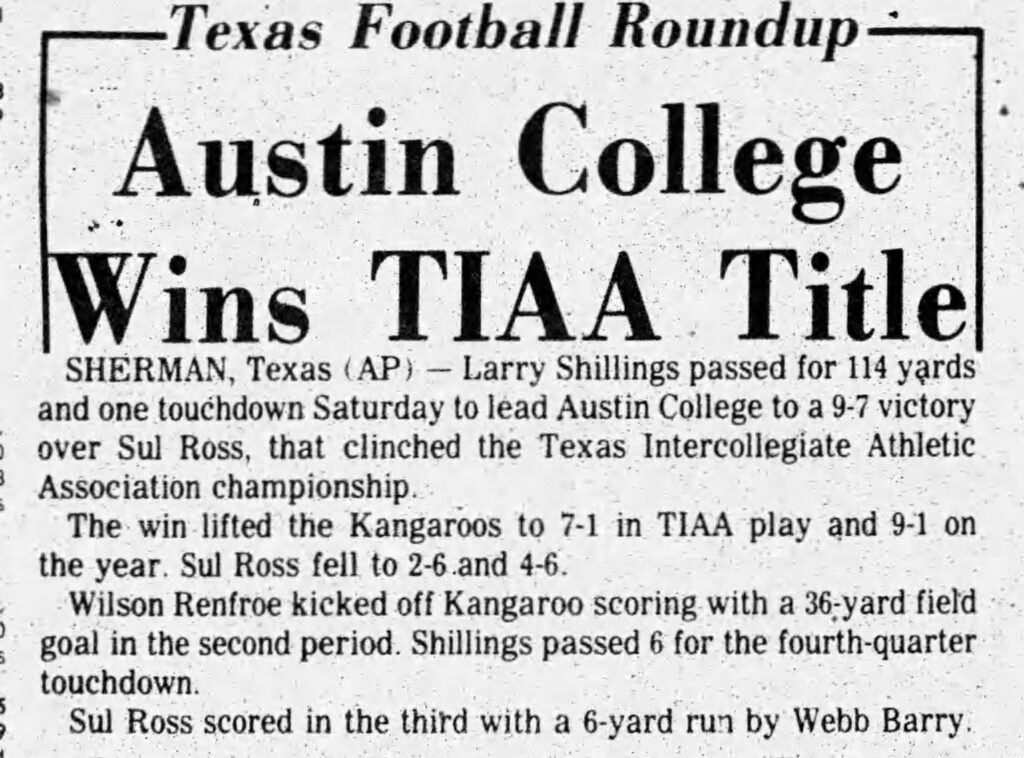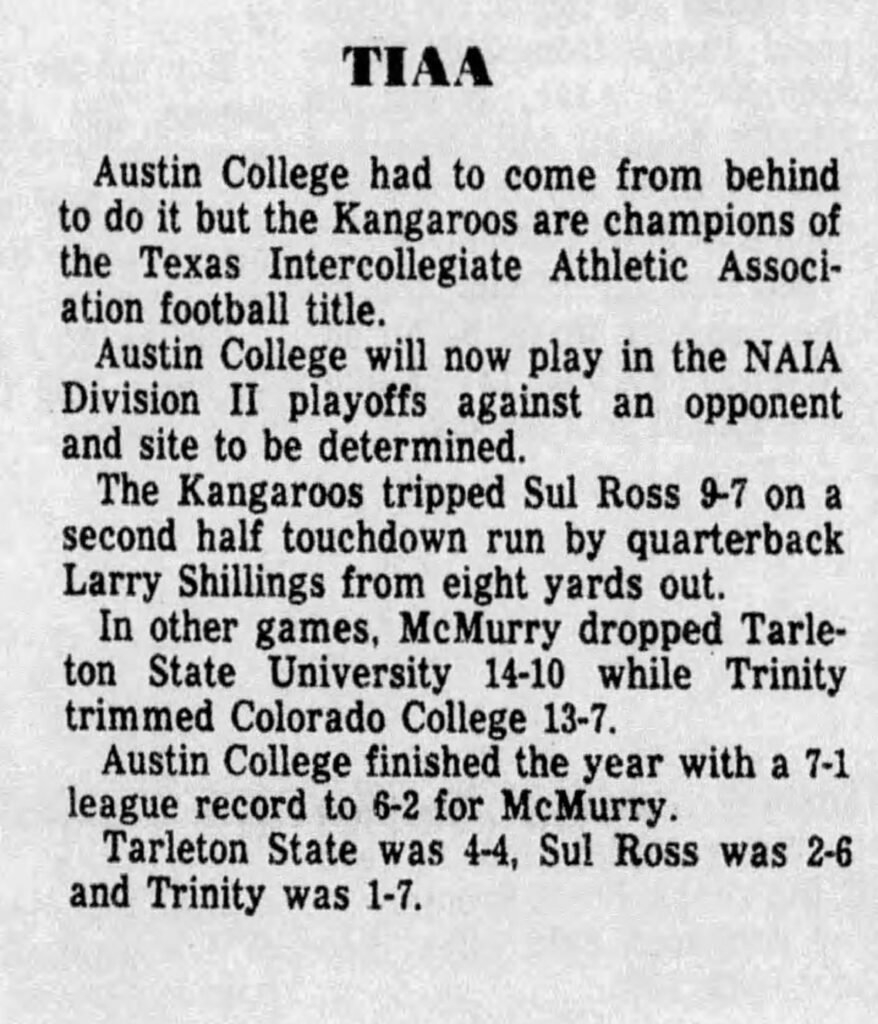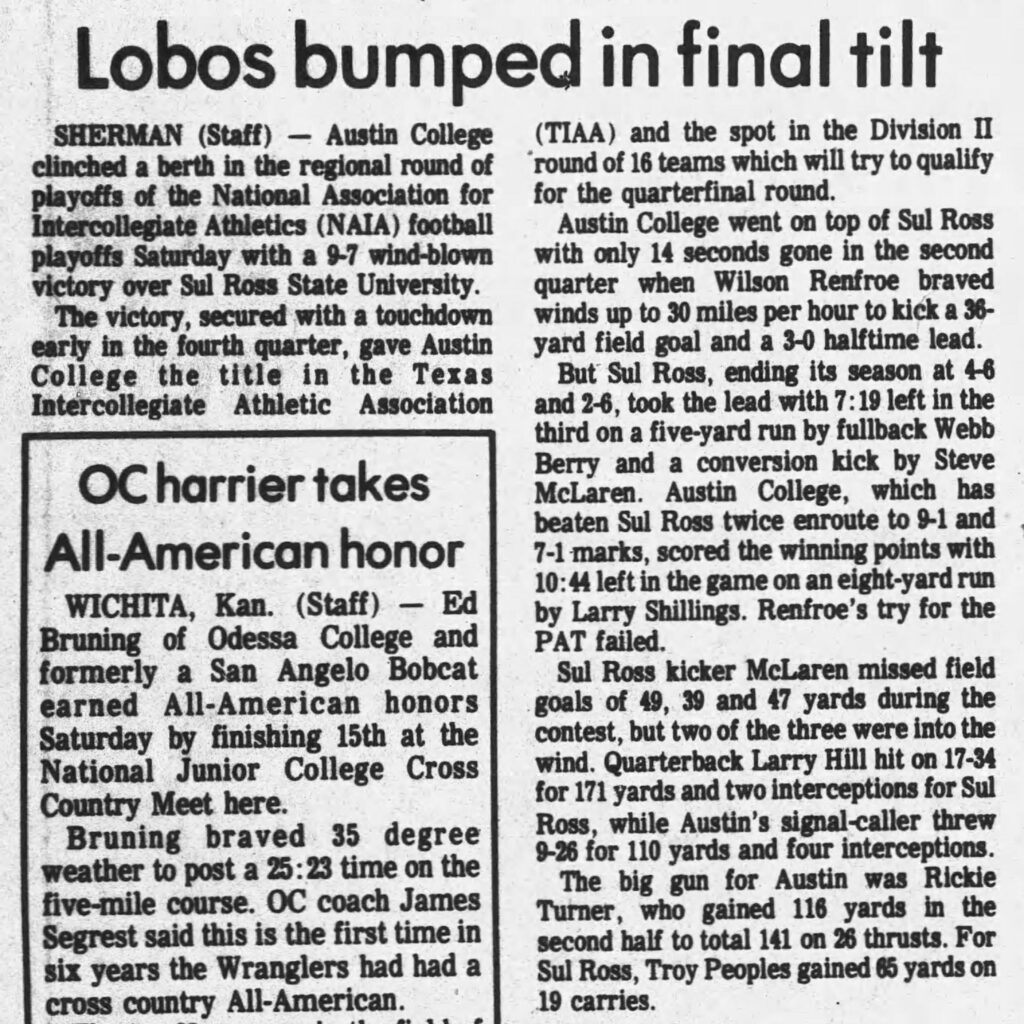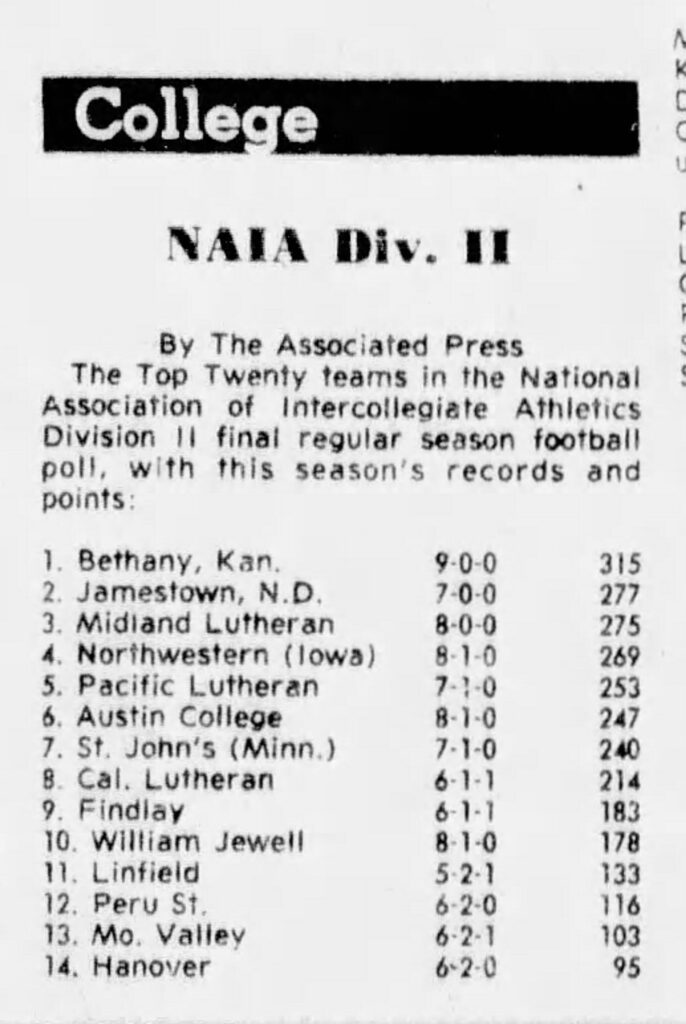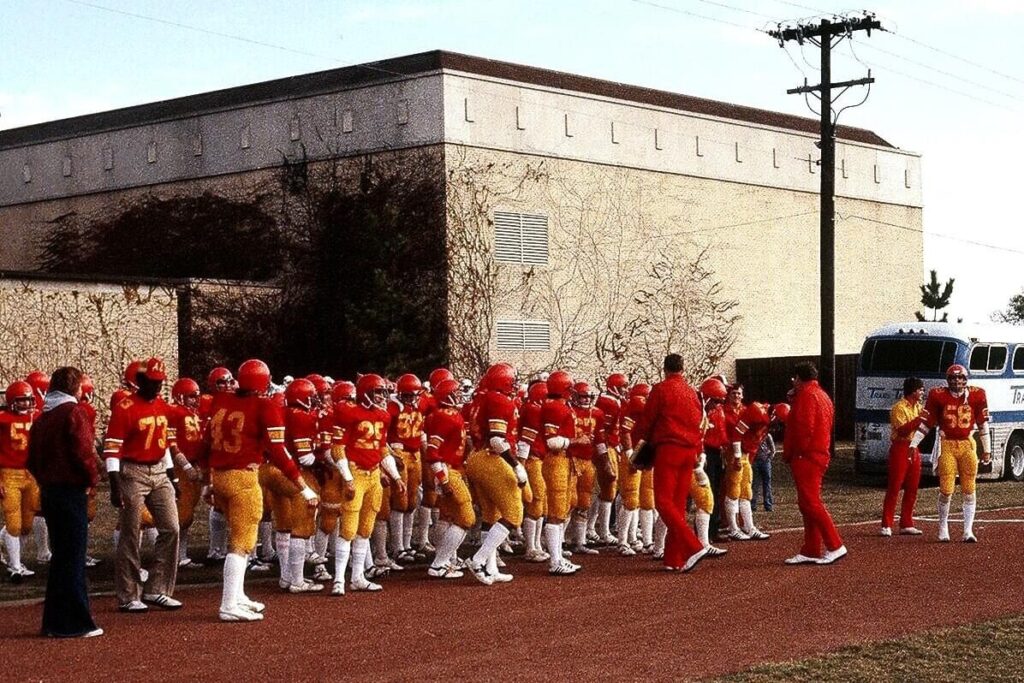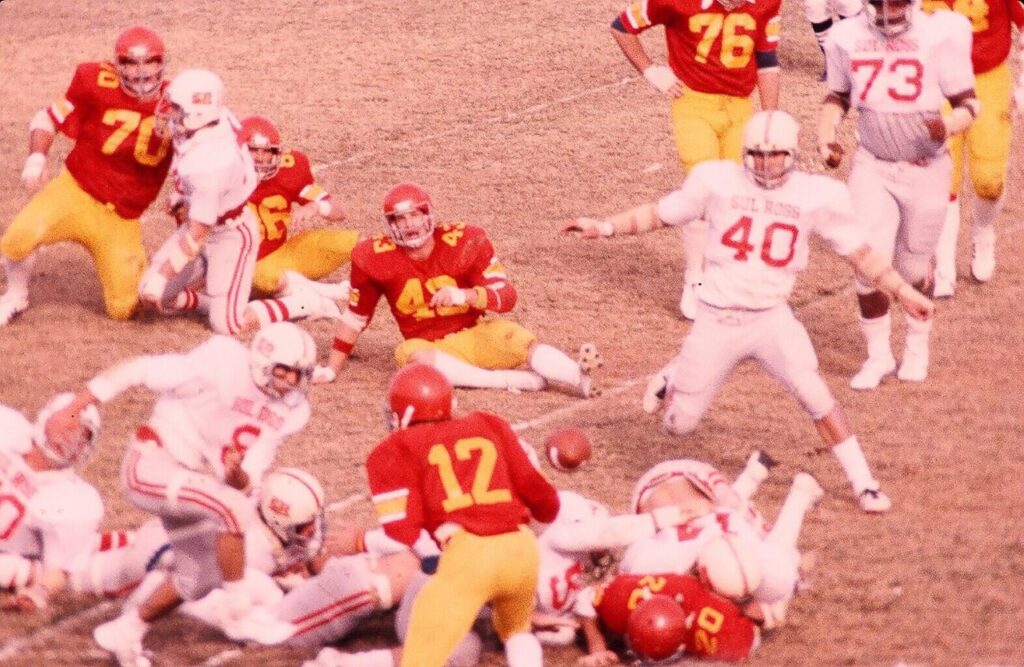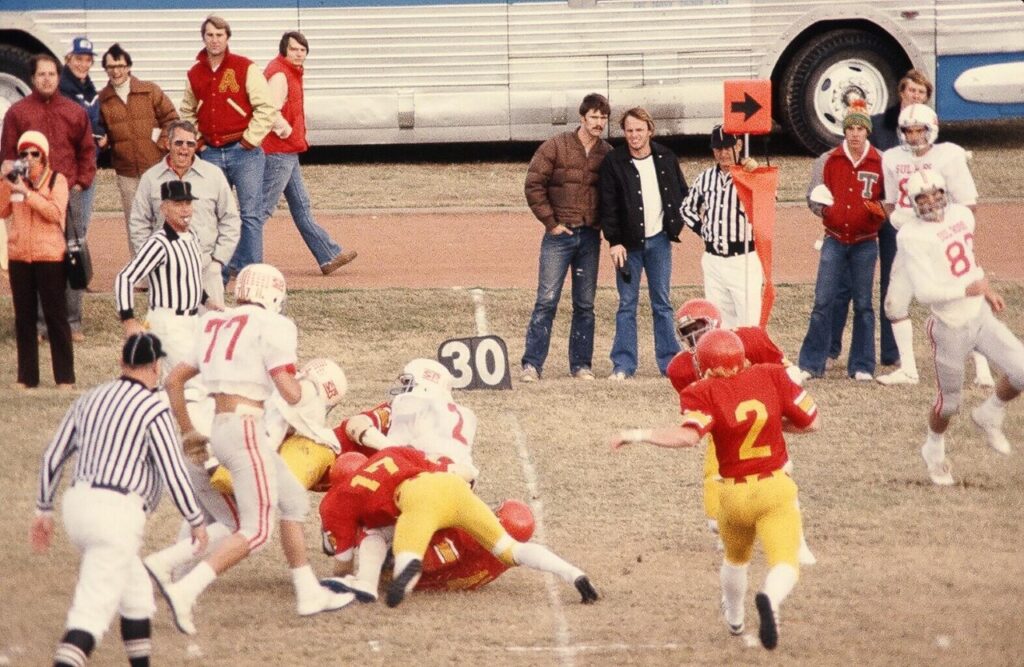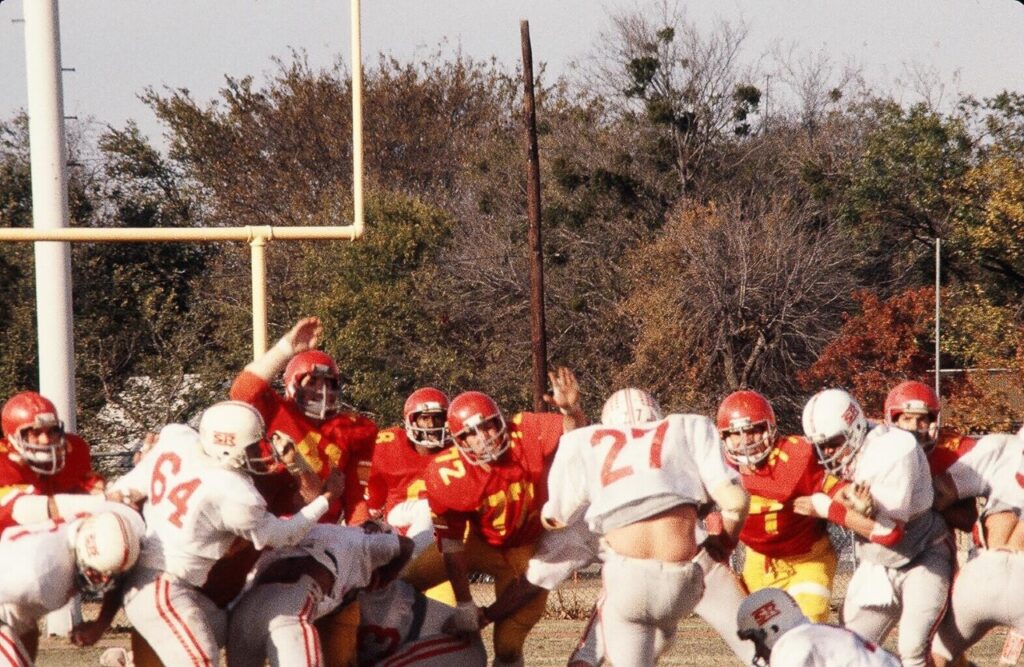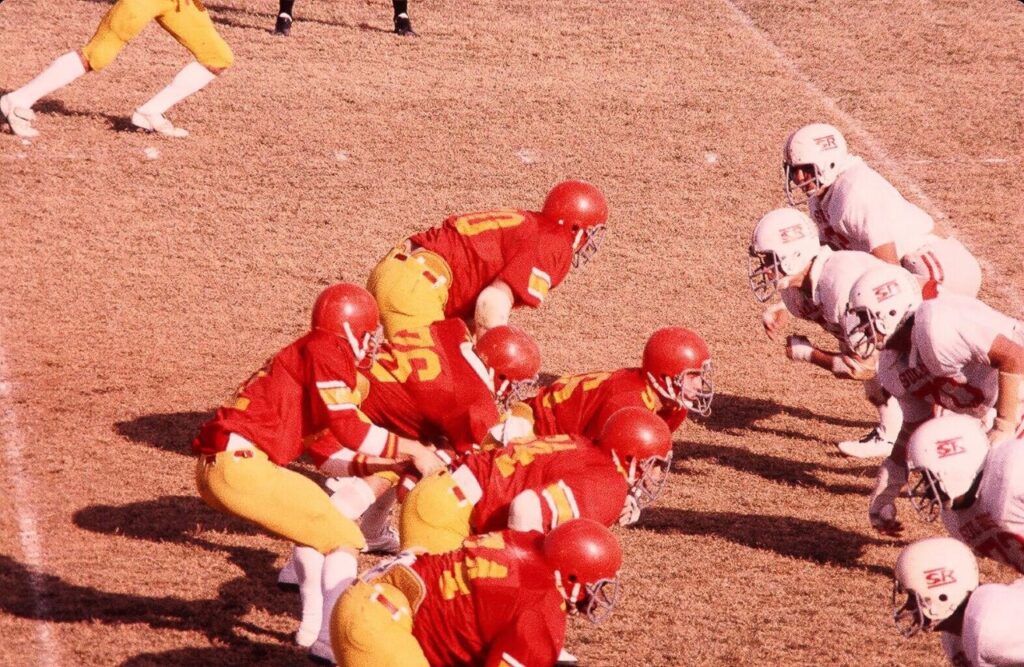 Epilogue: 1981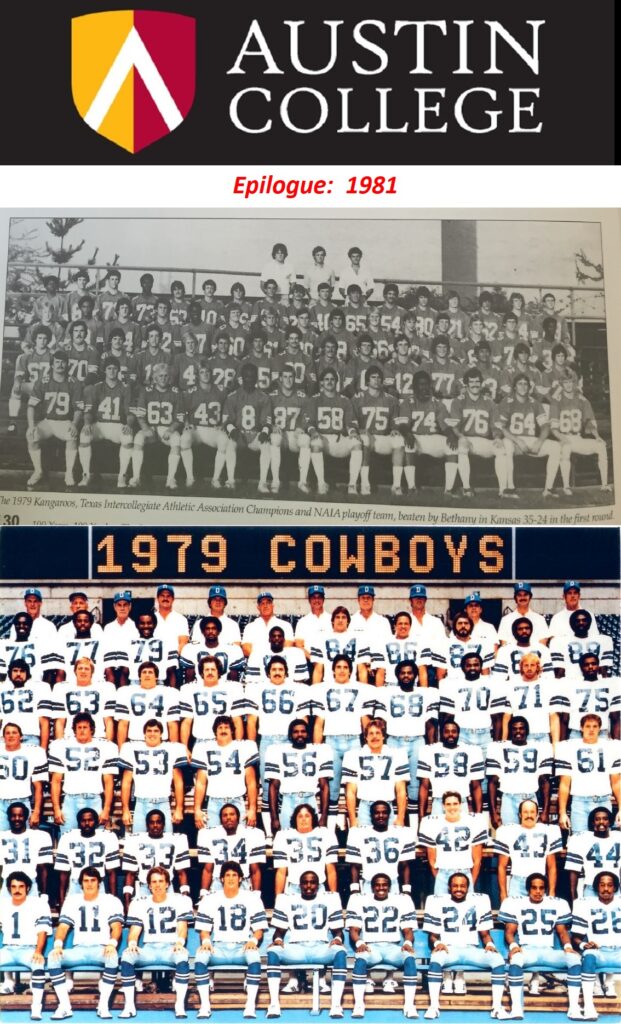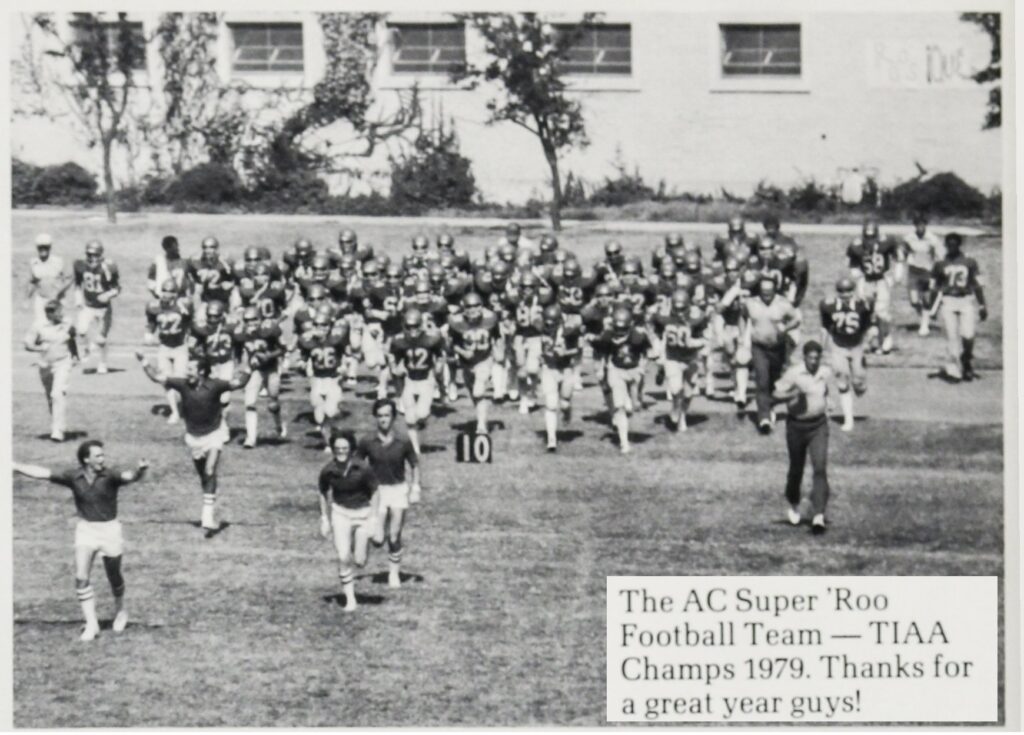 The season came to a disappointing end. A Vince Ferragamo-to-Billy Waddy pass late in the fourth quarter at Texas Stadium gave Los Angeles, not Dallas, a wildcard playoff win. The Rams would advance to the Super Bowl. For Cowboys fans, it was the end of an era. 1979 was the last season for Hall of Fame quarterback Roger Staubach and Hall of Fame Safety Cliff Harris. Both Cowboy legends gave Dallas their best years for the entire 1970s decade.
In Kansas, #1 ranked Bethany College overcame a 17-0 halftime deficit against #6 Austin College and defeated the Roos 35-24. The 1979 squad returned home to Sherman wondering what might have been. What might have been for the 1979 AC team does not compare to what did take place over the next 15 years as a result of their culture change: 14 winning seasons, 5 conference titles, 4 NAIA playoff berths, and a national championship. The 1979 team can be justifiably proud of what their effort wrought.
From Roo kicker Wilson Renfroe: "Were we overwhelmed by the playoff moment? Maybe. Or was it a series of errors and missed decisions that snowballed? Maybe. What I don't think is that they were that much better than us. Perhaps if we had made certain adjustments in the flow of the game, things could have been different? Maybe. I think about that game often. I think about what I could have done differently to have contributed to a different outcome. I wonder what would/could have happened if we made some adjustments to their adjustments. It left a bitter taste in my mouth that lasts to this day. If we had been beaten like a drum from the opening whistle, that would have been different. We would have to say they were better than us. But they weren't. I've always thought and wondered if we needed to go through that kind of game to pave the way for the championship team of 1981."
The accolades for the 1979 Roos were immediate. In a vote by TIAA coaches, quarterback Larry Shillings was named TIAA offensive player of the year. His teammate Price Clifford earned the same award on the defensive side. Ty Quick was named offensive lineman of the year, and Larry Kramer was voted TIAA Coach of the Year by his peers. The only individual honor that escaped Austin College was freshman of the year.
Doug Gollahon finished first in the TIAA with 450 receiving yards and 4 touchdowns. Shillings was the top passer, connecting for 1,376 yards and four TDs. Wilson Renfroe's 52 points kicking was sixth in NAIA D2. The conference's best defense allowed just 99 rushing and 95 passing yards per game. Other All-Conference players included Bill Leonard, Brent Hollensed, Kelly Hyde, Mark Sartain, Chris Luper, Julius Bell, Doug Gollahon, Ricky Turner, Ronnie Roberson, Leonard Harris, and Mike Gollahon.
The Kodak All-American Small College D2 lineup wisely included Price Clifford, who collected 122 tackles and 7 interceptions in one of the most dominating seasons in AC history. That Kodak All-American squad also included quarterback Neil Lomax, who would start seven seasons for the St. Louis Cardinals in the NFL. Honorable mentions went to Luper, Mark Howeth, Hollensed, and Quick. Said linebacker Clifford of his defensive line: "The guys in front of me, Mark Sartain, Jeff Broyles, Larry Hickman, and Mike Gollahon kept blockers off me and let me roam. Playing next to Mark Howeth made things easier. I never had to worry about taking up slack for anyone." Clifford and Luper were also first team NAIA All-Americans. Ty Quick was named second team. Honorable mention went to Paul Gardner, Howeth, Renfroe, and Hollensed.
The 1979 AC team finished the season at 9-2, at the time the best ever for the school. In addition to the TIAA crown, the team finished the season with a #5 NAIA D2 national ranking. The team also changed Austin College itself. From Renfroe:
"This team in 1979 accomplished so much, perhaps more than any other team AC has ever had considering the context of losing we were stuck in at the time. I do know one thing for sure: the 1979 Austin College football team changed not only the culture of football there, but also the campus in general. There was an excitement and electricity on the campus that I'd never seen. Faculty, students, and staff (that I didn't know) were greeting me as I walked on campus by name as if we were old buddies. The difference was palpable."
"The 1979 team changed the culture of football at Austin College. That change lasted throughout the 1980s, even with a head coaching change. That 1979 team allowed the 1981 team to be national co-champions. I don't think that they would have been able to do that without the experience in 1979, and the guys on the 1981 team would, and have, agreed with me about that. It was an honor to be a part of it and contribute to the team in a miniscule way. I will cherish my memories of the fall of 1979 as long as I live."
McMurry Coach Spud Aldridge's squad won the TIAA crown in 1980. But his team bowed out in the first round of the NAIA D2 playoffs, like every TIAA champion before since the conference founding in 1976. After Austin College clinched the 1981 TIAA championship against McMurry, Coach Aldridge made the unusual request to address his Roo victors in their locker room. Aldridge noted that every TIAA conference champion had lost early, but the 1981 AC team had an advantage that those other schools did not. The Roos had been there before, in 1979. The McMurry coach implored the 1981 Roos to "win it all for the conference."
After defeating Panhandle State (OK) on the road and William Jewel (MO) at home, Austin College earned that 1981 national championship on a dramatic field goal in the final minute against Concordia (MN) at Louis Calder (now Jerry Apple) Stadium. Coach Aldridge had been proven right. Two years after the defeat to Bethany in the NAIA D2 playoffs, Austin College was able to "win it all" for the TIAA conference…..thanks in part to the efforts of the conference champion Austin College Kangaroos of 1979.