Preview #1: Price Clifford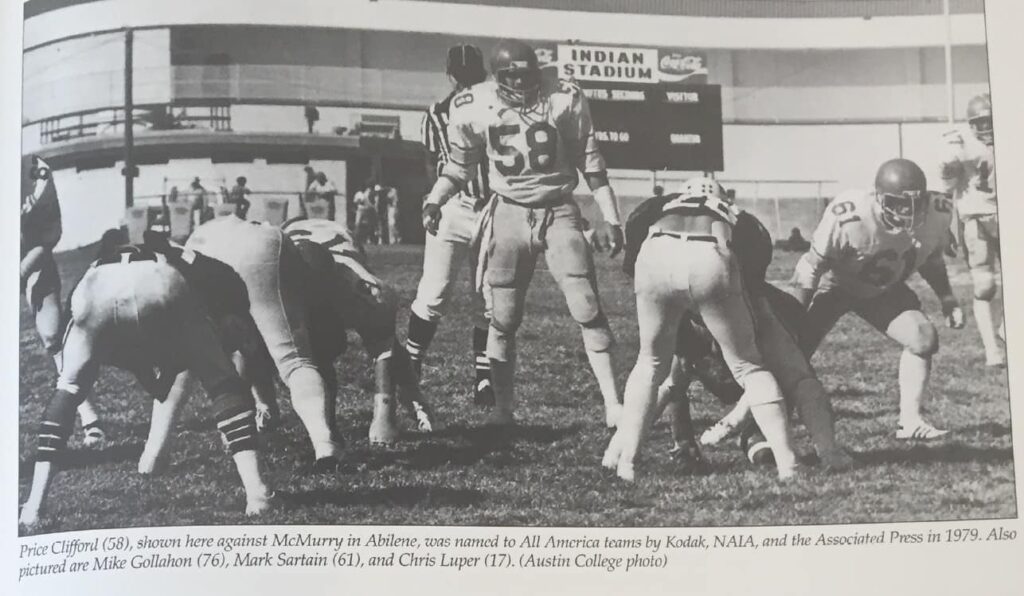 We're gonna tell the story of the 1979 Kangaroo football team later this fall. And for good reason. Without 1979, there is no 1981 national title.
The seniors on the 1979 TIAA Conference championship team won more games that year than in the three previous years combined. In many ways, the 1981 team simply finished off what the 1979 team started.
The members of the 1981 team get all of the spotlight, and there were some guys on the 1979 team who were not around in 1981 to celebrate. But those 1979 fellas deserve to be "living in the limelight" too, for their "rush" to lay the foundation of an amazing decade to come.
One of those 1979 fellas, All-American linebacker Price Clifford, is pictured here in a game at preseason TIAA Conference title favorite McMurry. The Roo victory during McMurry's homecoming gave AC the outright TIAA lead and shattered the dreams of a McMurry conference title.
And if you are wondering how many points Price Clifford and the redshirt defense allowed on the road against McMurry that day in Abilene, well, check the comments for the answer from Dean Wormer of the 1979 hit movie Animal House.
I'll be at the new-and-improved Jerry Apple Stadium Saturday, enjoying the dedication and helping Kirk Hughes (the "Voice of the Roos") call the game against Rhodes. If you happen to be at the game and have good 1979 stories, track me down and tell them to me. I'll be sure to include in the 1979 Roo Tale this fall.
Preview #2: The 1970s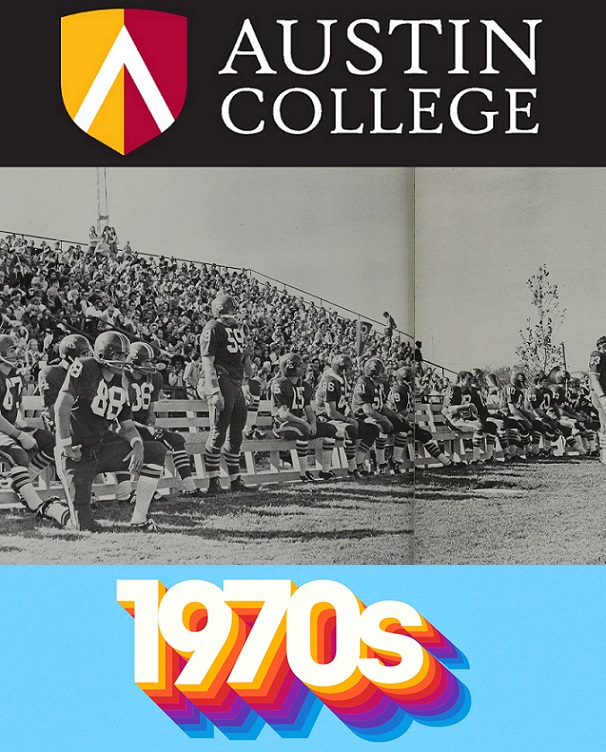 Kansas State Coach Bill Snyder, the architect of the "greatest turnaround in college football history," talks a good deal about what he calls "the foundation" at KSU. Only, he's not talking about any teams during the Wildcat glory years. Snyder's talking about his players from 1988 to 1992, the ones who endured a lot of losing seasons but nevertheless stuck around to change the culture for future success.
Bill Snyder would know all about that. Snyder was an Offensive Coordinator at AC in 1974 & 1975 under Coach Larry Kramer. Kramer & Snyder endured two more losing seasons but nevertheless continued the work to lay the foundation for the championship year of 1979 and the wins which followed. The 1979 TIAA champion Kangaroos will be a Roo Tale this fall.
Larry Kramer arrived at AC just after the 1972 season and struggled through a number of losing seasons before the first of many AC titles in 1979. The Roos who played football from 1972 to 1978 have no conference or national titles to their name. But I've had the pleasure of getting to know many of them over the past 6 years. And some of them were incredible football players in their own right, with accolades to boot.
Defensive tackle William Keith Bo Brown was an NAIA All-American Honorable Mention in 1973; Center Clay Dean won the same honor that year. Willie Williams & Wendell Brown were both All-Americans in 1976, the same year that Vance Gibson won an NAIA Scholar Athlete award. Yes, Price Clifford led the 1979 Red Shirt Defense to the TIAA crown. But would Price have even been at AC if not for his 1977 All-American big brother Steve Clifford? 1977-78 All-Americans also include Bob Simeone, Mike Gollahon, and Gordon Eiland.
But the 1970 AC boys of fall include more than just NAIA All-Americans on the gridiron. John Myers worked with Gene Babb at the NFL combine. The family of Danny Buck is an AC institution; Danny's son recently served as Alumni Board President. Hardee McCrary, a Longhorn legend, was inducted into the AC Hall of Honor last summer; his teammate Butch Worley was a head honcho of NCAA infractions.
Carl TheCoach Bailey, the voice of Allen Eagles football, is also an actor in an upcoming film with Dolph Lundgren and Harvey Keitel. Larry Tidwell, Snyder's QB during his time at AC, is an accomplished college basketball coach in the women's game. Do you enjoy the Larry Kramer Outback during an AC football game? The reality of the Outback is the hard work of Bo Brown. How about the BBQ in the Outback? You can thank grill master Billy Core for that goodness.
Many of the 1970s-era AC football guys are investors, patrons, and fans of Claude Webb Jr.'s Gar Hole beer joint in Westminster, TX. At the Gar Hole or at similar AC events, I've met (or will meet) fellas like Russell & Dale Harlow, Al Hockaday Jr, Roger Lutrell, Keith Powell, Brian McKamy, John Simmons, Brad Kizzia, Scott Yarbrough, and Charlie Hollingsworth. I see a lot of me in these guys. They are neither mindless cheerleaders of AC nor are they heartless cynics. They love Austin College; but their love, as one says, is more like a spouse than a child.
"The foundation" at Kansas State from 1988-1992 exactly coincides with my years at AC. Snyder had to endure losing seasons during those four years in Manhattan. But not me in Sherman! From 1988 to 1992, I got to experience four winning seasons, two NAIA playoff berths, and a conference title. Even more amazing? AC football during my years as a student was 18-2 at home. I can't even remember watching us lose a game. I was a part of the fun 15-year period that began in 1979, a period laid by the Larry Kramer foundation in the mid-1970s.
Kirk Hughes & Chris L. Grizzaffi will be calling this Saturday's game vs. Texas Lutheran at Jerry Apple Stadium. Kirk & Chris are, like me, Roos from the 1990s. Bo Brown and his teammates will be in the Outback as usual, with a TV hooked up to either UT-OU or the AC game. Some of those 1970s guys can also likely be found at the Gar Hole postgame. If you can pull it off, swing on by one of those two spots and meet some of those Roos from the mid-1970s. You think I've got stories? They've got two decades on me. THEY have stories.
The AC football teams from 1972 to 1978 may never get a Roo Tale. But the Roos listed above who played during that time are certainly worthy of praise. How much credit do they deserve for the great football I was able to enjoy later? I dunno. I'm not a football guy, and you'd have to ask a football guy.
But I do know this. The mid-1970s fellas (both those mentioned above and not) are an "Austin College foundation" today above and beyond football. As we take the "slow ride" toward the tale of the 1979 TIAA title, I'm proud to give these "Foghat" folks from the 1970s a well-deserved Dazed & Confused shout out.
Preview #3: Brent Hollensed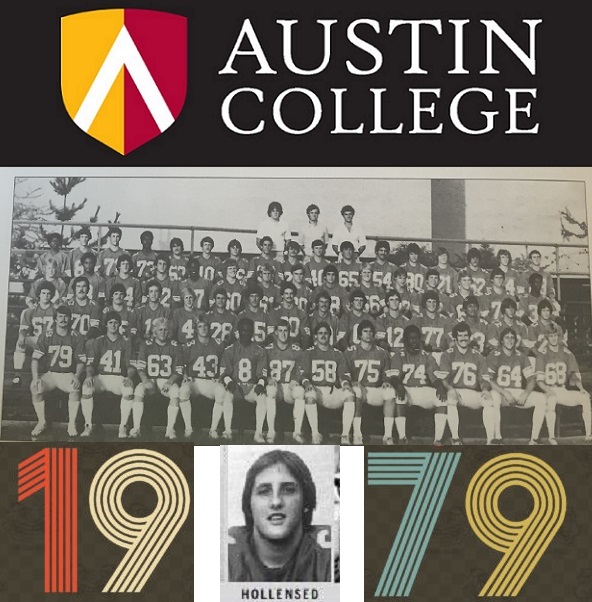 "Why can't the rest of you be more like him?," shouted AC Coach Larry Kramer.
The location was Abilene, just before kickoff of the 1979 McMurry-AC clash that would decide the TIAA title. The "him" was 1979 guard Brent Hollensed, a key member of the Roo offensive line. And what was Hollensed doing that Kramer wanted everyone to emulate? Brent had butterflies because of the magnitude of the game. He was throwing up.
Today, Brent spends much of his time as a singer/musician in the band Bent Creek, playing gigs in the Sherman area. He's a frequent presence at the Gar Hole, where you'll find him either pickin' and grinnin' or enjoying others who do.
Every time I see Brent at the Gar Hole, I tell him the same thing. "Brent, 1979 deserves a story just like 1981!" Hollensed, who was inducted into the AC Hall of Honor in 1996, wisely never disputes that assertion. The tale of the 1979 TIAA champions will be told this fall; a big motivation for me is to tell it for the 1979 guys who weren't around for the national championship two years later.
Brent & Bent Creek have also helped out with a Roo Tale. When I told the story of the AC Board of Trustees family who rode out the great Galveston hurricane of 1900, I asked Brent and the band to record a solemn rendition of "Galveston." Written by Jimmy Webb and performed by Glen Campbell, Bent Creek did an excellent job with their version.
The AC newspaper interviewed Hollensed and his Roo offensive line teammates of Ty Quick, Bill Leonard, Mike Papas, and Julius Bell during the magical season of 1979. Hollensed was asked about the difference between that year and the years before. "Hopper Hysteria," he said. "People come out to watch and that makes a big difference. So everyone come out."
Hollensed recovered from all of that pregame locker room puking in Abilene, put on his Roo helmet, and led AC to a shutout of McMurry on their own homecoming. The TIAA title and an NAIA D2 playoff berth came soon thereafter. Hollensed finished the 1979 season as an NAIA Honorable Mention All-American.
Former Kansas City Chief returner Dante Hall said it best about football: "Linemen control the game and true sports fans know that." The tale of 1979 won't forget the offensive & defensive linemen, especially the ones who were so full of Austin College that they couldn't keep their lunch down before the biggest Roo game of the decade.
Brent, also known as the "Big Cat," is right: 1979 deserves a story just like 1981. See you at the Gar Hole after it is told Brent. If Claude Webb Jr. ever puts "Big Cat"fish on the Gar Hole menu, I know just the guy to name it after.
And given what Coach Kramer saw at McMurry back in 1979, let me use the Gar Hole bathroom first if you don't mind.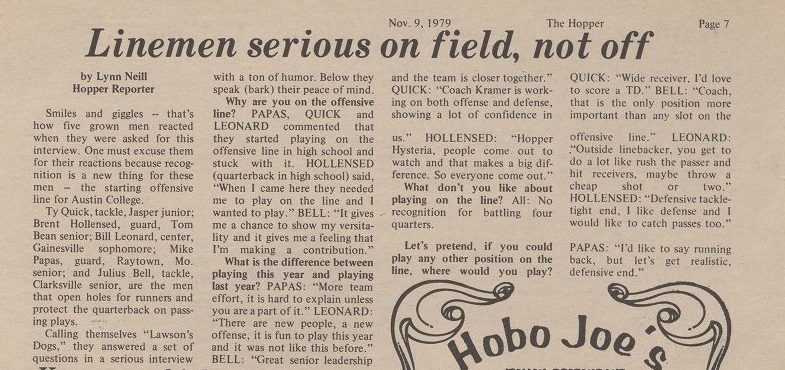 Preview #4: Tarleton State University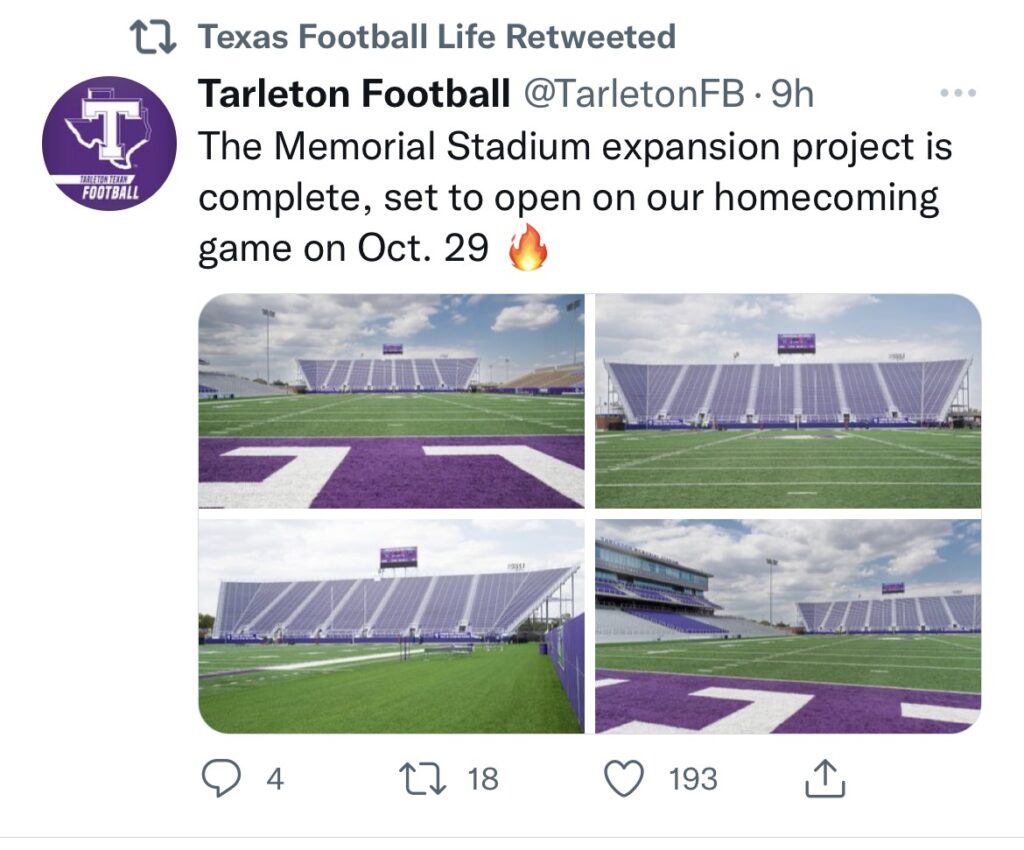 The Tarleton Memorial Stadium expansion is nearly complete. The stadium where the Texans compete will now hold over 24,000. The twitter account "Texas Football Life" shared the news.
Tarleton, the largest institution within the Texas A&M System outside of College Station, is a public NCAA D1 school which will face the Aggies at Kyle Field in 2025.
But these same Texans could only manage a 7-7 (.500) record at home against Austin College during the TIAA years; their record in Sherman was even worse. I saw one of those 7 Tarleton home losses in 1988.
Another one of those 7 losses took place in 1979. Tarleton was the defending TIAA champs that year, but fell 34-20 as the 1979 Roos marched their way to a conference title.
The 1979 win by AC marked the first of six straight victories over the Texans at Tarleton Memorial Stadium. The story of the 1979 Roos, including their dominating win in Stephenville, will be told in November.
Tarleton, you might want to skip this one.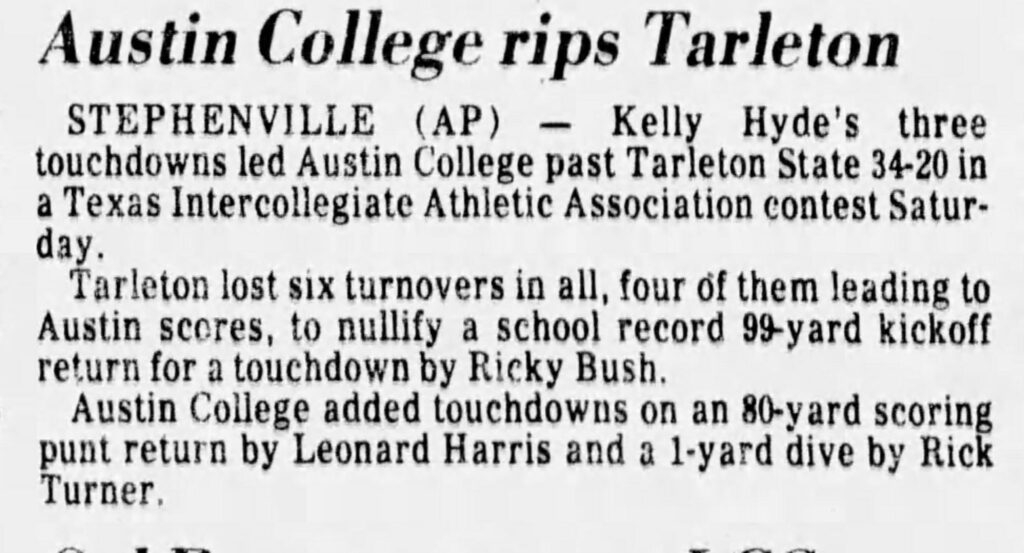 Preview #5: Homecoming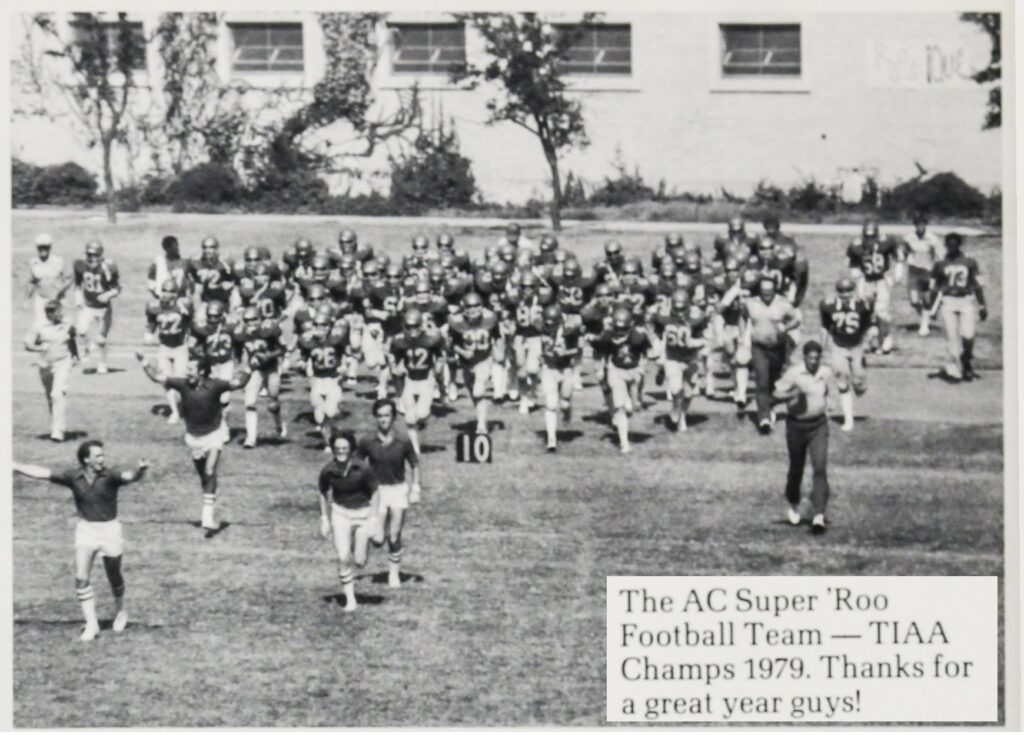 A first draft of the Roo Tale about the 1979 AC football team is all done. So far, I'm sitting on 12,000 words and I like it.
The story will be told in 12 chapters, with each chapter following a theme: (1) a 1979 Roo game, (2) a 1979 Dallas Cowboy game, and (3) a Roo-Cowboy story which ties it all together. Don't think I can find 12 Roo-Cowboy ties? Please, I have to limit myself to the 12 BEST Roo-Cowboy ties.
Roos who will make an appearance in the story: Julius Bell, Price Clifford, Jimmy Curry, Mike Gollahon, Brent Hollensed, Bill Leonard, Bart Miller, David Norman, Clayton Oliphint, Don Parnell, Wilson Renfroe, Russell Roden, Jeff Robbins, Larry Shillings, Eddie Shuttlesworth, Kip Stansell, Ramon A Torres, David Simmons, Brent Adams, Paul Gardner, Mike Pappas, Mark Sartain, Mark Shepard, Bob Simeone, Rory Dukes, Scott Ericksen, Doug Gollahon, Leonard Harris, Mark Howeth, Kelly Hyde, Chris Luper, Ronnie Roberson, Ty Quick, Steve Sullivan, Ricky Turner, Kevin Woodrow, Randy Sims, Vance Morris, Larry Kramer, and more.
Cowboys who will make an appearance in the story: Gene Babb, Don Meredith, Tom Landry, Clint Murchison, Tex Schramm, Gil Brandt, Bob Lilly, Roger Staubach, Tony Dorsett, Drew Pearson, Billy Joe DuPree, Tony Hill, Jay Saldi, Harvey Martin, Brad Sham, Charlie Waters, Cliff Harris, Robert Newhouse, Butch Johnson, Larry Cole, Preston Pearson, Jerry Jones, Jimmy Johnson, Emmitt Smith, Troy Aikman, Michael Irvin, Tony Romo, and more.
But we're not quite done yet. I have a few requests.
(1) Someone please send me a 1979 roster. I have all 1979 Roo football names from the book 100 Years of Football and am relatively familiar with each player's number and position. But a roster would help that cause.
(2) Keep the 1979 stories coming. You can tell them in the comments or send them to me via PM. Wilson Renfroe, I still owe you a phone call for your stories.
(3) If you are in the Sherman area for Homecoming weekend, swing by the Larry Kramer Outback on Saturday afternoon or Claude Webb Jr.'s Gar Hole (Brent Hollensed hope to see you there) in Westminster, TX on Sunday around noon. I'll be ready to listen to all of your 1979 stories and add them to the Roo Tale draft. The story will be done and told in November.
I love the Roo Tale writing hook for the 1979 AC team: the 1979 Dallas Cowboys. I was a 9-year-old kid during that season, which I remember fondly. The past few weeks have been fun as I've relived a lot of those moments online. Both the 1979 Roo & 1979 Cowboy seasons look eerily similar, down to the dramatic final home game to clinch a conference/division title. And the hook allows me to write about the many amazing ties between Austin College & the Dallas Cowboys that I have had the joy of learning about over the past 7 years.
Your Roo Tale homework assignment for this story can be found in the comments: watch the NFL Films recap of the 1979 Dallas Cowboy season narrated by the legendary Jon Facenda (with special focus on the 18:40-21:50 mark). This video will be used in part to tell the story of 1979. If you like Roo Tales, then your homework won't be any work at all.
Thanks for the help assistance mentioned above, and see y'all Homecoming weekend.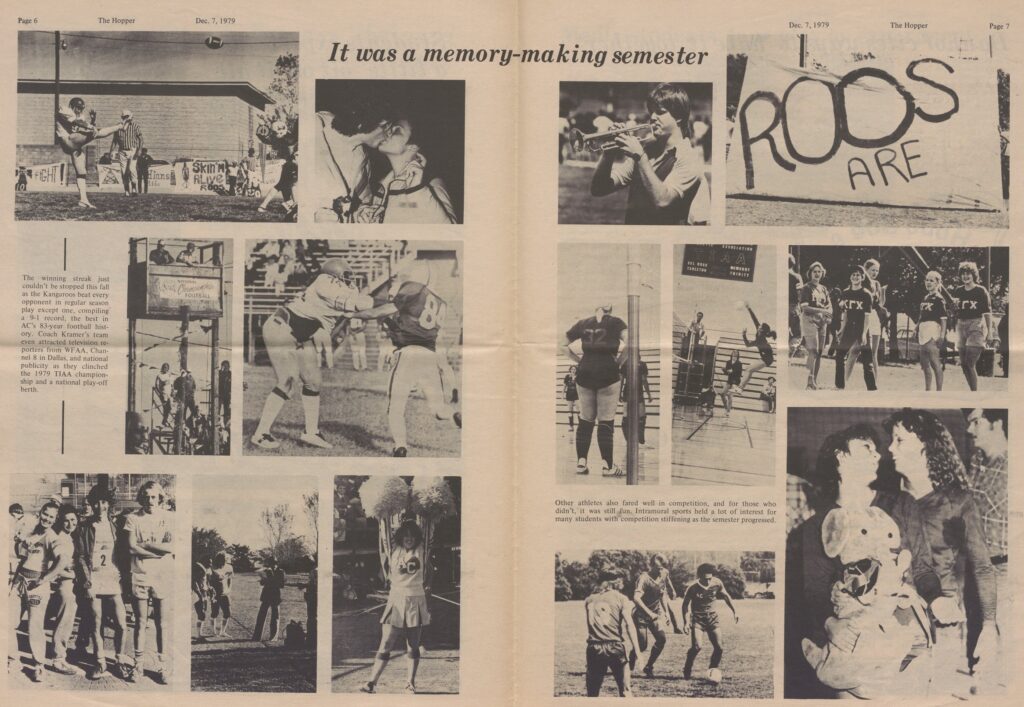 Preview #6: Wilson Renfroe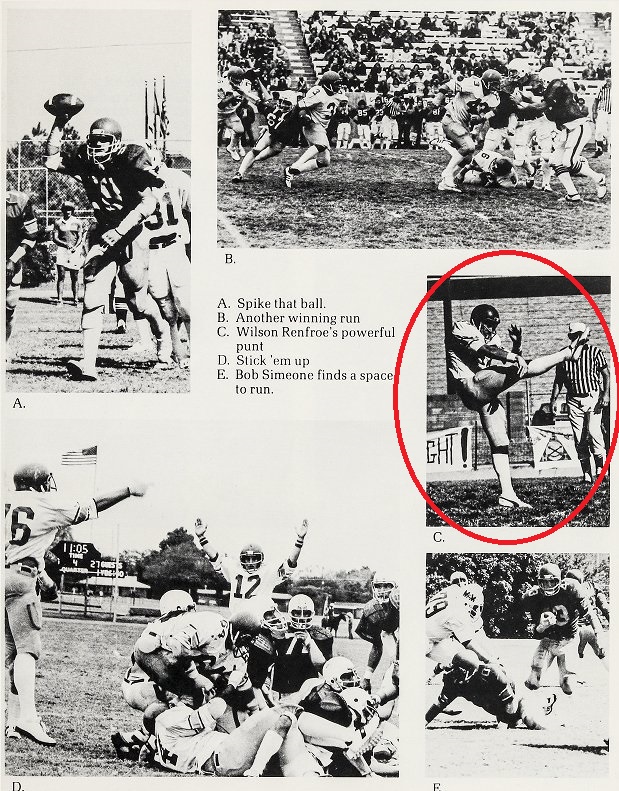 Kickers.
I'll admit it. I got a soft spot for kickers. Kickers get a lot of ribbing from their teammates. Yet no one is more important when the game is on the line. It's hard to be a kicker.
My soft spot probably comes from my 1970s youth in College Station, during an era when Southwest Conference kickers were exceptional. Tony Franklin, who kicked field goals of 64 & 65 yards in one game, was a legend at Texas A&M whom I got to meet as a kid. While I never met Russell Erxleben of Texas or Steve Little of Arkansas, both were in Franklin's elite status.
When I made my way from College Station to Sherman in 1988, I saw some great kicking. I was in Stephenville when David Goss booted four field goals to defeat Tarleton and earn AC a TIAA championship. Goss finished the season with 104 points, an NAIA record.
Wanna hear something crazy? I watched that 1988 AC-Tarleton game in Stephenville with a group that included Kyle Matlock. During the game, Matlock mentioned that he was considering suiting up as a kicker for the Roos. He did just that, scoring 97 points for the 1990 AC team that reached the NAIA D2 playoffs. Matlock's 97 points was second only to Goss by the end of the century. Gabe Gerard picked up where Matlock left off after our departure from AC.
AC football from the late 1970s to the early 1990s was a golden age of incredible kickers. Jeff Timmons had 48 straight points-after-touchdown (PAT) from 1982 to 1984. Gene Branum's record breaking 57-yard field goal gave AC a national championship in 1981. Gordon Eiland in 1977 booted as many 50+ yard field goals as Matlock & Branum. You might as well call AC "Kicker U" during this period.
I'm writing the story of the 1979 TIAA Champion Kangaroos this fall. The story will be told in 12 chapters, with each chapter following a theme: (1) a 1979 Roo game, (2) a 1979 Dallas Cowboy game, and (3) a Roo-Cowboy story which ties it all together.
Each Roo game in 1979 is unique, with one exception: the steady, consistent punting/kicking of Wilson Renfroe. In some games the offense shined, in others the defense outperformed. But Renfroe is there like a rock every week, scoring points for the Roos. In 1979, Renfroe's point total was sixth in all of NAIA D2.
The story of the 1979 Champion Kangaroos is pretty much done! I just have to wrap up a few final items. One of those items is to await an email from Wilson Renfroe, who has promised a few good stories about that 1979 season.
Am I gonna wait on that email from Renfroe until he is good and ready to send? Hells yes. Take your time Wilson. That's how much respect I have for the 1979 team, and the Roo kickers of "Kicker U."
Preview #7: Locker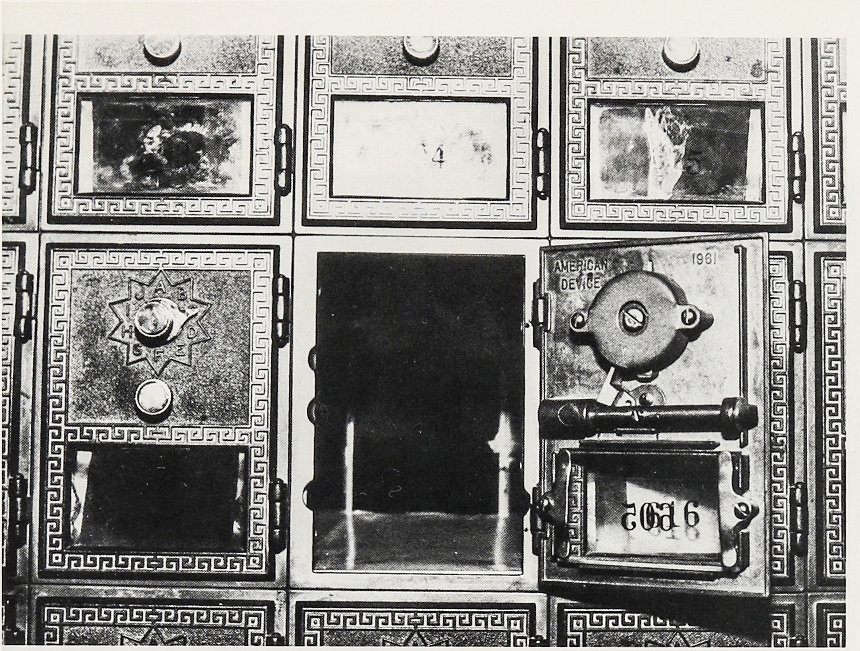 I found this picture of the old AC mailboxes in the 1979 yearbook while writing the upcoming story about the 1979 TIAA champion Kangaroo football team.
The story of the 1979 Roos will be tied to the 1979 Dallas Cowboys. Both teams had similar seasons, and there are a bunch of ties between AC & "America's Team" in Dallas.
One of the chapters in the 1979 tale will tell the story of Gil Brandt, the legendary Cowboys scout whose specialty was finding diamonds in the rough at America's small colleges.
One of those diamonds in the rough was Hall of Famer Cliff Harris, who was discovered by Brandt after watching game film of Harris playing against AC at Jerry Apple Stadium.
Cowboys scout Gil Brandt knows more than AC game film though. He also knew all about those old AC mailboxes. Brandt sent a letter to the old mailbox of AC's Clayton Oliphint, a member of the 1979 Roo team.
I always enjoyed opening my old AC mailbox in the pre-internet days, as it was the only way to communicate with family and friends in the outside world. And you never knew who was going to write to you either. Why, you might one day open up your mailbox and see a letter right there from the lead scout of America's team, the Dallas Cowboys.
The 1979 story is nearly done! Luckily, I can today easily throw the story of 1979 on Facebook, instead of mailing each of you a paper copy to the old AC mailboxes you used back in 1979.