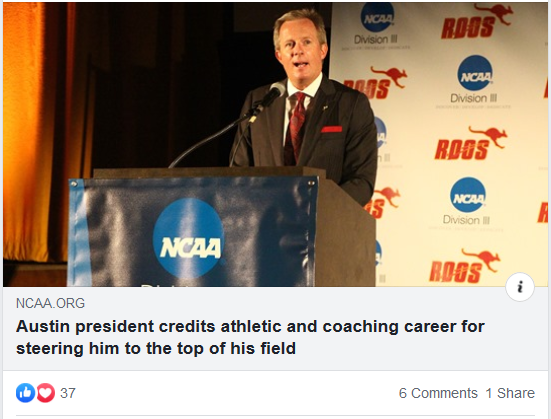 You might enjoy reading this NCAA.org article about Austin College President and Pennsylvania native Steven O'Day.
After receiving his B.A. in the Keystone state, O'Day headed to Temple University to earn his law degree in 1988. Temple lost to Penn State in football during all three years of his time in Philadelphia. Temple had not defeated Penn State since 1941.
After Temple Law, President O'Day worked in private practice. However, his true passion…coaching and higher ed. administration, lured him away. In 2017, that passion landed him in Sherman.
A few years earlier, in 2015, Temple football finally did what it had not done in nearly 75 years. The Owls beat the mighty Nittany Lions of Penn State. The drought since 1941 was over.
Temple Head Coach Ray Morrison, the architect of that 1941 victory over Penn State, had soured on big college athletics by 1948. He resigned at Temple, and left Pennsylvania. That fall, he moved to Sherman, TX and took over the football head coaching duties at Austin College.
http://www.ncaa.org/champion/austin-president-credits-athletic-and-coaching-career-steering-him-top-his-field?fbclid=IwAR0xaxl9-lxyY0gXL6i2IQrCspTp1edN0B1qgNsB2EzFYUN1322XZrgMb-c