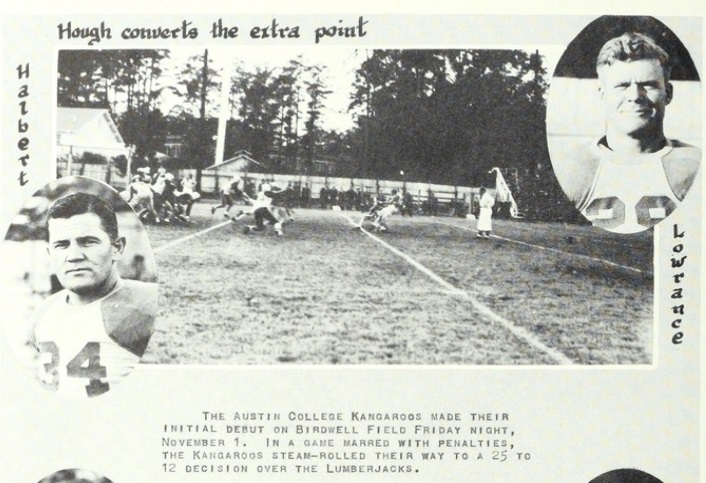 I've got a Stephen F. Austin (Nacogdoches) story up in the AC Alumni Group. The AC Alumni Group is the place for AC non-sports stories.
This group is for AC sports stories, so I'm sharing a 1935 picture from the SFA yearbook. The Lumberjack football team hosted the Roos in Nacogdoches and got crushed by AC 25-12.
Not surprising really. The 1935 Roos were excellent. Led by Coach Bill Pierce, AC cruised to a Texas Conference championship. One of their few losses was to SMU, your 1935 national champion invited to the Rose Bowl.
The Roos & Lumberjacks met again in 1946, and Bill Pierce that year was coaching for SFA AGAINST his former team in Sherman. Pierce & the Lumberjacks beat AC. Apparently, Bill Pierce was a guy who could "take his'n and beat your'n, and then take your'n and beat his'n."
The quote above is from Coach Bum Phillips, in reference to Bear Bryant. And it is an amazingly appropriate quote. Because Bum Phillips played for Bill Pierce and SFA two years later in 1948, and defeated the Roos again in Nacogdoches.
If you want some SFA & AC football, your're in the right place. If you want some SFA & AC non-football, well then head on over to the AC Alumni Group. Either way, it's SFA Friday.