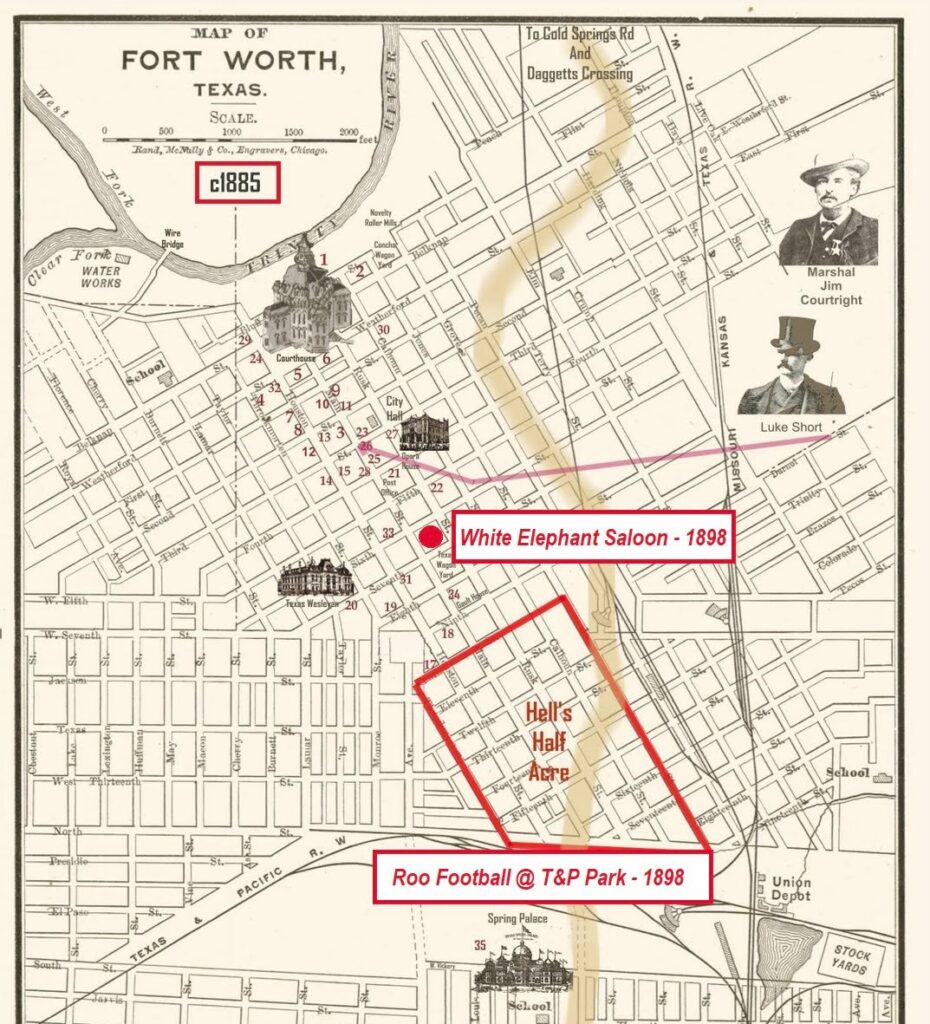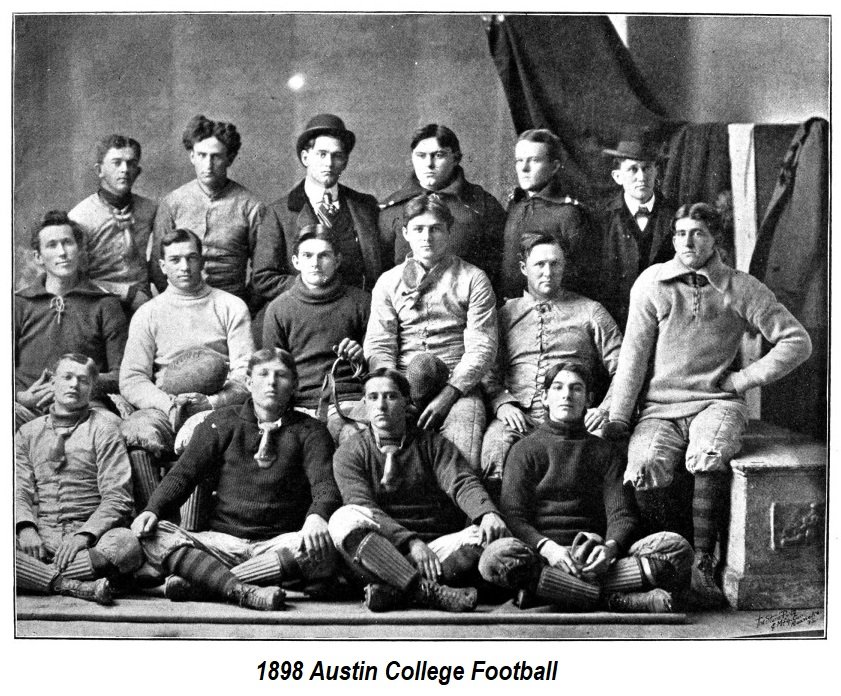 1883! PART TWO!
Austin College Kangaroo G.w. Melton stars as an extra in Episode 2 of "1883," the prequel series to the megahit "Yellowstone." In Episode 2, Melton plays a card dealer in the "White Elephant Saloon" just before Billy Bob Thornton, Sam Elliott, & Tim McGraw arrive to dispense some Tombstone-like Wyatt Earp frontier justice. The White Elephant was a real-life "Hell's Half Acre" saloon in the 19th century and was visited by the actual Wyatt Earp. Hell's Half Acre, one of the wildest places in the Wild West, was located just north of the Texas & Pacific railroad on Lancaster Avenue.
The sport of football arrived in Texas not long after that 1883 White Elephant shootout. At the time, Austin College was one of only four Texas colleges with a team. But the Roos were the only school in North Texas. The other three, Texas (Austin), Texas A&M (College Station), and TCU (Waco) were a long and expensive train ride away. Fort Worth University, located just south of Hell's Half Acre, suddenly became interested in the sport in 1898. AC jumped at the chance to play a rival nearby; the 1898 matchup was Roo football's first ever away game.
The home of AC athletics in 1898 was Luckett Field, located a half-mile north of campus near the big Grand Avenue bridge. This site north of "college" was ideal because of the adjacent train "station" for both arriving competitor teams and departing Roo teams (A&M was not the only Texas school with an historic "college station"). On October 22, 1898, The AC team hopped on a train at Luckett Field, made the quick trip south to Dallas, and then shuttled west to Fort Worth. The Roos arrived at the Texas & Pacific (T&P) railroad station, located just south of Hell's Half Acre. T&P Park, adjacent to the station, served as Fort Worth University's home field.
From "100 Years, 100 Yards: The Story of AC Football," written by Willie Jacobs with contributions from Dr. Light Cummins.
"At the Texas & Pacific Park in Fort Worth, Captain Watts scored the only touchdown of the game to give Austin College a 6-0 win over Forth Worth University. The only tense moment for Austin College came late in the second half when a Fort Worth punt was fielded at the AC goal line by Captain Richard N. Watts. Fort Worth fans had vision of AC being held deep in their own end of the field. However, Watts, instead of returning the punt, caught it and immediately kicked it back to midfield, a legal play. Fort Worth retained possession but could not score. Watts 'frequently elicited applause from the grandstand by the manner in which he hit the line, several times clearing it for 10 or 12 yards,' said the [AC newspaper] Reveille."
With the 6-0 win at T&P Park, Austin College celebrated its first ever road win at Hell's Half Acre in Fort Worth. Given the strict mores of Presbyterian colleges at the time, it is unlikely that Roo football toasted their success at G.W. Melton's White Elephant Saloon just a few blocks away.
Fort Worth University, a Methodist institution, survived for nearly three decades. But in 1910, Texas Christian University relocated from Waco to Fort Worth. The competition for students proved to be too much. In 1911, Fort Worth University accepted an offer to merge with Oklahoma City University and moved north. The city of Fort Worth constructed Trimble Tech High School on the now vacant campus.
I've now watched Episode 2 of "1883." It was fun to see Roo G.W. Melton dealing cards. It was fun to watch Billy Bob Thornton do his Wyatt Earp thing. But the most fun of all? Knowing that Roo football is just a decade removed from that White Elephant Saloon shoutout scene in Hell's Half Acre back in 1883.