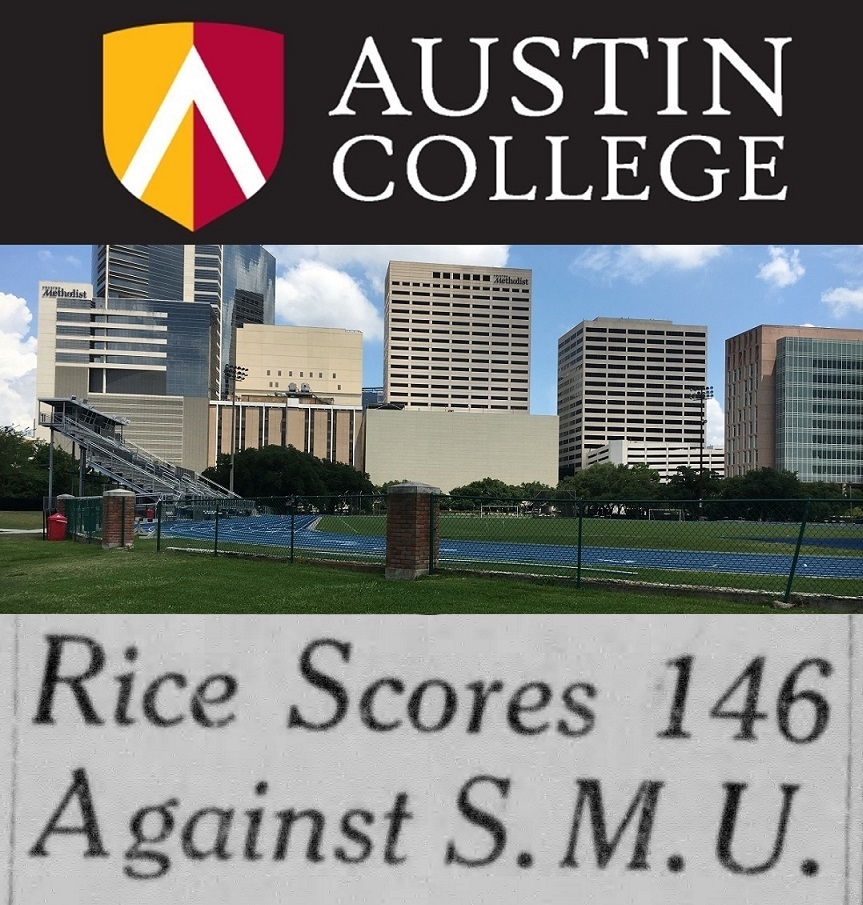 The real hero of all of this writing is Dianne Parrish. She always facilitates this interest, and I try to respond in kind. She gave me some time earlier in the week to knock out this lead in to the story of the Kangaroos of 1968. And of course, she is doing the same for all of the 1968 writing itself. If you have no need for this drivel, I certainly understand. However, if you enjoy the writing, be sure to send the "thank you" fruit basket to her. Not me.

😉

Love you hon.
Y'all probably caught the game last Saturday at Kyle Field. Texas A&M 74, LSU 72. Seven overtimes. Five hours. An instant classic. The 146 total points were the most scored by two Division 1 FBS teams in the modern era.
I love that word "modern," don't you? Sure, if you don't count history, 146 points is the most. But heck, let's go ahead and peek into the past, shall we? Where does the total point output rank among current D1 FBS teams both during and BEFORE the modern era? Funny that, the Aggie-Tiger game comes up short at #2.
Which takes us to the year 1916.
The most points scored in ANY college football game (D1 FBS or otherwise) remains unchanged. Georgia Tech 222, Cumberland 0. Cumberland had discontinued its football program in 1916. However, Georgia Tech Coach John Heisman (he has a fairly big trophy named for him) insisted that Cumberland honor its contractual agreement to play the Yellow Jackets at Grant Field (now Bobby Dodd Stadium) in Atlanta, GA. The threat of a court appearance, plus the fact that little NAIA Cumberland had likely used ringers in an embarrassing 22-0 victory against Tech on the baseball diamond, was motivation for Heisman to run up the score. The 222 total points on October 7, 1916 will likely be never be topped.
But the 1916 football season was just getting started.
One week later, little Austin College traveled to Houston to take on the Rice Owls at Rice Field. Rice Field sits at the corner of University & Main, and currently serves as the soccer and track stadium. The skyline of the Texas Medical Center rises above it. Austin College had delivered a crushing 81-0 loss to Coach Philip Arbuckle and the Owls during Rice's inaugural campaign of 1912. But that was then. By 1916, Arbuckle had an elite squad of his own. Rice got its revenge, delivering a 40-0 shutout for the home team on Friday, October 13th.
Ironically, Texas A&M & LSU played the next day down the road in Galveston; it was the first college football game on the island since the devastating hurricane of 1900. While the Austin College team headed back to Sherman, the Rice team traveled the 60 miles to Pirate Field (now Menard Park) to watch the game on the island. The Tigers pitched a modest 13-0 shutout against the Aggies.
The Roos were in Dallas on November 4th for a game against SMU. Coach Ray Morrison and the SMU Mustangs were struggling in their second season of play. Morrison would miraculously manage a 0-0 tie against the Roos that afternoon; it would be one of very few bright spots in 1916 for SMU. That same day, Texas A&M was at Rice Field facing the Owls. The Aggies fared slightly better than the Roos, but not by much. A&M failed to score, and Rice earned a dominating 20-0 win. It was becoming clear that playing the Owls at Rice Field in the year 1916 was not for the faint of heart.
Morrison and SMU had a date with the Owls at Rice Field on Friday, November 17th. The Mustangs sported an 0-6-1 record, while the Owls sat in 2nd place in the Southwest Conference at 4-1-1. By game day, it was clear that Rice had the upper hand. Nobody could have foreseen just how much.
The Mustangs marched down the field to start the game and kicked a field goal.
Years later, Morrison would famously remark that "we started out well, but then things got a little out of hand." Rice responded with a touchdown. Then another. And another. SMU could do nothing to bring down the speedy Owls in the first quarter. The second and third quarters brought more of the same. According to the Houston Post, "at the beginning of the fourth quarter Arbuckle put back the varsity squad with orders to try anything and everything, and to pile up a record score." Taking a page from Heisman and Georgia Tech, the Rice Coach never put on the brakes.
By the time the final whistle mercifully blew, the scoreboard read Rice 146, SMU 3. 149 total points. The most ever by two D1 FBS schools.
Arbuckle left Rice for good in 1923. One of his last acts at Rice was the hiring of Coach Pete Cawthon as an assistant. Arbuckle had come to Rice from Southwestern back in 1912, and Cawthon was a Southwestern Pirate football star who had played against Arbuckle's Owls at Rice Field in 1919. Cawthon coached at Rice during the 1921 season; by 1923, he was the head coach at Austin College.
John Heisman would eventually leave Georgia Tech for Rice in 1924. The Owls had hopes for a turnaround, and Heisman seemed to deliver with a win over the Texas Longhorns at Rice Field. The optimism was short lived. Pete Cawthon and Austin College visited Rice Field the very next week, and upset Heisman and the Owls. Where Heisman had managed "222" against Cumberland in 1916, he could only put up "2" against the Roos in 1924. Austin College 6, Rice 2.
SMU Coach Ray Morrison's coaching career turned around dramatically after the 146-3 loss. He led SMU to a SWC championship in 1923, nearly pulled off an SEC championship with his alma mater Vanderbilt in 1937, and enjoyed successful seasons as head coach of the Temple Owls in Philadelphia during the 1940s. In 1949, he was offered the head coach position at Yale. However, his wife wanted to return to Texas. Morrison instead accepted the head coach position at Austin College, which had been offered by his former coaching assistant (and Roo) Henry Frnka. Morrison finished his coaching career in Sherman in 1952.
Cecil Griggs, probably the most famous AC football player of all time, was a member of the 1912 Roo team which beat Rice 81-0 in Houston. He was hired by Rice in 1934, and helped lead the Owls to six SWC titles. Four of those titles were earned at Rice Field. After three decades of coaching at Rice, Griggs passed on September 7, 1968. At the time, Coach Floyd Gass and the 1968 Austin College Kangaroos were preparing for their season opener. On Saturday, December 1st, we'll begin a month revisiting their amazing season in 1968:
Sat 12/1 Northwood & Tet/Cronkite/LBJ/New Hampshire
Wed 12/5 Southwestern & Prague Spring
Sat 12/8 Maryville & French Student Protests
Wed 12/12 Nebraska Wesleyan & RFK
Sat 12/15 Sewanee & MLK
Wed 12/19 William Jewell & the Chicago Convention
Sat 12/22 Colorado College & the Mexico City Olympics
Wed 12/26 Ouachita Baptist & the Dallas Cowboys
Sat 12/29 Texas Lutheran & Apollo 8
Members of the 1968 Austin College Kangaroos:
Chris Nyvall, Dee Dearen (request sent), Eddie Farley (request sent), J.B. Cole (request sent), John Fain, John Sheridan, Keith Johnston, Mark Burtner (request sent), Nick Jones (request sent), Paul Neubach (request sent), Phil Fuller (request sent), Randy Reedy (request sent), Rick Page, Bob Sheffield, Roland Rainey (request sent), Steve Schiff (request sent), Vb Atchison, Bruce King (request sent), Jerry Moore, Bob Schucany, Bobby Anderson (passed), Charlie Schreiber (passed), Clay Fulcher, Dennis McEntire, Don Fields, Eddie Brister, Fred Maples (passed), Gary Watkins, Hobart Collins, James Moore, Jay Weigel, Jeff Smith, Jim Baccus (passed), Joe Meade (passed), John Clendennen, John Menefee (passed), Kelly Hester, Ken Hewett, Kent Streit, Larry Elliott, Lonnie Cooper, Mark Beardsley, Mike Moore, Mike Skinner, Mike Toon (passed), Mitchell Dickson, Neil Crockett (passed), Pat Marushia, R.J. Hagood (passed), Ron Hagood (passed), Richard Bass, Robert Snider (passed), Ronnie Cooper, Steve Hays (passed), Steve Josephson, Teb Baker (passed), Tim Jubela (passed), Tim Miller, Wes Eben (passed), Head Coach Floyd Gass, Assistant Coaches Duane Nutt (h/t Kelly Nutt), Bob Mason, Bill Long, Slats McCord
That game at Kyle Field last weekend was something else. 146 total points! But was it the highest scoring game among D1 schools in college football history? Not quite. That honor goes to two Texas schools and a non-descript field in Houston, all of which have ties to Austin College. There are always ties to Austin College; that little school punches above its weight.
Melissa Kean, thought you might enjoy.
See y'all Saturday for 1968.