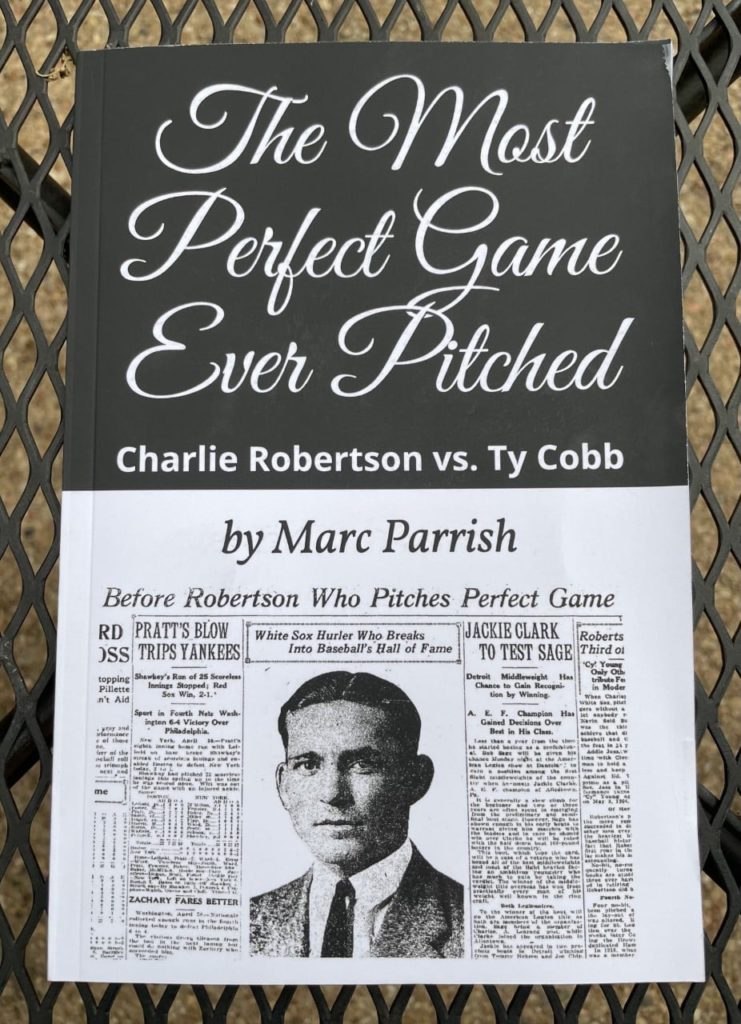 It's my birthday!
I was born on April 29th, 1970. But it's a different April 29th that's been on my mind lately.
On April 29th, 1922, Austin College Kangaroo Charlie Robertson retired for the night alongside his Chicago White Sox teammates at the Statler Hotel in downtown Detroit, MI. Robertson, a rookie pitcher with two starts to his name, was tabbed the following day to face the best hitting team in the history of baseball: Ty Cobb and his 1922 Detroit Tigers. Robertson did more than defeat Cobb at Tiger Stadium the next day. He threw a perfect game.
A perfect game takes place when a pitcher prevents all 27 batters from reaching first base. Since the World Series began in 1903, there have only been 21 perfect games thrown in the major leagues. Of those 21, Robertson's gem is statistically the most unlikely and incredible. His feat led Major League Baseball historian John Thorn to call Robertson's effort "the most perfect game ever pitched."
Robertson, however, never gets his due. A small-town Texan with a small college alma mater, Robertson's career ended prematurely due to injury. He threw his perfect game during the racial and economic injustice of baseball's reserve clause era and well before the limelight of radio & television. Robertson and baseball parted ways forever after his career, returning just briefly in 1954 when New York Yankee Don Larsen finally threw the next perfect game at Yankee Stadium during the World Series. Asked to comment at the time, Robertson said: "Just forget about my game. It was a long time ago."
The tale of Charlie Robertson was a part of my book "Roo Tales: The Stories of Austin College Athletics." His story, however, deserves to be a book of its own. And now it is. "The Most Perfect Game Ever Pitched: Charlie Robertson vs. Ty Cobb" can now be purchased in the Amazon bookstore. I've added a few chapters to the 162 pages; one of those new chapters was written with the partnership of Kangaroos John Robert & Martha Wright. For the Wrights, Charlie Robertson is family; he's their great uncle. Thank you, John & Martha, for the collaboration and for allowing me to be part of the extended family.
The members of the Austin College Kangaroo baseball teams from 1988 to 1992 were a formative part of my AC experience in Sherman, TX. I was a fan, as they rescued a struggling program and returned it to relevance. They were my friends. In many cases, they were also my fraternity brothers. I spent many an afternoon admiring their work at Baker Field on the campus of Austin College.
The roster of AC baseball during those years includes, but is not limited to, the following Roos:
Pat Abernathey, Brett Atkins, Jimmy Baird, Frank Biggerstaff, Tony Bitros, Darrin Brawner, Cliff Brooks, Kelly Carver, Rodney Durham, Mike Finkel, Gary Gray, Caleb Humphreys, Les Jackson, Kevin Krause, Barron Lange, Clint Little, David Mamot, Kyle Matlock, BK May, Darren McDowell, Shane Montgomery, Tony Morse, Jamie Muro, Ryan Nicholson, Phil Novicki, Rebecca Novicki, Pat Rabjohn, David Rapp, Mike Slaughter, Chris Smith, John Talley, Wes Tarbox, David Vance, Mike Wade, BJ Wastoskie, Owen Watson, Jason Willis, Matt Weedon, Wayne Whitmire, Coach David Norman
This book is dedicated to those Austin College baseball players, whom I had the privilege of watching as a student at AC. Without their dedication, enthusiasm, and friendship back in the day, this book might never have been written.
So, what's next? April 30th, 2022 will be the Centennial of Robertson's perfect game. That gives me a whole year to encourage media outlets to write about Robertson, the book, and his historic game. I plan on pushing the Chicago White Sox, Detroit Tigers, Major League Baseball, ESPN, and other media outlets to devote some time and ink to this long over-looked game. We'll see how it goes.
And I'm considering a trip to Detroit on April 30th, 2022. Tiger Stadium is no more, but the field remains. Today, the mound where Robertson beat Cobb is the heart of the Detroit Police Athletic League (PAL) field, where Detroit's youth gather for little league games. A "first pitch" on the 100th anniversary of Robertson's perfect game seems appropriate.
Austin College has many incredible stories in its long history. But for me no story is more inspiring than the tale of Charlie Robertson. Yes Uncle Charlie, your game was a long time ago. But, despite your request, I just can't forget about it. In fact, I hope to make a big deal about it until the rest of America fully recognizes this Kangaroo and "the most perfect game ever pitched."
Thanks for the birthday wishes everybody. Today was perfect.