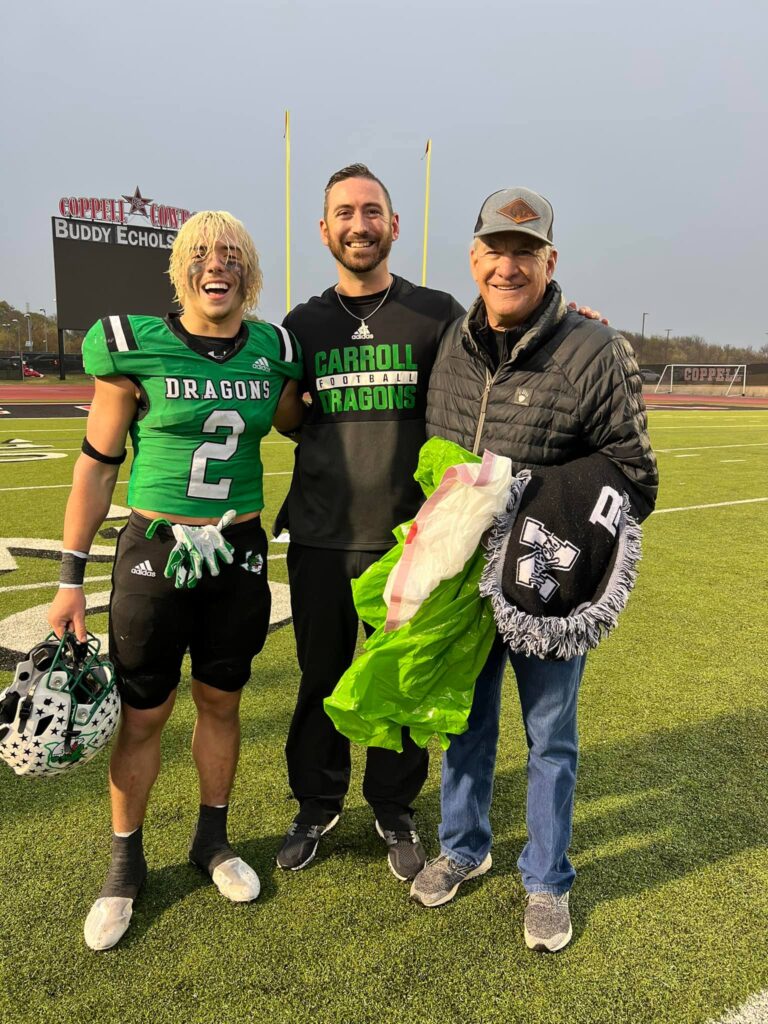 It's a heavyweight matchup tomorrow when Southlake Carroll takes on Allen in a quarterfinal playoff game in Class 6A Texas HS football. There are plenty of Roo Rooting Reasons to go around.

Former Roo footballer Mason Norris is the Allen OL coach. Former Roo footballer (and current "Voice of the Roos") Kirk Hughes will also be pulling for his Eagles. Alison Hughes, Liesl Thompson Jones, Emily Lutrick, & Kelly O'Pick are just a few of the many Roos who hope Allen can notch an upset Saturday.

However, Laura Vecchio McCaskill and Travis Coates are SLC parents. Art Clayton, Kelly Carver, and Wendi Carver Matthews have kids suiting up for Southlake on the gridiron. Meredith Clayton Allen does too: running back Owen Allen recently broke the Dragon career rushing mark, surpassing 5,000 yards.

Allen (left) is pictured here alongside his Southlake Carroll running back coach Cade McCrary (center) and McCrary's Dad. Dad is Hardee McCrary: Roo footballer from the 1970s, former Longhorn Coach alongside Mack Brown during the Vince Young years, and a Director of the U.T. Longhorn Foundation in Austin.

Allen and Southlake meet on the campus of the University of North Texas in Denton. Good luck to the many Roos on both sides, mentioned and not.

Roo football ventured to the campus of North Texas in 1930, where AC played its first ever night game under the lights. Austin College came back home from Denton with a 6-0 victory.

No need for lights in Denton this Saturday though; the Allen-SLC kickoff is at 2pm.
https://www.wfaa.com/article/sports/high-school/txhsfb-playoffs-heavyweight-fight-watch-allen-vs-southlake-carroll-in-class-6a-division-i-quarterfinals/287-6b2549ee-fb12-4891-8a4c-79efd6dccdb0?fbclid=IwAR2qDz1UG5sP4cvD9Dq1Y-ORxE4leJ2FbD01qhb08ncweCJO-fkBeCUr2J0
https://www.southlakestyle.com/dragon-pride/fall/owen-allen-breaks-southlake-carroll-career-rushing-yards-rec/?fbclid=IwAR1-6GvcPSgIr9di9p3G8D-2U46plm2b17rtg8bGZH72BdHNUXgK4Fy6whI