I was messaging with Christopher Hall this weekend about his father. You know his Dad right? Dr. Clyde Hall? An AC living legend? Dr. Hall turned 98 years old last week. I told Chris how inspired I was by his Dad's story. What I didn't mention to Chris though was my favorite picture of Dr. Hall.

I arrived at AC in 1988. That was bad timing; Dr. Clyde Hall had retired earlier in the year. Still, I quickly found other items of AC history to interest me. One was a football which sat in the trophy case at Hughey Gym. It was old and weathered and looked like it had not seen any action in 100 years. On the football was an inscription: "Austin 7, Baylor 3. October 25th, 1924." How 'bout that?

Still, why would that ball be kept and displayed? Sure, Baylor was a Southwest Conference member and all. But what was so important about keeping it to show me 64 years later? Turns out, that win was a big deal.

Baylor was indeed upset by the Roos in Waco in 1924, but did not lose a single Southwest Conference game at all that year. Arkansas fell at home. Texas A&M lost to Baylor 7 days after AC's upset win, on the same field no less. One week after that, Texas hosted Baylor in the first ever game at DKR-Texas Memorial Stadium; Baylor spoiled the party by crushing the Horns. After SMU failed to earn a victory, the Baylor Bears defeated John Heisman's Rice Owls to earn the title.

AC Coach Pete Cawthon, who had led the Roos to wins over both Baylor & Rice, declared Austin College the "unofficial champions of the Southwest Conference." The Baylor streak, which had begun after the loss to AC, finally ended in 1925 after a loss in South Bend to Knute Rockne and the Notre Dame Fighting Irish.

No wonder that ball was in the trophy case. The victory of Baylor was so good that I turned it into a Roo Tale: "1924, Baylor, & The Greatest Kangaroo Victory Ever." The story will be a part of a NEW AC sports book I'm working on, dedicated to rival AC colleges & legendary AC personalities. It's called "Rivals & Legends;" Baylor is one of the rivals. (And for those weary of Marc & sports, there will also be a third book dedicated entirely to AC history tales).

Dr. Clyde Hall's knowledge of AC is as great as his longevity. Born in Sherman, he has personally known every AC President since Thomas Clyce, who was elected in 1900. He graduated from AC in 1946, his studies only interrupted by World War 2 service in North Africa. After his degree, Dr. Hall enjoyed a long career on the AC faculty. He remains active within the AC community even 32 years after his retirement back in 1988, a year when I had barely visited Sherman, TX.

But my favorite picture of Dr. Hall takes us back even further. Before his activism in retirement, his teaching as an AC professor, his service during WW2, or even his time as a student in the 1940s. Shoot, the photo even predates his time as a Sherman school kid.

My favorite photo is of a two-year old Clyde Hall, on campus and all decked out in crimson & gold AC gear. The year of the photo is 1924, right around the time Pete Cawthon and the Roos pulled off the greatest Kangaroo victory ever. Now that's longevity.

In the Austin College post last week celebrating his birthday (see the comments), Dr. Clyde Hall mentions his "deep and warm expression of appreciation to each of those thoughtful kangaroos who remembered her/his "once upon a time" on-campus association with an aging professor, a kangaroo of an earlier vintage. So, Hail to the Crimson and Gold!!! – Clyde L. Hall"

The appreciation runs both ways. Happy birthday Dr. Hall, continued good health, and thanks for 98 years of service to AC. I'm already looking forward to October of 1924, when we can celebrate your 102nd birthday on the 100th anniversary of the Greatest Kangaroo Victory Ever……and the 100th anniversary of the amazing Roo fandom of Dr. Clyde Hall.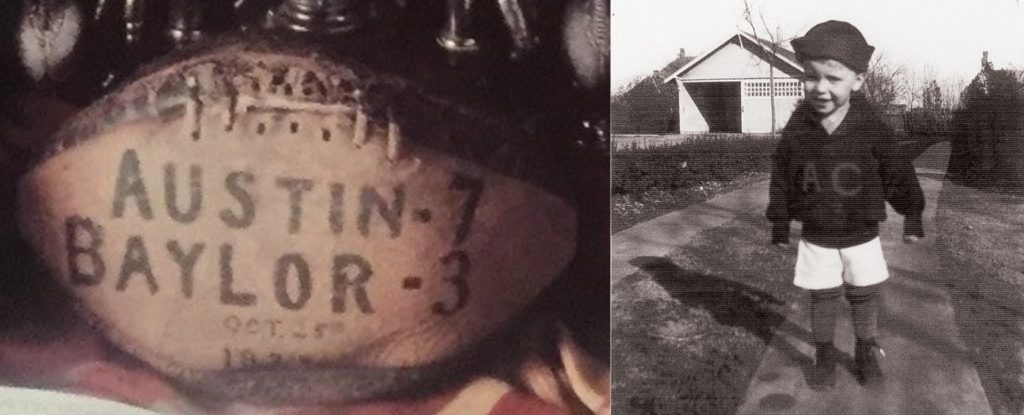 https://www.facebook.com/austincollege/posts/10152139526564945