Preview 1:  Birthday

Preview 2:  William McRaven

Preview 3:  Winston Churchill

Preview 4:  China

Preview 5:  Phi Sigma Alpha

Y'all should always listen to your Mom. Moms are always teaching.
Linda Parrish celebrated a birthday when I was a kid. What year I forget. What I remember though, is that she gave everyone in the family presents. It was her birthday, and I got a gift. Why? Well, according to Mom, that's what the Hobbits do. They give on their birthday. I think there's something to that. Mom knows. To give is to receive.
I've been fortunate to study and work with some tremendous veterans over the past 48 years. Vets like Michael Dickens. Mike thankfully returned safely from Mosul, and the small Austin College group in which both of us are a part now gets together on an annual basis. Vets like Matthew Boulay. Matthew joined the Marines after our study abroad year in Madrid, Spain. He's dedicated his life to a non-profit focused on summer learning for America's youth, as well as lobbying Congress for a new GI bill. Vets like Michael Williams. Mike was an Air Force navigator during the Cold War patrolling the Arctic Circle in his first career. In his second, Mike (now retired) and I were colleagues working for Admiral William McRaven's UT System Administration.
McRaven has been the Chancellor of the UT System for over three years now, and is leaving us later this year. We'll be sad to see him go. His U.S. military service within the area of special operations is well known. Perhaps less known is the commitment of Chancellor McRaven and his wife Georgeann to charities for catastrophically injured veterans. Seeing some of these charities in action at work "makes you proud to be an American," says McRaven.
We all have different politics. Mine dramatically lean towards diplomacy and against militarism and the soldiers wounded in combat that inevitably result. But we should all hold some common values. That includes supporting our women and men in uniform who suffer from the physical and mental injuries of war.
The Semper Fi Fund is a non-profit organization with a mission of "providing urgently needed resources and support for post-9/11 combat wounded, critically ill and catastrophically injured members of the U.S. Armed Forces and their families." The fund's ratings at watchdogs such as Charity Navigator and CharityWatch are exemplary. Semper Fi has very little overhead; nearly 95% of every dollar raised goes towards real assistance for veterans.
The charity made national news recently through their association with the Boston Marathon and its bombing victims. The Boston Marathon is a tremendous community experience embraced by most of Eastern Massachusetts. It was no surprise to me to see the Boston community rally after the 2013 bombings. Back in the late 1990s, when Kangaroo Frank Tooley lived in Newton, MA not far from the marathon route, a small group of us including Roo Richard Gudmundsen would walk the short distance to watch and cheer. We Roos support.
Last year I wrote a Memorial Day Roo Tale about John Morgan Currie, the Austin College Kangaroo WW1 veteran and captain of 1915 football. This year, there will be another Memorial Day Roo Tale: the unbelievable story of Brigadier General David Lee "Tex" Hill. Hill was a 1938 Austin College graduate, an ace pilot with the Chinese "Flying Tigers", and a Navy legend. He was also a personal hero of my UT System boss, Admiral William McRaven. I've asked McRaven to write for this story. Even with his demanding schedule, he has enthusiastically done so. I'm tremendously grateful.
May is military appreciation month. Four Tex Hill story previews will be posted on the four Sundays of the month of May. These previews focus on Winston Churchill and the Flying Tigers, Admiral McRaven and Tex Hill, The Parrish family's relationship with Tex Hill's China, and a salute to Tex Hill's Phi Sigma Alpha fraternity.
If you are a Phi Sig reading this, please PM me any publicly sharable Phi Sig traditions, stories, or thoughts on Tex Hill and his relationship to Austin College's oldest fraternity. I've already reached out to Kirk Hughes and Thomas Ortiz for assistance; thanks guys. To the rest of you, thanks in advance!
The Roo Tale of David Lee "Tex" Hill ………… founder of Phi Sigma Alpha, supporter of AC athletics, U.S. Brigadier General, "Flying Tiger" pilot ace, and hero to the people of China ………… will be told in chapters beginning Memorial Day. Monday, May 28th.
In the meantime, hey, today is my birthday! I feel like being a Hobbit, just like Linda Parrish so many years ago. So, wanna send me a birthday gift? Toss a dime to the Semper Fi Fund at any time in the month of May as we honor Tex Hill, a Navy legend, American veteran and Austin College Kangaroo.
Find the fundraiser in the comments or in my feed, and thank you in advance. It'll be a rewarding month. Now, back to writing. 🙂
http://boston.cbslocal.com/2018/04/14/semper-fi-fund-boston-marathon-charity/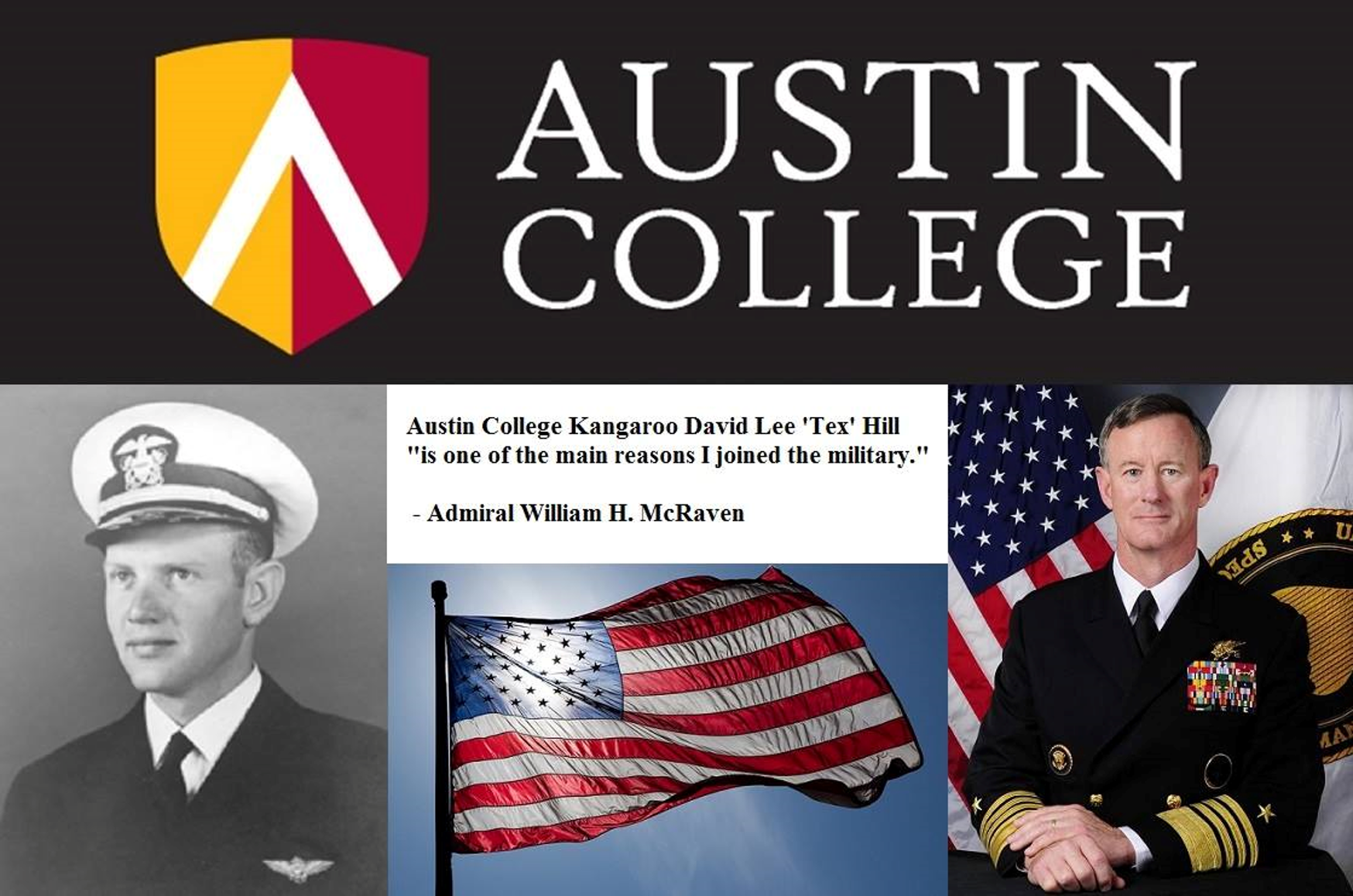 "I first met General Hill when my family moved to San Antonio, in 1963. My father, an Air Force officer, was assigned to Lackland Air Force Base as the head of base operations. By 1967, dad had retired and we moved into a small retirement community in northeast San Antonio. By this time, all the WWII veterans were beginning to retire and there was a great community of former fighter and bomber pilots that gravitated to each other. Tex and his wife Mazie became very close friends with my parents. They played golf and bridge together, hunted in the Hill Country, and fished in the Gulf."
"As a young boy though, I knew nothing about Hill's extraordinary service. What I remembered most about Tex and Mazie was that they were both incredibly gracious, humble, and warm individuals. They epitomized the "Greatest Generation." They were patriotic, but not naïve to the nation's problems. Life after the war was not always easy on them, but they never complained. They loved to be with friends and they treated everyone like close family. Tex was tall with a wonderful sense of humor. Mazie was the quintessential southern lady."
"By the time I got to high school, I was aware of Tex Hill's remarkable legacy as a fighter pilot with the Flying Tigers and with both the Navy and the Air Force. He was "Texas royalty," but he wore his fame with great ease and never made anyone feel less important. It was only when the old "birdmen" got together over a few drinks did the stories start to emerge. As a teenager I was fascinated by their heroics and their sense of adventure. I'm sure it's one of the main reasons I joined the military."
"My mother passed in January of 1986 and my father passed in May of 2007. Tex and Mazie attended both funerals, even though Tex himself was ailing at my dad's service and would die three months later. The legend of Tex Hill isn't really about his remarkable career. It's more about the man and how he represented Texas and the nation with a sense of pride, dignity and honor that made us all proud to be Texans."
– Admiral William H. McRaven
Thanks boss.
University of Texas System Chancellor William McRaven is retiring at the end of this month. He's leaving for the 40 acres of the University of Texas, where he will join my friend Dr. Josh Busby and the faculty of the LBJ School of Public Affairs. To say that those of us at UT System are sad to see him go is a huge understatement. In addition to teaching, Chancellor McRaven has also announced that he will spend more time writing.
His writing has actually already begun. After learning that Austin College's David Lee "Tex" Hill was a childhood hero of America's most famous Admiral, I approached him and asked if he might contribute his thoughts for an upcoming Memorial Day Roo Tale about Hill. In spite of a tremendously busy schedule, Admiral McRaven was gracious with his time and words. I'm grateful; they are reprinted above in full.
As usual, he also referred to himself as "Bill." Sorry boss. If Tex Hill were alive today, I would refer to him as "General Hill." You will have to live with "Admiral McRaven."
Admiral McRaven's service in the U.S. military is well documented and does not need any superlatives from me. After graduating from the University of Texas in 1977, McRaven was commissioned as an officer in the U.S. Navy. He graduated from the Navy's Sea, Air, and Land (SEAL) training in 1978. Navy SEALs famously undergo incredibly demanding mental and physical training. In spite of the fact that only the nation's most fit and stable even attempt, the SEAL dropout rate is still roughly three of four.
McRaven's decades of service in the Navy have been consistently associated with special operations. He earned a master's degree at the Naval Postgraduate School in Monterey, California; his thesis involved "Special Operations Theory." McRaven intends to focus on special operations in particular, and national security studies in general, at the LBJ School of Public Affairs.
The National Security studies program happens to be a strength of the Fletcher School of Law & Diplomacy in Medford, MA, my alma mater. After graduation from Austin College, I earned a Master's at Fletcher in 1995. The Fletcher School is affiliated with Tufts University, and is also led by an Admiral, Dean James G. Stavridis. In the 1920s, Admiral Stavridis's Greek grandfather barely escaped with his life fleeing ethnic violence in the Turkish city of Izmir. His grandson returned to Izmir decades later, in command of a US Navy Destroyer participating in NATO exercises. If that's not a great American story, I don't know what is.
Not surprisingly, Admiral McRaven and Admiral Stavridis are colleagues and friends. Stavridis traveled to Austin recently to promote the Fletcher School; the trip gave me the opportunity to chat with him about Fletcher, international affairs, and my boss William McRaven. My Fletcher/Stavridis connection came up later in a conversation with the Chancellor.
There we were, just three regular dudes. Our nation's most distinguished Admiral, our nation's other most distinguished Admiral, and a guy who tells 100-year-old Kangaroo sports stories online.
Uhhh, one of these things is not like the others.
🙂
Admiral McRaven is most famous for organizing and overseeing Operation Neptune Spear, the counter terrorism special operations raid targeting the man responsible for the deaths of over 3,000 innocent American civilians on September 11, 2001. For his role in this most famous Joint Special Operations Command (JSOC) raid, McRaven was named runner-up for Time Magazine's Person of the Year.
Just as impressive as his service are Chancellor McRaven's values. He's been a vocal supporter of the fourth estate against politicians attacking the role of the press in our democracy. He's also been a staunch supporter of public education during a time of reduced budgets and priorities. And he's inspired Americans with his rhetoric in numerous speeches. One in particular.
Before becoming Chancellor, McRaven gave the 2014 commencement at the University of Texas. The speech has received millions of hits online. He told his SEAL story with all of its challenges and difficulty, and highlighted the awesome power of hope.
"If I have learned anything in my time traveling the world, it is the power of hope. The power of one person — Washington, Lincoln, King, Mandela and even a young girl from Pakistan, Malala — one person can change the world by giving people hope."
In the speech, McRaven spoke of graduating from UT and receiving his Navy commission on the same day. It's a story very similar to David Lee "Tex" Hill.
Hill was a popular man on the campus of Austin College in the late 1930s. A founding father of Phi Sigma Alpha, he was active socially and a class favorite. Hill was also a big supporter of AC athletics, even though he did not suit up. He was famous for his motorcycle, which he drove all around campus and throughout the city of Sherman. Hill was fun.
But he was also serious. Even before arriving at AC, Hill had already decided to sign up with the Navy. After graduation ceremonies at Austin College, he hopped on his motorcycle, said goodbye to Sherman, and drove directly to Naval Recruiting in Dallas where he enlisted on the same day. The remarkable service of this future Brigadier General, which began on a warm AC graduation day in 1938, spanned three decades. It included numerous awards such as the Distinguished Service Cross, Legion of Merit, Distinguished Flying Cross, and the Order of the Cloud and Banner. The last award was given to Hill by the Republic of China for "contributions to national security" by a non-Chinese citizen. President Dwight Eisenhower was also a recipient.
Hill is best remembered for his record as a pilot in the American Volunteer Group (AVG), the "Flying Tigers" who patrolled Chinese & Burmese skies, engaged the Air Force of the Empire of Japan, prevented the fall of China, and ended the unopposed and merciless bombardment of Chinese cities. The "Flying Tigers" were ace pilots, and Hill was their leader. Because of the unconventional and difficult tactics adopted by AVG pilots, their success rates in the air against the regime in Tokyo were extraordinarily high. The effectiveness of the AVG was so strong that Japanese military strategy in East Asia was radically changed in response. General Tojo's goal of completing the conquest of China and reallocating resources towards the war effort in the east was never accomplished because of the Americans in the AVG, both before and after the outfit was officially incorporated into the U.S. Armed Forces.
In his 2014 commencement speech, Chancellor McRaven famously challenged us all to "make our bed." Doing so would further additional accomplishments, and reinforce the fact that little things in life matter. After reading the story of Tex Hill, I think you'll be convinced that this resident of Luckett Hall always made his bed.
May is military appreciation month. Last week on my birthday, I began a month long fundraiser for the Semper Fi Fund, a non-profit organization with a mission of "providing urgently needed resources and support for post-9/11 combat wounded, critically ill and catastrophically injured members of the U.S. Armed Forces and their families." For those who have already contributed, I appreciate your support. For those who do so, thank you in advance. See the fundraiser on my feed or in the comments below.
There are many tributes to Tex Hill and the Flying Tigers. Books have been written, and movies have been made. One of them even stars John Wayne. But no tribute exists which highlights the Austin College Kangaroo roots of Hill. I've fixed that. In the comments below, you'll find my video tribute to Hill, AC's most famous veteran. I'm quite proud of it; hope you enjoy.
Three more Tex Hill story previews will be posted on the three remaining Sundays of the month of May. These previews focus on Winston Churchill and the Flying Tigers, The Parrish family's relationship with Tex Hill's China, and a salute to Tex Hill's Phi Sigma Alpha fraternity.
If you are a Phi Sig and reading this, please PM me any publicly sharable Phi Sig traditions, stories, or thoughts on Tex Hill and his relationship to Austin College's oldest fraternity. I've already reached out to Kirk Hughes and Thomas Ortiz, who will be assisting this preview. Thanks in advance!
Thank you Chancellor McRaven for your service to the University of Texas System, and good luck with your future endeavors at the LBJ School. You will be missed.
The Roo Tale of David Lee "Tex" Hill ………… founder of Phi Sigma Alpha, supporter of AC athletics, U.S. Brigadier General, "Flying Tiger" pilot ace, and hero to the people of China ………… will be told in chapters beginning Memorial Day. Monday, May 28th.

I see that everybody on Facebook is posting early headshots. OK, fine. I'm game. Here's an early headshot of mine. VERY early.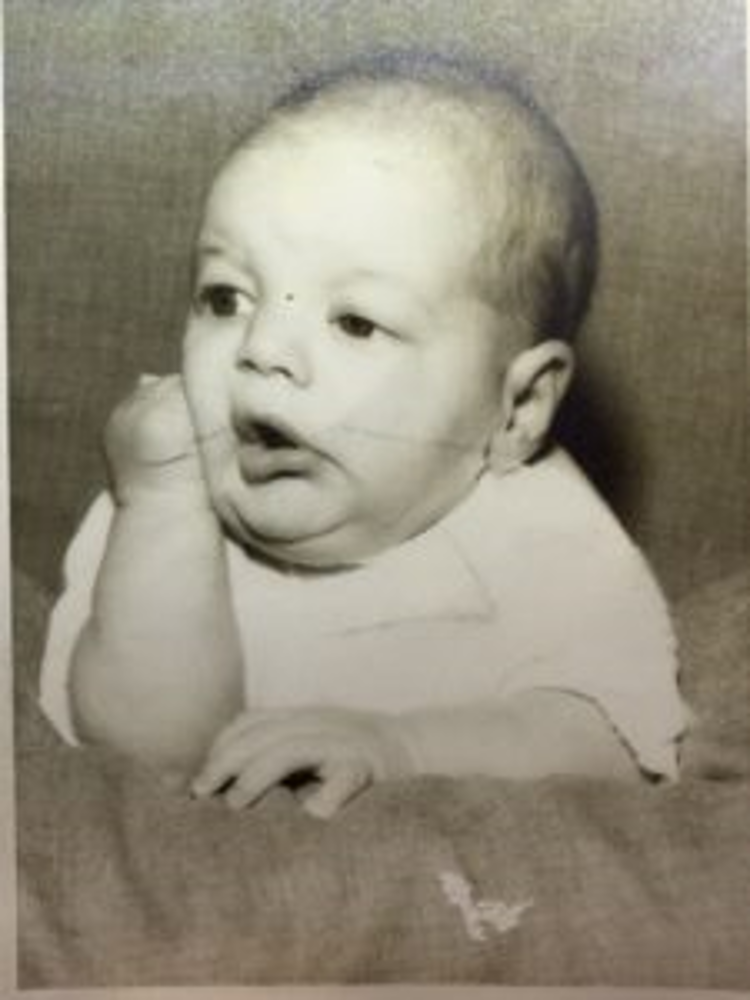 Some babies are as cute as a button! Then there are the others. The ones who resemble UK Prime Ministers.
If you ask Dianne Parrish, it's actually this photo that made her think "this is the man I'm gonna marry." While some understandably go for the Clooney babies, I'm lucky that my Winston Churchill "Blue Steel" look worked so well on a girl who is a tireless mother and always by my side.
You may be wondering what my first word was. Actually, it was "words". Plural. I was awfully precocious:
"We shall go on to the end. We shall fight in France, we shall fight on the seas and oceans, we shall fight with growing confidence and growing strength in the air, we shall defend our island, whatever the cost may be. We shall fight on the beaches, we shall fight on the landing grounds, we shall fight in the fields and in the streets, we shall fight in the hills; we shall never surrender, and if, which I do not for a moment believe, this island or a large part of it were subjugated and starving, then our Empire beyond the seas, armed and guarded by the British Fleet, would carry on the struggle, until, in God's good time, the New World, with all its power and might, steps forth to the rescue and the liberation of the old."
The New World wasn't at war yet in 1940, and England wasn't the only country reeling. The Republic of China was teetering out west in Chongqing, fighting the advance of the Empire of Japan. The Chinese had no Air Force, and President Chiang Kai-shek pleaded with FDR for U.S. military assistance in the skies. Administration officials reluctant to avoid the Old World's conflict cautioned against.
But FDR could envision the future, and wondered whether a solution could be crafted. The idea he enthusiastically supported? Ask America's top pilots to decommission and secretly volunteer for a new Chinese Air Force.
But pilots need planes, and China had none. So FDR contacted his ally at Westminster and worked out a deal. If Churchill were to sell British planes to the Chinese, the Americans would replace those planes through existing vehicles such as Lend-Lease. Hundreds of "P-40" fighters were sold to China.
And so, a Chinese Air Force was born, fighting the Empire of Japan with British planes and piloted by America's finest. This Air Force is officially known as the American Volunteer Group (AVG), and better known as the "Flying Tigers." Their ace was an Austin College Kangaroo named David Lee "Tex" Hill.
The introduction of American air power in Western China changed strategy in Tokyo overnight. No longer able to carry out unopposed bombing runs over Chinese cities, Japan instead selected a new target: an invasion of British Burma on the ground. Tex Hill would be using British planes to defend British soldiers.
In spite of superiority in the air, the Brits were no match for the numerous and well equipped Japanese troops. They fought into Rangoon and up the Burma Road, capturing British soldiers along the way and sending them to "Bridge on the River Kwai" POW camps. The support of the AVG, however, did save lives. Many Brits were able to evacuate into India under the cover of the Flying Tigers.
From the legendary Tex Hill himself:
"After that raid…….I wanted to go back the next day. [Fellow Flying Tiger] Charlie [Mott] said, 'Tex, you are trying to hog all of the missions. I'm gonna take this one.' He got shot down on that mission and spent 3 ½ years on the River Kwai. First thing he said when he got out was 'Tex, I'll never argue with you again about a mission.'"
The Japanese would march all the way up the Burma Road to the Chinese border. There, they began preparations to conquer the Republic of China. That effort would fail in one of the most dramatic battles of the war. China would not fall.
Churchill would later speak of the importance of Hill and the AVG in Burma & China:
"The victories they have won in the air over the paddy fields of Burma may well prove comparable in character, if not in scope, with those won over the orchards and hop fields of Kent in the Battle of Britain."
The New World eventually did come to the Old World's rescue. Churchill, whose mother was American, remarked that the Pearl Harbor attack on December 7th, 1941 must have been traumatic for those in the States. That same night, however, the UK Prime Minister "went to bed and slept the sleep of the saved and thankful."
 Churchill is famous for his quotes. One of those quotes involves the game of golf:
"Golf is a game whose aim is to hit a very small ball into an even smaller hole, with weapons singularly ill-designed for the purpose."
 While that quote may apply to a double bogey golfer like me, the same can't be said for the family of Roo Shawn Mahan. Mahan is an assistant golf coach in San Antonio. His son shot a 77 last week to win 1st place at the Northeast ISD middle school district golf tournament. There's nothing like bringing a district championship back home to school, especially when your middle school is:
Tex Hill Middle School in San Antonio, TX.
Well done Mahan family.
May is military appreciation month. Two more Tex Hill story previews will be posted on the two remaining Sundays of the month of May. These previews focus on the Parrish family's relationship with Tex Hill's China and a salute to Tex Hill's Phi Sigma Alpha fraternity.
The family relationship with China came close to never getting off the ground. But an extraordinary woman who was already a mother once over made it happen. She found a path and convinced a reluctant me to get on board; for that I'm forever grateful. Now she's a mother a second time over. Love you Dianne. Happy Mother's Day.
If you are a Phi Sig and reading this, please PM me any publicly sharable Phi Sig traditions, stories, or thoughts on Tex Hill and his relationship to Austin College's oldest fraternity. I've already reached out to Kirk Hughes and Thomas Ortiz, who will be assisting this preview. Thanks to Don Parnell, Claude Webb Jr., and John Cotton for the words you have already shared. For the rest, thanks in advance!
The Roo Tale of David Lee "Tex" Hill ………… founder of Phi Sigma Alpha, supporter of AC athletics, U.S. Brigadier General, "Flying Tiger" pilot ace, and hero to the people of China ………… will be told in chapters beginning Memorial Day. Monday, May 28th.

Dianne was napping soundly in our hotel room. I didn't want to wake her, and was full of energy. So I put my 11-month old daughter in a baby backpack and hit the streets. We were gonna check out the sights of the city of Changsha, China.
Little did I know, but I was in the presence of an Austin College Kangaroo legend.
====================================
Have you seen the cover photo of the Go Roos Facebook group? There she is, our daughter Malia (MAH-lee-a, not mah-LEE-a) sprinting towards the end zone like Clayton Oliphint catching a Larry Shillings pass for a TD in the 1981 national championship game. You can see the national champions banner on the scoreboard.
It was a long and winding road to get her. The adoption idea was born in 2004 around the birth of our son. She was named in 2006 during a trip to Hawaii (Malia is a common Hawaiian name, and Hawaii is a mix of Asia & America as is she). In 2011, after 7 long years, the wait was up and we got the call. We were told we had 24 hours to decide if this baby would be ours. Whatever unimportant task we were working on that day was immediately shelved, and we eventually said yes.
The adoption process in China is well regulated, and the trip to China involves three weeks in-country: a few days in Beijing to tour, a significant amount of time in the province of your adopted child, and a week in Guangzhou/Hong Kong to finalize paperwork. We arrived in Beijing in late May of 2011.
Beijing in July of 1937 was a much more dangerous place. The Empire of Japan, already occupying most of Manchuria, sent troops into Beijing after the Marco Polo bridge incident. The confrontation at the bridge was the spark which provided the regime justification for the launch of the second Sino-Japanese war. Soon, Japanese troops would be flooding into nearly all of East China. At the time of the incident, David Lee "Tex" Hill was preparing to return to Sherman, TX for his senior year at Austin College. He had already decided he would enlist in the Navy after graduation.
Dianne and I spent the last few days of our journey in Guangzhou and Hong Kong, finalizing the remaining documentation with our daughter at the US consulate before departing for home. We left for the States from Hong Kong's new airport, which had replaced the city's historic Kai Tak airport. Kai Tak was a Japanese air base during the war, and the site of more than a few Tex Hill Flying Tiger raids against the Japanese occupiers.
But most of our time was in Hunan Province, the birthplace of our daughter. Her first 10 months of life were spent in an orphanage just outside of Zhijiang, China. Reunion and Adoption Day in China is referred to as "Gotcha Day"; on May 30th, 2011, Malia traveled with her orphanage staff from Zhijiang to Changsha, the capital of Hunan. There, we met her for the first time and made the adoption official. Our "Gotcha Day" was a day of tremendous joy and relief; coincidentally, it also happened to be America's Memorial Day.
Hunan province is the Kansas of China. Equidistant to the major ports of Shanghai and Guangzhou/Hong Kong, it's the largest rice growing province in the country and connected to both ports by rail. Changsha itself sits along the Xiang river, a major tributary of the mighty Yangtze that flows to Shanghai. For the Empire of Japan, occupation of Hunan was a crucial part of their strategy to feed a growing war effort.
If you review a map of Japanese occupied China, you'll notice a lack of presence in the mountainous regions of SE China. Tokyo was instead focused on the agricultural heartland of Hunan, as well as the river and rail links connecting Hunan to Chinese ports. It was here, in Hunan, where much of the conflict between Austin College Kangaroo Tex Hill and the Empire of Japan occurred.
Control of Changsha was considered vital, and fighting was fierce for much of the latter stages of the war. The Chinese forces of Chiang Kai-Shek were undersupplied and outnumbered against Japan's army for most of the conflict. However, heroism on the ground by the Chinese and support from Americans in the skies frustrated Japanese attempts to fully subdue the city and pacify the countryside. Tokyo's goal of establishing a reliable, peaceful supply of exported rice was never achieved.
Not enough can be said of how the Chinese viewed the AVG or how closely the Chinese and Americans worked together. For the people of China, the Empire of Japan was a brutal occupier and their American friends were nothing less than angels on wings. The Chinese committed their lives, their fortunes, and their sacred honor to the AVG in turn.
When a pilot was shot down and bailed, the Chinese would race to the scene of the crash to hide and return the American back to base before located by the Japanese. Tex Hill and his fellow Americans always wore mission "blood chits," patches which instructed residents in Mandarin to "rescue, protect, and provide medical care" to an ally and friend. When Japanese soldiers were unable to locate the pilots, they would often brutally take out their frustrations on Chinese civilians whom they suspected of thwarting their efforts.
According to Tex Hill himself, "more than 90%" of AVG pilots who bailed were rescued and successfully returned to base. "Unless you fell right on top of a Japanese patrol, these guys would get you out."
When Japan would bomb runways, hundreds of Chinese would appear almost immediately to begin the back breaking work of crushing and smoothing rock to fill bomb craters. Runways were back in service within hours. The labor by the Chinese was exhausting and inspirational.
"The Chinese people that we met were the greatest," said Tex Hill. "You just can't believe how the Chinese supported us during those days."
The Chinese also developed a unique and vital radar system to aid the Americans. As Japanese aircraft roared west over occupied eastern China, Chinese families on the ground would radio their presence to American bases. By plotting the radio signals on a map, the Americans could tell where and when the Japanese would arrive.
The major base established by the AVG which received the radio signals was located, amazingly enough, in Zhijiang, just miles from our daughter's birth and first year of life.
While it is nearly impossible to prove, there's a good chance that the Hunan ancestors of our daughter were there………actively helping Tex Hill and other Americans fight their occupiers in the defense of their homeland.
A memorial and museum dedicated to the Flying Tigers is located at Zhijiang Airfield (now Huaihua Zhijiang Airport). It's also the site of Japan's official surrender to China on August 21, 1945. When age-appropriate one day, Dianne and I plan on traveling with our daughter to Zhijiang to see her roots. The trip will also include a visit to the museum and a salute to Tex Hill. Personally, I'm looking forward to telling the Chinese guides that I share Hill's alma mater. See the comments.
Zhijiang Airfield was supported by three forward bases on the Xiang river. Located in central Hunan province, Kweilin, Lingling, and Hengyang bases were frequently used for the defense of the capital Changsha. A famous photograph of Tex Hill with Chairman Chiang Kai-Shek was taken at Hengyang, on the banks of the Xiang. Again, see the comments.
Tex Hill's Hunan missions often included patrols up and down the Xiang river near Changsha. On a Xiang river patrol in May of 1944, Hill and his squadron came across a Japanese river warship in bad weather. He opened fire, hit his target, and banked right. Attempting to avoid a high river bank in driving rain, Hill felt a thud and barely kept airborne. His canopy was ripped off, his navigation map flew in his face, and he could barely see through the downpour. Somehow, Tex Hill limped his fighter back to base. After landing, he inspected his plane for damage. There was mud and grass trapped under the wing; he had barely made it back from the Xiang river in Changsha.
====================================
Dianne was napping soundly in our hotel room. I didn't want to wake her, and was full of energy. So I put my 11-month old daughter in a baby backpack and hit the streets. We were gonna check out the sights of the city of Changsha, China.
Little Malia and I walked west from our hotel, and then up and down the Xiang river. Not far from the very spot of Tex Hill's near fatal encounter with the Empire of Japan.
Little did I know, but I was in the presence of an Austin College Kangaroo legend.
====================================
One more preview to come. The last preview, on Sunday, May 27th, will salute Hill's Phi Sigma Alpha fraternity.
The Roo Tale of David Lee "Tex" Hill……..founder of Phi Sigma Alpha, supporter of AC athletics, U.S. Brigadier General, "Flying Tiger" pilot ace, and hero to the people of China…………..will be told in chapters beginning Monday, May 28th. Memorial Day.
Malia, baby girl, this one's for you.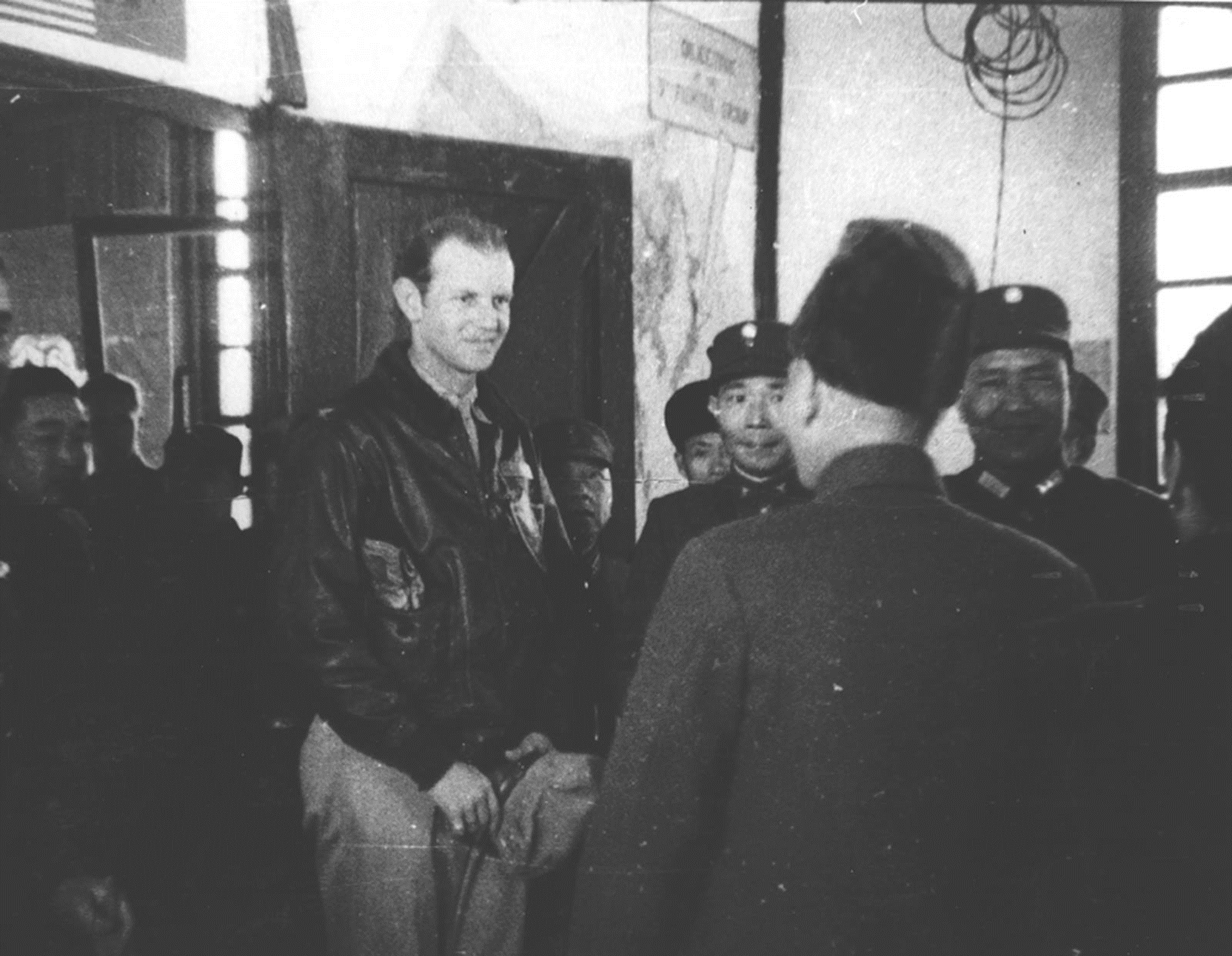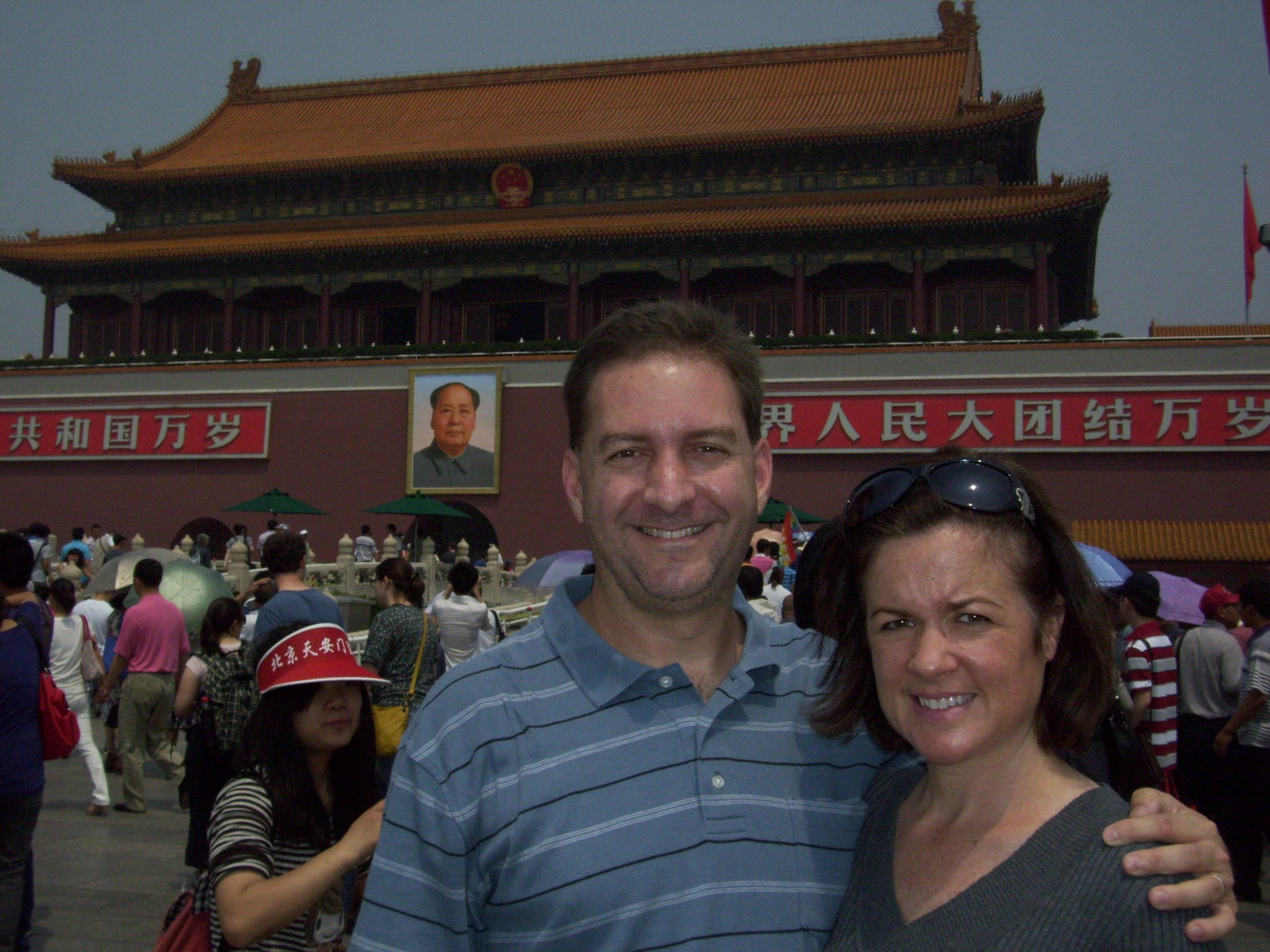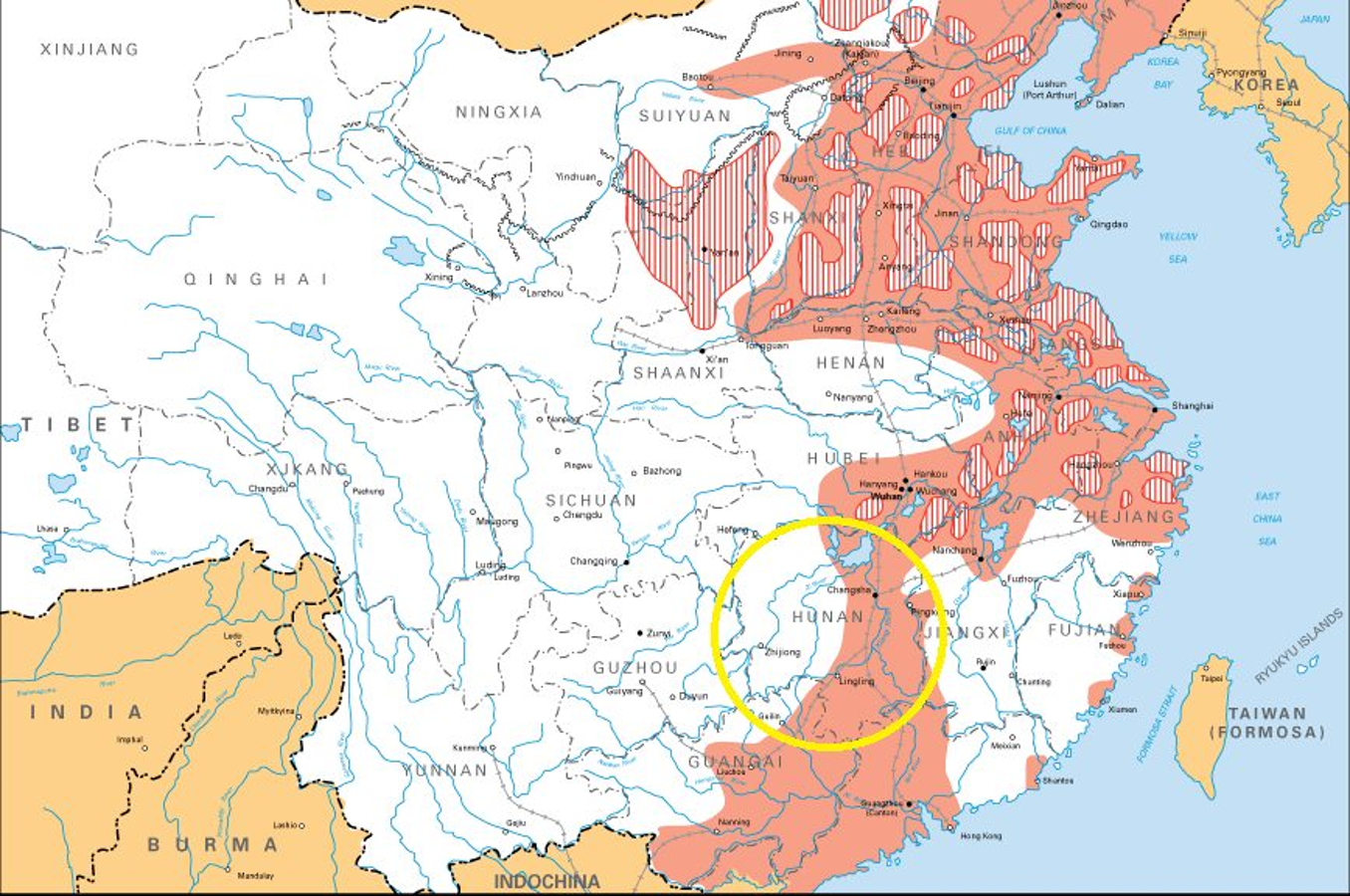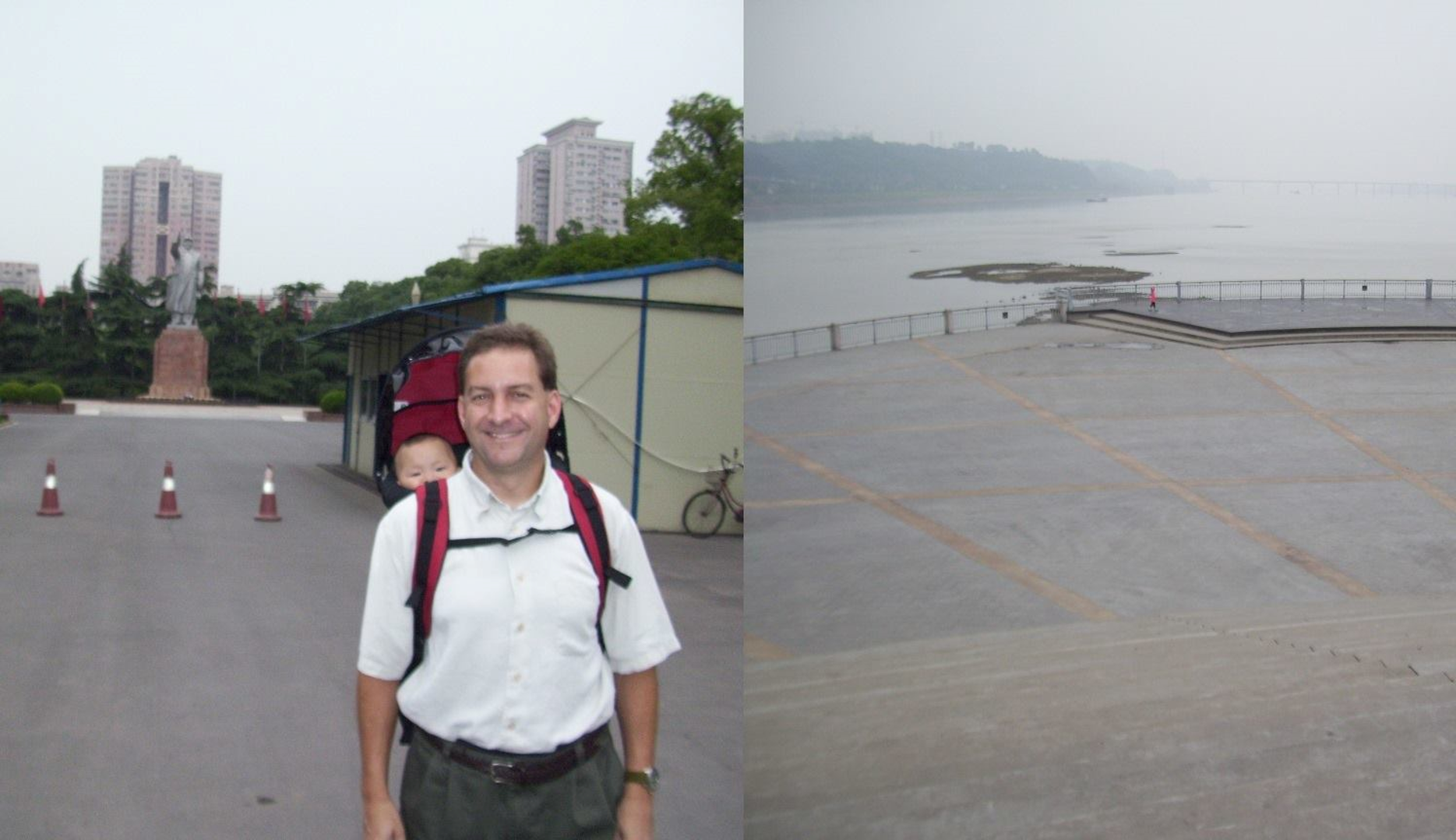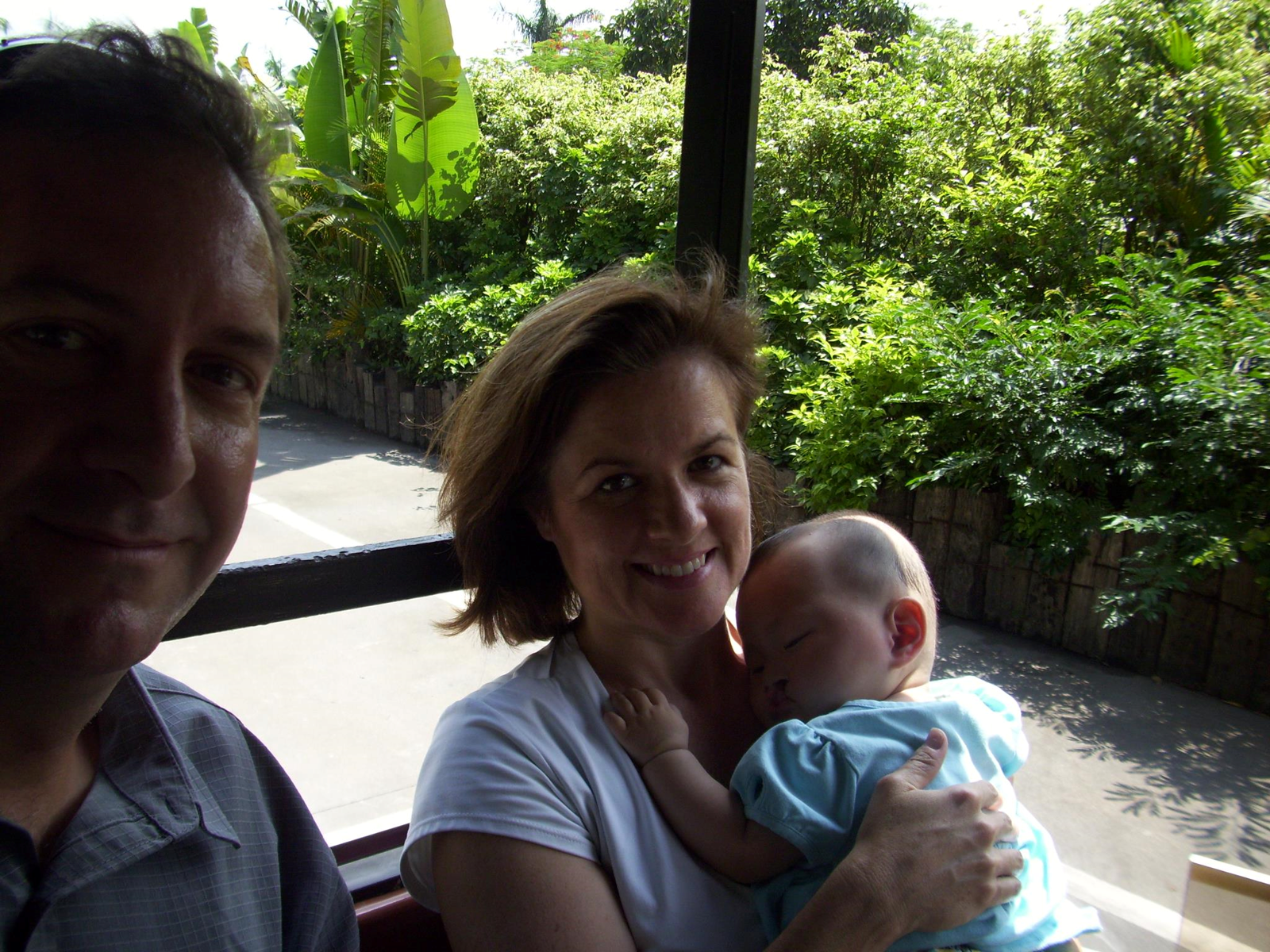 "This great nation will endure as it has endured, will revive and will prosper. So, first of all, let me assert my firm belief that the only thing we have to fear is fear itself – nameless, unreasoning, unjustified terror which paralyzes needed efforts to convert retreat into advance."
– FDR's First Inaugural Address, 1933
There was a lot to fear in 1932-33. Since 1929, U.S. GDP had fallen by over 30%. Unemployment, banking crises, and a severe drought in the high plains only added to the misery. Things were not much better abroad. A little known Austrian won parliamentary elections in Berlin, and General Tojo's army of the Empire of Japan was consolidating control of Chinese Manchuria. They'd be back for more of China later.
Austin College was barely holding on. The national economic crisis was threatening to close the school; only creative financing on a shoestring budget saved the college. Cecil Grigg's Kangaroos had suffered its most disastrous season ever on the football field the year before, going winless and scoring a mere 13 points all season.
It was then, at the nadir of the school and the country, that the Phi Sigma Alpha fraternity was founded.
Better times were ahead stateside. Economic growth finally resumed nationwide in 1933, and the country began its slow trek towards full employment. In Sherman, a Kangaroo baseball player who had played with Ruth and Gehrig started to turn around the football program; two years later, AC was a conference champion.
A transfer from Texas A&M, David Lee "Tex" Hill arrived on campus in 1936. Hill was a natural leader who had already decided to enlist in the Navy after graduation. He was popular and active on campus. Hill was famous for his beloved motorcycle, which he drove around campus constantly. The 1938 yearbook mentions the bike in Hill's mock "senior class eulogy":
"David Hill lies cold and pale; his motorcycle is for sale."
Hill was not an athlete at AC, but he was a huge supporter. His Roo buddies played football, baseball, tennis, and were cheerleaders. Hill's Kangaroo fandom was so strong that he played a leading role in an epic pre-game prank before the Thanksgiving Day rivalry game against Trinity University. In addition to enduring Hill's shenanigans, the Tigers would lose to the Roos in Waxahachie.
With all of this known, it should come as no surprise that David Lee "Tex" Hill decided to become a member of Phi Sigma Alpha.
Phi Sigma Alpha is an AC institution which celebrated its 85th birthday this year. The group is synonymous with athletic success; 48 of the nearly 300 members of the AC Hall of Honor call themselves Sigs. Members find their way to positions of leadership and influence; 26 Sigs/Sweethearts have been recognized as distinguished AC alumni. That leadership includes AC itself; 7 Sigs/Sweethearts currently serve on the AC Board of Trustees.
But one Sig tops them all.
On graduation day 1938, Phi Sig Tex Hill drove his motorcycle to Naval Recruiting in Dallas and changed his name to Officer Tex Hill. Eventually, he'd be General Tex Hill. He became one of the top aviators in the Navy, so good in fact that he was asked to decommission and volunteer to assist Chiang Kai-Shek and the Republic of China in its defense against the Empire of Japan. He and his fellow "Flying Tigers" in the American Volunteer Group (AVG) were such effective pilots that the Empire of Japan began to eventually fear contact and engagement. To the Chinese civilians on the ground who witnessed the merciless Japanese bombardments dramatically come to an end after the arrival of the AVG, Hill and his fellow pilots are nothing less than saviors of a nation.
David Lee "Tex" Hill is celebrated by Americans, the U.S. armed forces, the state of Texas, and even Austin College. In 1996, AC honored Hill with the Distinguished Alumni Award and Meritorious Service Award. Yup, Hill is one of those 26 Sig/Sweethearts mentioned earlier.
And he's also celebrated by his fellow Phi Sigs. Heck yeah he is.
"One of our first duties as a Phi Sig pledge was to memorize the names of the founders. Tex Hill's name has been etched in my memory ever since."
"……as a member of Phi Sigma Alpha in the day we all knew of Tex Hill and his amazing life."
"I wrote Tex Hill's name in my pledge book on my first day as a Phi Sig."
Thomas Ortiz:
"Thank you for highlighting Tex Hill. I can remember watching the Flying Tigers as a kid. This man was clearly remarkable."
See the comments for two Phi Sig infographics created by Thomas Ortiz last year on the group's return to campus. Thanks for sending Thomas.
The family I called home back in the day is known as Rho Lambda Theta; I am not a Phi Sig. But last fall, I got to briefly celebrate Tex Hill's fraternity. My wife and I headed up to Homecoming weekend for the Class of 1992's 25th anniversary. The Sigs were celebrating their return to campus, and some of the older alumni headed to Loose Wheels after the official celebration to listen to the Bent Creek band of Sigs Claude Webb & Brent Hollensed. After they wrapped up their set, we all (Sigs and non-Sigs alike) took a short walk west into the woods and up a cliff to a summit that overlooked Highway 75.
According to the old Sigs in the group, we were standing at the spot of the original "Hill" dating from the 1970s. Man, that's old school. Everyone sang. I felt young. The Sigs seemed to know the words better than me.
🙂
 John Cotton and I were both there. John, my boss and colleague of two decades, is a Sig (Class of '84). Together, we've been preaching the gospel of all things Roo at the University of Texas since the Harry Smith administration. Jason Johnson and John Talley were both there. Jason, my friend and tennis partner down in Austin, is a Sig (Class of '92) and was an incredible running back for the Roos. John, my Rho Lamb pledge brother, was Jason's QB; they've been close since the Harry Smith administration.
With 72 seconds left in the 1981 NAIA D2 national championship game, a Rho Lamb placekicker took a deep breath and booted a crossbar hitting 57-yard field goal to secure a national title for Austin College. Everyone in the stands exploded. Most of his teammates on the sideline jumped for joy. A few ran onto the field to meet him. One of them flat out sprinted and got there first: his Phi Sig quarterback, the man who had led the Roos all the way down the field to set up the clinching kick. They were both front and center in the paper the next day, under a headline that said "Austin College National Champs."
You, my friend, may see Greek letters. I do too. But as I get older, it gets harder and harder. Increasingly, all I can see is crimson and gold. I love sports, I love history, and I love that little ol' school in Sherman. And nothing says all three more than the 85-year old fraternity of Kangaroo hero "Tex" Hill.
On November 29, 1941, Phi Sigma Alpha was already nearly a decade old. Tex Hill was in Burma, preparing for the missions that would define his life. FDR was in Washington, celebrating the 150th anniversary of the Bill of Rights and declaring a day of celebration. In his speech, Roosevelt mentioned the sacrifices endured to secure liberty for both individuals and formerly powerless groups:
"The 15th day of December, 1941 is therefore set apart as a day of mobilization for freedom and for human rights, a day of remembrance of the democratic and peaceful action by which these rights were gained, a day of reassessment of their present meaning and their living worth. Those who have long enjoyed such privileges as we enjoy forget in time that men have died to win them."
A challenge to those freedoms was being prepared as FDR spoke. Pearl Harbor was just 8 days away. But Tex Hill was ready.
The Roo Tale of David Lee "Tex" Hill ………… founder of Phi Sigma Alpha, supporter of AC athletics, U.S. Brigadier General, "Flying Tiger" pilot ace, and hero to the people of China ………… will be told in 9 chapters over 9 days.
Chapter 1 begins tomorrow! Happy Memorial Day weekend everybody.
Chapter 1: Sherman
Chapter 2: Waxahachie
Chapter 3: Bloemfontein
Chapter 4: Mingaladon
Chapter 5: Kunming
Chapter 6: Salween
Chapter 7: Hunan
Chapter 8: Changsha
Chapter 9: San Antonio